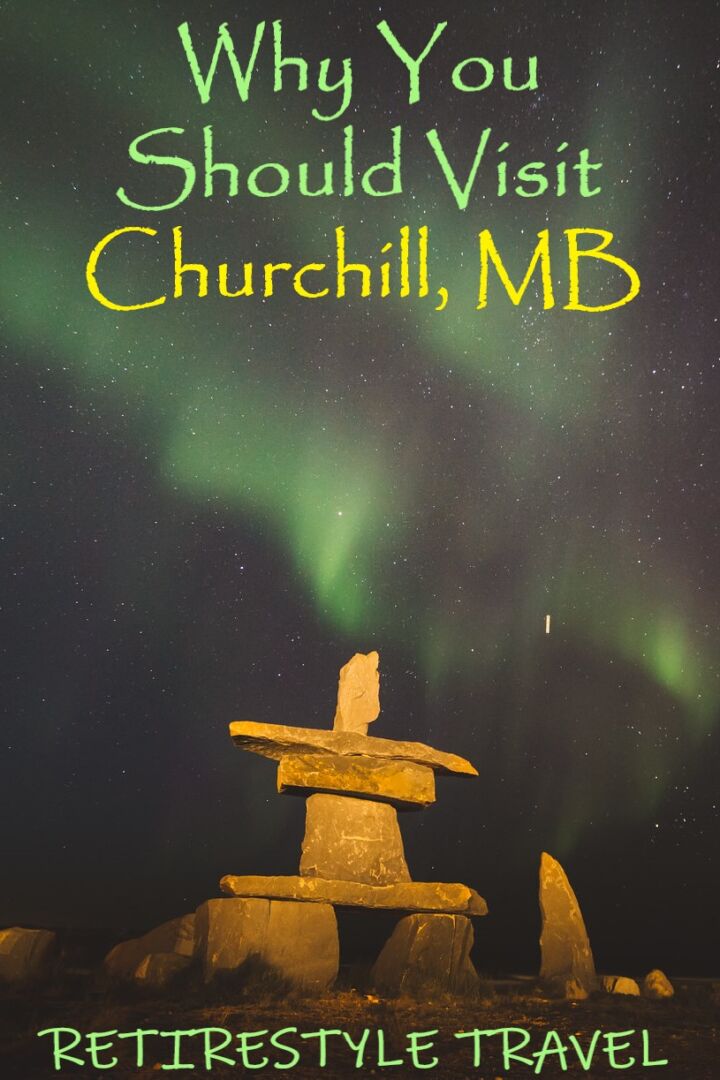 Churchill, Manitoba, Canada – Travel Tips and Things To Do
March 19, 2021
Things to do in Churchill, Manitoba – 
Why you need to visit Churchill, Manitoba in 2021
Churchill, Manitoba is one of Manitoba's Northernmost cities located located at the mouth of the Churchill River on the southwest shore of Hudson Bay.
It has a population of just 1,000 people and is only accessible from Winnipeg by airplane or train.
Churchill is world-famous for the beauty of its northern lights and for being a playground for wild Polar Bears.
The tundra landscape is eerily beautiful.
To get the most out of your trip, the best time to travel to Churchill is from mid-October to November.
Due to the Covid-19 pandemic, some tour operators in Churchill stopped operations earlier than normal in 2020. Many other businesses in the tourism industry, such as hotels and restaurants, are really hurting and need tourism to pick up soon – first from Manitobans and then from other Canadians and international travellers once it is safe.
Although we have yet to visit Churchill, we want to share the research we did for a planned trip to Churchill in 2020 that we cancelled due to the pandemic.
Top 3 things to do in Churchill:
Polar bears in Winter

Polar Bear in Summer
Polar bear watching
Churchill is called the polar bear capital of the world for good reason.
The best months to see polar bears in the wild near Churchill is in October and November.
You can sometimes see baby polar bears in March.
If you want to see Polar Bears in late Summer, you will likely have to travel south of town by helicopter to the "polar bear highway' they use to migrate towards Churchill.
Beluga Whale

Kayaking with whales
Beluga whale watching
Whale watching boat tours occur from June to September.
The best time to see whales is late Summer, when 58,000 belugas descend on Hudson Bay.
You can even take a tour that includes kayaking with the beluga whales.

Northern Lights watching
Churchill is one of the best towns in the world from which to see the Northern Lights in the sky.
Aurora Borealis are visible 300 nights a year and highly visible from late August to April.
The best months to see the Northern Lights in their glorious green splendor over the Hudson's Bay are February and March.
We have been seeing amazing pictures of the Aurora Borealis from all over Norther Manitoba for the past month.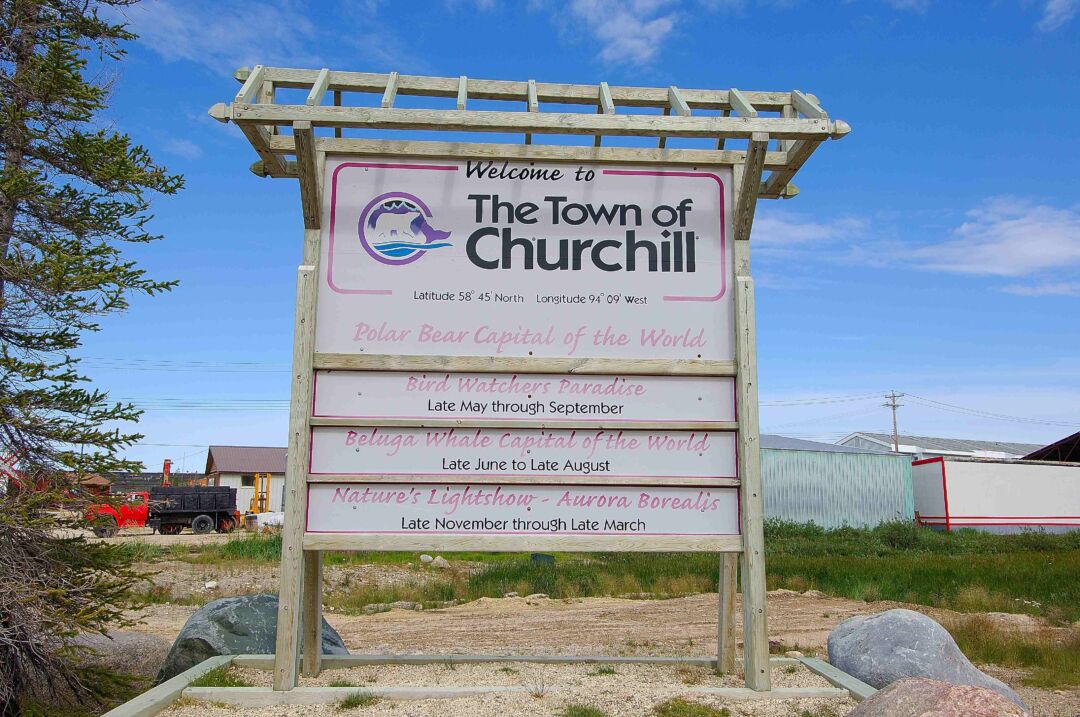 Other things to do in Churchill:
Most of the activities in and around Churchill are outdoors and involve a lot of walking and dealing with the elements.  Make sure you bring proper attire and footwear for various weather conditions.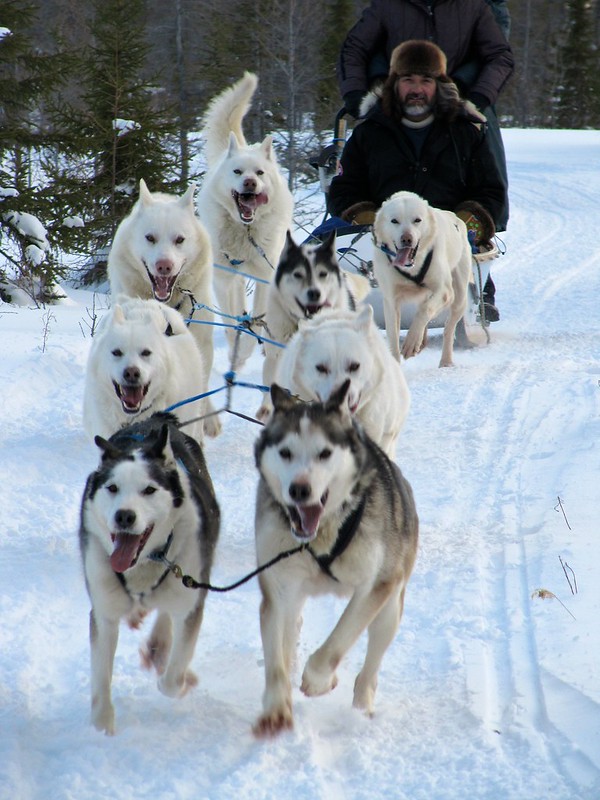 Dog Sledding
A unique activity that you won't be able to do elsewhere is Dog Sledding. In Winter, a team of highly trained dogs will pull you along in a sled at high speeds. If you go when there is no snow on the ground, don't worry because you can also ride in a Dog Cart on wheels.  You will feel exhilarated as you whiz through beautiful scenery. You can book this experience through the tour operators listed below.
Helicopter Tours
Another spectacular way to get to remote locations and to admire the landscape from a unique perspective is by helicopter.
Helicopter tours are available with Hudson Bay Helicopters and Custom Helicopters, among other companies.
Hiking and Bird Watching
Northern Manitoba has amazing hiking trails.
The trees in the boreal forest at its northern edge to the expansive sub-arctic tundra only have leaves on one side. During the summer, you will see lovely wildflowers of all shapes and colours, including purple fireweed. In the fall, you will see red bearberries, yellow willows and white Arctic avens on the ground. Rocks that have been shaped by glaciers line the edge of Hudson Bay.
You can go bird watching or see many other types of wildlife that are native to this region.
If you are a hiker, we suggest you try the Sloop Cove hike.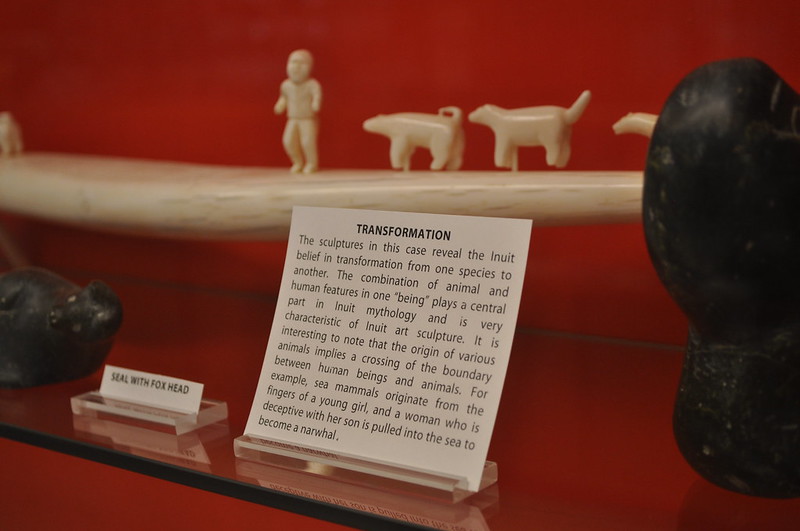 Learn About Aboriginal and Inuit Culture
All over the region, you will marvel at Aboriginal culture and art.
If you visit the Itsanitaq Museum or have a good tour guide, you will also learn about the Aboriginal traditions and history.
If you take a tour, you might see some Inukshuks, which are human-like figures historically used to mark a travel route for directions.
Learn About Churchill's History
Parks Canada Visitor Reception Centre in the Churchill's VIA Rail Station houses exhibits about the human and natural history of the Churchill area. Audio-visual presentations are also available on the wildlife and history of the Churchill area. The centre also displays a collection of Hudson's Bay Company muskets and trade goods. This is a good place to learn about the region's Fur Trade History.
Prince of Wales Fort National Historic Site (Fort Churchill) is an historic defense structure that was built in the 18th Century.
Paul's Anglican Church is the first prefabricated building in North America. It was built with components made in England. This church was designated a heritage site by the Province of Manitoba and is the oldest church in the North that is still in use.
Churchill Rocket Research Range was used to complete upper atmosphere research until 1985. It is now a National Historic Site.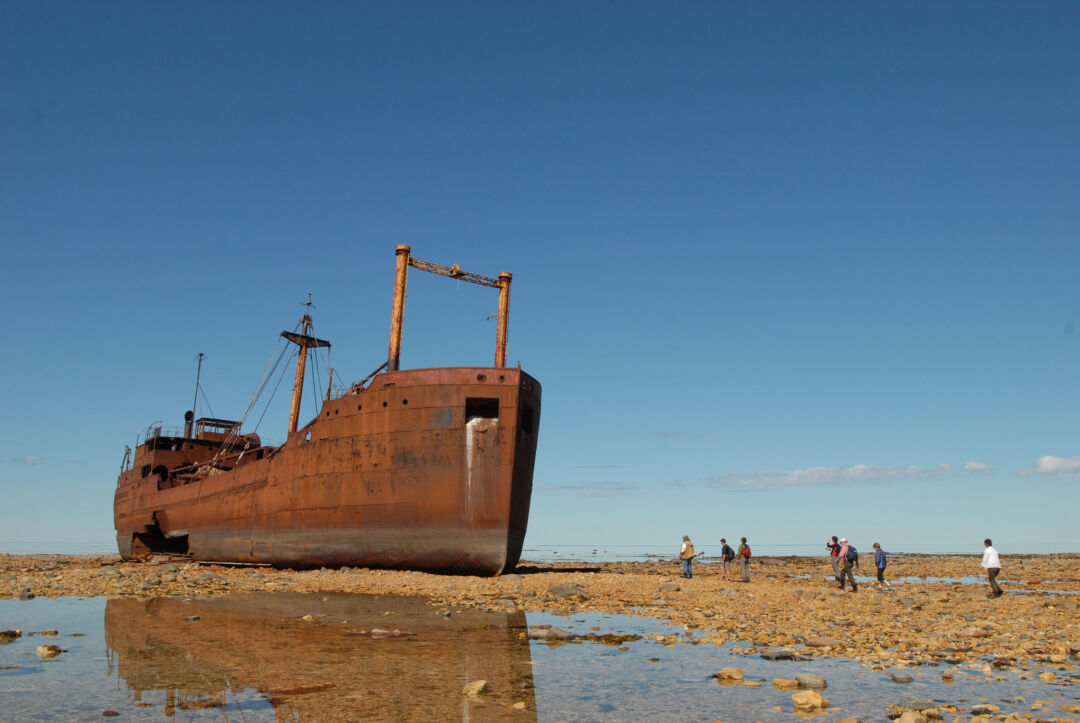 MV Ithica is a fascinating shipwreck that can be reached on foot at low tide. If you go, be sure to bring a guide/bear guard.
Miss Piggy is a plane wreck from a crashed plane that provides a popular photo opportunity.
Boreal Gardens is a privately owned and operated experimental Arctic research project comprised of greenhouses and gardens growing various types of produce. Tours are offered Sundays from 2:00 to 4:00 p.m. during July and August.
Art and Shopping
The SeaWalls Churchill Murals in Churchill cover 30 kilometers along the shore of the Hudson Bay. This art was inspired by the participating artists' own interactions with the community and environment as well as the issues facing the town of Churchill.
Arctic Trading Company has a wide selection of unique aboriginal items to purchase as a keepsake or gift.  Popular gifts include locally crafted moccasins, soapstone carvings, and drawings.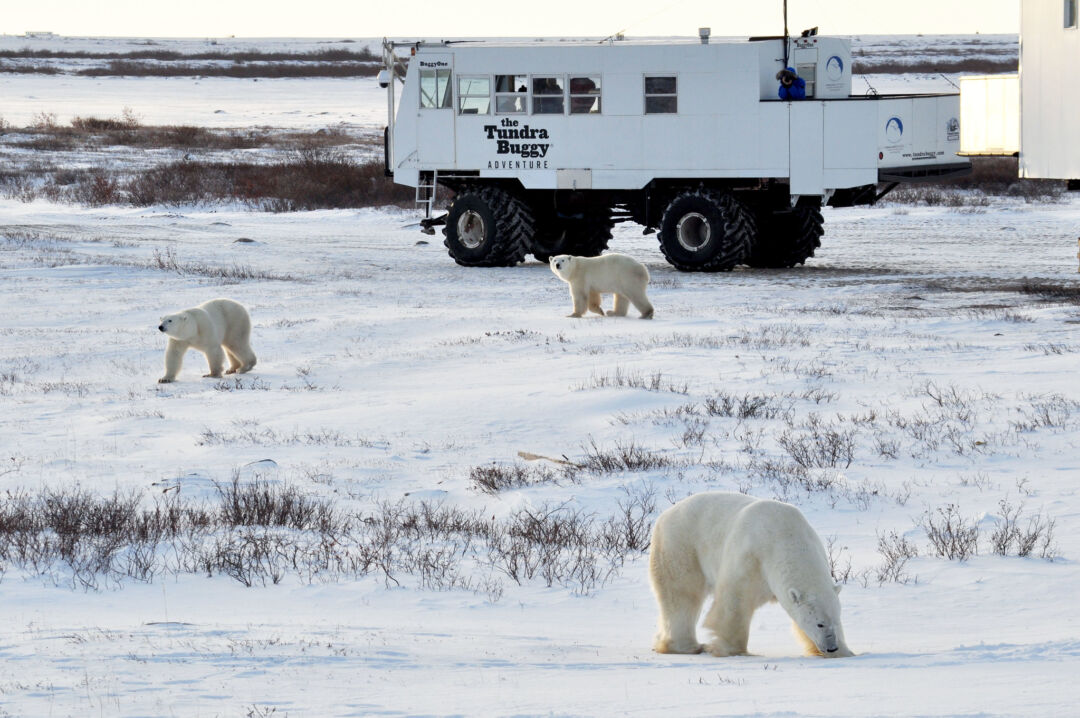 Tour companies in Churchill:
Tour operators will coordinate and simplify your experience and take care of most of the planning of activities once you get here.
Most guides will take you to your destination in a "Tundra Buggy", which is like a bus on steroids.
You would not want to come face to face with a polar bear without an experienced guide.  These tour operators will ensure that everything is done efficiently and safely:
We have heard good things about Discover Churchill, Frontiers North Adventures, and Lazy Bear Expeditions. Please do your own research before booking.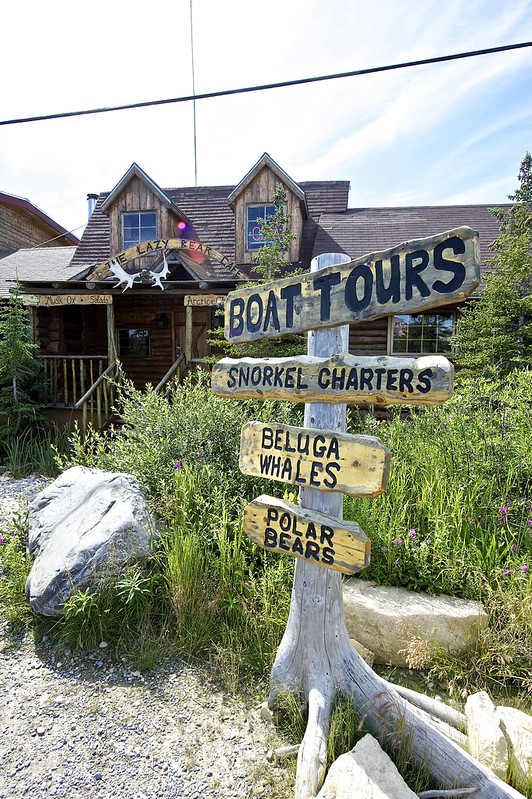 Where to stay in Churchill:

Where to eat in Churchill:
Most hotels have a restaurant, but there are not many other restaurants in town.
Be sure to order Arctic Char if it is on the menu anywhere.  Also, Bison and Elk dishes are very unique and tasty. 
We have heard great things about these three restaurants and look forward to dining there one day:
Happy Travels,
Kevin & Tina
Please subscribe to our newsletter to receive notifications for new posts and other content. 
P.S. Here are links to our social media accounts, in case you want to connect that way:
Retirestyle Travel Instagram
Kevin's LinkedIn
Retirestyle Travel Facebook Page
Kevin's Pinterest
Retirestyle Travel TikTok
Retirestyle Travel Twitter
Retirestyle Travel YouTube (Please check out our YouTube Channel for travel videos)
You May Also Like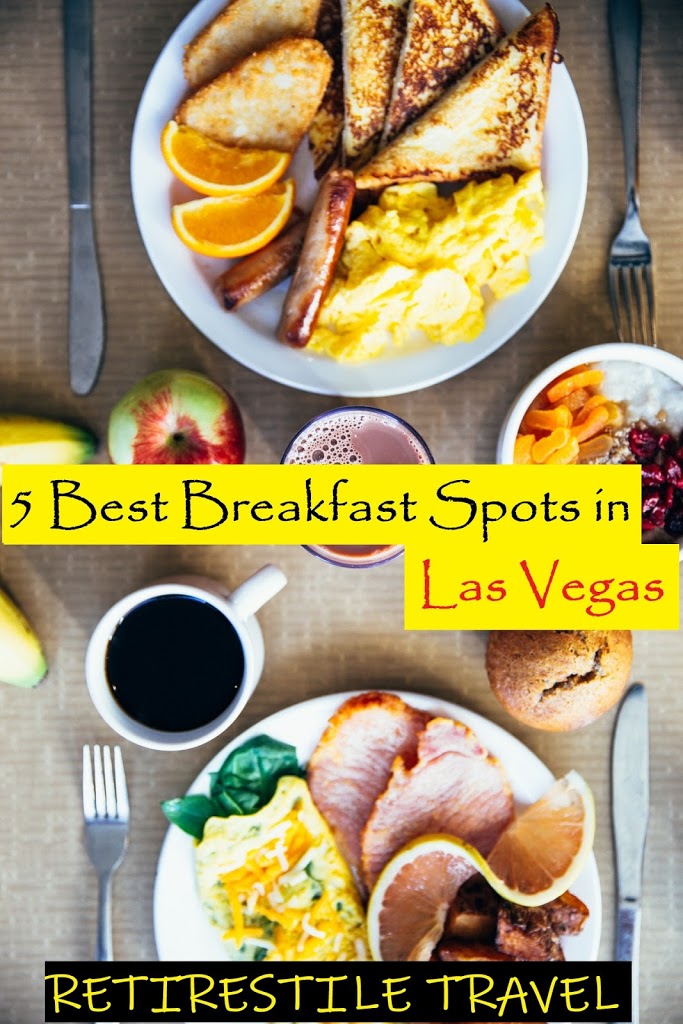 November 19, 2020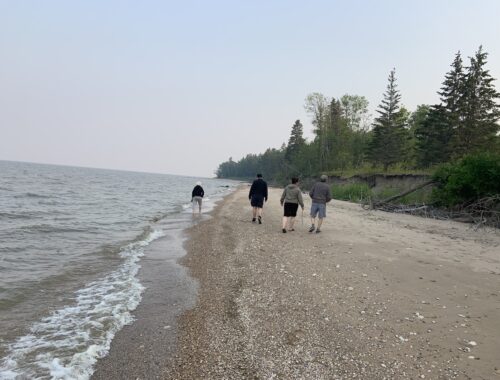 April 10, 2020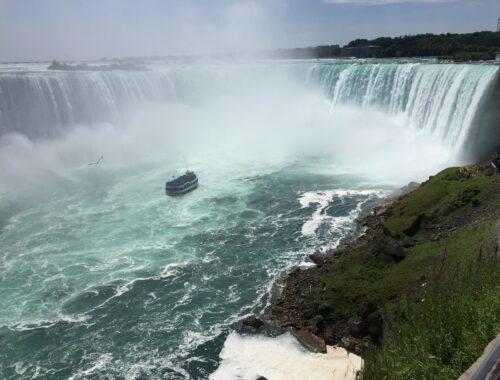 February 25, 2020