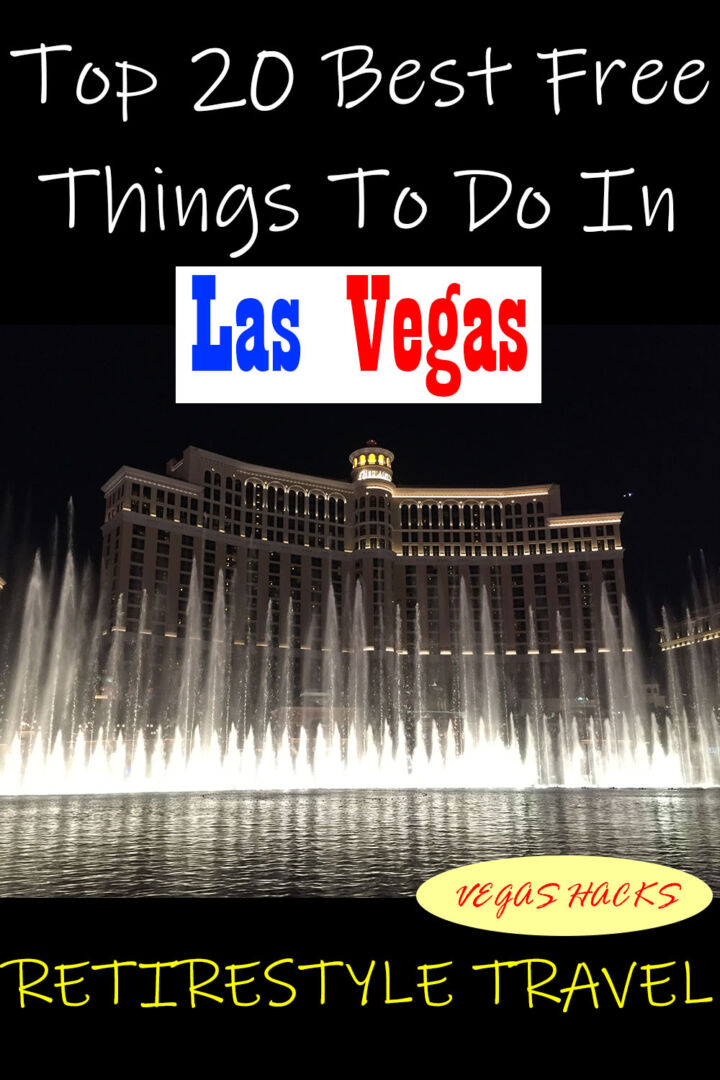 Top 20 Best Free Things To Do in Vegas & Free Attractions in Las Vegas (Vegas Hacks)
March 23, 2020
Top 20 Best Free Things to Do in Las Vegas &
Must-do Bucket List Free Attractions in Las Vegas
(Vegas Hacks and Money-Saving Tips):
* This information was researched prior to the Covid-19 shutdown, after which the availability and hours of these attractions may have changed. For example, some people who had been to Las Vegas in April 2020 informed me that items 3, 16 & 17 were not available at that time. 
I hope that this post will help my fellow travellers and Vegas-lovers plan their future trips to Las Vegas once the Covid-19 pandemic runs its course and is under control.
I can't wait to go there this year, hopefully as soon as Summer 2021.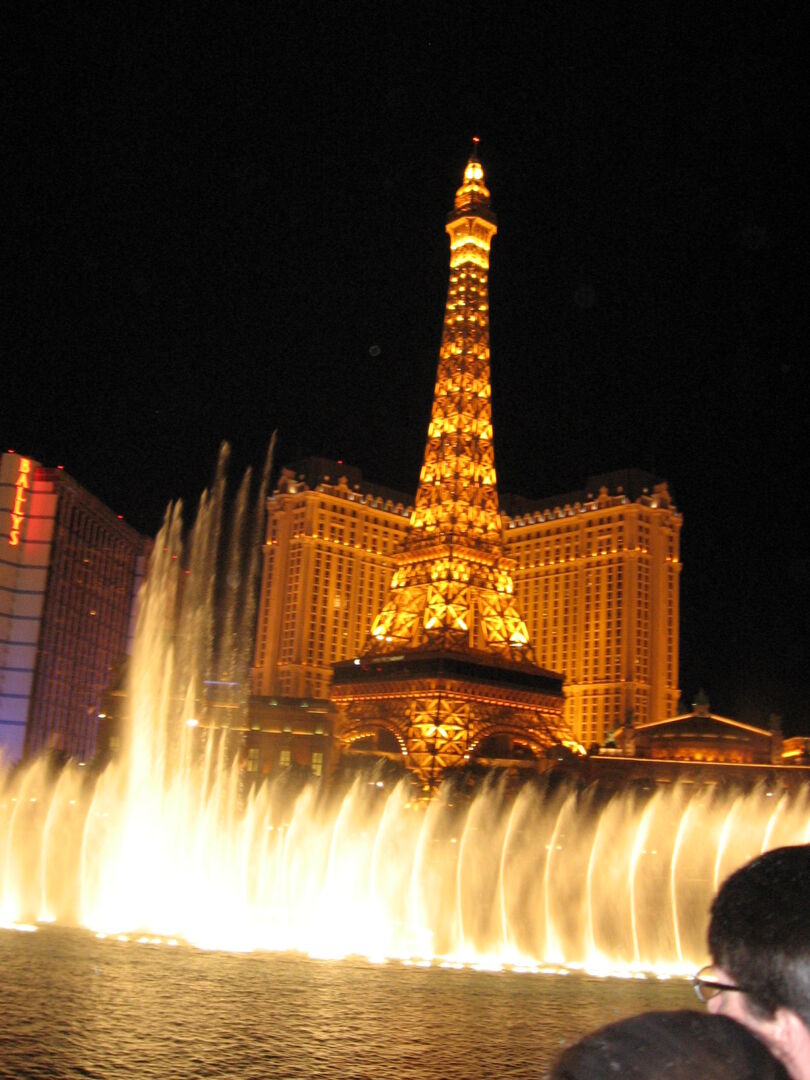 1. Bellagio dancing water fountain shows (every 30 minutes from 3-7 PM and every 15 minutes from 7 PM to midnight) are best to see after dark, but still incredible during the daylight.
2. Bellagio plant & flower conservatory (the theme changes several times a year). BONUS: The world's largest glass sculpture (which is very colourful & mesmerizing) is in the lobby.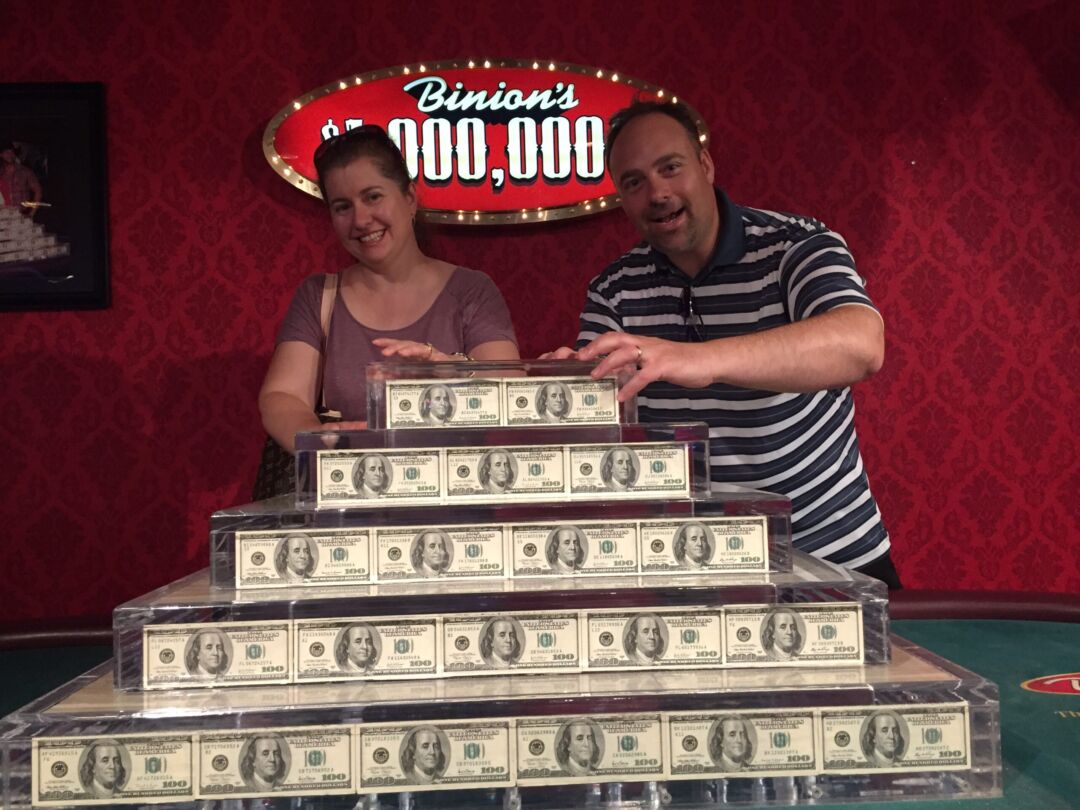 3. Binion's (on Fremont St.) – Photo op of yourself with $1 million in cash stacked up in a pyramid.
4.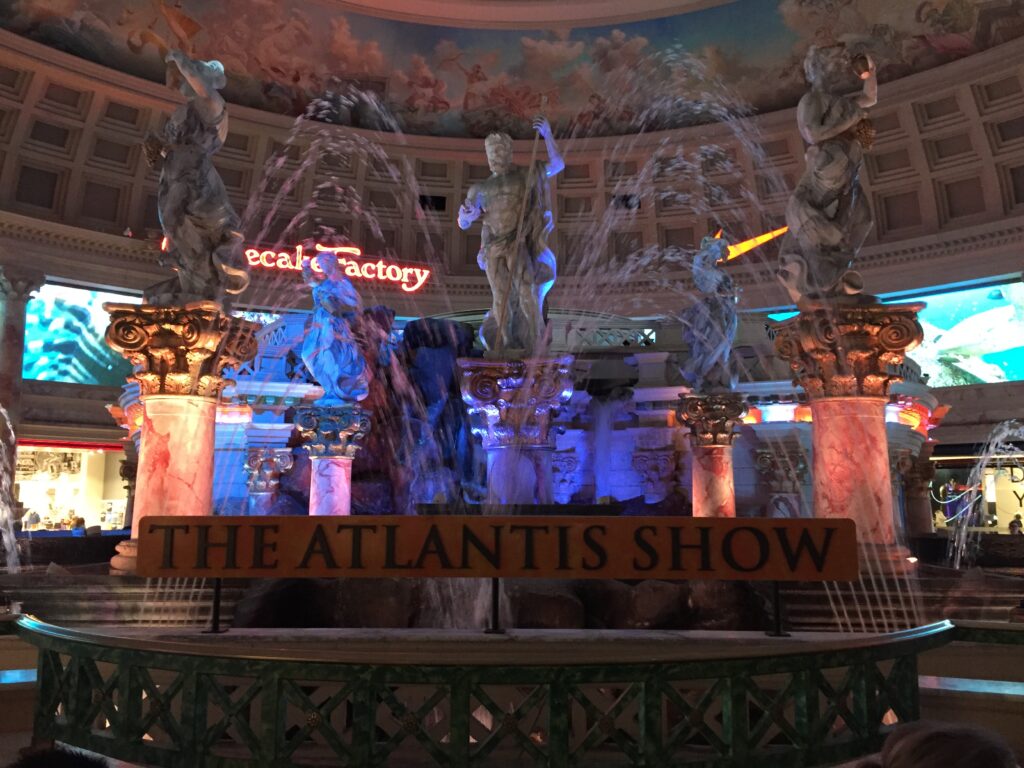 Fall of Atlantis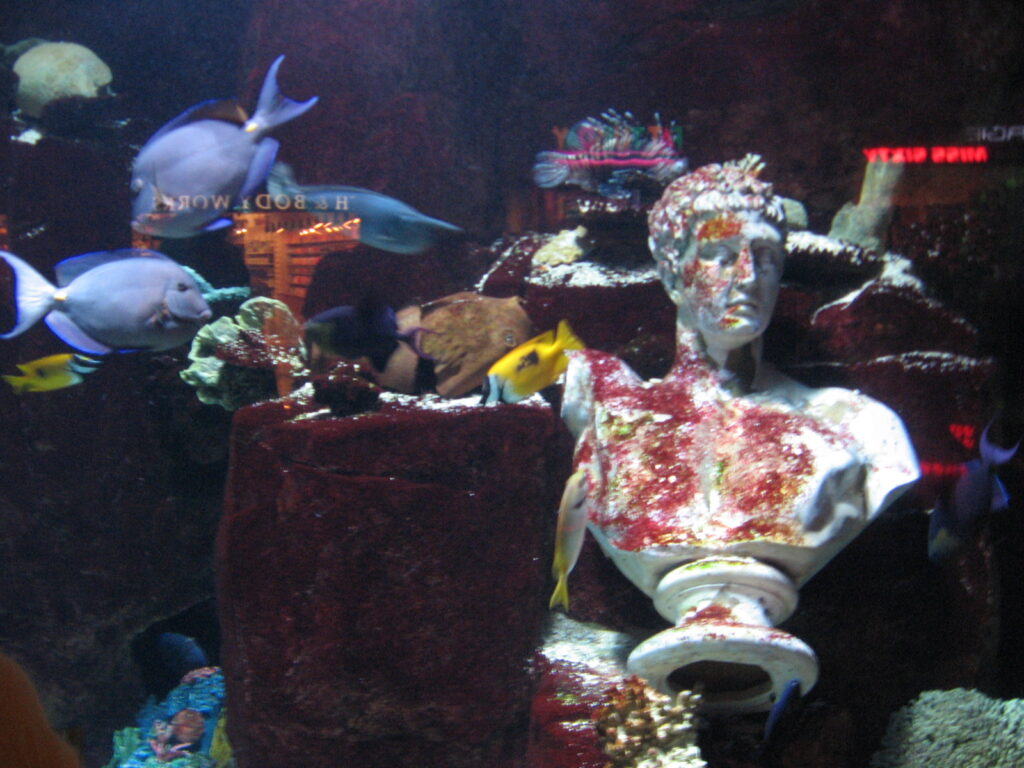 Caesars Palace Forum Shoppes Fall of Atlantis show (near Cheesecake Factory) on the hour from 12 noon to 8 PM from Thursday to Monday. BONUS: 50,000-gallon Aquarium behind Fall of Atlantis with divers feeding the fish at 1:15 PM and 5:15 PM.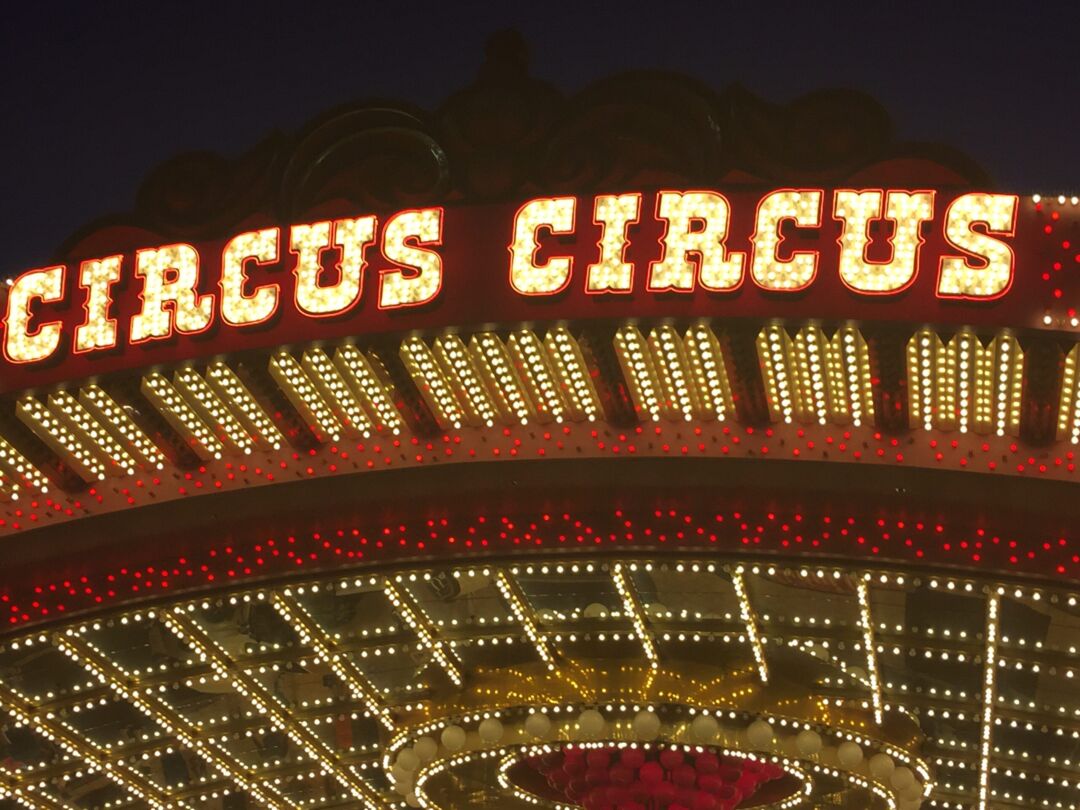 5. Circus Circus free world-class circus acts every 30-45 minutes (11 AM to Midnight) at center stage of the Carnival Midway.
6.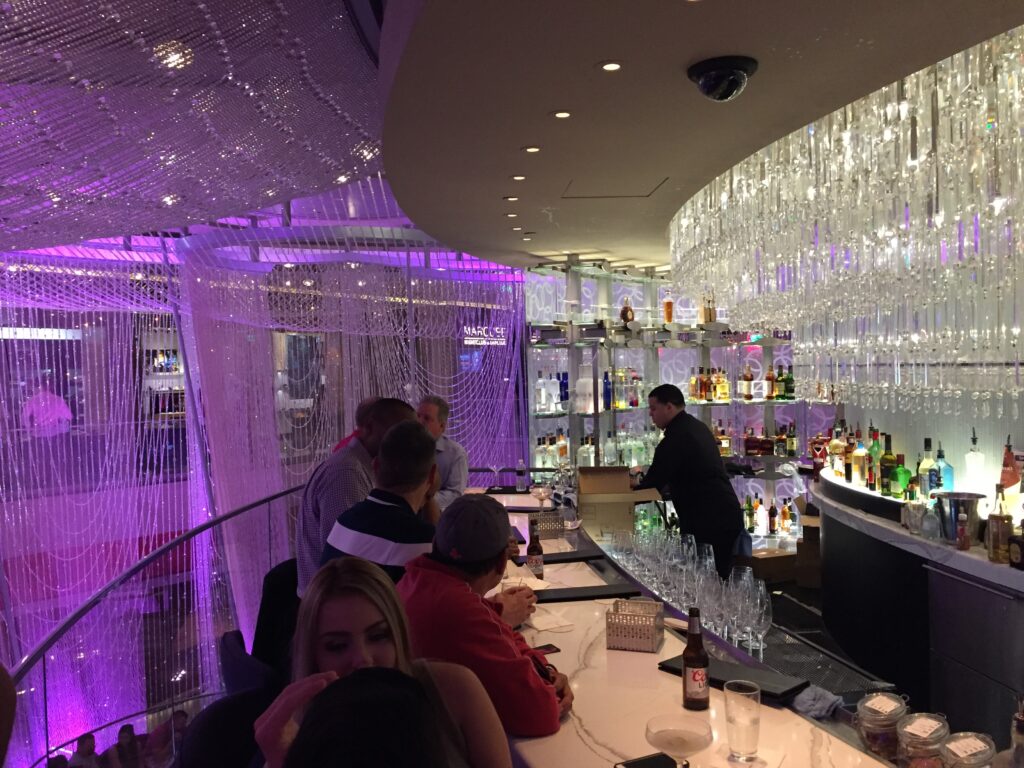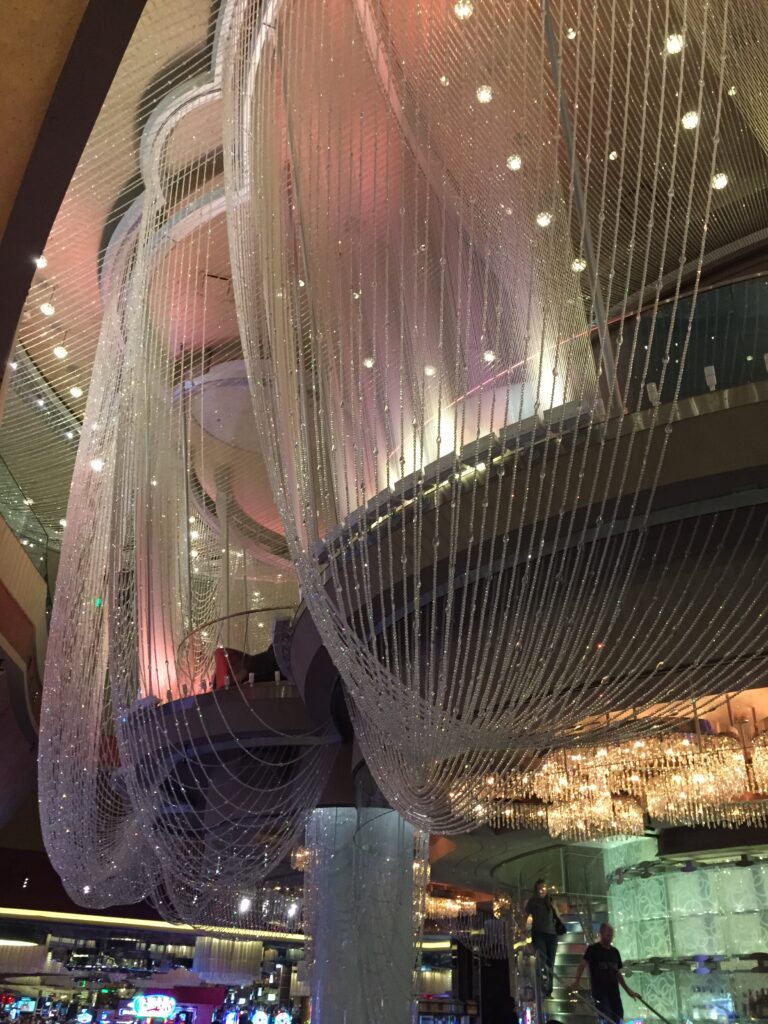 Cosmopolitan Chandelier multi-level lobby bar is surrounded by a $30 million chandelier (the largest in the world), which makes for a great photo op.
7.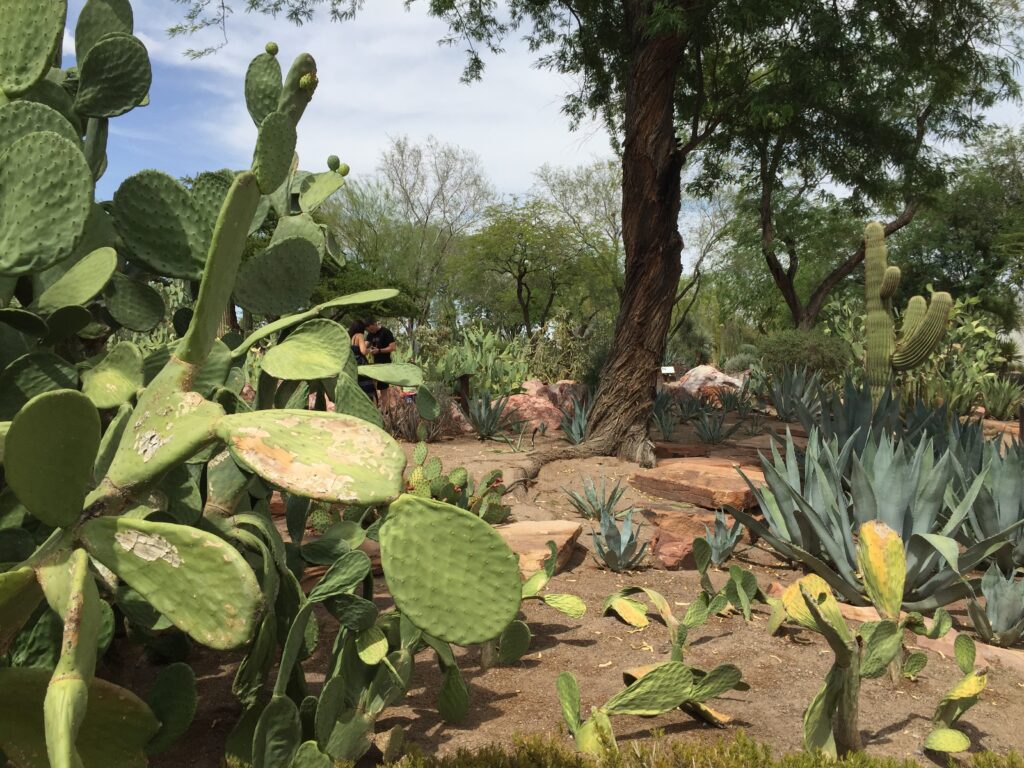 Ethel M Cactus Garden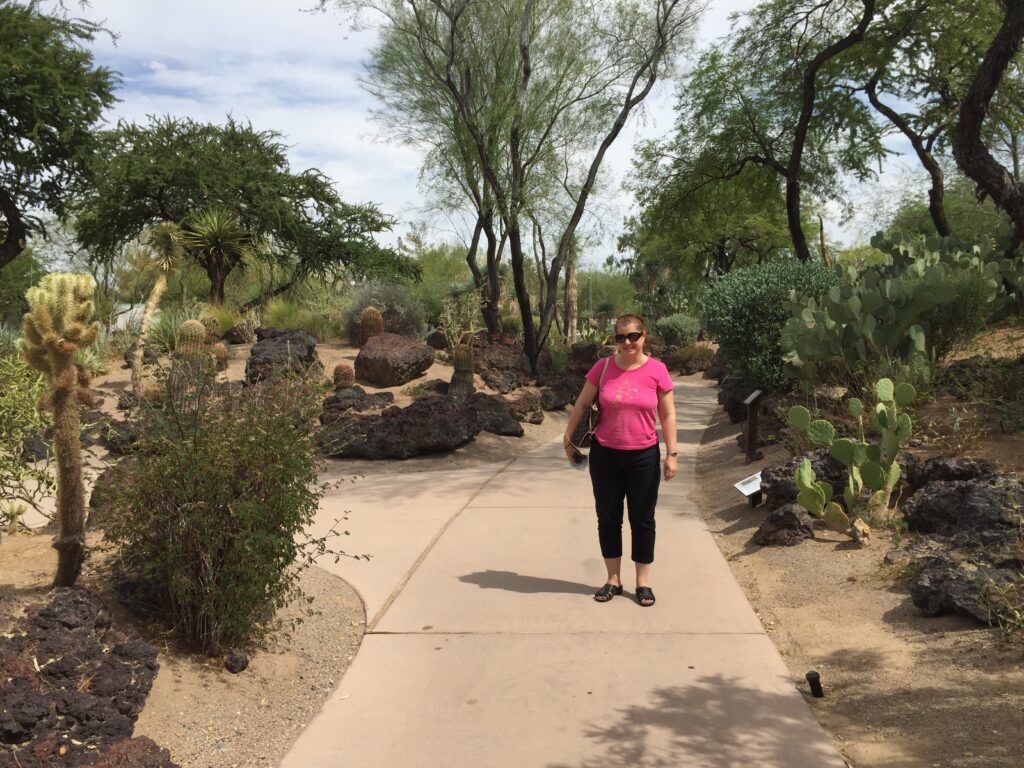 Ethel M Chocolate Factory & Botanical Cactus Garden – 15-minute drive from the Strip (2 Cactus Garden Dr., Henderson, NV 89014). Free self-guided tour with chocolate samples.
8.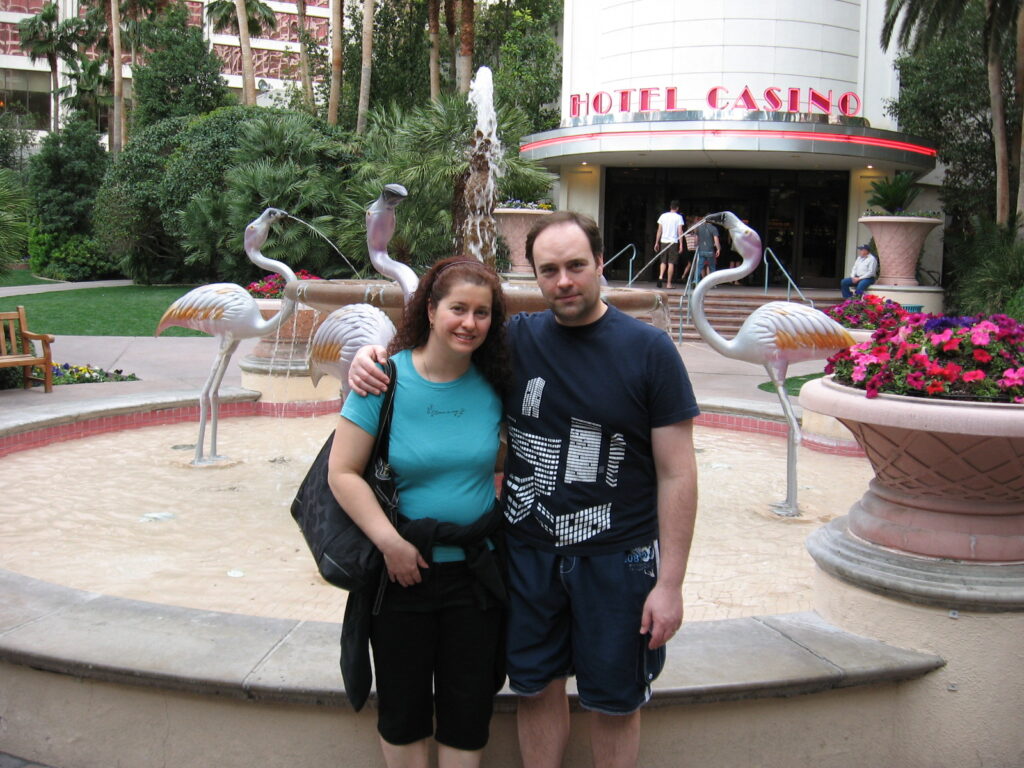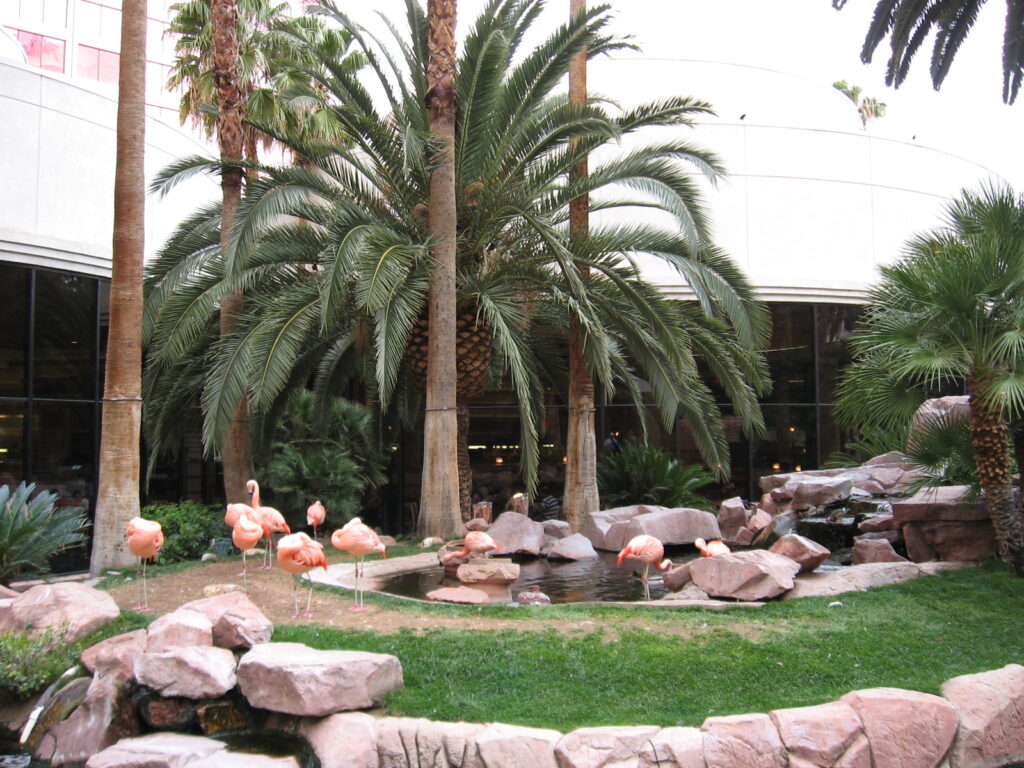 Flamingo Wildlife habitat (swans, flamingos, Koi fish, turtles & many other birds).
9.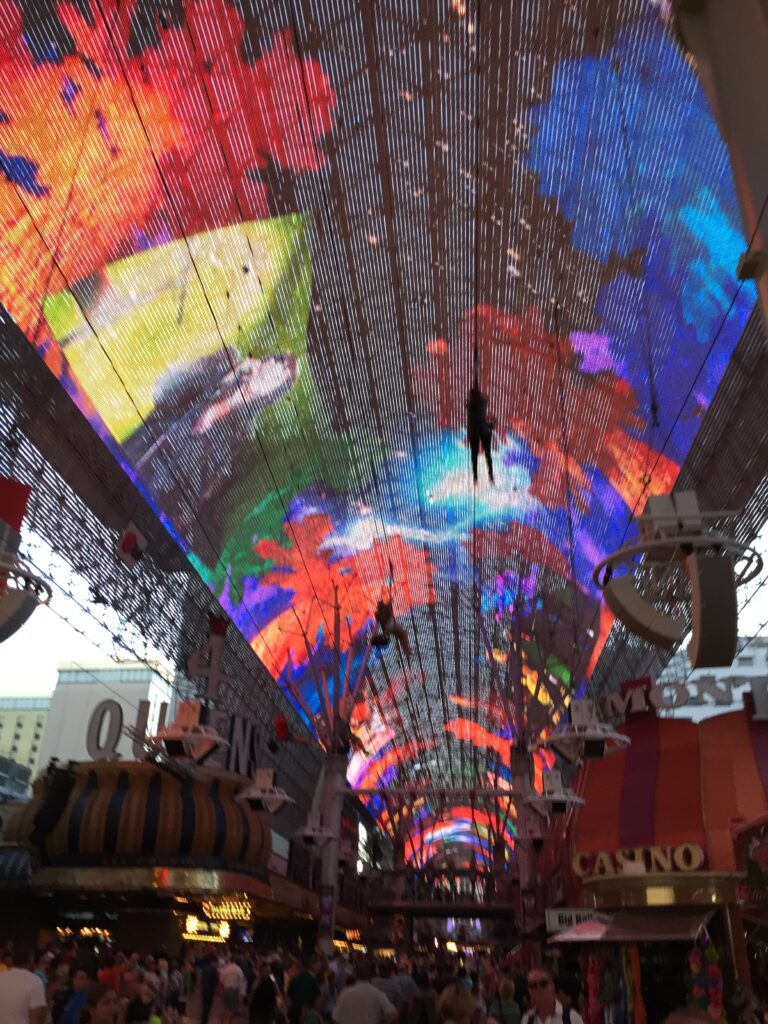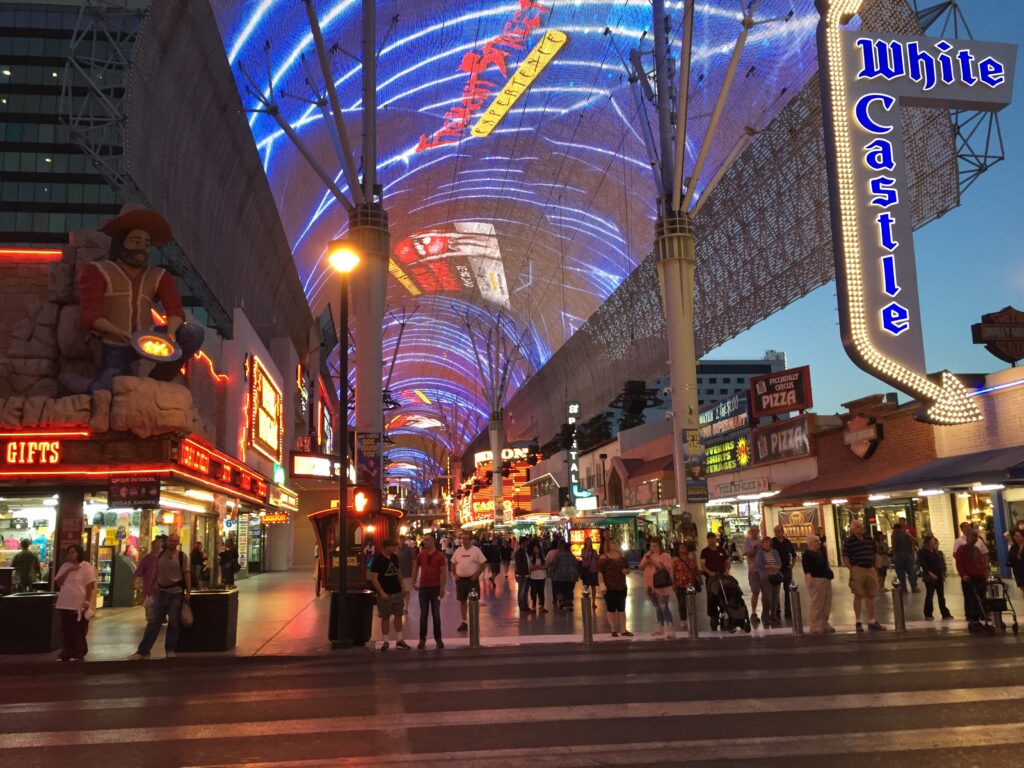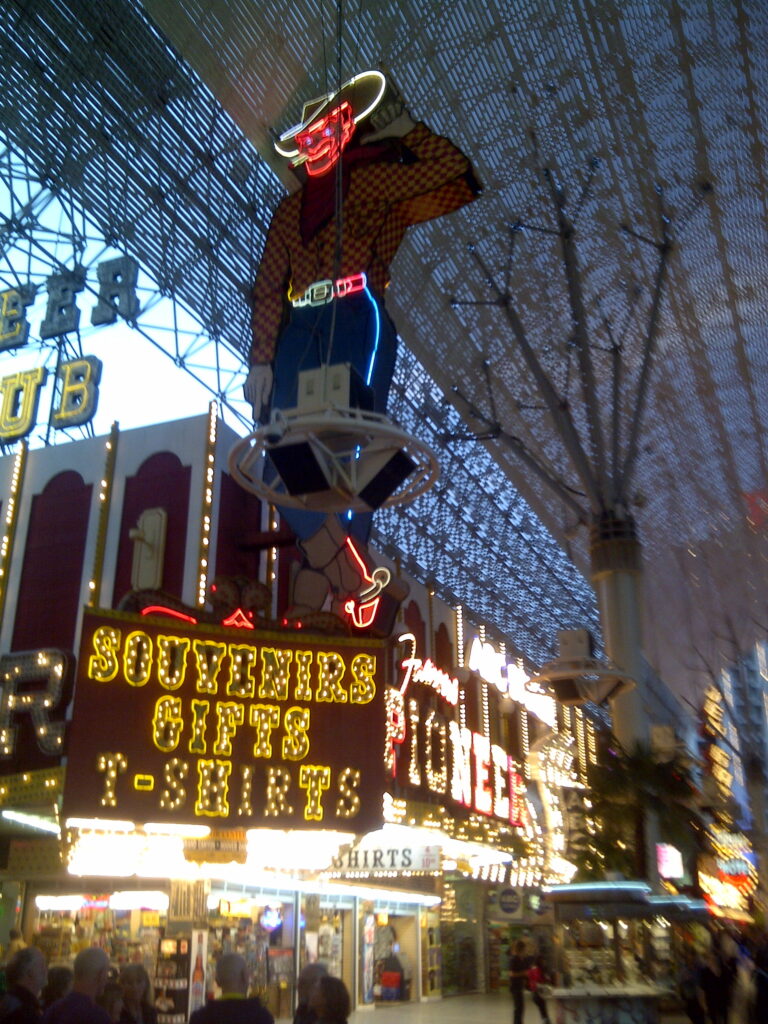 Fremont Street Experience Viva Vision free canopy light show (show times are every hour from 6 p.m. to 1 AM). Also, there is free music and entertainment on 3 stages from 6 PM to 1 AM. BONUS: You can get a photo op with the largest mechanical neon sign in the world and watch people zip-line overhead.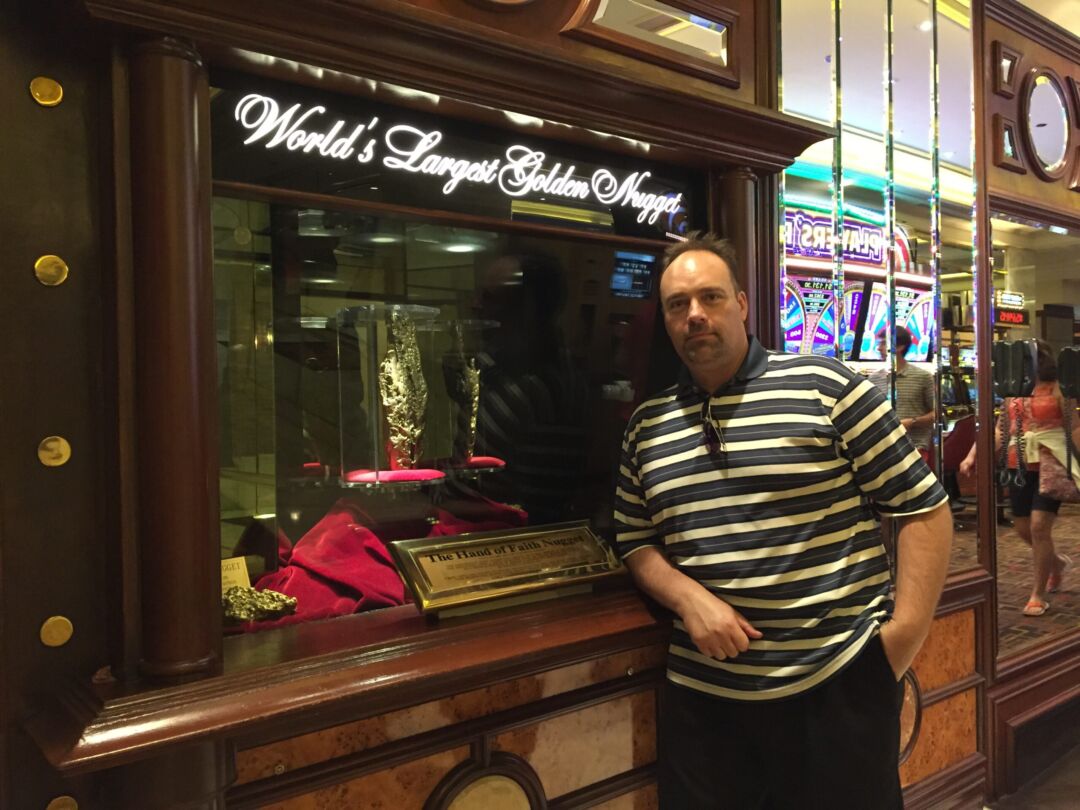 10. Golden Nugget (on Fremont St.) "Hand of Faith" gold nugget, which is the biggest gold nugget in the world weighing 62 pounds. The Golden Nugget also has a pool with a huge aquarium containing sharks in the middle. You can see the sharks for free from a viewing area inside the casino.
11.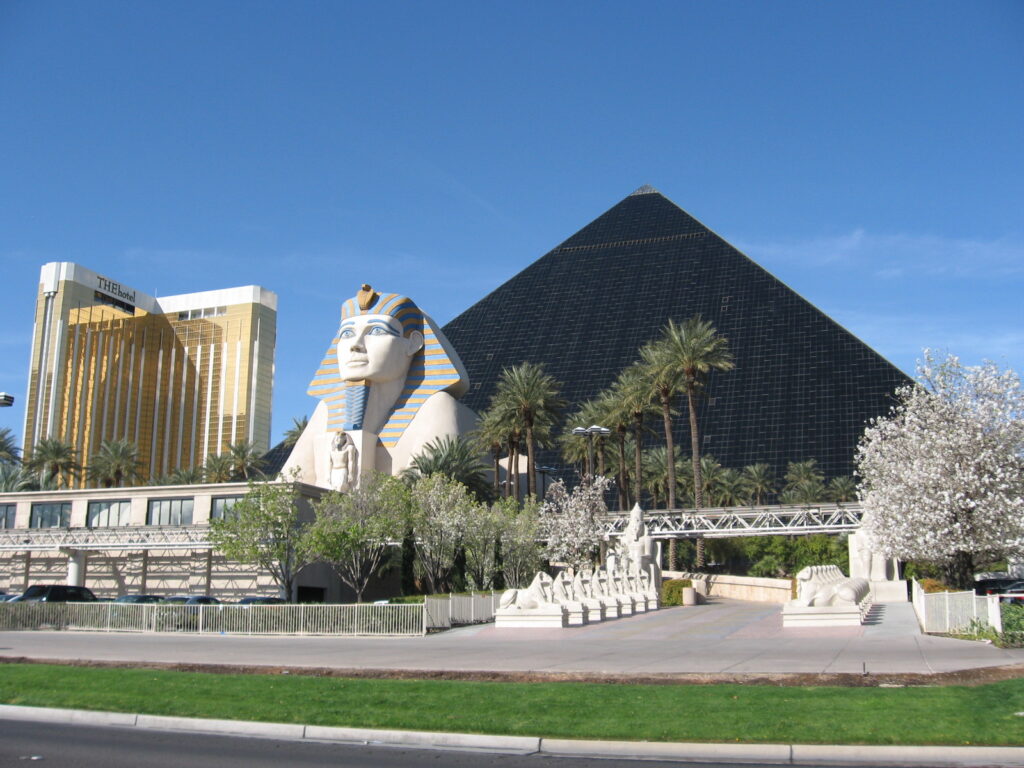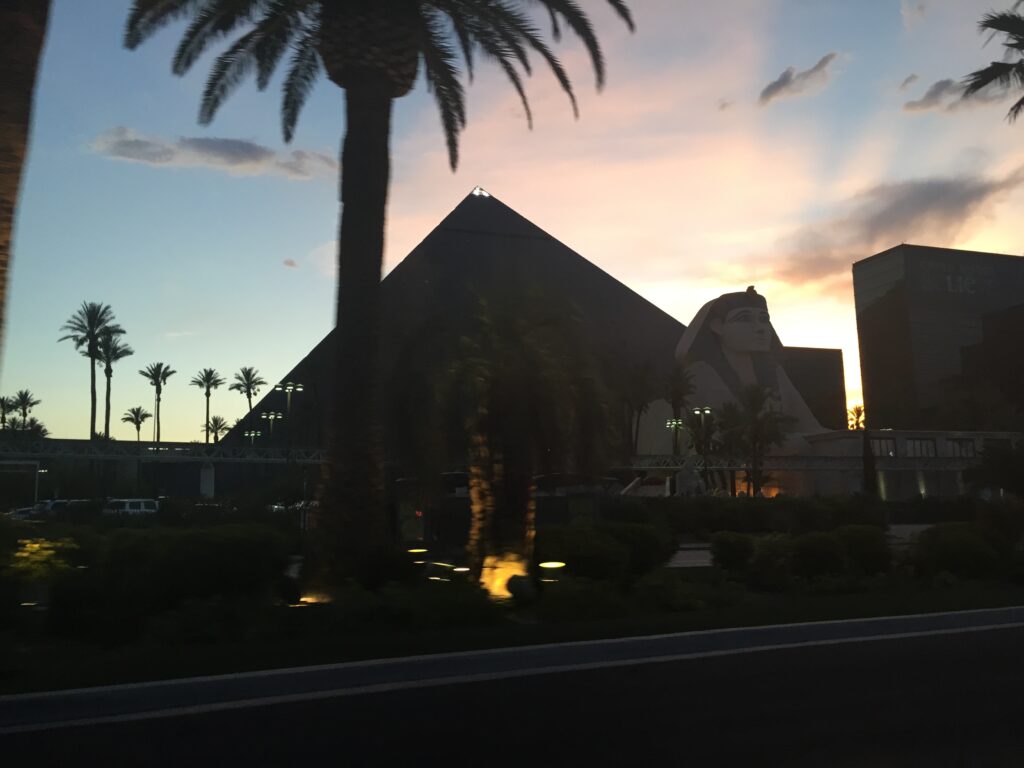 Luxor Hotel is a replica of the Pyramid of Khafre from Giza, Egypt, guarded by a great Sphinx.
12.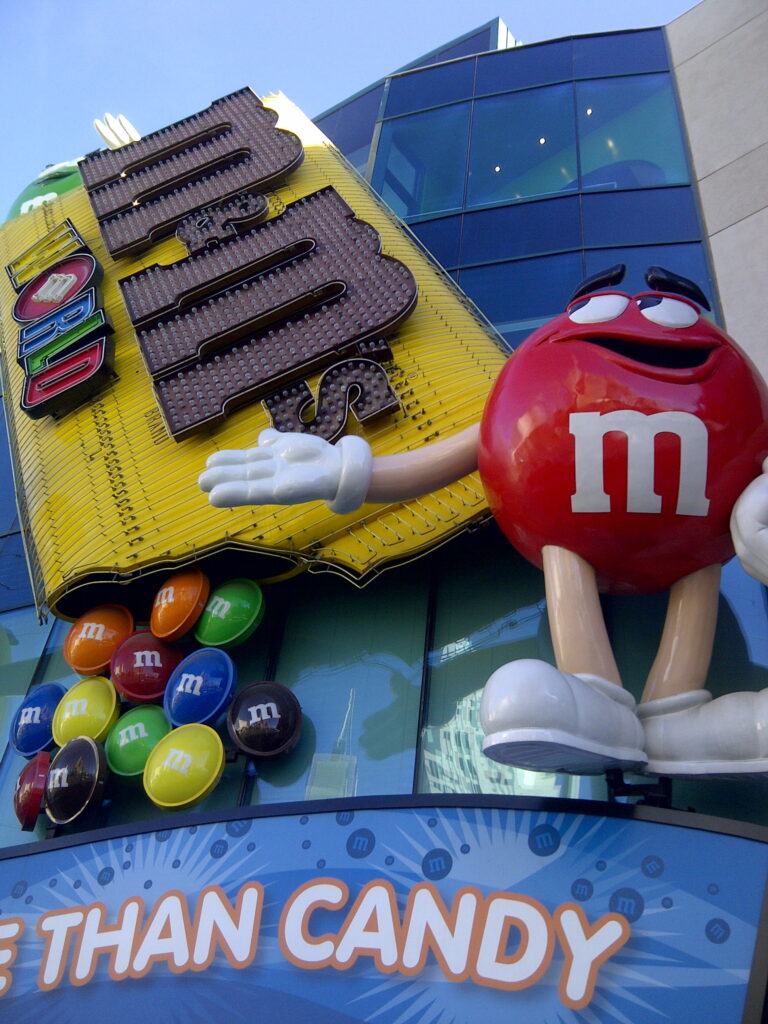 M&M's World Store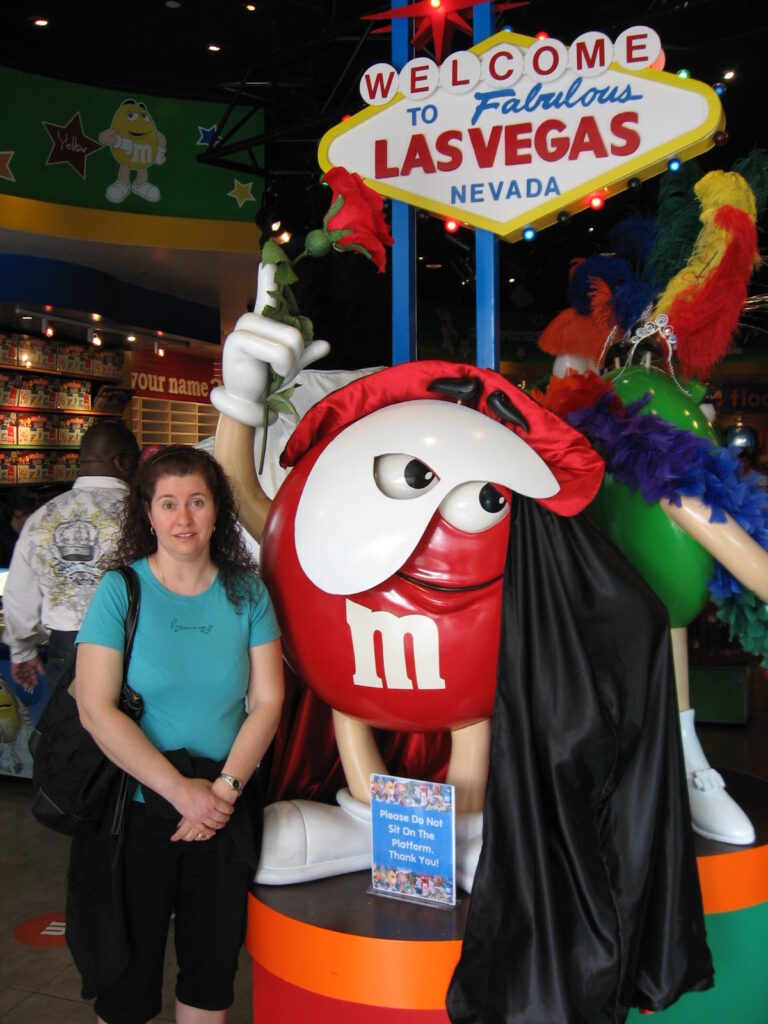 M&M's World – Next to MGM Grand. Free 3D Movie "I lost my M in Vegas" starring M&M characters.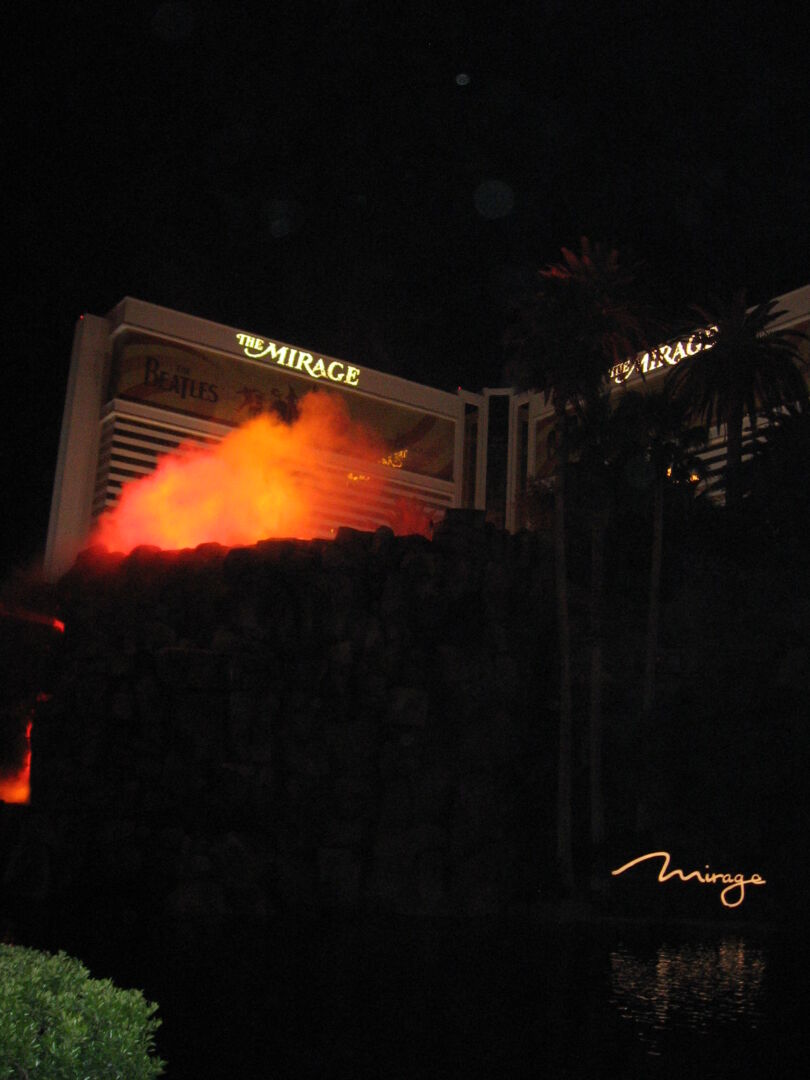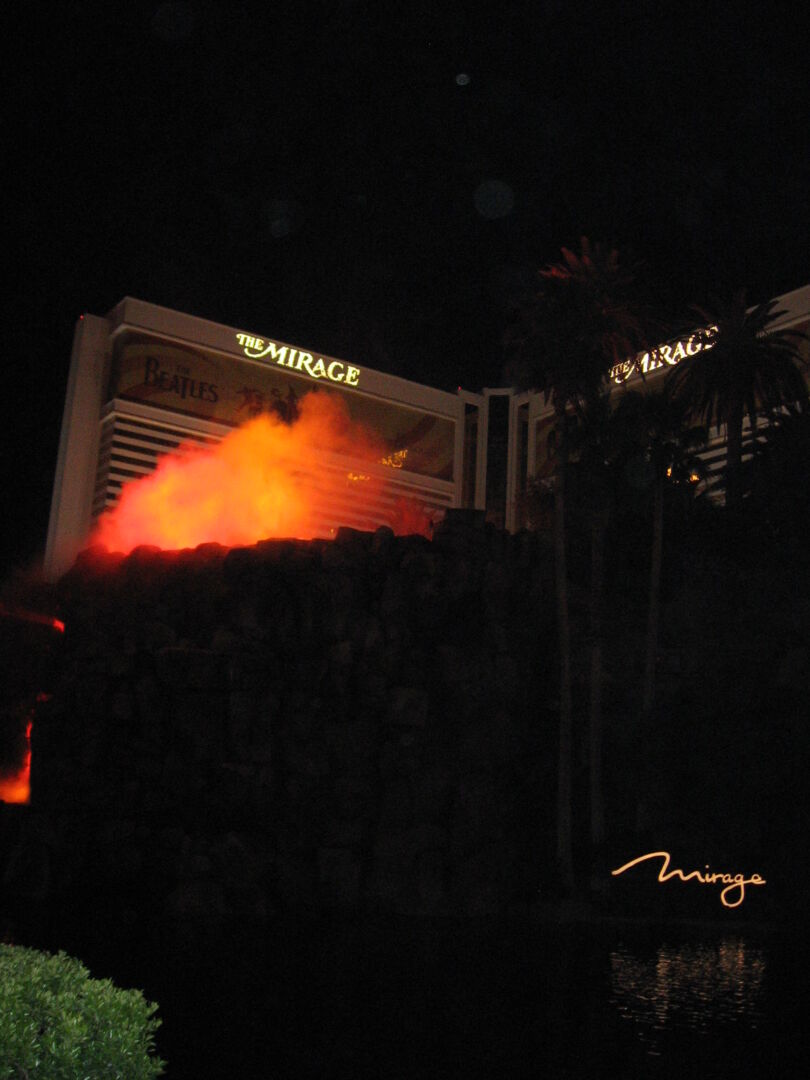 13. Mirage Volcano erupting outside (dancing fountain show) every hour from 6 PM to 11 PM. BONUS: 20,000-gallon aquarium at main lobby.  Hurry and see this, because I read that this casino will be redeveloped and the volcano will be removed.
14.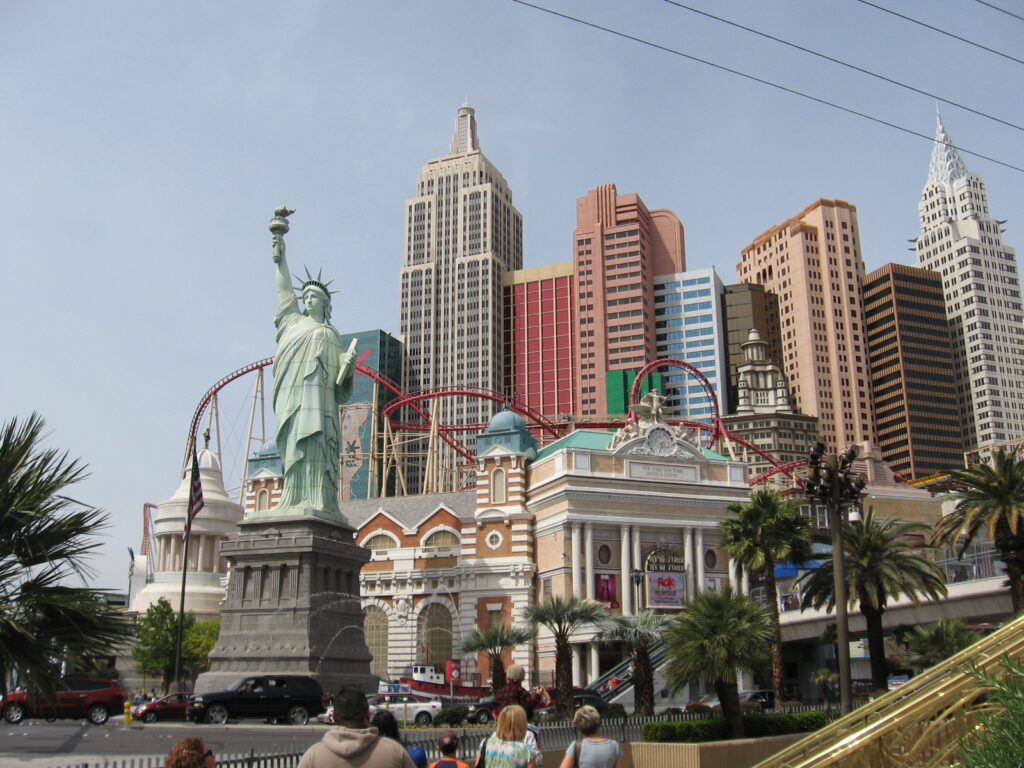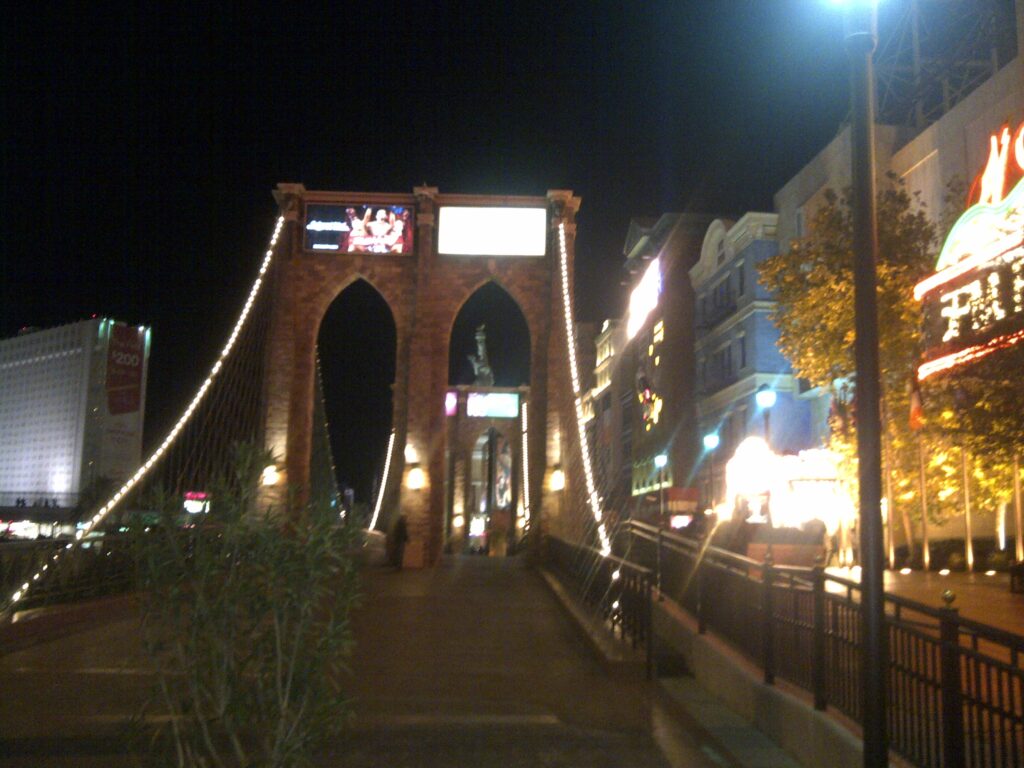 New York, New York has New York buildings and streets inside plus replicas of the New York City Skyline Skyscrapers, Statue of Liberty and the Brooklyn Bridge outside.
15.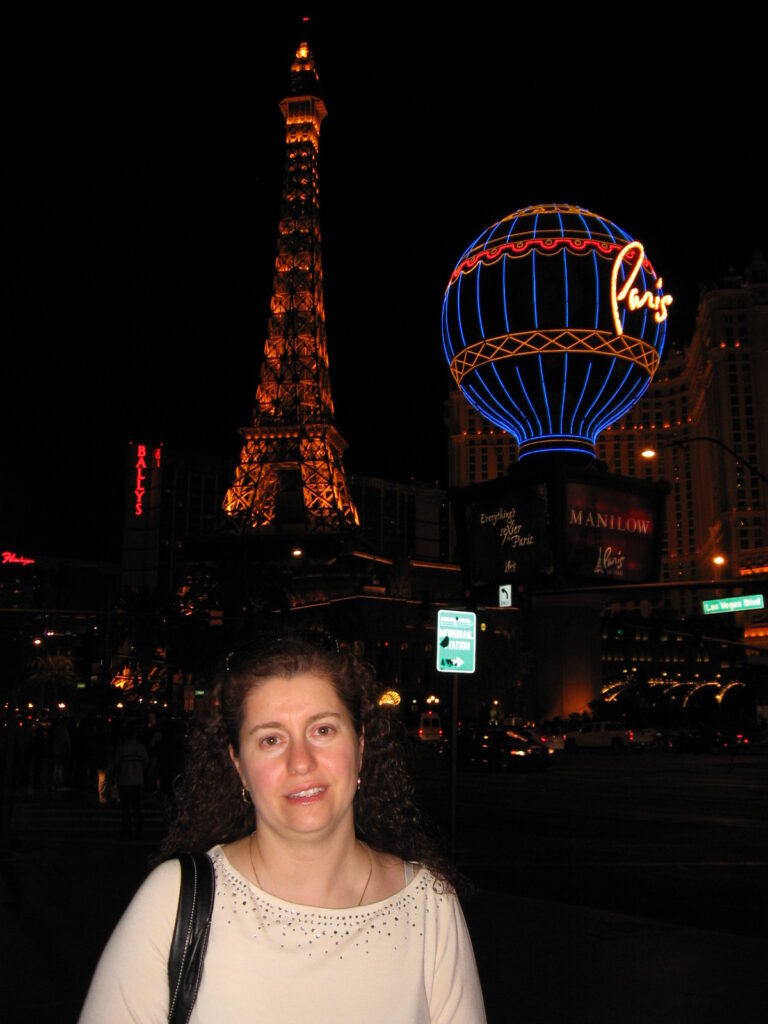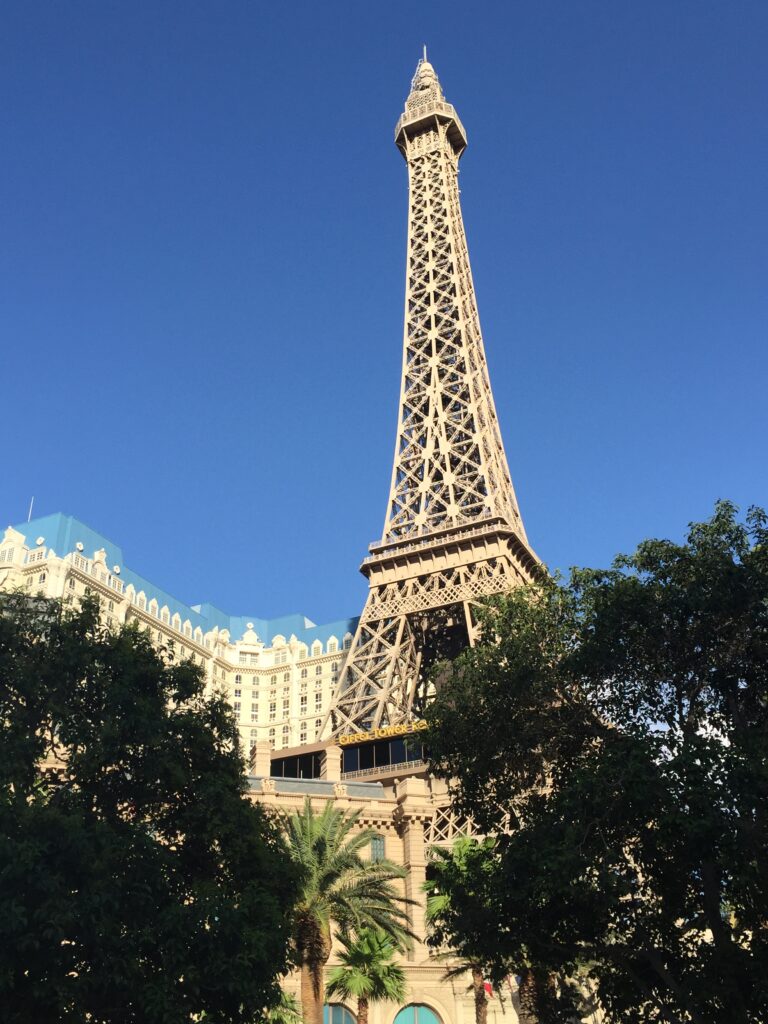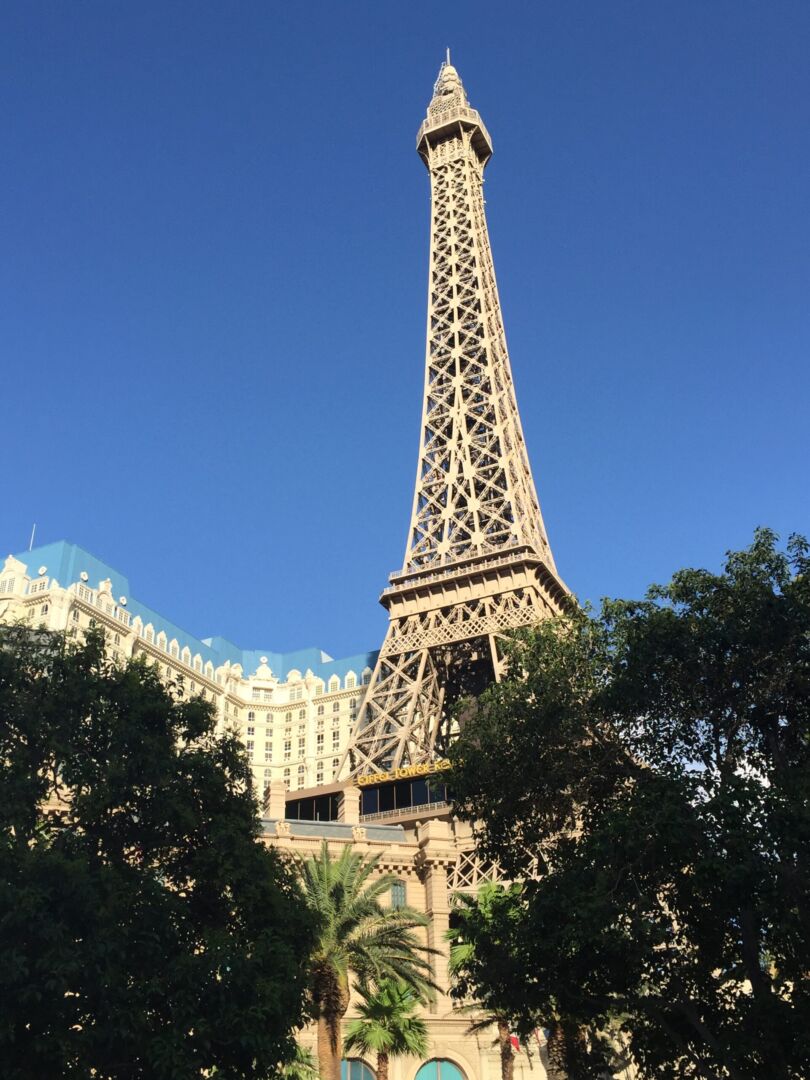 Paris Hotel Eiffel Tower replica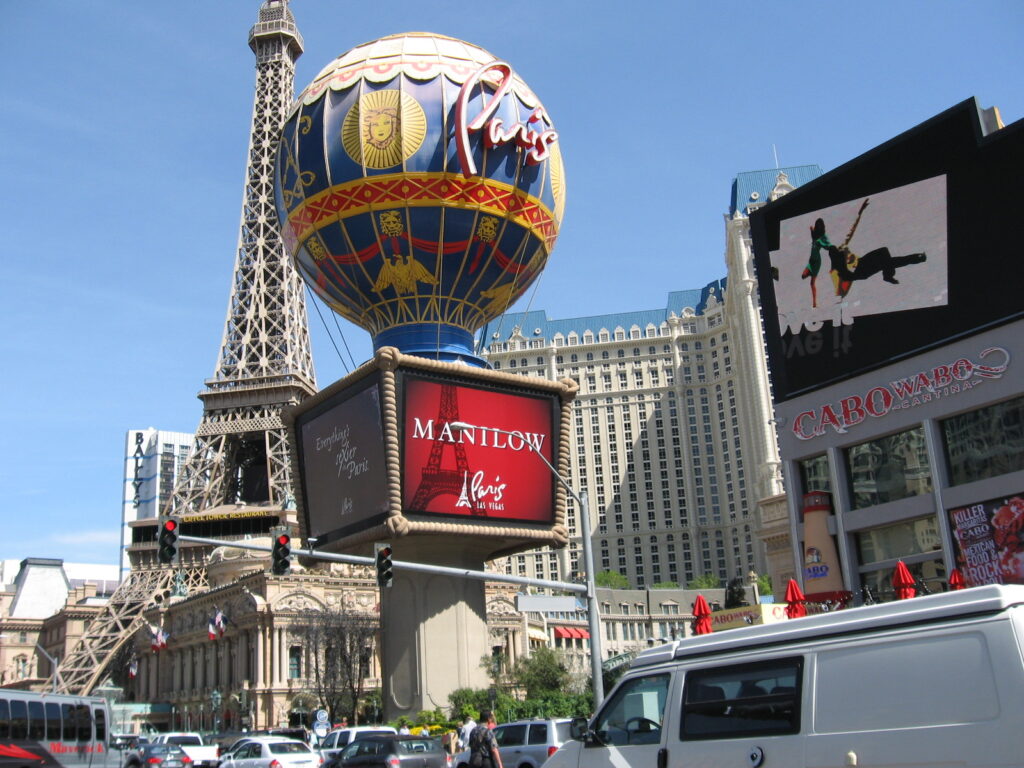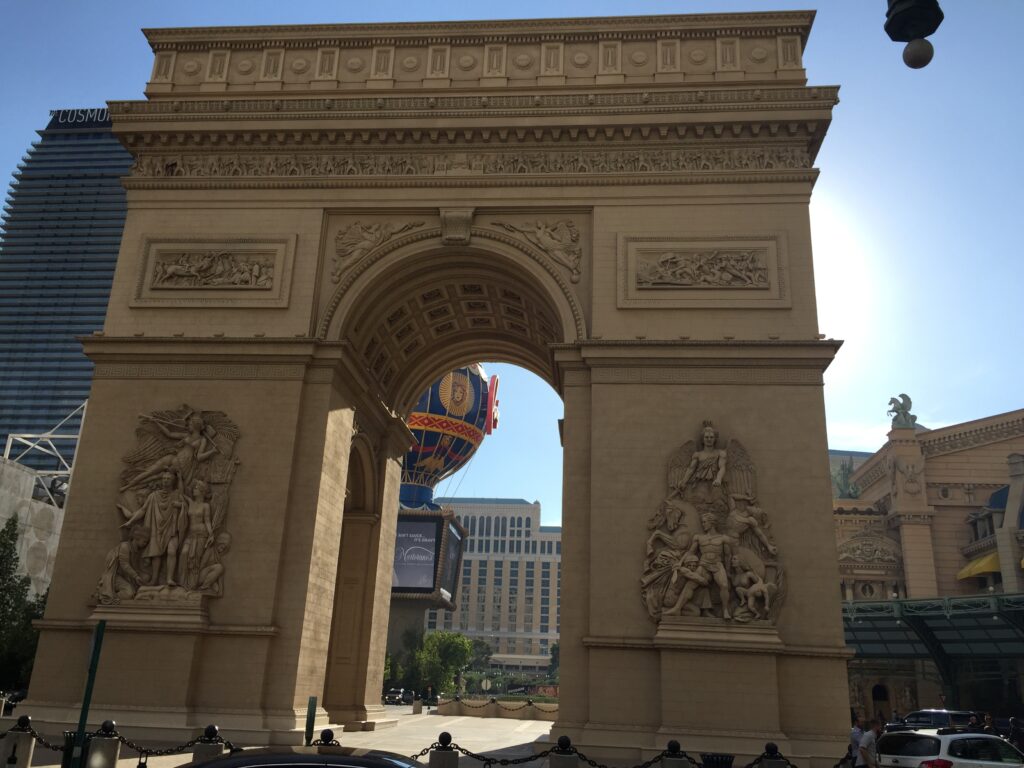 Paris Hotel has Paris buildings and streets inside plus replicas of L'Arc De Triomphe and the Eiffel Tower outside.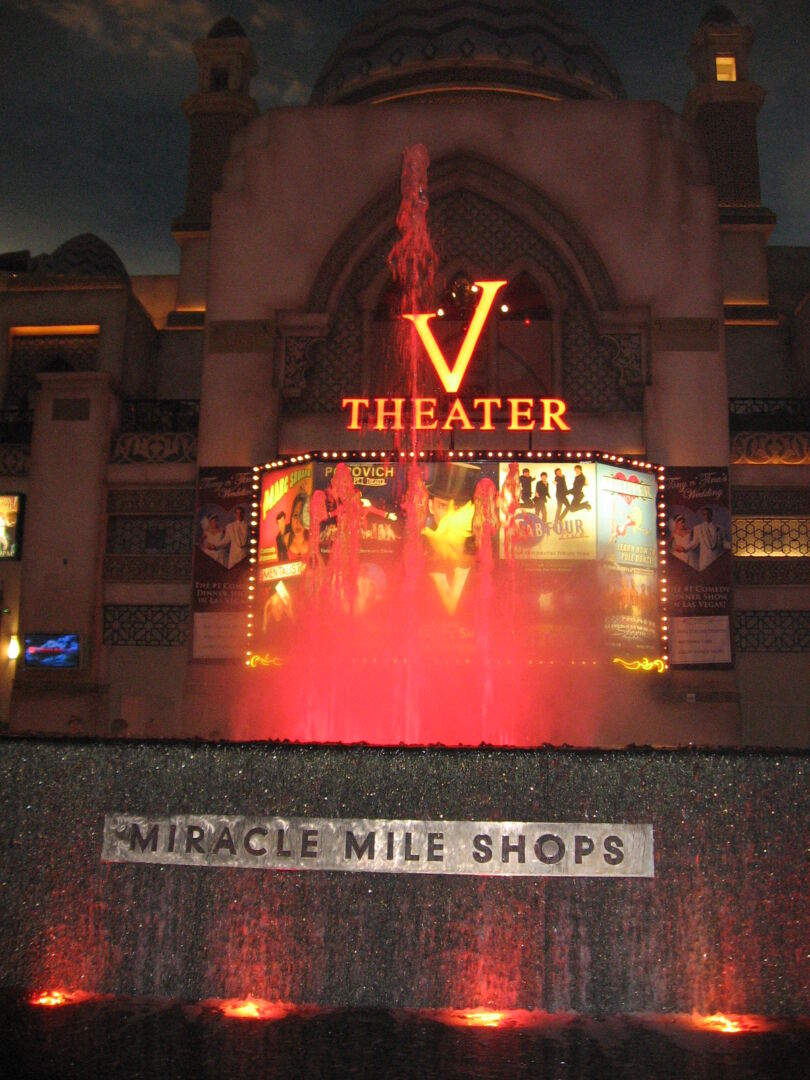 16. Planet Hollywood's Miracle Mile shops has a Harbour Rainstorm every hour on the hour (every half-hour on Friday & Saturday) by Ben and Jerry's. They used to have a fountain show pictured above, but they removed it.
17. Sam's Town Casino Sunset Stampede is a free Laser Light and Fountain Show in the Mystic Falls Park at 2, 4, 6, 8 & 10 PM nightly.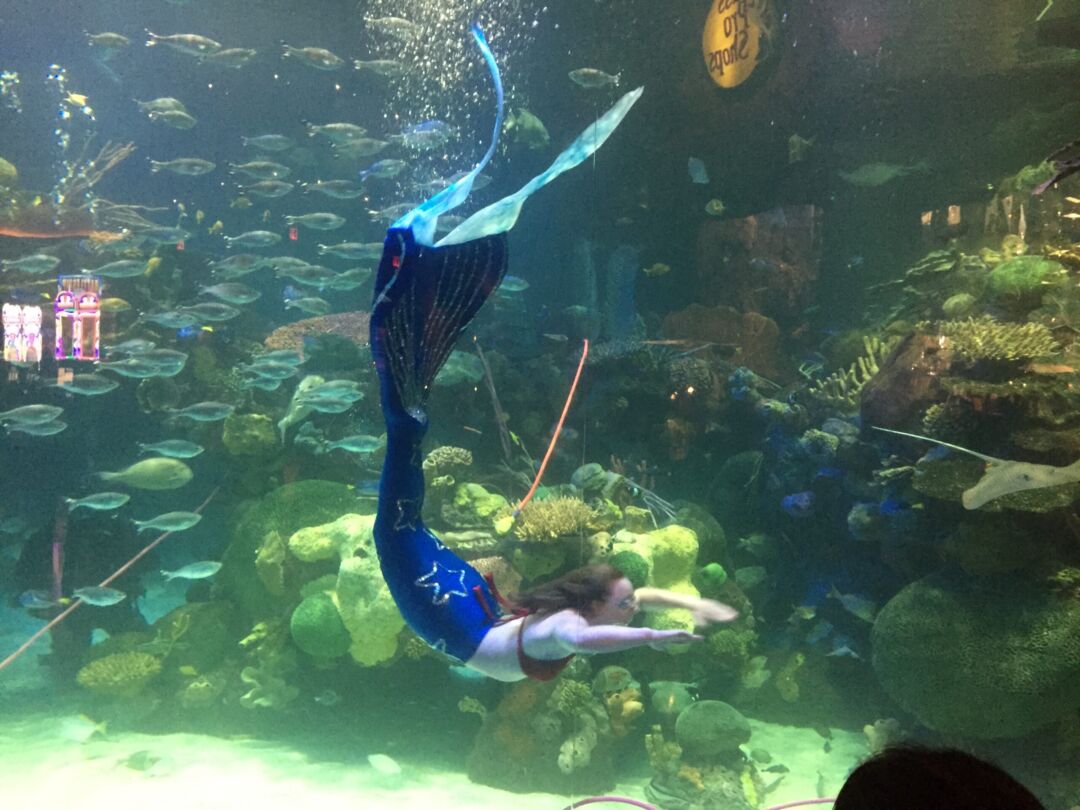 18. Silverton Casino has a 117,000 gallon aquarium with feeding shows at 1:30 pm & 4:30 pm and a Mermaids show from Thursday to Sunday at 2 PM & 5 PM.
19.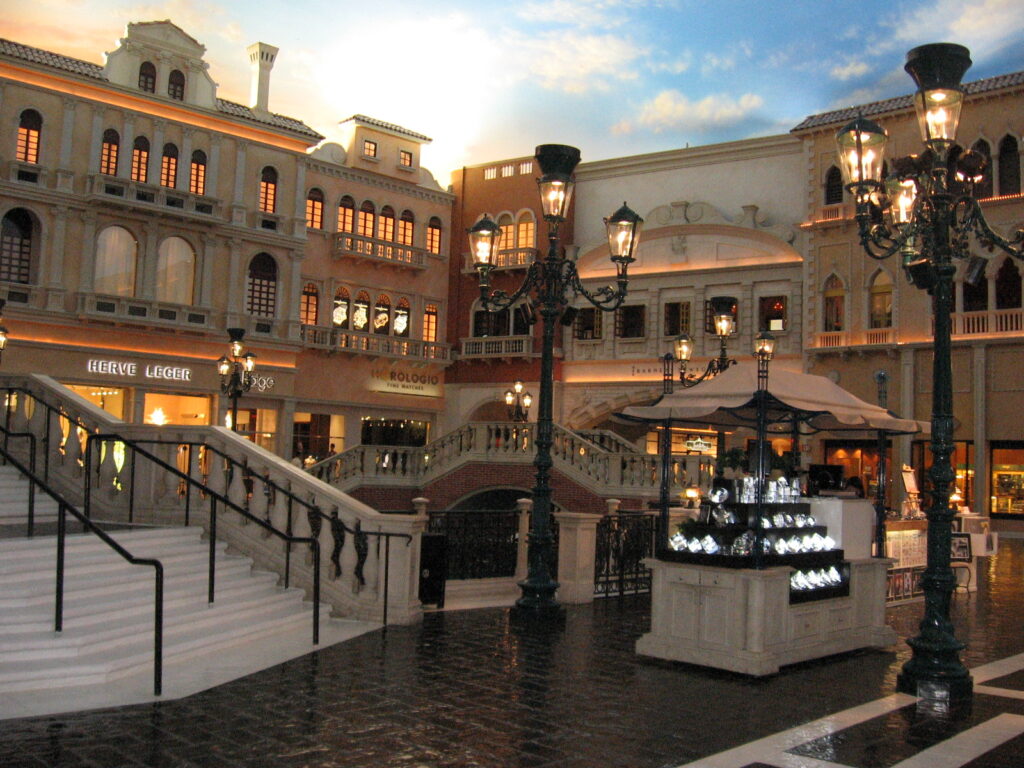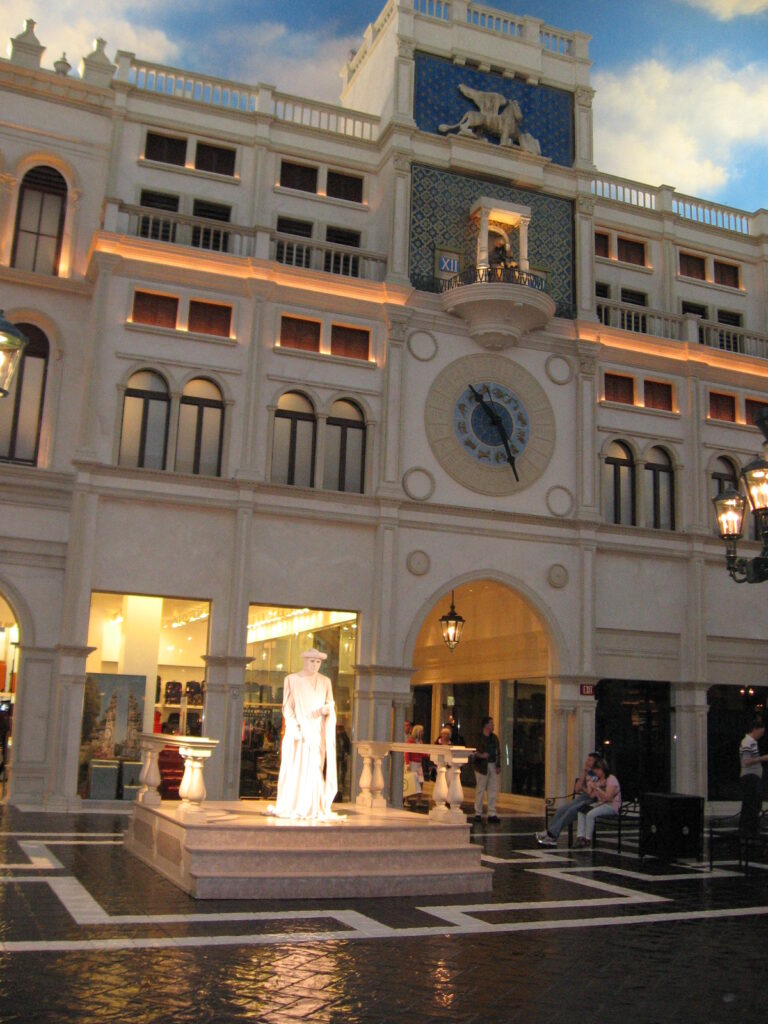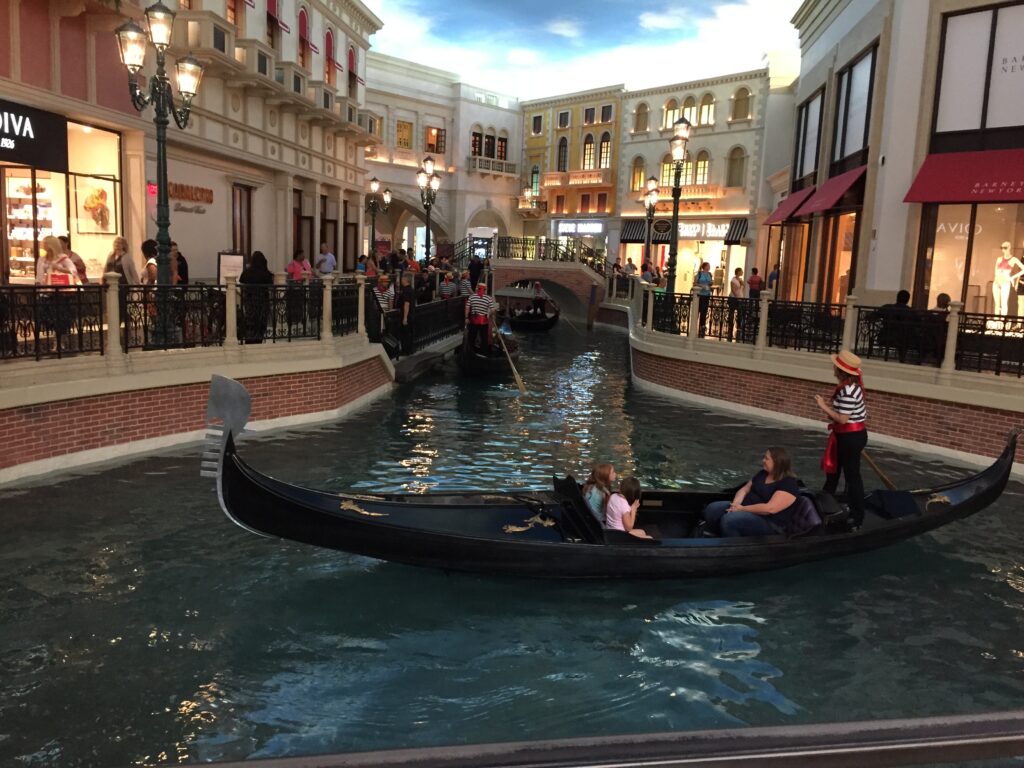 Venetian Gondola Ride
Venetian has Italian buildings and streets, "Streetmosphere" street performers (such as opera singers & living statues) hourly from noon to 6 PM in St. Mark's Square (10 AM to 6 PM), gondoliers singing opera while guiding their gondolas down the canal, amazing painted ceilings in the casino entrance and hotel lobby, and art throughout the resort complex.
20.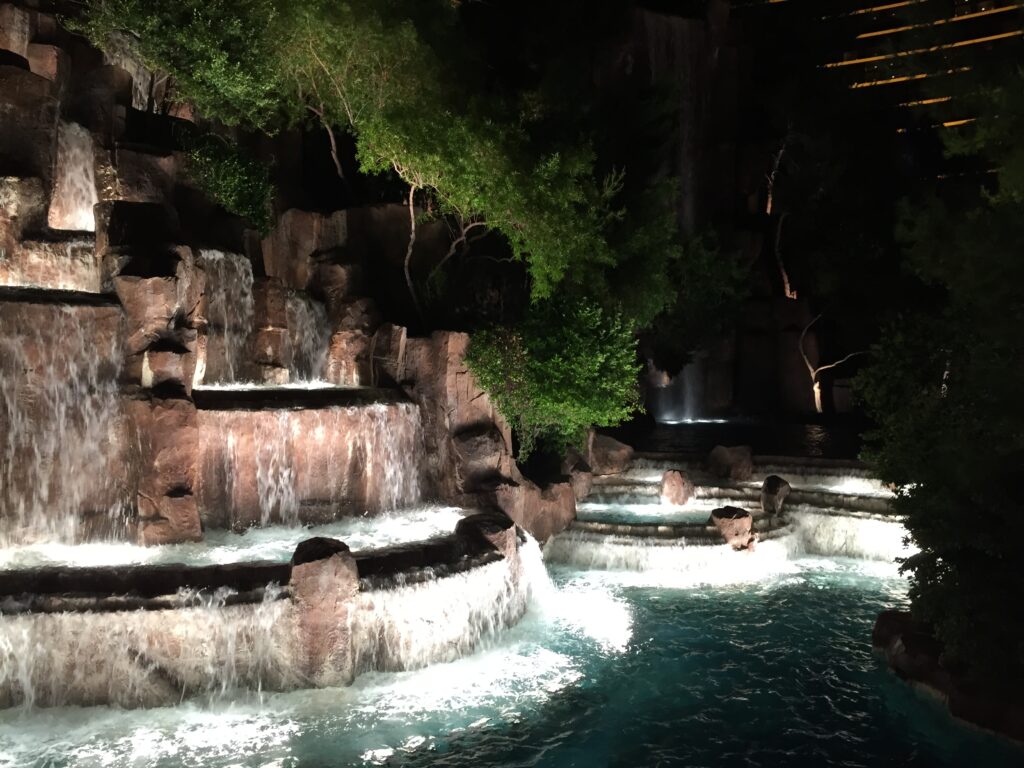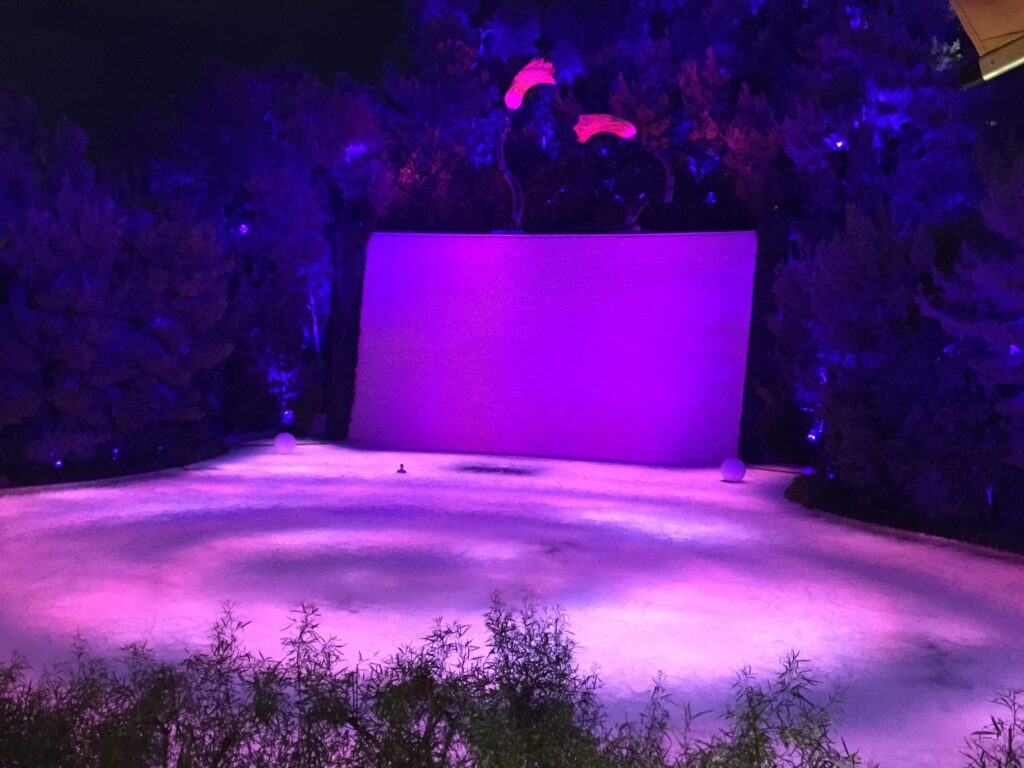 Wynn's has a "Lake of Dreams" fountain and multi-media show every 30 minutes from 6 PM to 11:30 PM (best watched from the lounge patio).
BONUS
: This resort also has a man-made mountain out front, a Koi fish pond, and flower displays.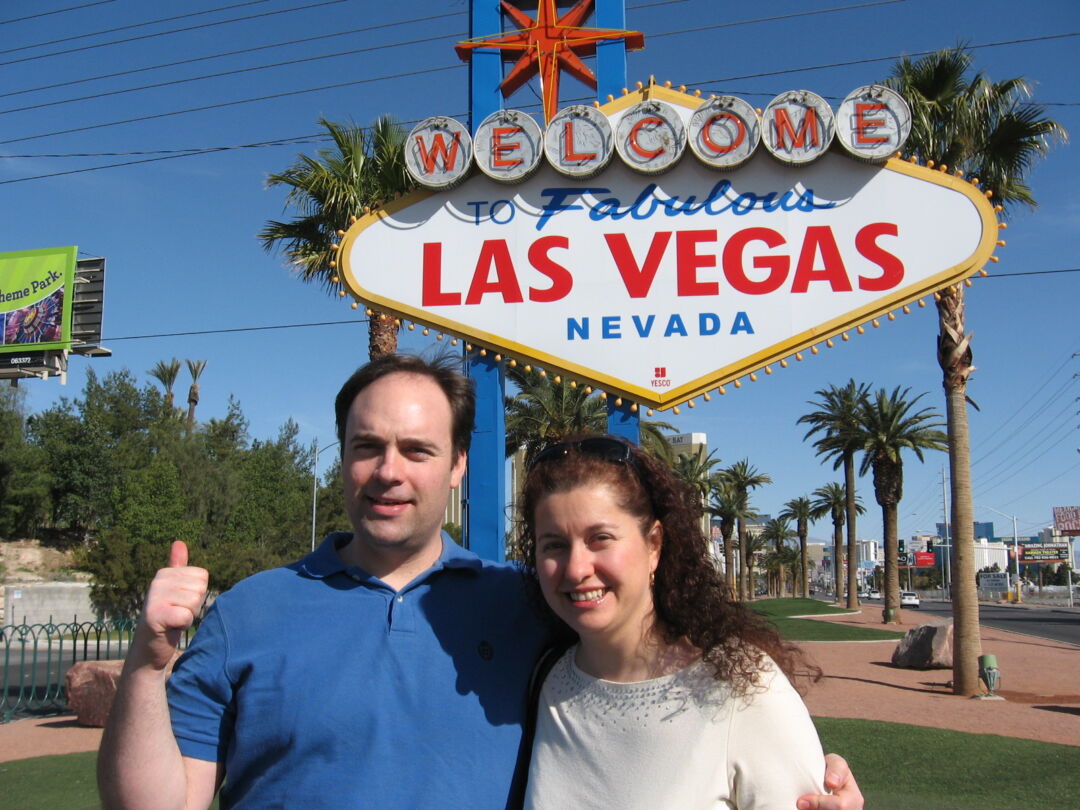 BONUS TIP: No trip to Vegas would be complete without a picture in front of the "Welcome to Fabulous Las Vegas" sign on the South-end of the Strip near the Airport.  Also, the Strat recently erected a giant double arch over Las Vegas Boulevard that says "City of Las Vegas" which makes for a good photo op.
Here is a short video from our YouTube channel with some of the free things to do on the Las Vegas Strip…
Happy Travels,
Kev
P.S. Here are links to our social media accounts, in case you want to connect that way:
Retirestyle Travel Instagram
Kevin's LinkedIn
Retirestyle Travel Facebook Page
Kevin's Pinterest
Retirestyle Travel TikTok
Retirestyle Travel Twitter
Retirestyle Travel YouTube (Please check out our YouTube Channel for travel videos)
You May Also Like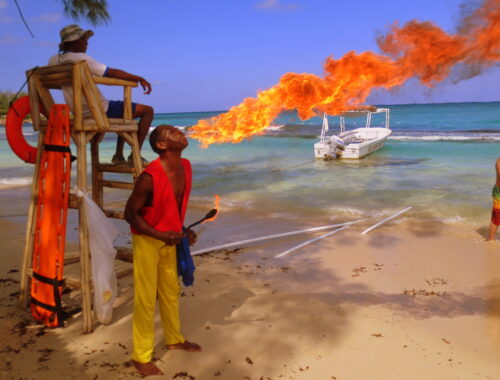 February 26, 2020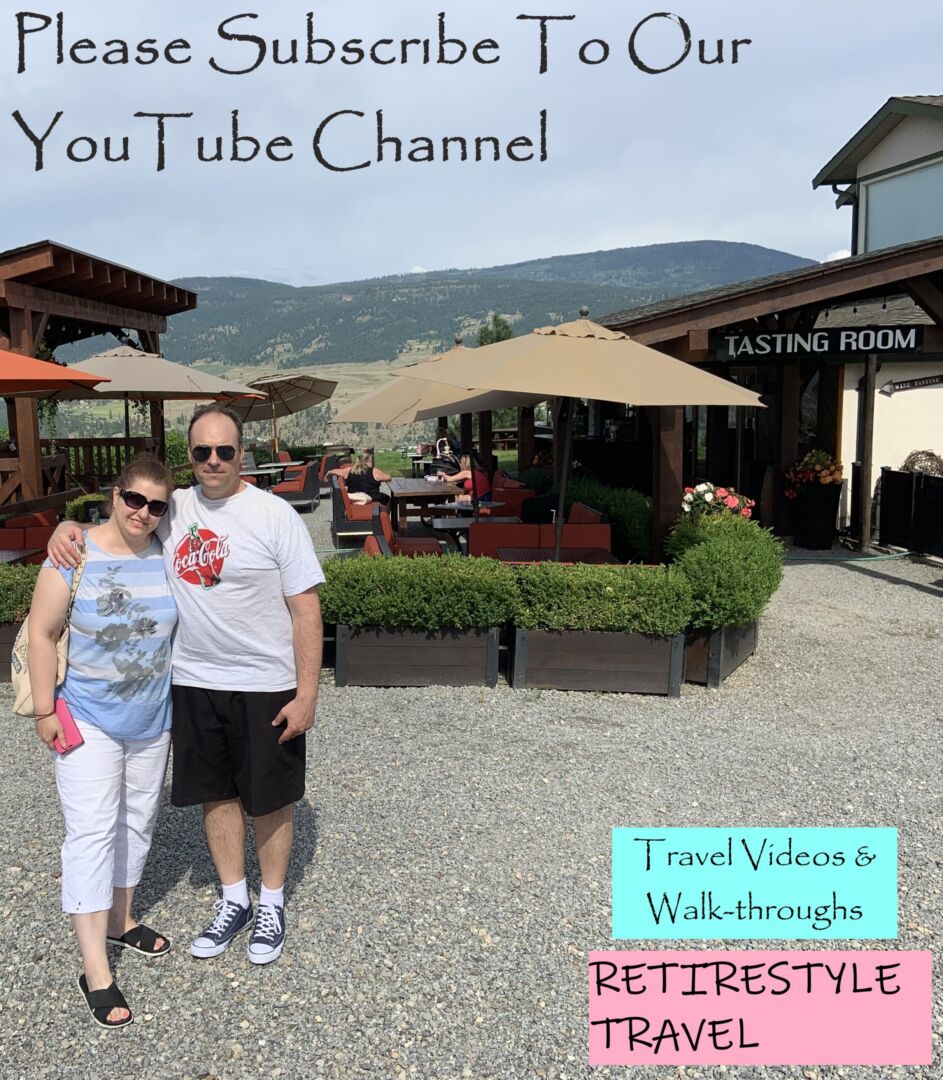 February 25, 2020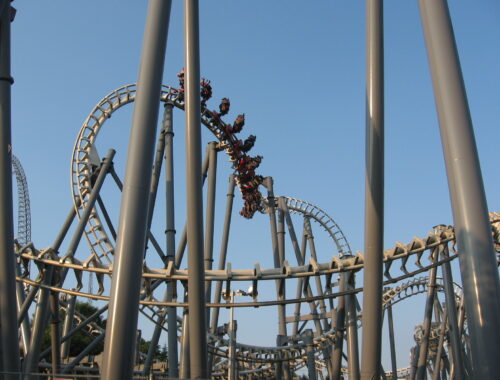 February 26, 2020