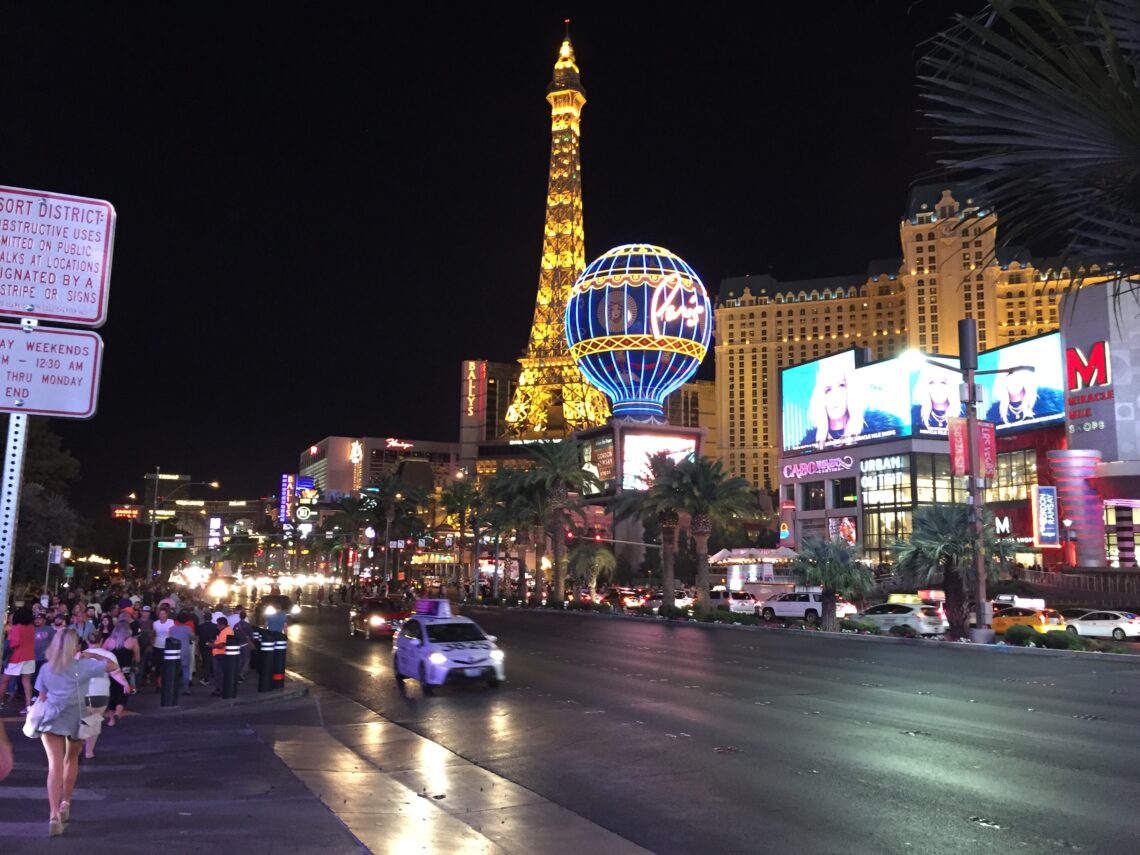 Las Vegas, Nevada, USA – Travel Tips and Things To Do
February 26, 2020
Las Vegas, Nevada, USA – Travel Tips and Things To Do
Kevin was planning to travel to Las Vegas, Nevada in July 2020 for 2 reasons.
He was supposed to go for 5 days with our family to celebrate our 25th wedding anniversary because we had also celebrated our 20th wedding anniversary there.
He was also planning to go for an extra 4 days with friends from his touch football team because 6 of them were celebrating their 50th birthdays in 2020.
You don't have to tell us… We know that July is Vegas is uncomfortably hot.
Unfortunately, our trip was cancelled due to the Covid-19 pandemic.
Fortunately, we gathered a lot of information from our research for this trip and we are sharing it with you below.
We realize it is a lot of information, so digest it a bit at a time or see some of our other more streamlined blog posts about Las Vegas.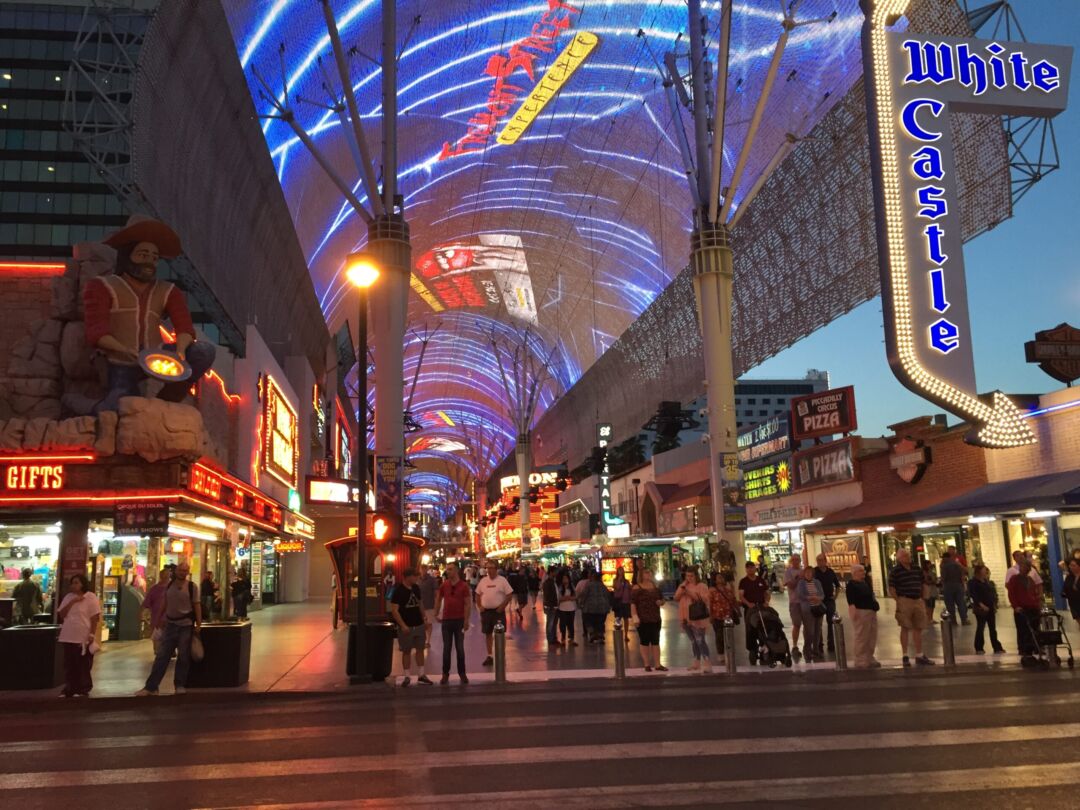 Las Vegas Travel Tips:
* as of 2020 (pre-Pandemic)
Take a shuttle bus (Airline, Bell, Star, SuperShuttle, and Showtime) from airport to hotel ($10-15 pp to strip and $15-20 to Downtown), but have multiple stops on the way and are inconvenient & slow.  It costs less if you buy a round trip ticket.  This is the cheapest way for 2 people.  4 people would be cheaper by cab or Uber if your luggage will fit. Taxi flat rates are $23 to Caesars Palace/Flamingo and $27 to Circus Circus/Stratosphere). Uber costs around $15 if no surge pricing. Very few hotels have free shuttles from the airport.
The WAX (Westcliff Airport Express) departs ground level zero of Terminals 1 and 3 of the airport approximately every 60 minutes from 6 AM to 11 PM and costs $2, but it only has one stop on the strip at the Tropicana (which is a long walk from most of the other resorts) & one stop in downtown Vegas.
To travel along the strip, either walk or use the train/monorail that goes behind the hotels (Sahara, Hilton, Convention Center, Harrah's, Flamingo, Bally's, MGM) every 10 minutes.  The Monorail is $5 per ride or you can buy an all-day pass for $13, 2 days for $23, 3 days for $29, which is economical.  A 7-day monorail pass costs $56 and must be purchased at a ticketing office (not a machine). Save 10% if purchased online at www.lvmonorail.com.
DEUCE double decker busses and SDX (Strip & Downtown Express) busses serve the strip from Mandalay Bay to Fremont Experience and charge $6 per person for 2 hours or $8 for a 24-hour pass and $20 for a 3-day pass.  The Deuce operates 24-hours. SDX runs from 9 AM to midnight and uses special lanes and by-passes most of the strip to save time.
Do not take a cab or bus on the Strip (Las Vegas Boulevard) at night as traffic moves very slowly.
Free Shuttles and Trams (no luggage allowed):
a.       Free tram between Excalibur and Mandalay Bay (stopping at Luxor on northbound route).
b.       Free City Centre Tram runs from Monte Carlo to Bellagio.
c.        Free tram between Mirage and Treasure Island.
d.       Free Caesars Entertainment Shuttle Bus from Rio to and from Bally's Paris and Harrah's every 30 minutes from 10 AM to 1 AM.
e.       The Las Vegas Downtown Loop is a free shuttle bus around downtown Las Vegas from the Fremont Street Experience to the Mob Museum, the Arts District & the North Premium Outlets (every 30 minutes).
f.         Sam's Town has a free shuttle to Fremont Hotel and Harrah's.
g.       Gold Coast Hotel has a free shuttle to the Orleans Hotel and the High Roller at the LINQ.
h.       Free Shuttle bus from Tropicana to M Resort (way south of the strip).
7.       $20 handshake – when checking in to the hotel, put your driver's license, credit card and a $20 bill on the counter and ask what upgrades they have available and sometimes they will give an amazing room upgrade or offer severely discounted show tickets. This could be an urban myth. I tried it at Circus Circus and got an unimpressive coupon book.
8.       Freemont Street has all the old casinos like Golden Nugget & Binions.  They also have free entertainment.  Don't walk there from the main strip (dangerous and far away).  Buses can take a long time in traffic at night on the main part of the strip, so take a cab or bus from Stratosphere to save time if possible.
9.       Get "funbooks" (containing coupons) at hotel front desk when checking in or signing up for player's club.
10.    Find coupons online and in booklets at the hotels and even in the cabs.  Read "Where", "What's On" magazine, 24/7 magazine, Yellow pages, and Vegas Values Coupon Book, Las Vegas Review Journal for tips and coupons (ask concierge or try tram stations).
11.    Sometimes, you can get coupons for the buffet or restaurants at your resort from the concierge of the hotel or from staff of the casino.
12.    Buffets change from breakfast to lunch at around 11 AM and from lunch to dinner at around 3:30 PM. Pay a lower cost a little earlier and wait around for the food to switch over.
13.    Sign up for players club at each casino to get free play, match play and other sign up bonuses. Also, they usually have extra prizes (ex. free t-shirts) if you earn a minimum number of points on the day you sign up.
14.    Many casinos offer free parking, free matches, free used decks of cards, free gaming lessons, and free beverages (including alcohol). Just ask at the players club desk.
15.    Drinking alcohol is allowed while walking on the Las Vegas Strip and on Fremont Street as long as it is not in a glass container.
16.    Don't jay-walk.  Police strictly enforce this law and it has a $150 fine.
17.    Gambling odds are better off-the-Strip
18.    Hoover Dam (Lake Mead), Grand Canyon, & Red Rock Canyon scenic drive are amazing.
19.    Smoking is permitted on the casino floor, in certain hotel rooms and in bars that don't serve food.
20.    Some hotels provide programs for children and teenagers or babysitters and childcare facilities.
21.    Visitors under the age of 21 are prohibited from loitering in casinos or near slot machines and the Strip has a curfew of 9 PM for kids under 18 (unless accompanies by an adult).  Minors can walk through casinos.
22.    17 of the 20 biggest hotels in the U.S. are in Las Vegas.
23.    Good sites to get more information include www.lasvegasnevada.gov, www.lvcva.com, www.vegas.com, www.vegastourism.com, and www.visitlasvegas.com.
24.    Search for show discounts online and also check Groupon, Amazon local, and Travelzoo.  Good sites for coupons and discounted tickets include www.vegas4locals.com/coupons, www.travelvegas.com , www.lasvegas-nv.com, www.smartervegas.com, www.justvegasdeals.com, www.goldstar.com, www.destinationcoupons.com/nevada/las_vegas, & www.dailyvegasdiscounts.com.
25.    Some restaurants & bars have good happy hours or all-you-can-drink specials for $20. Try the High Roller, Senior Frogs, Blondies, Carlos'n Charlie's, & Stratosphere C-bar. Hard Rock Café has unlimited mimosas, bellinis & bloody marys for $15 with breakfast. Bird Cage at Flamingos has $0.50 beer from 5-6 PM. See https://seeingvegas.com/happy-hours-las-vegas-2018
26.    Play MyVegas on Facebook or your mobile device to win BOGO vouchers or hotel rooms, free meals, attractions and shows at MGM Resorts/Casinos. Max. 3 redemptions allowed per 30 days.  Some rewards require you to be a guest at a certain resort.
27.    Timeshare presentations (ex. Westgate) give cash, casino freeplay, or free tickets to dinner & shows.
28.    Females usually get into nightclubs for free and get free drinks. Some websites allow you to register for free VIP access (no cover charge, no line, and free drinks) to some night clubs.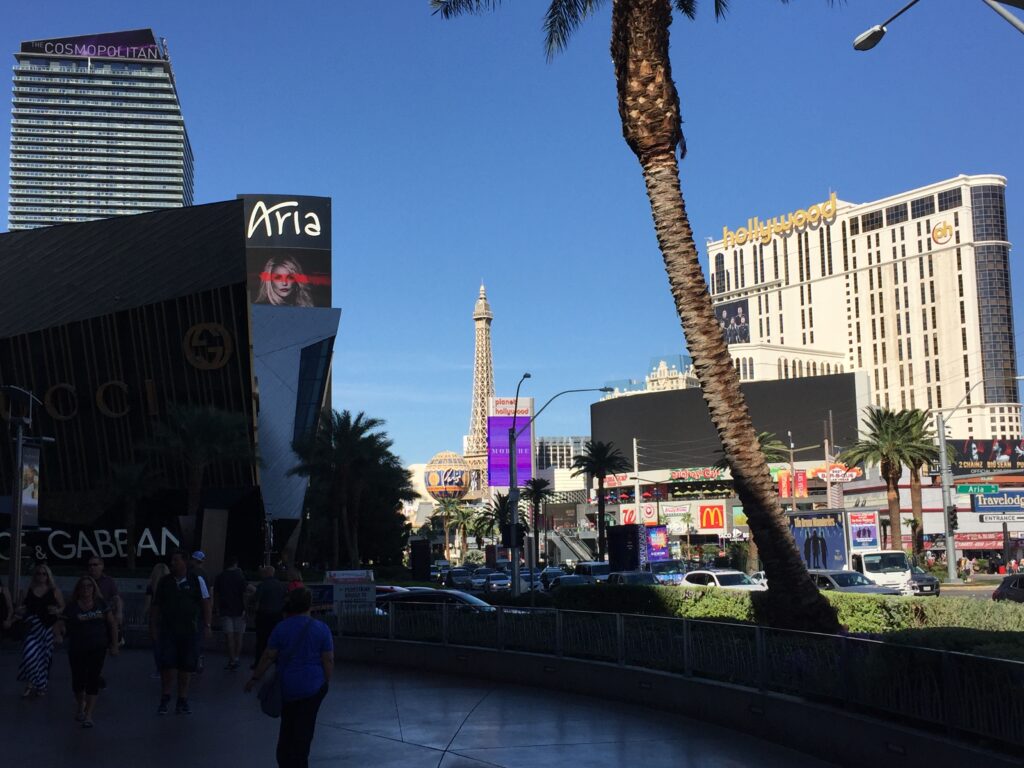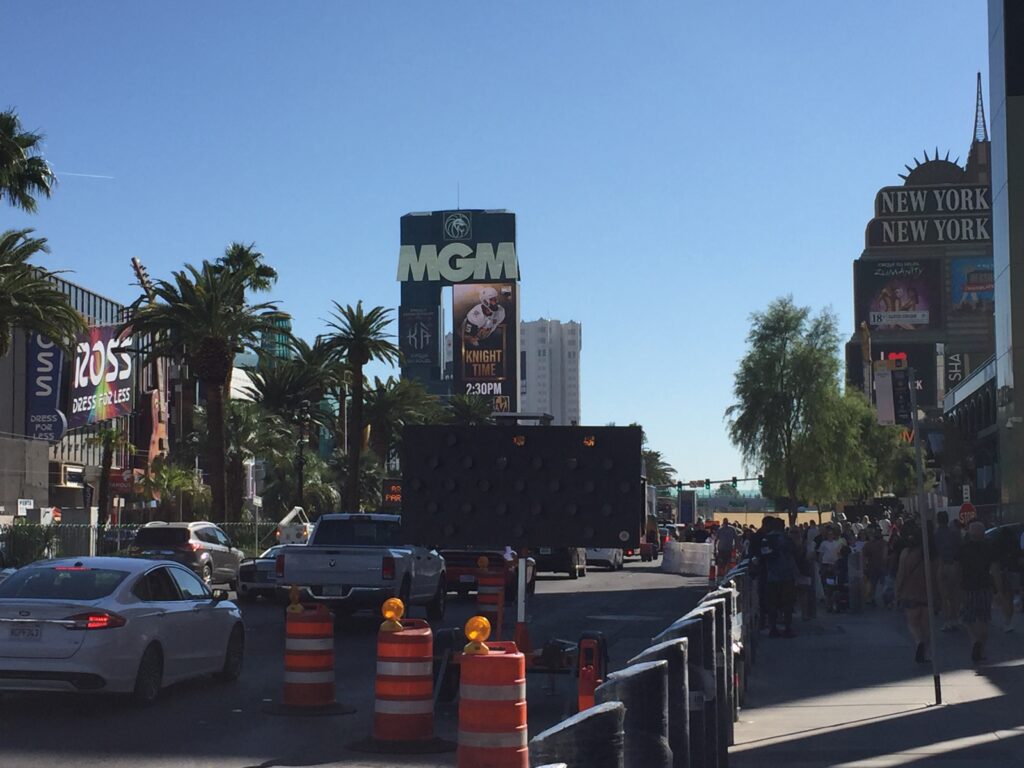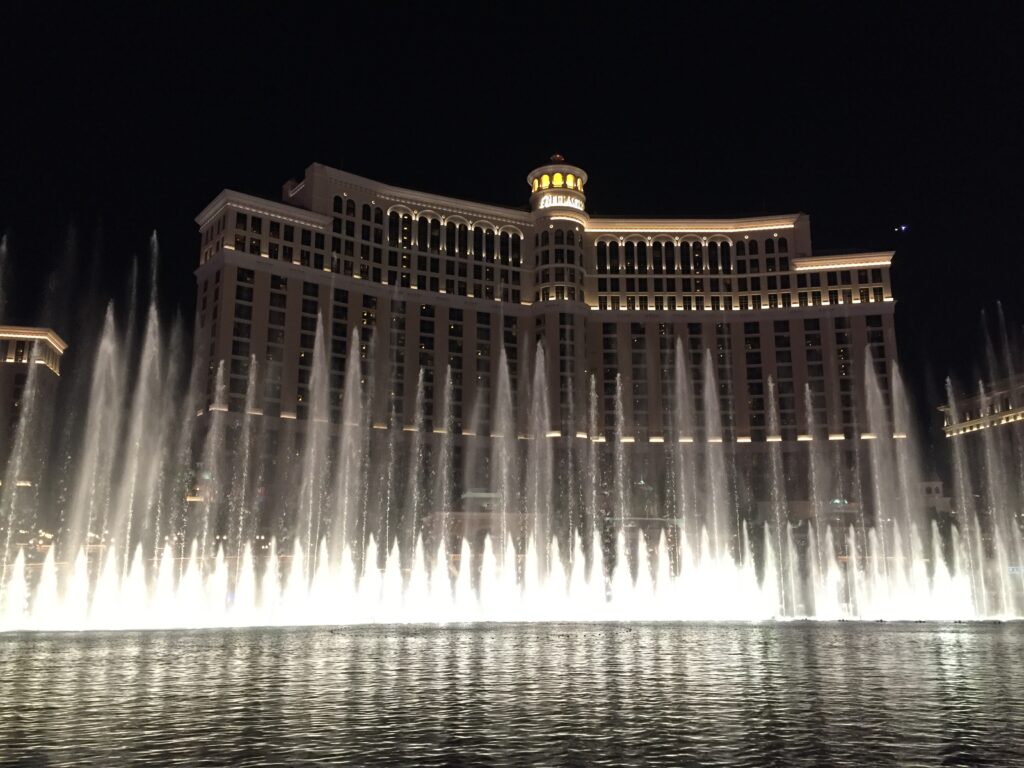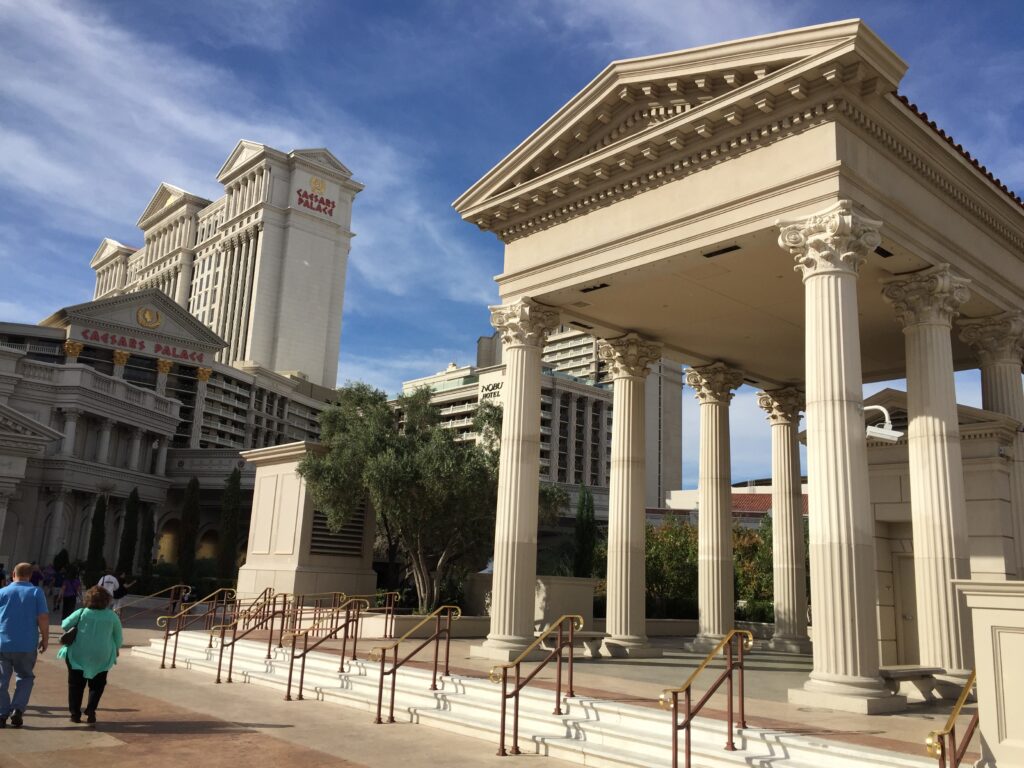 Casino Resorts, shopping, free shows, entertainment and attractions (sorted alphabetically):
·     Area15 – 3215 S Rancho Dr. Opening in June 2020. Art, entertainment, dining, & retail complex. Meow wolf immersive, interactive art. 12-foot tall glowing skull. Emporium bar/arcade. Nomadix location-based VR. Zipline. Axe-throwing. Oddwood bar with a glowing LED-lit Japanese tree. 32-foot high bamboo volcano. Local art. Todd English food hall. Free entry and free parking. Space for concerts & theatre. Outdoor event space.
·     Aria – Free fine art exhibit (ex. on 2nd floor near meeting rooms) and water features (inside and outside), including a fountain and cascading wall of water at the front entrance.
·     Bally's – Twilight Zone mini-golf, Grand Bazaar Open Air Market in front, Real Bodies exhibit in the lower level.
·     Bellagio – Dancing water fountain shows (every 30 minutes from 3-7 PM and every 15 minutes from 7 PM to midnight – best to see after dark), FREE plant & flower conservatory, Fiori di Como glass sculpture in the lobby, 27 foot tall chocolate fountain, Bellagio Gallery of Fine Art (not free – $19 pp). Baccarat Bar has free live Jazz music nightly.
·     Binion's (on Fremont) – Photo op of a display containing $1 million in cash stacked up in a pyramid.
·     Buffalo Bill's – In Primm, Nevada (35 miles south of Las Vegas).  Log flume ride (not free), Roller coaster, 3-D simulator, Turbo Drop.
·    Caesars Palace & Forum Shoppes – Ancient Greek statues, fountains, buildings and streets, FREE Fall of Atlantis show in Forum Shops (near Cheesecake Factory) on the hour from 11 AM to 11 PM, FREE 50,000 gallon Aquarium (behind Fall of Atlantis at North end of Forum Shops) with divers feeding the fish at 1:15 PM and 5:15 PM, Seahorse aquarium lounge, redeem coupon for free Forum Shops VIP booklet. Absinthe (adult carnival with tents – 20th century Rome – not free). Gordon Ramsay Hell's Kitchen. Free shortbread cookie samples at Honolulu Cookie Company. Omnia night club has an animated chandelier and a patio overlooking the Strip.
·     Casino Royale – 3411 Las Vegas Blvd S. In a Best Western Hotel. Used to have cheap drinks and hotdogs.
·    Circus Circus– Adventuredome indoor amusement park. Carnival and arcade games. Free world-class circus acts every 30-45 minutes (11 AM to Midnight) at center stage of the Carnival Midway. Free table gaming lessons: Blackjack 10:30am, Roulette 11:30am, Craps 12:30pm. Vince Neil's Eat•Drink•Party Restaurant & Bar – live entertainment while you eat. Free Karaoke every night from 8 PM to 11 PM (all ages). Slots A Fun is attached and has cheaper food and drinks plus arcade games and billiards (no table games). Peppermill fireside lounge across the street is a local hangout (diner & old-Vegas style Fireside lounge).  Indoor skydiving is close.
·    City Centre Crystals Mall – Crystal (glass) & other artwork throughout. Very high-end luxury brand name stores.
·     Coke Store – Next to M&M's World – has good photo opportunities (ex. with polar bear), hundreds of soda pop flavours from around the world, and Tix4tonight a ticket booth inside that sells 50% off same day show tickets.
·     Container Park & East Fremont – 707 Fremont Street in the East Fremont Entertainment district (that has cheaper drinks). Unique stores & restaurants made from rail cars at 707 Fremont St. at S 7th St. Free entertainment. Thursday nights have movies on a big screen. The Dome is an immersive, 4K-visual dome entertainment experience where 14 million pixels surround viewers in a series of ultra-HD, 360-degree imagery ($12 per movie or $25 for all-day pass). Park in the middle with a play structure for kids. Fire-spitting Manits sculpture in front.
·     Cosmopolitan – The Chandelier multi-level lobby bar is surrounded by a $30 million chandelier (the largest in the world) and a secret unique drink that makes your mouth numb & tingly called verbena or the szechuan flower drink. Free art gallery P3Studio on the third floor. Bond Lounge has LED art, floor to ceiling windows with a view of the Strip and performances from DJs and live musicians.
·     D Casino (on Fremont) – Formerly Fitzgeralds. Classic slot machines with coins. World's largest Keno board.
·     Delano – Skyfall Mix Lounge on 64th Floor has great views of the strip. Next to Mandalay Bay.
·     Encore Beach Club – In Wynn Hotel. A day club for suntanning, swimming and partying during the day with sexy people. Join guest list in advance and entrance is $60 for men & $40 for women. Live DJs.
·     Ethel M Chocolate Factory – 15-minute drive from the Strip (2 Cactus Garden Dr., Henderson, NV 89014). Free self-guided tour with samples, small M&M's World and a good Botanical Cactus Garden (many varieties).
·     Excalibur – Fantasy Faire midway & arcade, 4-D rides, including Sponge Bob 4-D Motion Ride, The Ultimate Log Ride and Corkscrew Hill (not free). 2 pools, lush tropical gardens, waterslide and firepit for guests. Hotel will sometimes give several coupons at check in. Free live music at The Lounge and Dick's Last Resort.
·     Fantastic Indoor Swap Meet – 1717 S. Decatur. Use coupon for free admission in coupon book or 2 for 1 coupon online (otherwise admission is $1 pp).
·     Fashion Show Mall – 2 million sq. ft. of designer stores.
·     Flamingo – Wildlife habitat (swans, flamingos, koi, turtles & many other birds). Margaritaville.
·     Fremont Street – Old Vegas downtown. Fremont Street Experience free canopy light show (Viva Vision) show times are every hour from 6 p.m. to 1 AM, free music and entertainment on 3 stages from 6 PM to 1 AM, bars lining the street, street performers (some with nudity), and Neonopolis shopping mall.  Vegas Vic (photo op with world's biggest neon sign). Las Vegas Premium Outlets North is nearby.  Slotzilla zipline. $1 shrimp cocktails. Generally cheaper buffets. Bottled waters 2 for $1. Heart Attack Grill (dress up in a hospital gown and they punish you if you don't eat all your food – people over 350 pounds eat free). The Mob Museum (300 Stewart Ave) & Downtown 3rdFarmer's Market (Fridays from 9 AM-2 PM only) are 2 blocks away. New hotel called Circa opens in 2020.
·     GameWorks – Town Square 6587 Las Vegas Blvd South. Family-friendly gastro pub with American-style food as well as bowling, classic arcade games and attractions.
·     Golden Gate – Free keepsake for joining players club. Famous shrimp cocktails (served to 40 million people).
·    Golden Nugget – Biggest gold nugget in the world (called "Hand of Faith" and weighing 62 pounds) and 200,000-gallon aquarium & shark tank on the pool deck (admission is $30 for non-guests and the shark tank tour is $50). Free concerts & shows by popular artists every Friday.
·     Harrah's – Free music (live bands or DJs) & flair bartenders who sing, dance, juggle and spit fire at the open-air Carnaval Court, Free duelling pianos in the piano bar (with beverage purchase)
·    Hawaiian Marketplace – 1 block North of MGM Grand with souvenir stores and restaurants. Run down.
·    Las Vegas Art Museum – 9600 W. Sahara Ave. $20-million library facility & international, national and regional art exhibits.
·     LINQ Hotel and Promenade – Brooklyn Bowl bowling, Gordon Ramsay Fish and Chips, O'Sheas Pub (beer pong tables, drink specials, 50 types of beer & cheap craps), In-N-Out Burger, Tilted Kilt (like Hooters), 12 A.M. Run, ameriCAN, ICEBAR, VR Adventures, Fly LINQ Zipline, and The High Roller Observation Wheel (world's highest at 550 feet tall and takes 30 minutes to go around) costs $25 per adult and $17 per child before 7 PM and $37 per adult and $27 per child after 7 PM (save $3-5 if purchased online). Free shortbread cookie samples at Honolulu Cookie Company. Open-air dining, retail and entertainment district across from Caesar's Palace with 30 stores and restaurants. Block party with DJ's near the center fountains on Tuesday nights after 9 PM. Free Polaroid exhibit and museum. Formerly called Imperial Palace.
·     Luxor – Replica of the Pyramid of Khafre from Giza, Egypt, guarded by a great Sphinx. Titanic & Bodies exhibits (not free), brightest light beam in the world, Arcade & e-sports arena.
·     M&M's World– Next to MGM Grand. Free 3D Movie "I lost my M in Vegas" starring M&M characters.  NASCAR exhibit on the top floor. Create your own personalized M&Ms. Near MGM Grand on the Strip.
·     Main Street Station – See a piece of the Berlin Wall in the men's washroom plus many other antiques.
·     Mandalay Bay – 1.5 million gallon Shark Reef aquarium & VR theatre (not free). House of Blues. Lazy river, wave pool & beach for guests. Minus5 ice bar (everything is made of ice) in the mall. House of Blues.
·     MGM Grand – CSI: The Experience (not free), Virtual Reality (Zombie Survival, Singularity), Level Up adult gaming area (karaoke Monday nights, DJ from Thurs-Sat), Topgolf virtual golf.  Pool for guests with 1,000 ft. long lazy river pool & waterfall. "The Underground" shopping mall.
·     Mirage – Mirage Volcano erupting outside every hour from 6 PM to 11 PM, Siegfried and Roy's Secret Garden white tiger & dolphin habitat (11 AM to 5 PM – $20), 20,000 gallon aquarium at main lobby. Tropical rainforest in the atrium. Topless pool area for guests.
·     Mob Museum – Located close to Fremont Street. The National Museum of Organized Crime with over 25 exhibits on 3 floors and a focus on the history of Las Vegas. The basement has a cool speakeasy lounge.
·     National Atomic Testing Museum – 755 East Flamingo Road – includes an area 51 exhibit.
·     Neon Museum & Boneyard – Historical neon signs from Las Vegas (770 Las Vegas Boulevard North). Not a safe walking distance from Fremont (take a bus or Uber/cab).
·     Neonopolis – 450 Fremont St. An indoor mall with 300,000 Square Feet of Dining and Retail on 3 levels decorated with 3 miles of Classic Neon Signs. Free parking with validation. The Nerd (cosplay & cocktails). Bowling. Esports gaming. Arcade. Axe & knife throwing. Heart Attack Grill. Metropolitan Gallery Las Vegas Art Museum.
·     New York New York – New York buildings and streets, Coney Island Amusement Centre & Arcade (not free), Manhattan Express Big Apple Roller Coaster goes outside the hotel. Hershey's Chocolate world (free sample with coupon). Coyote Ugly Bar. Dueling pianos at the Bar at Times Square (free if you listen from outside the bar). The Park is an outdoor dining and entertainment area. The Neighborhood is a boardwalk near a miniature Brooklyn Bridge with restaurants, bars & live music leading up to T-Mobile arena (including Shake Shack).
·     Paris – Paris buildings and streets, L'Arc De Triomphe replica outside, Eiffel Tower replica with light show every 30 minutes (spectacular viewing deck not free – USD$20 pp during the day or $24 anytime or CAD$18 from tripadvisor.ca online –  and expensive restaurant near the top – 2 for 1 coupon available online and in tourist guides). Beer Park & Gordon Ramsey Steak Restaurant.
·     Park MGM (formerly Monte Carlo) – Closest hotel to T-Mobile Arena. Minus5 ice bar. Park Theatre has lots of live entertainment and musical artists. Walls are lined with art. Free craps lessons daily at 11 AM. Eataly Marketplace (more than a dozen authentic Italian eateries). Haus of Gaga museum of Lady Gaga costumes.
·     Pinball Hall of Fame – 200 playable machines. Open from 11 a.m. to 11 p.m. 1610 E Tropicana Ave.
·     Planet Hollywood & Miracle Mile shops – Miracle Mile shops has 200 shops and a Harbour Rainstorm every hour on the hour (every half-hour on Friday & Saturday) by Ben and Jerry's. PBR Rock Bar. Sin City Brewing. Buffalo Wild Wings. Twin Peaks restaurant (like Hooters). Cabo Wabo Cantina. La Salsa Cantina. Fat Tuesday. Tipsy Robot (a robot mixes & serves drinks). Use Coupon for show tickets at V Theatre & coupon for free Miracle Mile VIP discount book at customer service. Spice Market Buffet is very good and reasonably priced.
·     Resorts World – new Asian-inspired casino resort with huge LED screens opening at the end of 2020.
·     Rio – Take free shuttle from Harrah's. Rio Voodoo zipline. KISS by Monster Mini Golf. 2 great buffets including the Village Seafood Buffet and the biggest buffet in Vegas.
·     Sahara (formerly SLS). Live entertainment at night. Trying to recapture old Vegas.
·     Sam's Town – Sunset Stampede is a free Laser Light and Fountain Show in the Mystic Falls Park is at 2, 4, 6, 8 & 10 PM.  Far East of Bally's on Flamingo Rd. with free shuttle service to the Strip (Harrah's every 90 minutes) and downtown (Fremont every 75 minutes).
·     Silverton – 3333 Blue Diamond Road. 117,000 gallon aquarium with feeding show at 1:30 pm & 4:30 pm.  Mermaids show on Thurs-Sun at 2 PM & 5 PM.
·     Stratosphere – Tower SkyPod & Observation Deck (not free), X-scream rollercoaster (not free), Big Shot thrill ride (not free), SkyJump controlled free fall from the top (not free), Insanity-The Ride (not free).  Ask for their funbook with out of state ID. Top of the World restaurant at the top of the tower.
·     Tix4tonight or Tickets2Nite– shows & buffets up to 50% off. Opens 10 AM. Get there early.
·     Treasure Island– Pirate themed artifacts decorate the casino. 2 large pirate ships outside of front entrance. "Sirens" show outside has been cancelled. Gilley's Saloon (live country music with free cover before 9 PM). Senor Frog's. MARVEL Avengers Station (not free).
·     Tropicana – Laugh Factory comedy club. Swim up blackjack tables.
·     Venetian – Italian buildings and streets, Streetmosphere street performers (ex. opera singers) hourly from noon to 6 PM & living statues in St. Mark's Square (10 AM to 6 PM) , painted ceilings in casino entrance and hotel lobby & Art throughout the resort complex, Canal Gondola Rides from 10 AM to 11 PM (not free $116 for up to 4 guests). Madame Tussaud's Wax Museum & Marvel 4D experience (not free). The VOID: Travel Beyond Reality VR experience (not free). Minus5 Degrees Ice Experience (not free). "Grand Canal Shoppes Passaporto" book available free at the Emporio d' Gondola (near Gondola).  Palazzo next door has Buddy V's Ristorante & Cake Shop. X Pot restaurant with hot pots served by robots & interactive light shows. Kamu Ultra Karaoke.
·    Virgin Hotel (formerly Hard Rock Hotel) – See Rock 'n Roll memorabilia throughout the hotel and casino. Good night clubs.
·     Welcome to Fabulous Las Vegas sign – south of Mandalay Bay at 5100 Las Vegas Blvd. South.
·     Westgate Hotel & Casino – Formerly the Las Vegas Hilton. Near the Convention Centre and Monorail. Inexpensive rooms, but they will try to give you a timeshare presentation.
·     Wet 'n' Wild Las Vegas – 7055 South Fort Apache Road (approx. $40 pp). Waterpark. 25-minute drive west of the Strip.
·     Wynn's – Man-made mountain out front, plant & flower conservatory, Koi fish pond, best free cocktails while gambling, see "Lake of Dreams" fountain show every 30 minutes from 6 PM to 11:30 PM (best watched from the lounge patio), Parasol Up Parasol Down lounge & flower displays (hanging from the ceiling)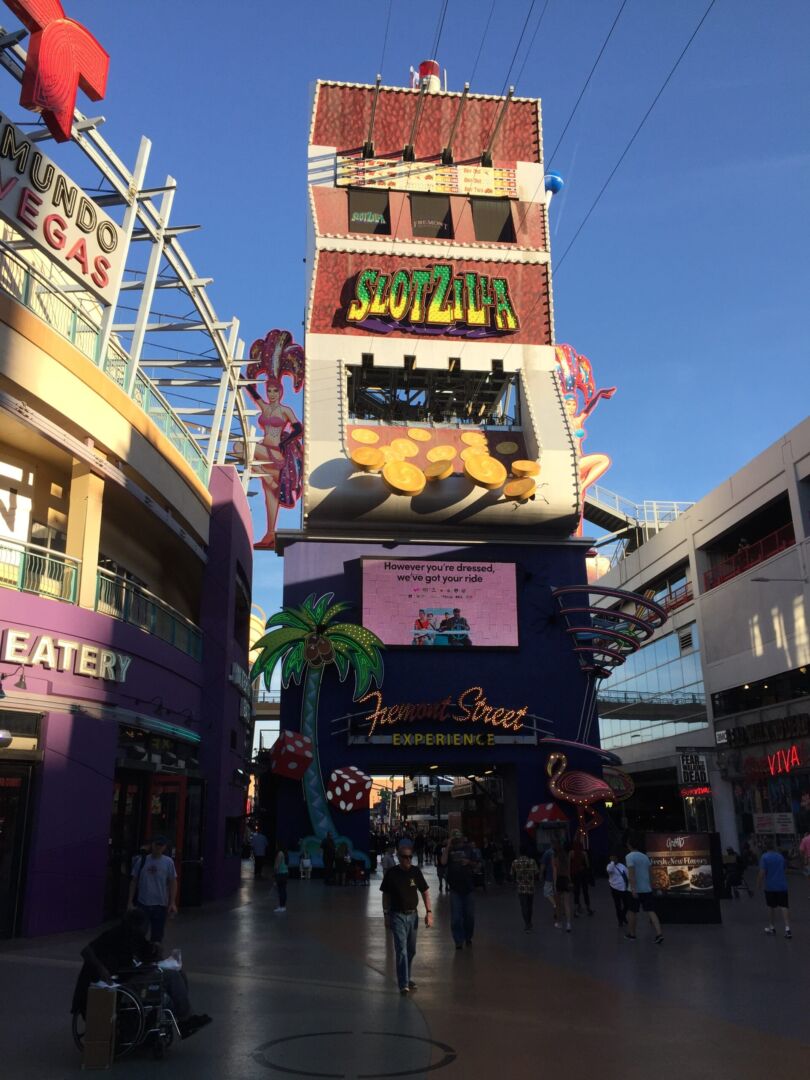 Activities Within Driving Distance of Las Vegas
Grand Canyon: A 1,200,000 acre National Park in Northwestern Arizona that is one of the seven natural wonders of the world. The Grand Canyon was formed by the Colorado River and is up to one mile deep and 18 miles wide.  You can take bus tours or even helicopter tours here. The South Rim is our recommendation for first-time visitors for its abundance of visitor services and lower cost. Grand Canyon West Rim and the Grand Canyon Glass Skywalk are closest to Las Vegas, but the cost is higher and it is not part of Grand Canyon National Park.
Hoover Dam: A concrete arch-gravity hydroelectric dam in the Black Canyon of the Colorado River that is on the way to Grand Canyon at the border between Nevada and Arizona. Visitors can take guided tours inside the dam to learn about how it was constructed in the 1930s and how it works.
Lake Mead: A man-made lake on the Colorado River formed by the construction of the Hoover Dam that is located 24 miles southeast of Las Vegas. It is the largest reservoir in the United States and serves water to the states of Arizona, California, and Nevada.  It has a recreation area with a museum and boat tours.
Red Rock Canyon: This National Conservation Area with red rock formations is 17 miles west of Las Vegas. It is popular for hiking and rock climbing. Its highest point is La Madre Mountain at 8,150 feet.
Seven Magic Mountains: An art installation by Ugo Rondinone consisting of seven towers of colorful, stacked boulders standing more than thirty feet high. It is located 10 miles south of Las Vegas in the Ivanpah Valley.
Valley of Fire: A 46,000 acre state park located 50 miles northeast of Las Vegas. Its red rock formations are made from Aztec sandstone and, on a sunny day, look like they are on fire.
GO Las Vegas All-Inclusive Pass:
USD$135 for a 2-day pass of unlimited admission (once per day) to 40 attractions or $250 for a 3-day pass that includes 1 of these premium tickets: Grand Canyon tour ($160), Blue Man Group (best seats available $150), helicopter ride over the Strip ($120), Richard Petty racecar driving ($150), Cirque du Soleil (Zumanity $100 or Love $160), or Criss Angel Mindfreak ($120) plus unlimited admission to 40 attractions. Get show tickets early (5 minutes before opening at 9 AM) to avoid lineups and get better seats, group activities close together, use promo codes (SAVELAS, GET10OFF, GOCITY10, GOEXPLORE) or Groupon to save money.
Possible day 1: Send one person to get tickets at 9 AM for shows at V Theatre (PH Resort). Use monorail 24 hour pass ($13 value) to go to Madame Tussauds Wax Museum & Marvel Superheroes 4D experience at Venetian ($30), High Roller (daytime from noon-5PM $25) & Fly LINQ zipline ($30) at LINQ, Senior Frogs open bar for 1 hour ($30) & Avengers STATION ($40) at Treasure Island, Twilight Zone mini-golf at Bally's ($12), & Eifel Tower Daytime Tower Viewing ($18 – go just before dusk) at Paris. See Nathan Burton Comedy Show ($25) or Popovich Comedy Pet Theatre ($50) at 4 PM, Beatleshow at 5:30 from Mon-Thurs ($70), Vegas! the Show ($100) at 7 PM, & V – The Ultimate Variety Show ($95) at 8:30 PM at V Theatre ($475 value).
Possible day 2: Send someone to get tickets for shows at V Theatre. Take Hop-On Hop Off bus (every 20 minutes) to get around (redeem daily pass at Circus Circus stop from 10 AM to 6 PM $50).  Go to Welcome to Las Vegas sign, Bodies exhibit ($35) & Titanic exhibit ($35) at Luxor, CSI Experience at MGM Grand ($35), Roller Coaster at New York, New York ($15), & Forum Shops at Caesar's Palace for free lunch at Planet Hollywood ($15 gift card). See downtown & Fremont 2-hour walking tour ($35) & Mob Museum ($30) & Stratosphere anytime VIP observation deck ($30). If time, do Kiss mini-golf at Rio ($12). See Stripper 101 ($40) at 4:30 PM, The Mentalist at 7:30 PM ($65), Zombie Burlesque at 8:30 PM ($90), & Marc Savard Comedy Hypnosis at 10 PM ($35) at V Theater or go on Vegas Rockstar Club Tour ($99 value) ($525 value).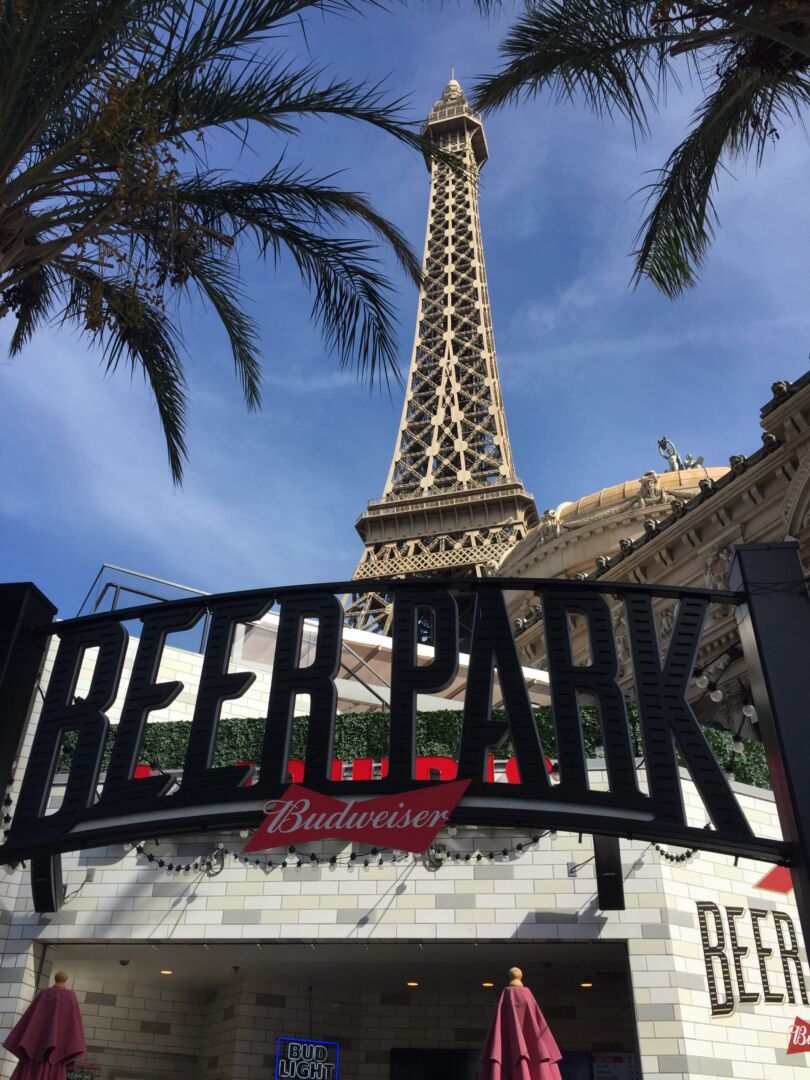 BEST BUFFETS:
Paris (Le Village) – cultural & unique (French)
Rio (Carnival World) – biggest buffet in Vegas
Caesars (Bacchanal) – expensive, but the best food
Planet Hollywood (Spice Market) – best value for quality

TOP SHOWS FROM JULY 10-13, 2020
Absinthe by Spiegelworld at Caesars Palace at 8 PM & 10 PM
Beatles LOVE by Cirque du Soleil at Mirage at 7 PM & 9:30 PM
Blue Man Group at Luxor at 7 PM & 9:30 PM
Brad Garrett's Comedy Club at MGM Grand at 8 PM
Celestia at Stratosphere at 7 PM (similar to Cirque du Soleil)
Criss Angel Mindfreak at Planet Hollywood at 8 PM
David Copperfield at MGM Grand 7 PM & 9:30 PM
Fantasy Burlesque Show at Luxor at 10:30 PM
House of Blues Gospel Brunch at 10 AM and 1 PM on Sunday, July 12 only
Jabbawockeez at MGM Grand at 7 PM & 9:30 PM
KA by Cirque du Soleil at MGM Grand at 7 PM & 9:30 PM
Keith Urban at Caesars Palace July 11 & 12 at 8 PM
Le Reve (The Dream) at Wynn at 7 PM & 9:30 PM (similar to Cirque du Soleil)
Legends in Concert Musical Impersonator Show at Tropicana at 7:30 PM
Mystere by Cirque du Soleil at Treasure Island at 7 PM & 9:30 PM
O by Cirque du Soleil at Bellagio at 7 PM & 9:30 PM
Opium by Spiegelworld at Cosmopolitan at 8 PM & 10 PM
Penn & Teller at Rio at 9 PM (July 12 only)
RUN by Cirque du Soleil at Luxor at 9 PM (their 1st live action stunt show)
Tournament of Kings at Excalibur at 6 PM & 8:30 PM
V – The Ultimate Variety Show at Planet Hollywood at 7 PM & 8:30 PM
Zombie Burlesque at Planet Hollywood at 8:30 PM
Zumanity by Cirque du Soleil at New York-New York at 7 PM & 9:30 PM
Happy Travels,
Kev
P.S. Here are links to our social media accounts, in case you want to connect that way:
Retirestyle Travel Instagram
Kevin's LinkedIn
Retirestyle Travel Facebook Page
Kevin's Pinterest
Retirestyle Travel TikTok
Retirestyle Travel Twitter
Retirestyle Travel YouTube (Please check out our YouTube Channel for travel videos)
You May Also Like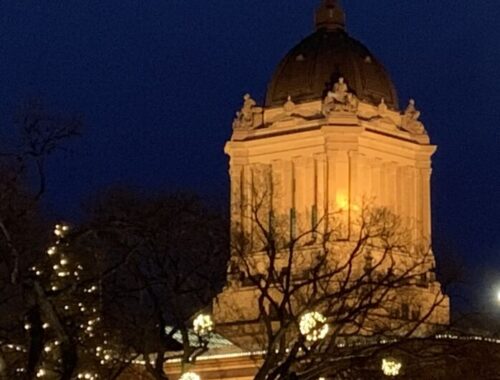 February 12, 2021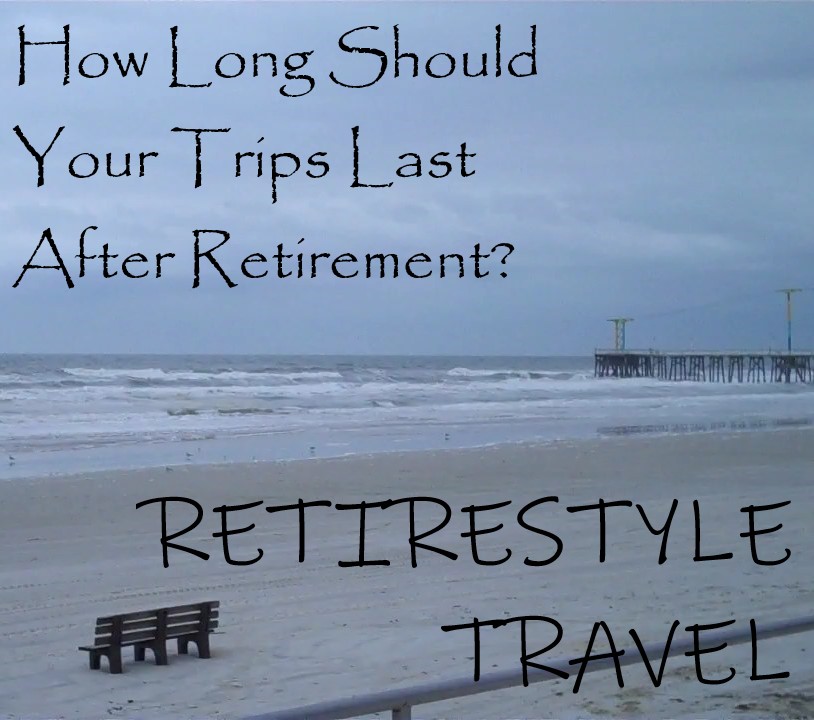 March 19, 2020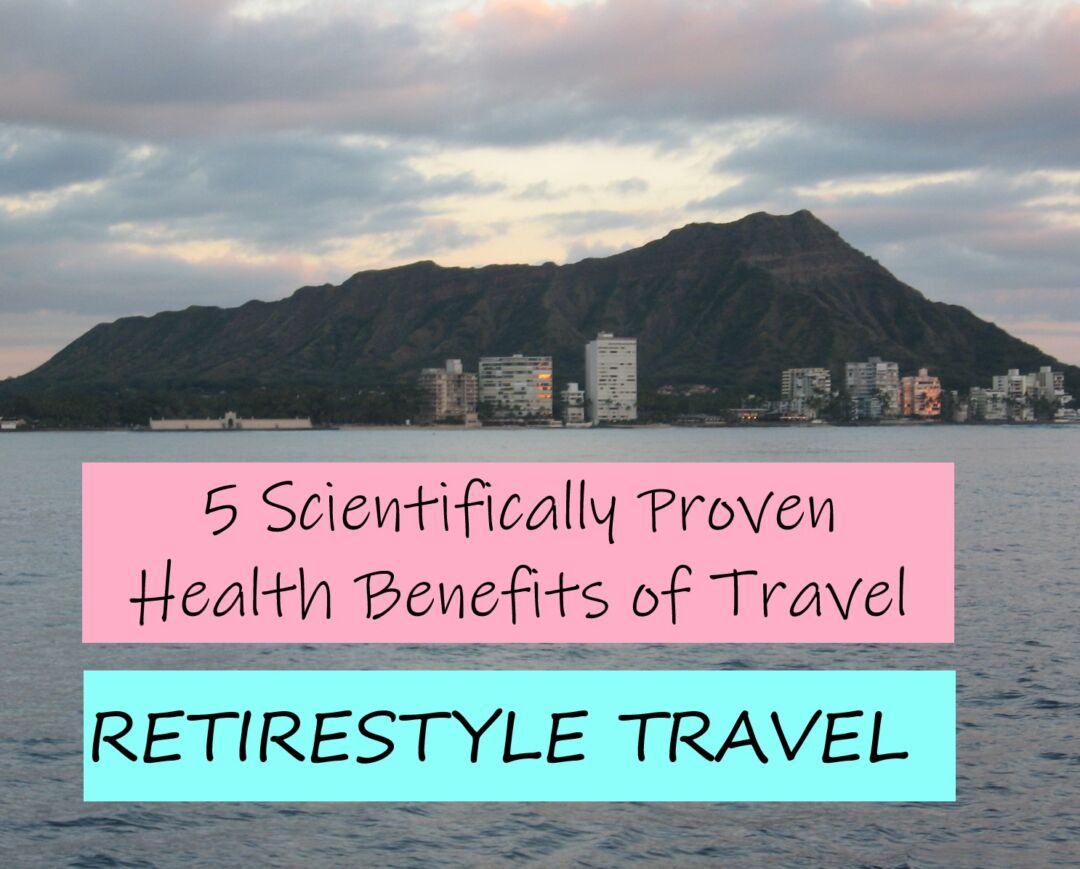 March 17, 2020