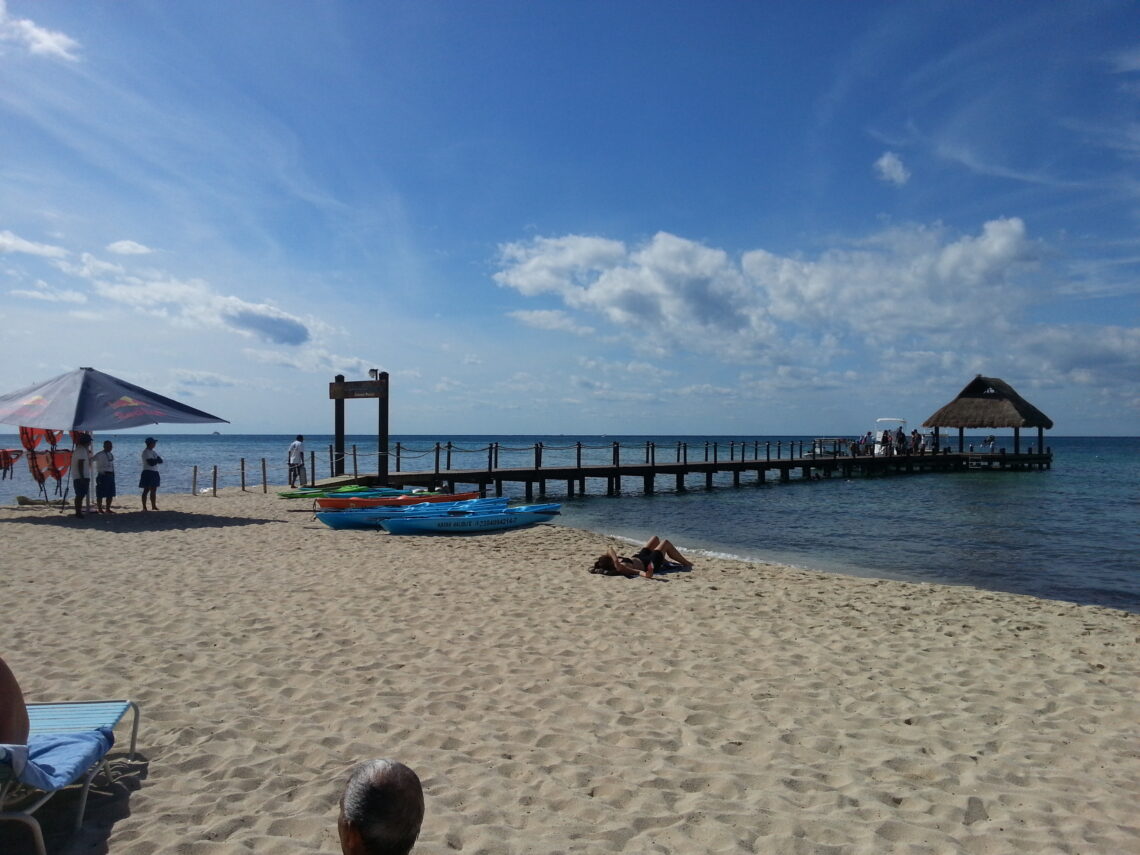 Cozumel, Mexico – Travel Tips and Things To Do
February 26, 2020
Things to do in Cozumel, Mexico:
* as of 2014
Cozumel, Mexico was one of the ports of call on our most recent Caribbean cruise.  We did all of this research for possible excursions, but ended up just going to a beach club to swim and relax all day.
The Plaza "Plaza del Sol" Town Square (shopping along waterfront and around 8 blocks into town, local artisans, restaurants including Hard Rock Café). Close to ferry terminal. Crafts market is behind the Plaza. Use cash. Do not pay with credit cards as credit card theft (false charges) is common.
Royal Village Shopping Center (across from the port).
Mercado Municipal (open air market for locally grown fruit, meat, fresh fish, & many eateries. The specialty here is the sopas, gorditas chicharrones (gorditas with pork) & Tostadas cubano (Cuban sandwich). Bring mexican pesos). Free wi-fi at restaurants. Beware of fake silver. Close to the main square.
Plaza Confetti (shopping near the square).
Chocolates Kaokao Factory tour (free tour with 7 samples plus make your own chocolate for $10). 10 minute $10 cab ride each way.
Discover Mexico Cozumel Park (miniature Mexican buildings and miniature Mayan ruins with Mayan history, tequila factory tour and tasting).
Dolphinaris Cozumel (dolphin show, swim with dolphins, all-inclusive with meals and drinks). No pictures allowed.
Chankanaab Adventure Beach Park (private beach with chairs, snack bar, sea lion show, dolphin show, swim with dolphins and manatees, tequila tasting, alligator pond) and Chankanaab Reef (snorkeling and scuba diving), Atlantis Submarines ($99 pp for 45 minute dive). Xtrem Adventure Park (5 ziplines, Zorb). $56 pp for entrance to the park and ziplining. $11 cab ride.
San Gervasio Mayan Site (Mayan ruins & iguanas). In the jungle (need bug spray). Paths are hard to walk on.
El Caracol Mayan Site (crocs, lighthouse, ruins, iguanas & Papito's Beach Club). Inside Punta Sur Eco Park.
Parque Arqueologico (Mayan sculptures, alligators, and a waterfall). Long drive from the port.
Paradise Beach (private beach and bar with free internet, a pool, shade & beach chairs, scuba, kayak, and other non-motorized water craft available for a fee of $15/person) and Paradise "Paraiso" Reef (snorkeling & scuba diving). 15 minute ride from the cruise ship port ($15 cab ride).
Nachi Cocom Beach Club & Water Sport Center (For $55 pp you get all you can drink and eat, beach chairs, a tiki hut, swimming pool with swim up bar. Water sports for an added fee.) 20 minute ride from the cruise ship port ($20 cab ride). Bring towel from cruise ship to save $5 on towel rental fee. $5 extra per device for Wi-Fi. You can make a reservation in advance (limited to 100 people).
Playa Palancar (beach) & Palancar Reef (snorkeling and scuba diving). 15 miles south of San Miguel. Entrance is free while eating and drinking. $35 for snorkeling tour & boat ride to the reef.
Stingray Beach (snorkeling and swim with Stingrays).
Isla de Pasion (private beach, water activities such as trampolines and slides). Must arrive by boat (Twister boat recommended).
Santa Rosa Wall (snorkeling and scuba diving).
Columbia Reef (snorkeling and scuba diving).
San Francisco Reef (snorkeling and scuba diving. $10 minimum for food & drink at beach bar to stay & play).
Mayatlantis Aquapark (pool, restaurant and snorkeling)
Mr. Sanchos (private beach, water inflatables, pool-side bar, buffet lunch & free snorkel gear with the all-inclusive package or you can order off the menu). Can reserve in advance. 20 minute ($20) cab ride each way.
Ecoparque Cuzam (snorkeling, zip lines on 3 towers, paint ball, horseback riding, ATVs, bird watching, crocodile lagoon, lighthouse). Cozumel Eco Adventure Jungle park.
Playa Uvas (private beach, small pool and snorkeling. $27 for all inclusive. $12 for admission plus a beach chair, 1 drink, and snorkeling gear). $10 minute ($12) cab ride each way. Rocky beach (not white sand).
Playa Mia Grand Beach & Water Park (Small waterpark for the kids with 2 larger waterslides, a kiddie waterslide and spray pad, 2 pools, buffet, beach chairs, and inflatable obstacle course. Unlimited drink package available. $57 for waterpark, non-motorized water sports, and unlimited food and drinks).
Carlos' n Charlie's Beach Club (private beach with restaurant. Glass bottom boat rides available. $2 to use water trampoline & inflatables. No beach access fee. Free beach chairs & umbrellas). Sometimes loud drunk partiers.
Playa Corona/Corona Beach Club (private beach with a restaurant & snorkeling. $5 to access the beach with chairs and umbrellas or free with lunch purchase). Review said very quiet & a little run down. $8 cab ride.
Fury's Aqua Park (private beach with kayaks, paddle surf boards, a water trampoline, water mats, Jungle Joe, Rock it and Platinum Aqua Glide Slide).
Ocean VIP Beach Club (private beach with parasailing, water toys & inflatables including a trampoline, non-motorized equipment rental, 3 bars, pool, volleyball net, snorkeling tours avail.). All-inclusive available. 2 reviewers strongly urged avoiding due to trash, rocky ground, seaweed, credit card fraud, & $12 admission fee.
Free Tequila Tour by Casa Mission (free tastings. Donkey rides for kids).
Hacienda Antigua Village Tour. Folklore show with lunch & tequila. Tequila Store (sample different tequilas such as Bailey's Irish cream style, blue curacao style, coffee flavored). Can book online in advance. 5 minute cab ride from port. Jose Cuervo tequila tour also a few minutes away down the street.
Take the ferry in to visit Playa Del Carmen or see the Mayan ruins in Tulum.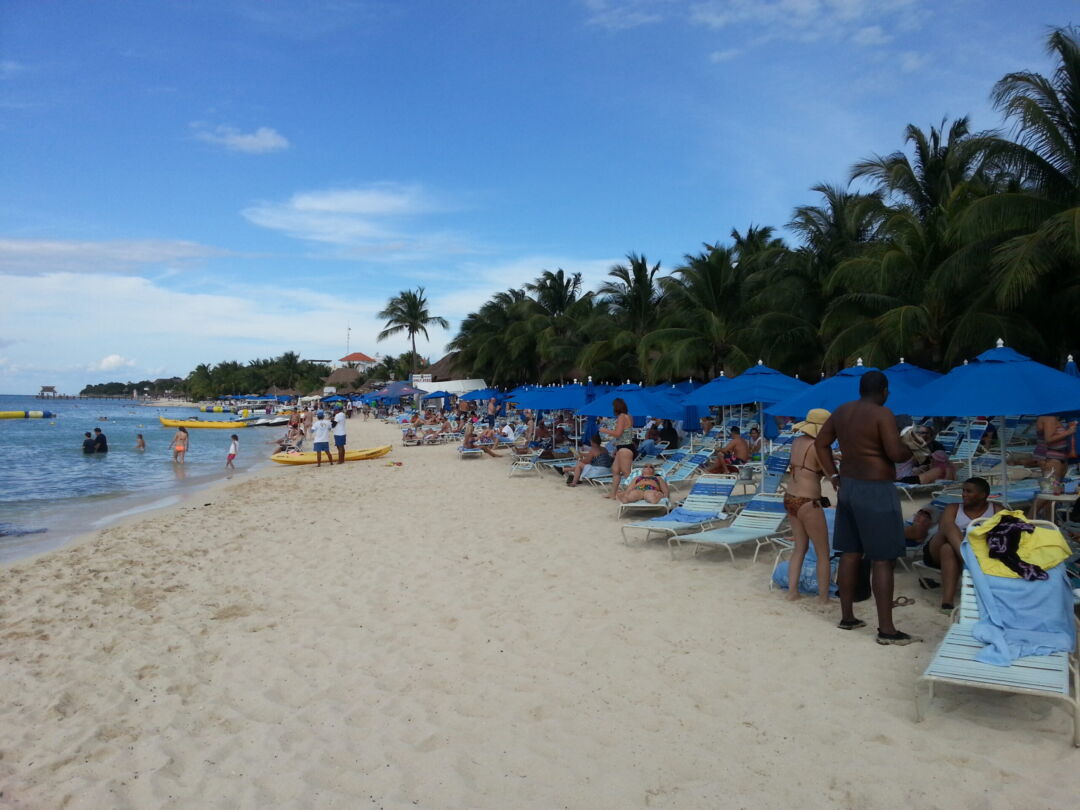 Happy Travels,
Kev
P.S. Here are links to our social media accounts, in case you want to connect that way:
Retirestyle Travel Instagram
Kevin's LinkedIn
Retirestyle Travel Facebook Page
Kevin's Pinterest
Retirestyle Travel TikTok
Retirestyle Travel Twitter
Retirestyle Travel YouTube (Please check out our YouTube Channel for travel videos)
You May Also Like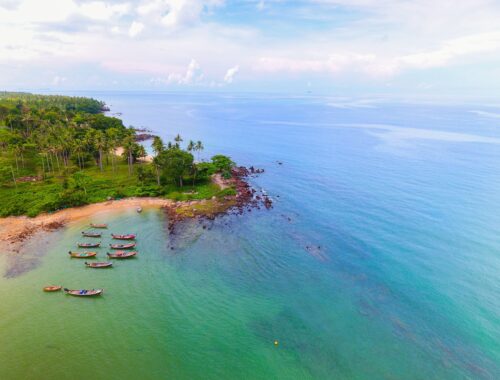 February 25, 2020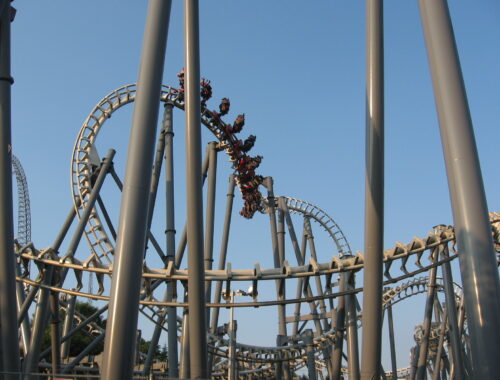 February 26, 2020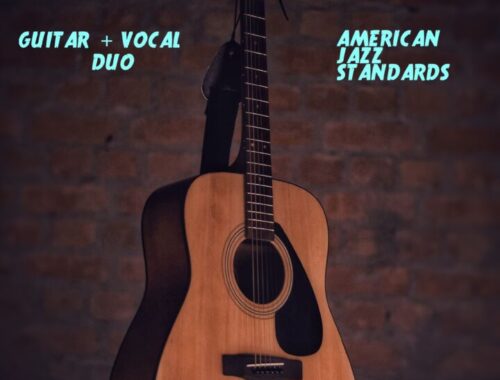 March 26, 2022