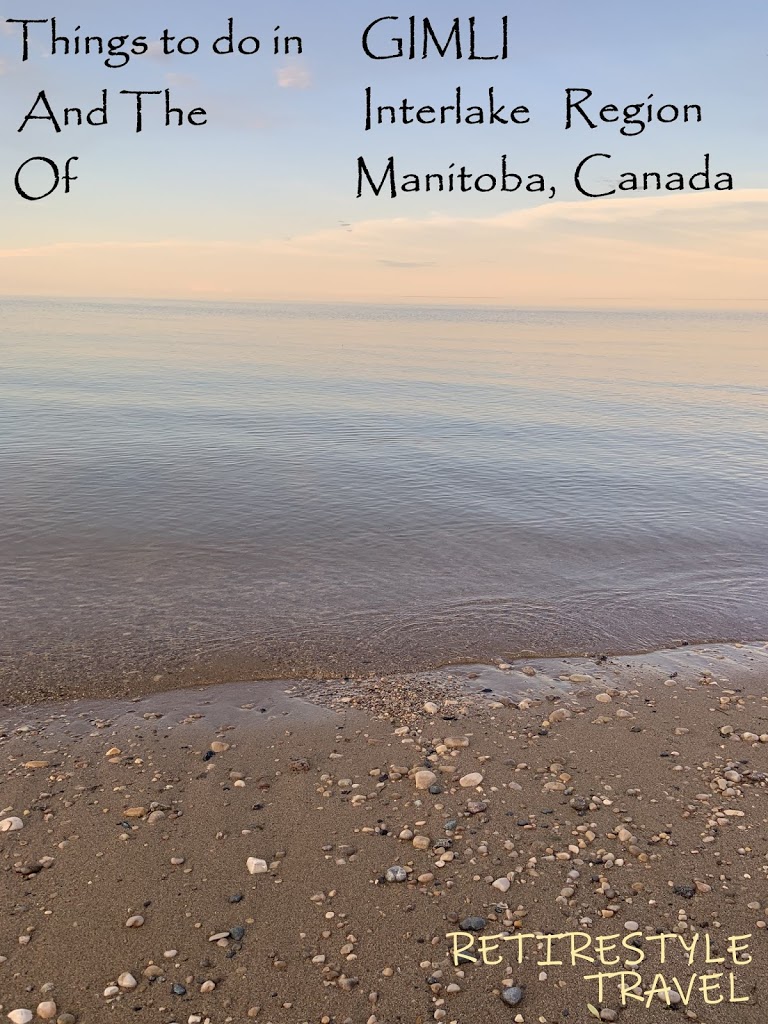 Things to do in Gimli, Manitoba (Interlake Region), Canada – Travel Tips
July 5, 2020
Things to do in Manitoba's Interlake region
(Attractions and things to do in the Interlake in Manitoba)
Tourism in Manitoba:
Manitoba is probably best known to tourists for its polar bears, whale watching, and northern lights in Churchill on Hudson Bay and the Canadian Museum For Human Rights at The Forks Market where the Red and Assiniboine Rivers meet in Winnipeg.
However, a big part of international tourism comes from hunters and fishermen that like to take advantage of Manitoba's wild and beautiful lakes and forests. There are many hunting and fishing lodges and guides that cater to these mostly wealthy tourists, who even come in the dead of our famously cold Manitoba Winters for ice fishing.
Manitoba has over 100,000 freshwater lakes, including 3 of the top 33 biggest lakes in the world (according to Wikipedia), and surface water covers 16 percent of the province.
When I was growing up in Winnipeg, I often heard people say that almost everyone either had a cottage near a lake or had a close friend or relative that would let them use their cottage.  Manitobans know how lucky we are, which explains why 85 percent of Manitoba's 11.4 million pre-pandemic tourist visitors came from within the Province (according to Travel Manitoba's 2017 data)
It's time for the rest of Canada to get in on the hidden gem that is Manitoba, especially now that travel restrictions and self-quarantining requirements will soon end for fully-vaccinated travellers.
Please note that the attractions and events listed below were researched prior to the shut-down due to Covid-19 and I cannot say if or when they will resume.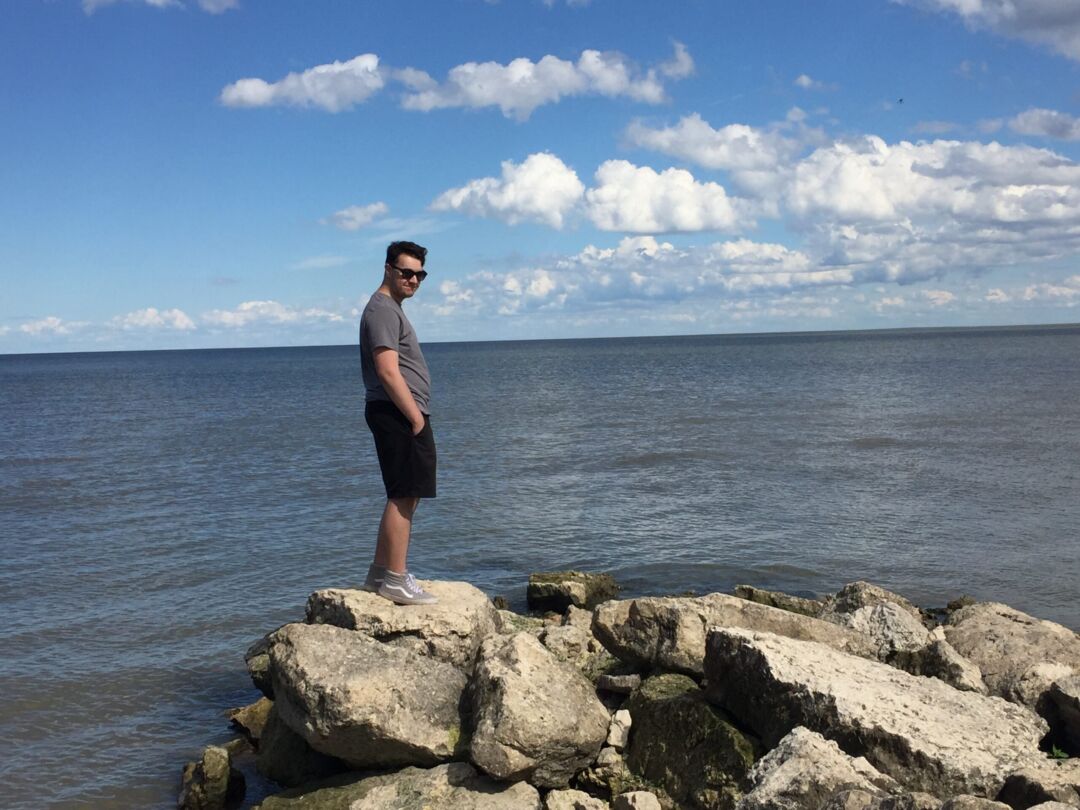 What is the "Interlake"?
I want to give you some travel ideas about things to do in a beautiful area called the Interlake, which is the land between Lake Winnipeg and Lake Manitoba, the 12th and 33rd largest lakes in the world respectively.
A lot of tourism and cottage living occurs in the southern part of the West shore of Lake Winnipeg.  I know this area well because we bought a cottage there 3 years ago and are very glad that we did.
Gimli, Manitoba:
A great travel hub for your stay is a town called Gimli, which is central for the nearby attractions, and is only a 1 hour drive North from the Winnipeg International Airport up Provincial Highway 8.
Here are a few great things to do in Gimli, Manitoba.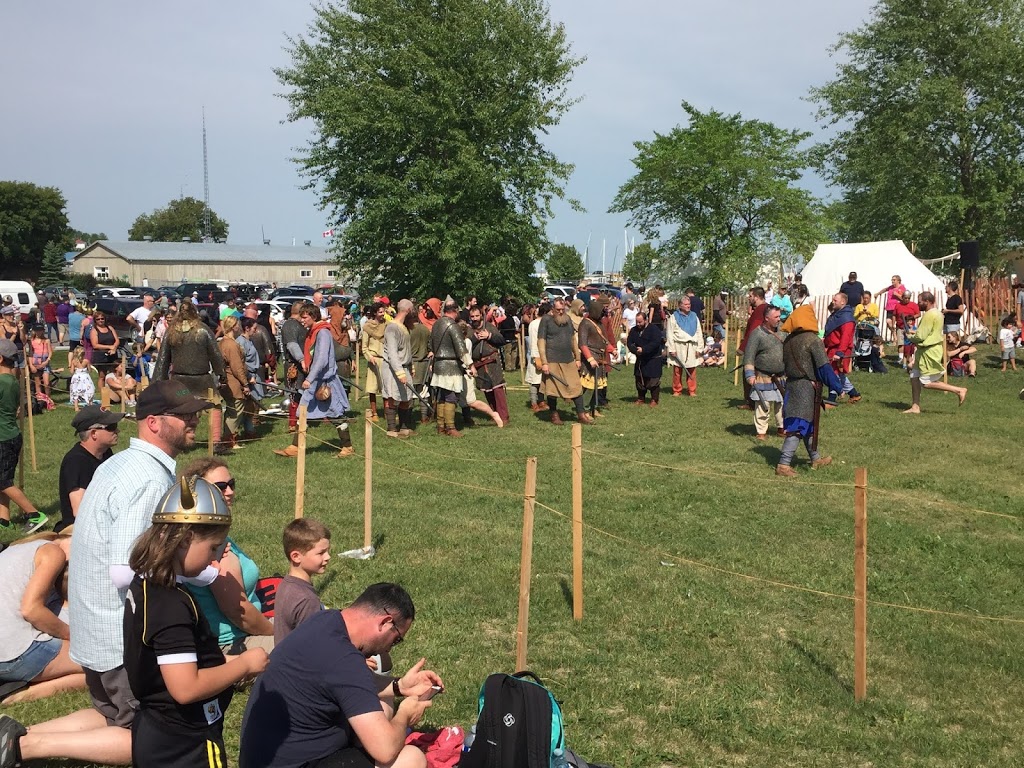 Gimli Icelandic Festival
Gimli has the largest population of people with Icelandic heritage outside of Iceland and is home of the Icelandic Festival of Manitoba, called Islendingadagurinn (try to say that out loud), during the August long weekend with a street market, art exhibits, concerts, and a midway with amusement rides. The festival also has live re-enactments of Viking battles.
That is the busiest and most crowded time to visit Gimli.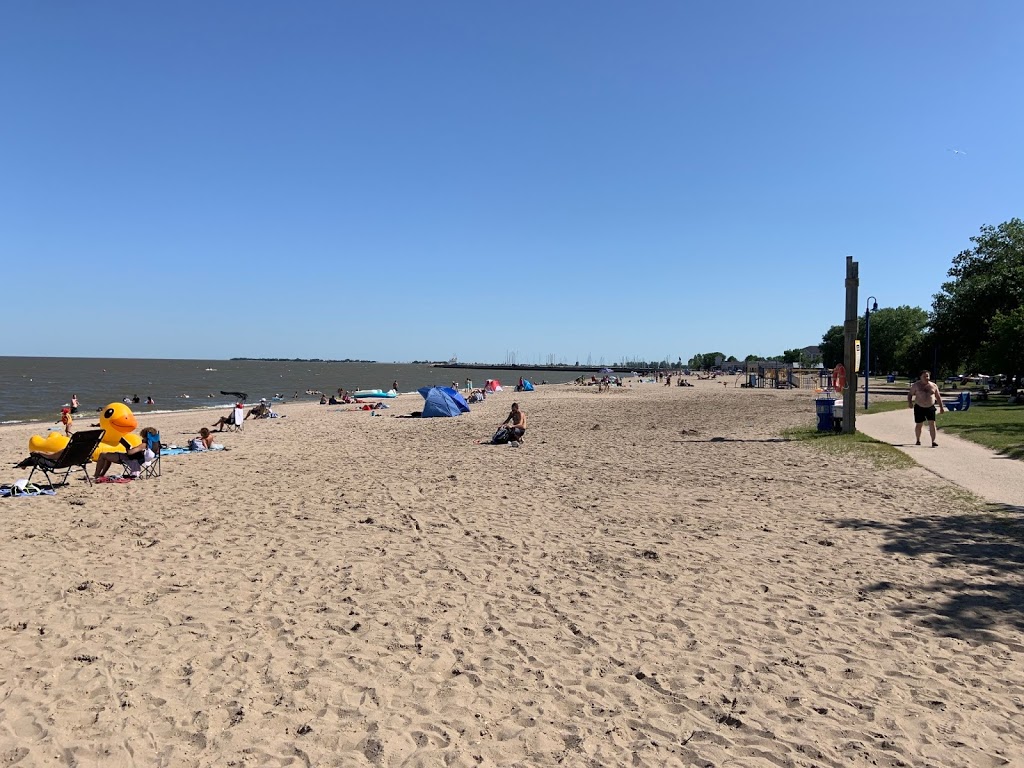 Gimli Beach, Boardwalk, and Pier
Gimli has a very large and popular public beach with a boardwalk and water-sport rental that can be quite busy on a hot summer day. It is great for family fun.
Be sure to take a walk to the end of the pier where there is a small lighthouse and viewpoint.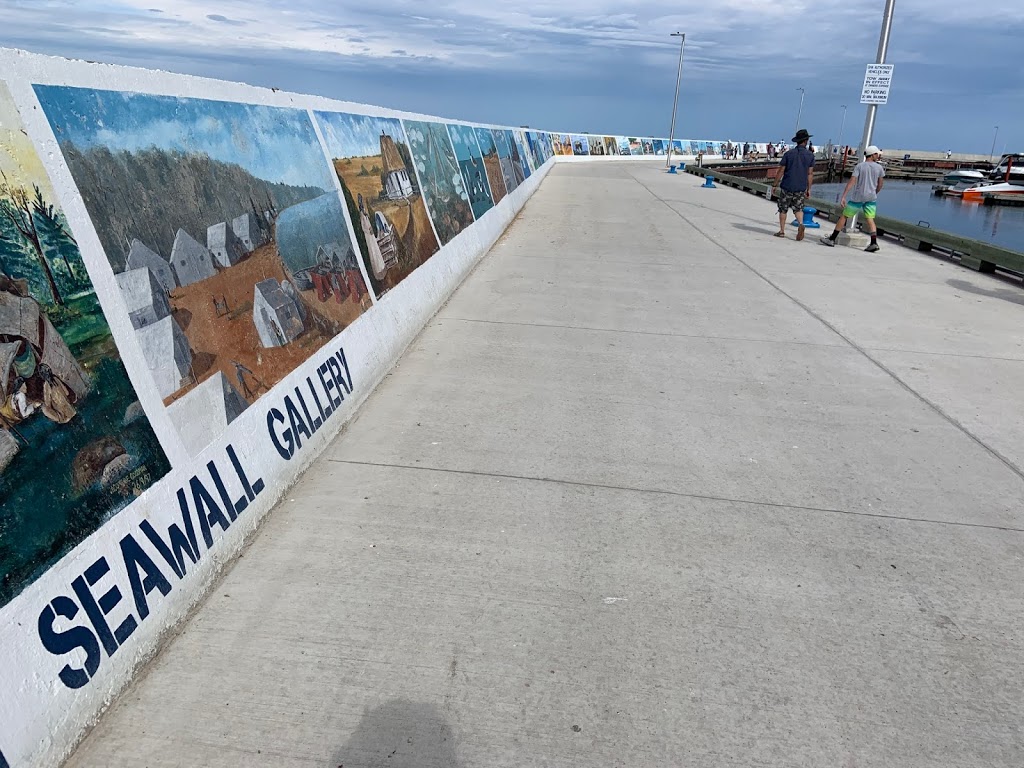 Gimli Pier and Seawall Gallery
Gimli Pier and Sea Wall in off-season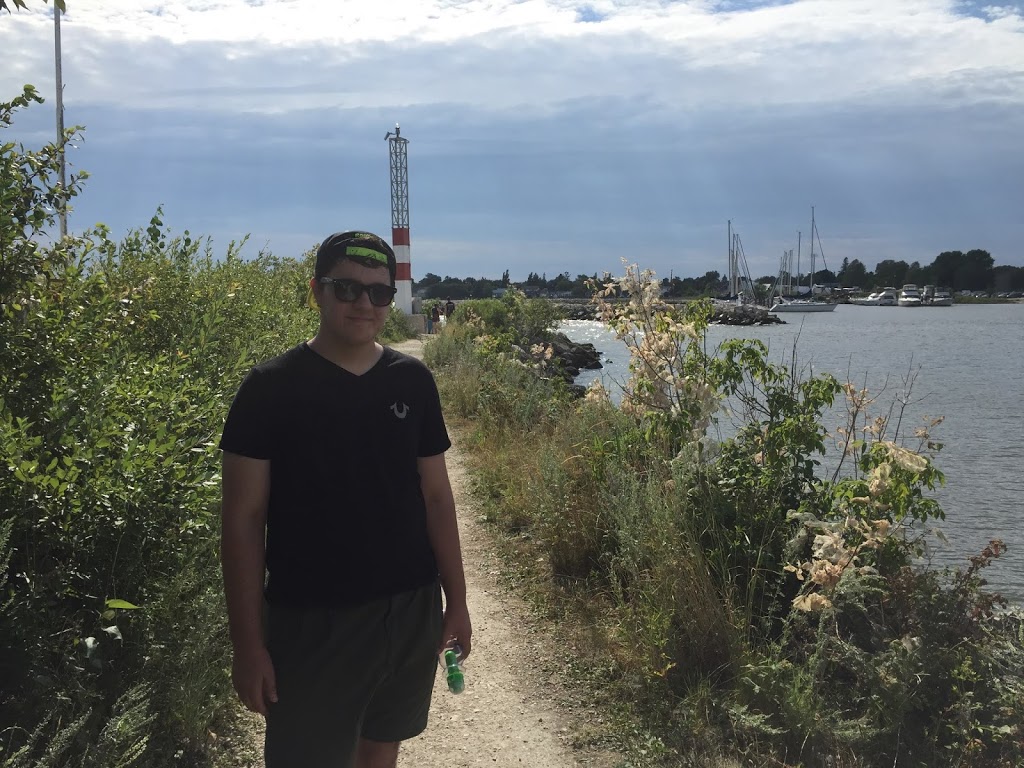 End of Gimli Pier
As you walk along the sea wall, you will see dozens of paintings by local artists that depict local landmarks or stories, many people fishing, and dozens of boats in the marina.
Gimli Film Festival
Besides the Icelandic Festival, the most popular and well-known event is the Gimli Film Festival in July each year. This year, they converted it to an online digital film festival with 200 unique films from around the world. Normally, they have movie venues all over town, masterclasses with writers and directors,  and special film screenings on a giant inflatable movie screen that floats on the lake so you can watch from the beach on a lawn-chair.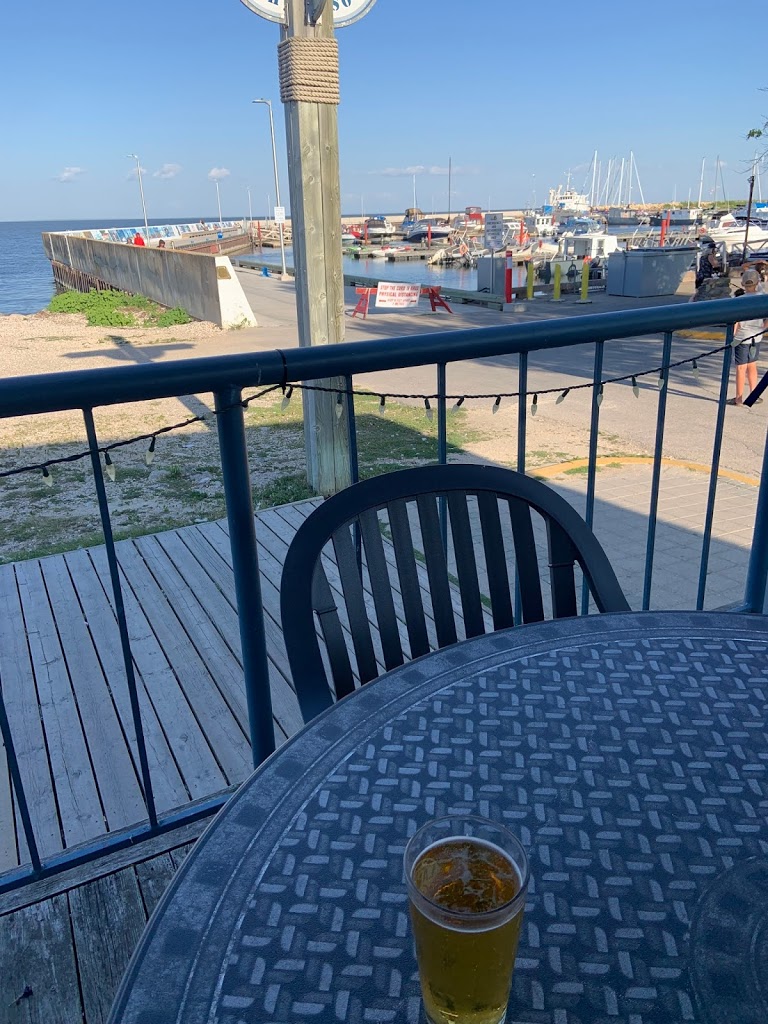 Other Attractions in Gimli
At the start of the Pier, you will find a luxury resort hotel called Lakeview Gimli Resort that has a Robin's coffee shop, several stores, a lakefront patio bar, and a fine dining restaurant called Seagulls that also has a great patio facing the lake.  If you stay there, they also have both an indoor pool & hot tub and an outdoor pool and hot tub that faces the beach and lake.
Across from the resort is the main retail and restaurant district (1st Avenue and Centre Street).
There you will find 5 great little restaurants serving fresh pickerel caught in Lake Winnipeg with Greek salad and french fries. We have that for dinner on our way home after most of our cottage visits. The Greek salad (one of the best I have ever had), french fries and portions at Europa Restaurant are excellent, but they only deep fry the fish, which can be too greasy or overcooked for some people. The other restaurants have smaller portions, but generally offer 3 ways to enjoy your pickerel: deep fried, pan fried, or grilled.
On this street, you will also find a few ice cream shops to buy a chilled treat to enjoy while you walk around on a hot day.
If you want a souvenir or gift that screams "Interlake" or Icelandic Heritage, be sure to peruse a large, famous local clothing, gift, and souvenir store called Tergesen & Sons.
Gimli also has a hospital and many other stores and restaurants.
Gimli periodically has craft markets at various outdoor and indoor venues. A new indoor craft market is on Thursdays from 4 to 9 PM at Farmers Hall from June to September.
For nightlife, try the Ship and Plough for a large selection of local craft beers and live entertainment such as bands and stand up comedy or the bar at the Viking Inn.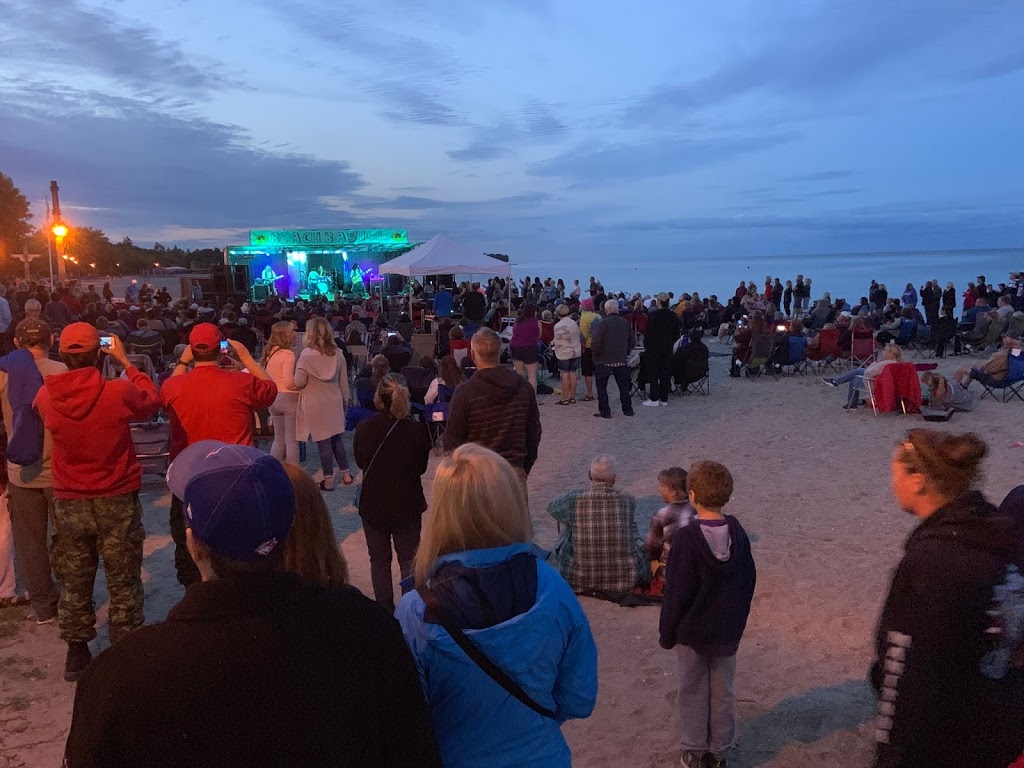 Other events in Gimli include the Gimli Ice Festival in March, Craft Market Sales in April and July, Beach Car Show in July, Sandcastle Contest in August, Gimli Model Plane Fest in August, and free concerts on Harbour Stage at 7 PM on some Sundays with beach bash concerts on select weekends in July & August.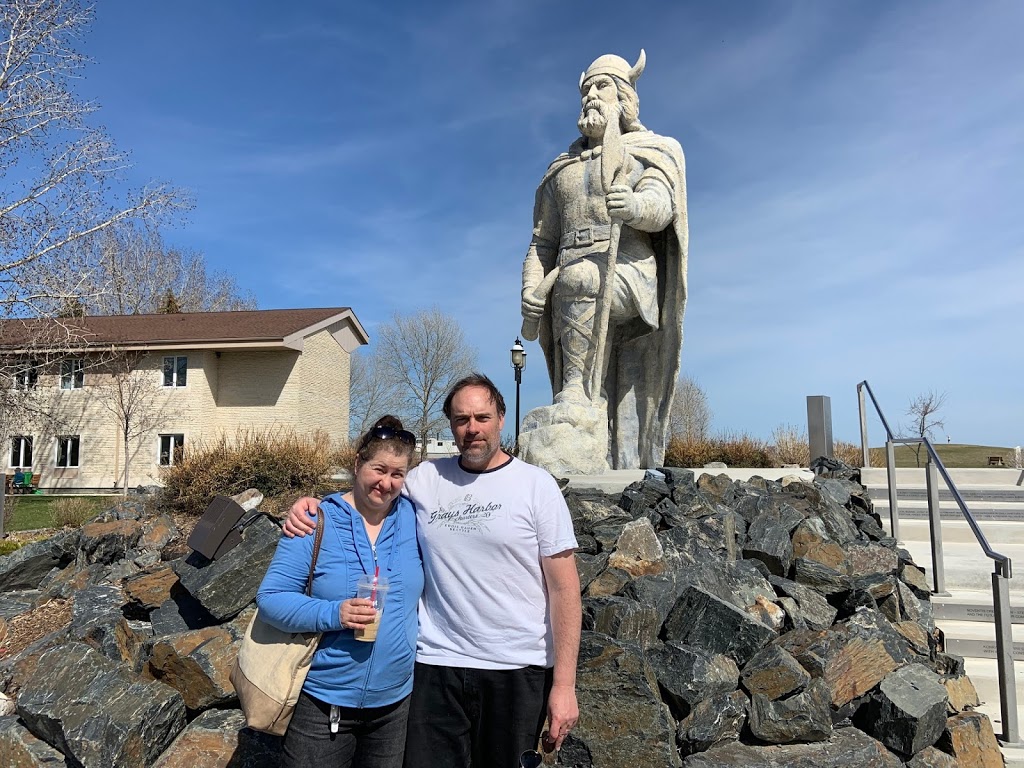 Viking Statue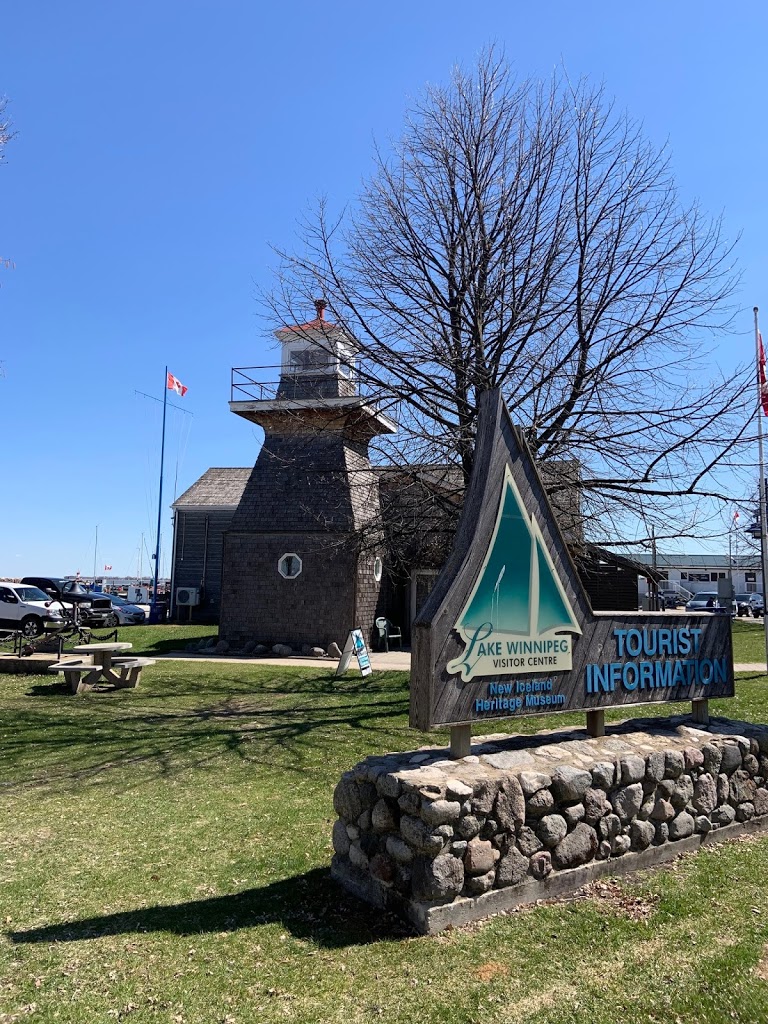 Lake Winnipeg Visitor Centre
Family Attractions
For family fun, Gimli has:
A short day trip North of Gimli to Arnes Market:
If you do one excursion when you are not relaxing on the beach in Gimli, be sure to drive 10 minutes North up Provincial Road 222 to Arnes Market. This is a farmer's market and more which is open from 9 AM – 2 PM on Saturdays, Sundays, and some holidays from May to October.
On your way to the Arnes Market, you will pass the Diageo distillery that produces all of the world's Crown Royal Canadian Whiskey.  The warehouses here contain more barrels of whiskey than there are people in Manitoba. Unfortunately, they don't do tours or have a tasting room because the bottling occurs near Toronto, Ontario.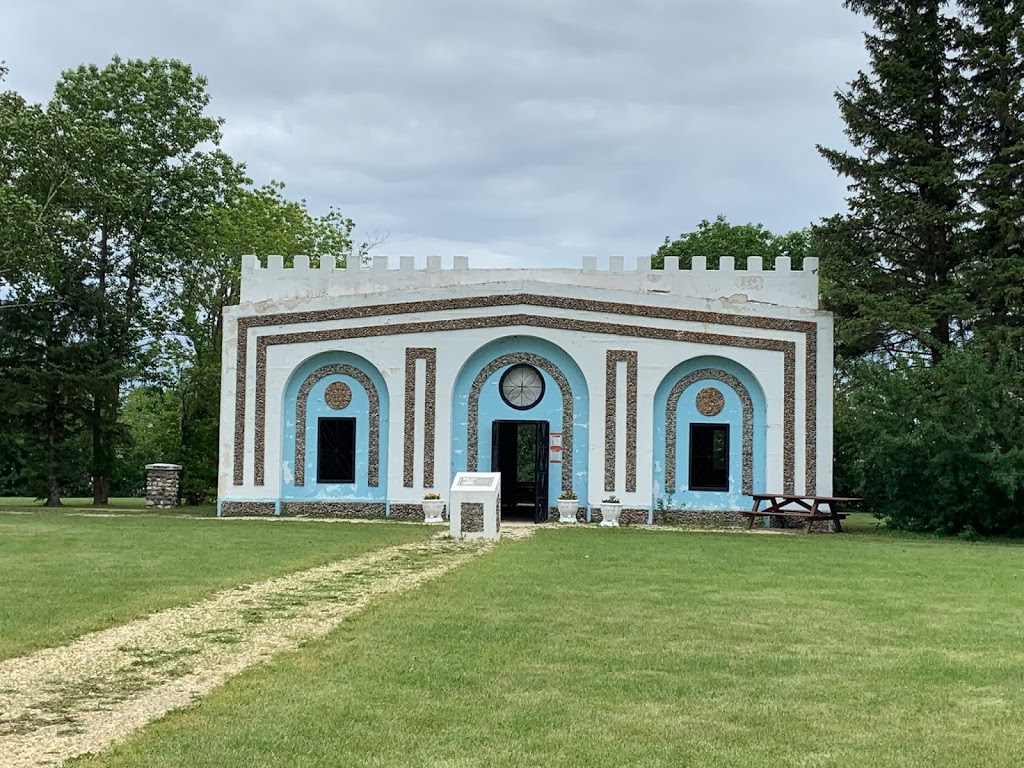 Camp Morton
The next attraction you will pass 8 kilometers North of Gimli is Camp Morton Provincial Park, which has an ornate functioning Ukrainian Catholic Church, 19 camp sites (for camping, RVs, or camper trailers), 14 rental cabins with running water (sleeping 4 to 6 people) and 6 Yurts (sleeping 4 people). There are several really interesting things about Camp Morton.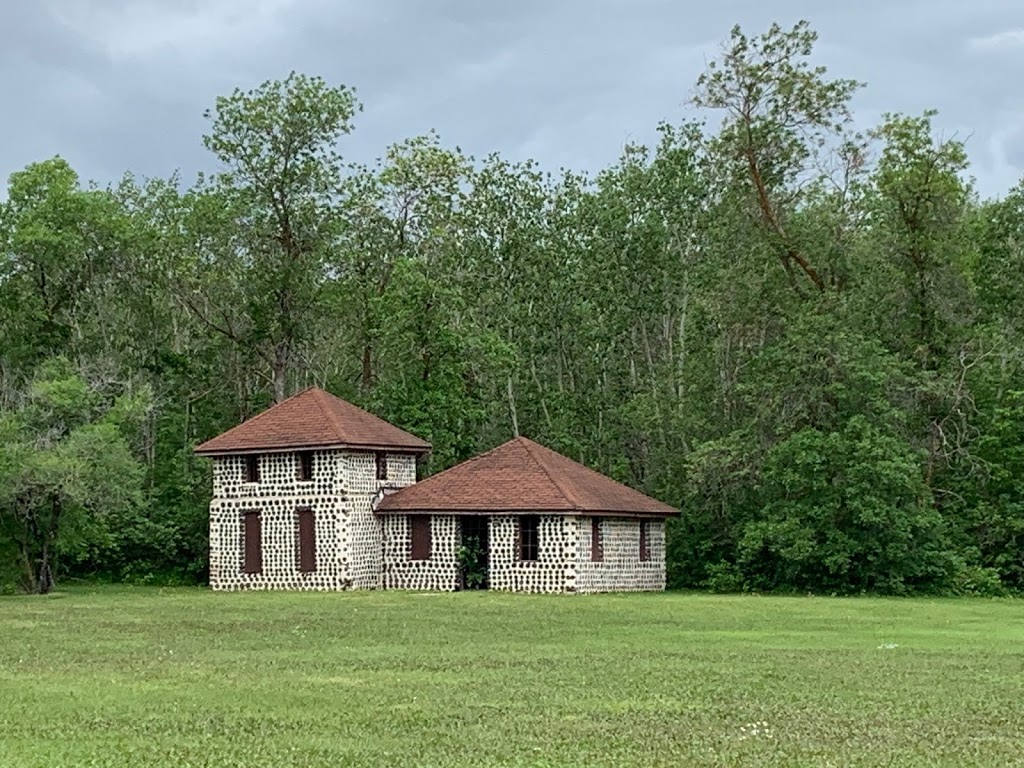 The first is that you can sleep in accommodations called Yurts that are mostly right on the water with lake views.  They are like camping in a little hut instead of a tent, so you have to use the shared public showers and bathrooms.
The second interesting thing is that this park started in 1920 as a summer camp for Roman Catholic children, so there are several abandoned buildings near the main entrance of the park, including old residences as well as a chapel, school, dining hall, water pump building, and water tower.  These buildings either have ornate architecture and decorations (in a Ukrainian style) or they demonstrate a unique, old outdated building method called "stackwall" which looks like a bunch of round holes where there is or used to be wood surrounded by a type of mortar or concrete.
This park is popular for hiking in Summer and cross-country skiing in Winter. Hikers will find a mixed boreal forest with white spruce, aspen, oak, ash, balsam poplar and Manitoba maple trees as well as shrubs such as Saskatoon berry and high bush-cranberry. If you go hiking here, beware of a three-leaved shrub called poison ivy that could leave you with an itchy rash.
Near the water, you will see and hear frogs, songbirds, seagulls, osprey, and American white pelicans. During Spring or Fall, you might get lucky and see a Bald eagle taking a break from its migration.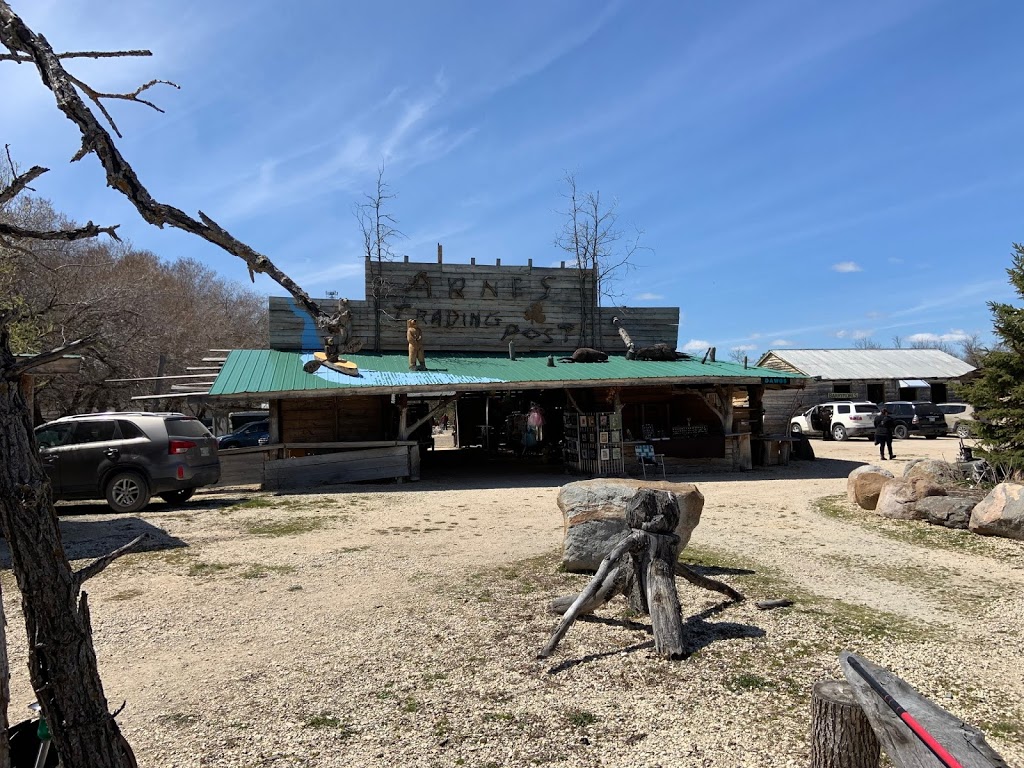 Arnes Market
Keep driving North for 5 minutes past Camp Morton and you will discover the Arnes Market. I can't emphasize enough how unique and whimsical this market is.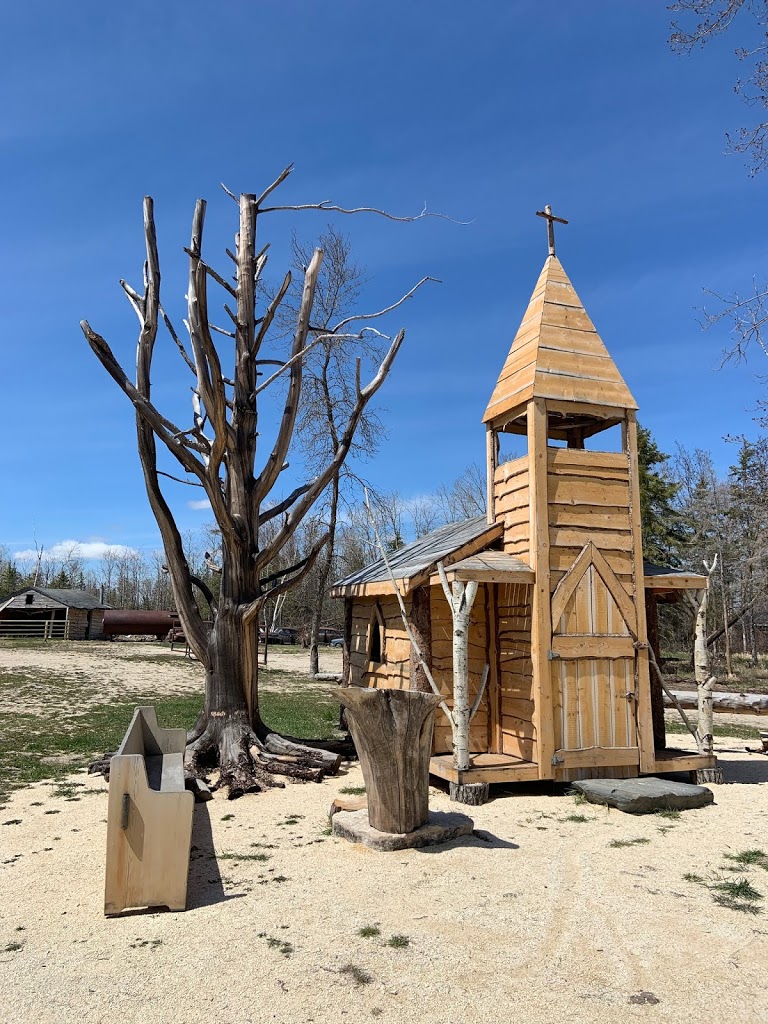 The booths are made by a very creative artist and woodworker who also makes and sells great statues at the park next door, so they look strange and misshapen as if you are in another country or on another planet.
He also made a miniature church that is really photo-worthy.
At the market, you can buy farm fresh eggs, local and organic fruits & vegetables, crafts, jewelry, clothing, books, antiques, and foods like famous donuts and cinnamon buns from a Mennonite bakery, butter tarts, homemade fudge, jams, jellies, pickled foods, and shaved ice.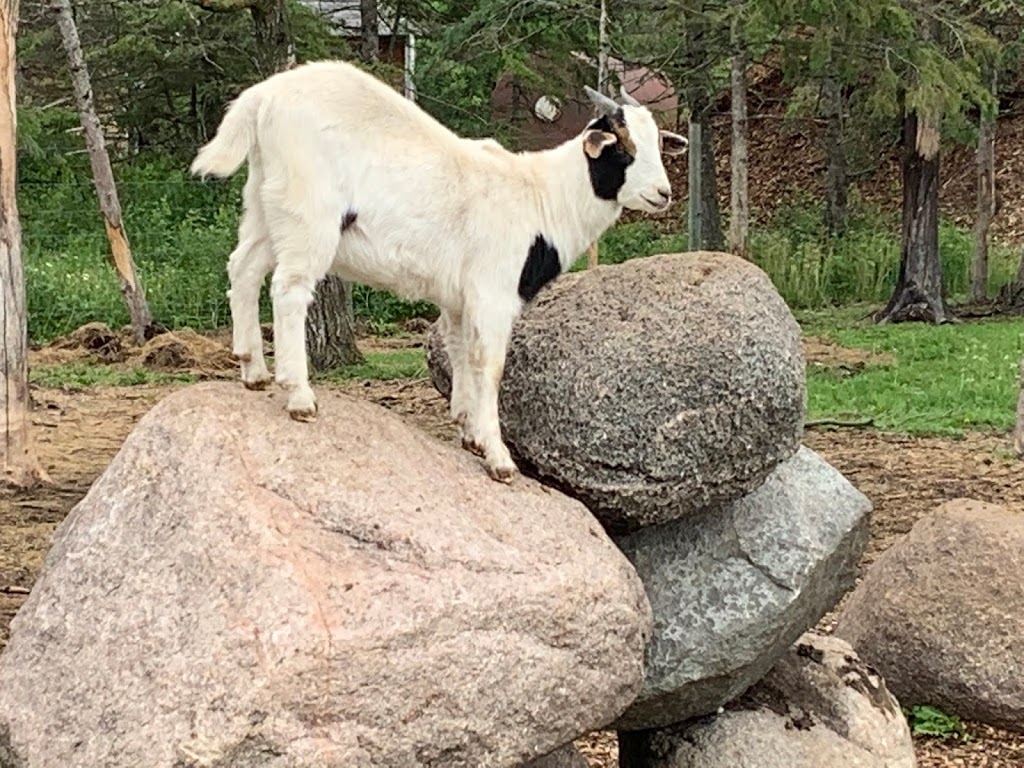 Inside the market, there is a petting zoo that is also free and great for families. You will see rabbits, chickens, pigs, sheep, and goats plus the young ones and babies. You can purchase appropriate food to feed many of the animals.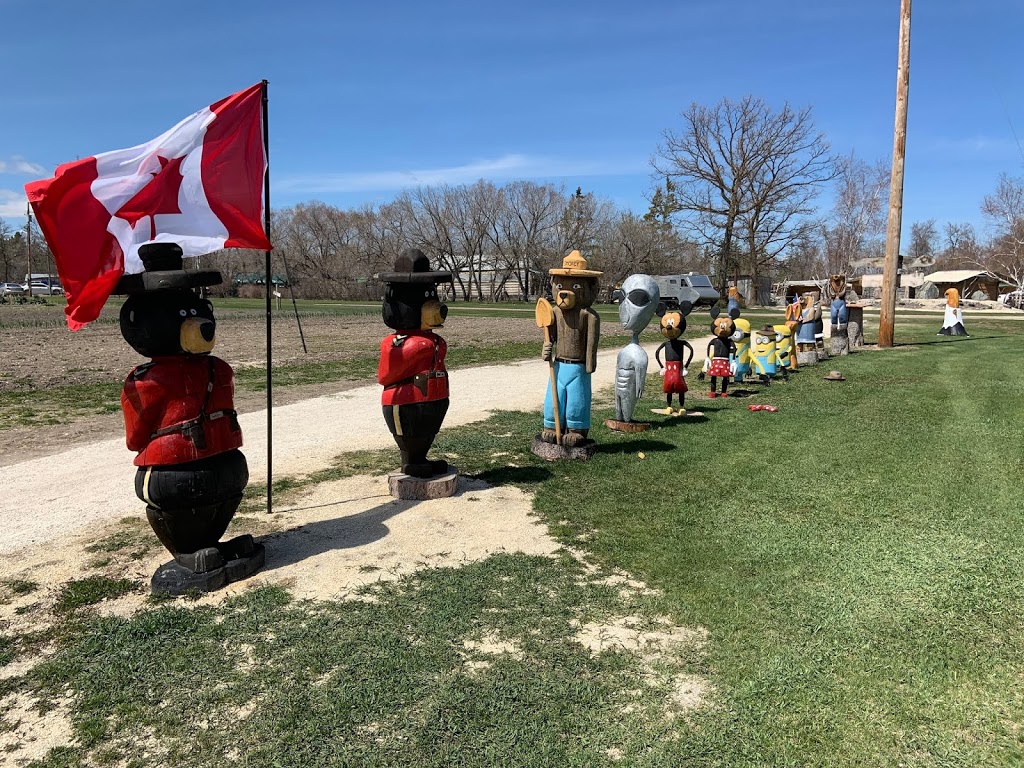 Arnes Market carved wood statues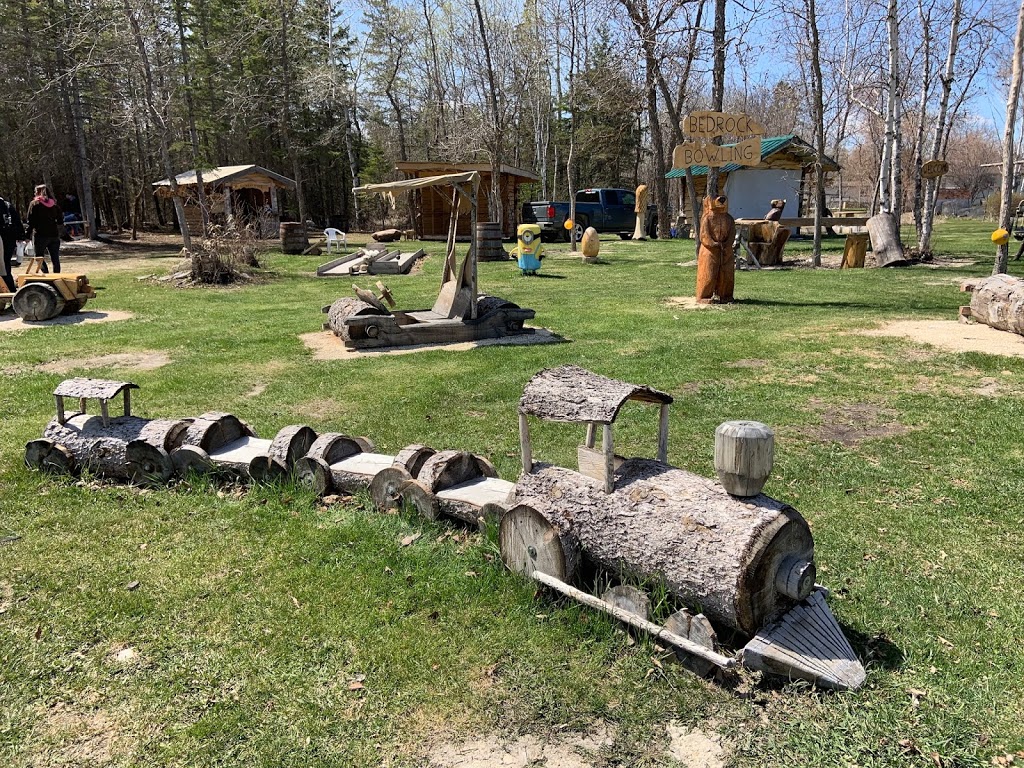 Arnes Market playground
There is a children's playground next to the Arnes Market, where kids can go on homemade swings & teeter-totters, and play bowling as well as sit in cars, trains and planes made by the property owner from tree trunks (many of which are based on the Flintstones). There are also many sculptures carved from tree trunks and painted like aliens, minions, & bears to admire (or purchase). And best of all, it is all free.
A long day trip North of Gimli to Hecla Island:
If you have energy and gas to burn, you should consider visiting Gull Harbour on Hecla Island. If you keep going North of the Arnes Market, you will find more fantastic destinations.
There are several towns, camps, camp sites, housing developments, mobile home communities and RV parks on Provincial Road 222 North of Gimli. Each one has its own beach on the lakefront and they are fun to explore.
Very near to the Arnes Market, Camp Newstadt is a "private" German beach community with a nearby mobile home and trailer community called Mordens Meadows Campground and Trailer Park.  They share a small, secluded and cute beach.
A few minutes North of the Arnes Market, Spruce Sands is another small cottage community that has a public beach, restaurant, ice cream shop, and convenience store.  They also have the Spruce Sands RV Resort. The beach at Spruce Sands is my favourite for swimming (even better than Gimli) because it has knee-deep water on fine sand for 50 meters out from the shore.
A few minutes North of Spruce Sands, you will find Silver Harbour Marine Resort, which is the largest private marina in Manitoba.  If you have a boat, you can launch it here for a small fee or you can launch it for free in Gimli or Riverton.  Spruce Sands also has around 15 RV sites.
The Arnes dock is very close to Spruce Sands and has a place where you can go fishing or purchase fresh-caught pickerel in season for a very good price ($7 per pound). Pickerel makes a memorable and tasty souvenir and you can also get it in Gimli for $9 per pound at Smith's, which vacuum packs it for you or will sell you frozen fish that will travel better.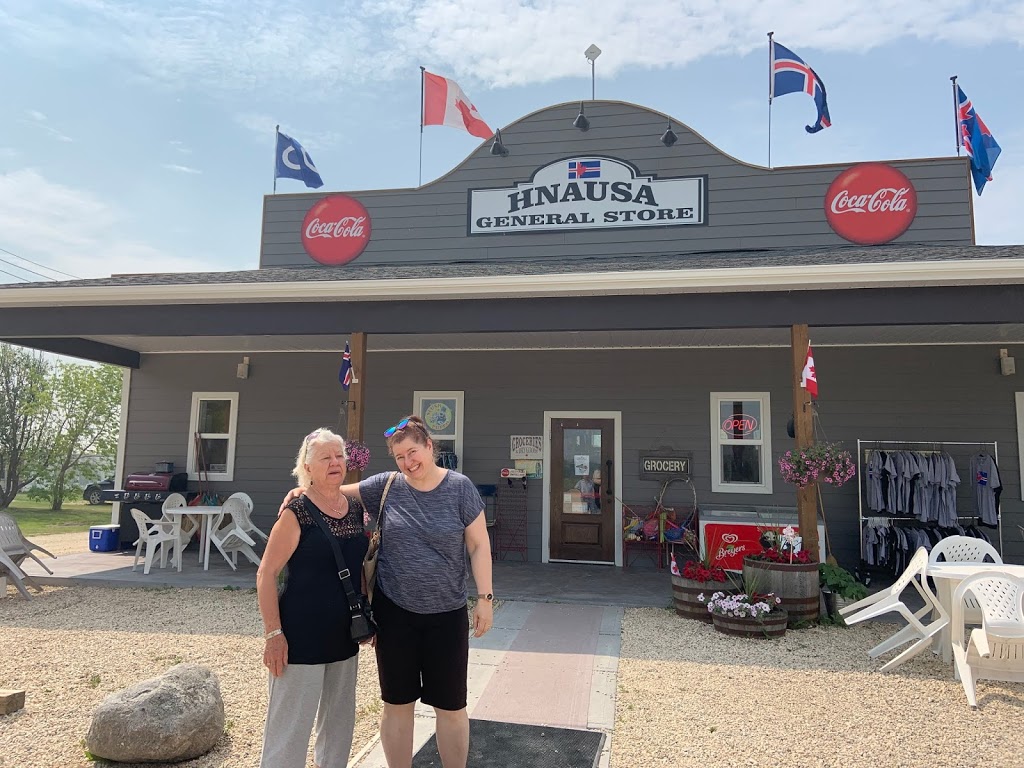 Less than 10 minutes North of the Arnes Market, you will find the Hnausa Beach Provincial Park, which has a beach and camp sites. You should pop in to the cool store and ice cream shop called Hnausa General Store that sells groceries, snacks, drinks, and some household and camping-related items.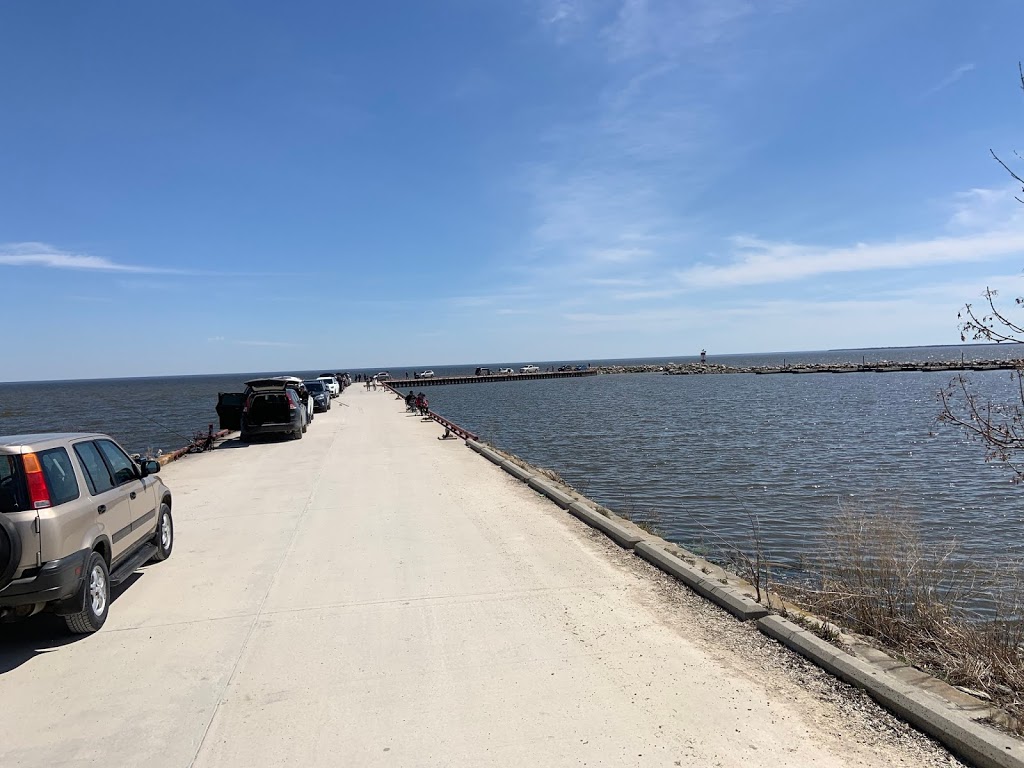 Just a few minutes North of Hnausa is a long concrete pier that is very popular for fishing, so bring along your fishing rods if you like to go fishing. Be sure to get your provincial fishing license first. Last time we stopped there, we saw close to 70 people fishing.
Arborg
When leave Hnausa, you have to travel West to get back to Provincial Highway 8.  Once you reach Highway 8, you can take a short detour (less than 10 minutes each way) to visit Arborg, which has a library, hospital, Co-op grocery store & pharmacy, Red Apple department store, and several restaurants.
If you brought your own food, enjoy and a nice picnic area next to the river and small dam.
Some events and attractions to visit in Arborg include Silver Western Days on the third Saturday in May, Arborg Fair & Rodeo in July, and the Noventis Aquatic Centre & Water Park that has a pool and waterslide.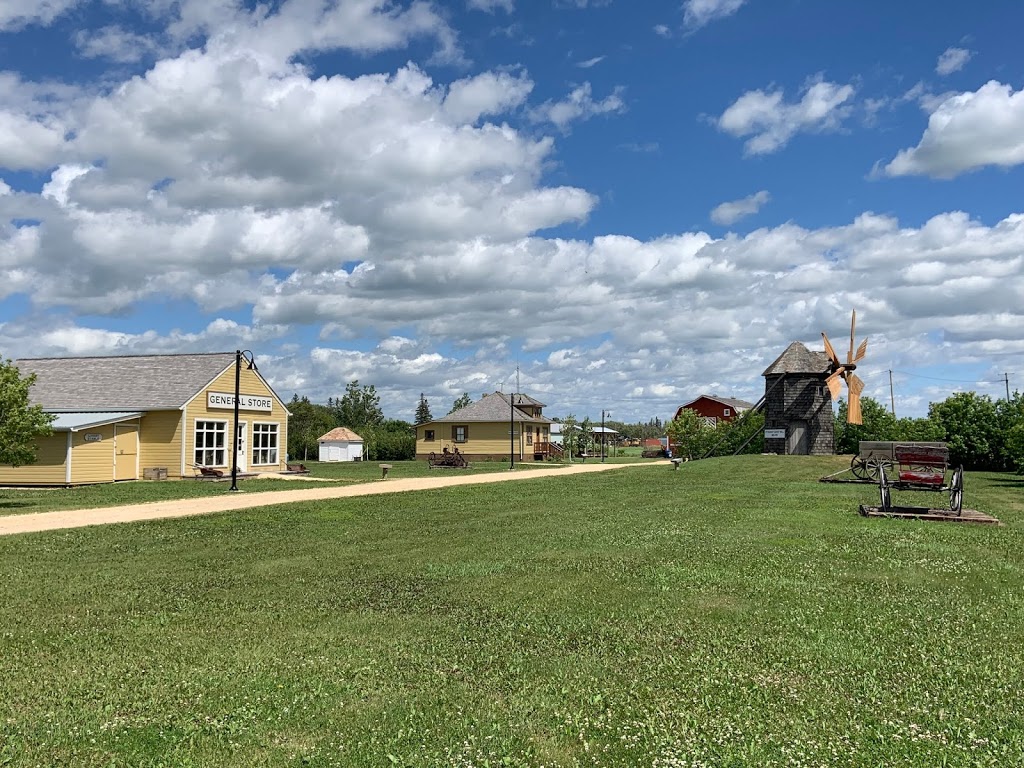 The Arborg & District Multicultural Heritage Village is a 100-year-old town that has been preserved for you to walk or drive through on a self-guided tour. Or, during the daytime, you can pay $10 per person for a guided tour and go inside the buildings. The Village also has a campground and RV park.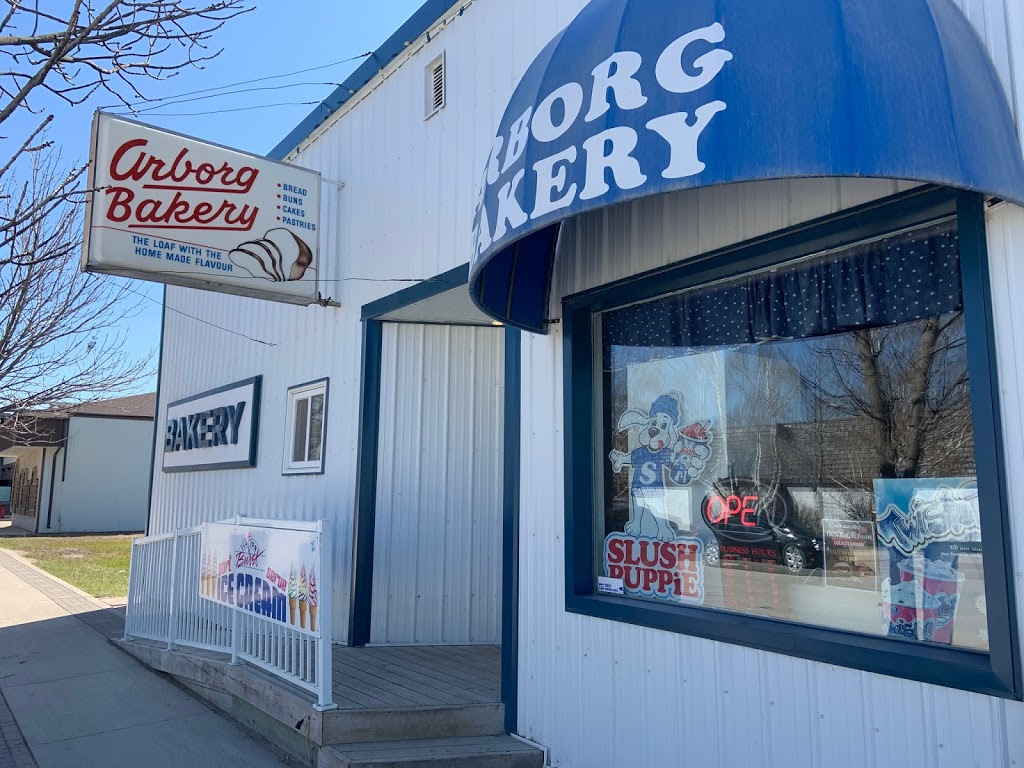 For us, the reason to visit Arborg is the Arborg Bakery, which has been named to some lists of the best donuts in Canada, but also sells great cinnamon buns and Vinarterta, which is an Icelandic cake with thin layers of pastry dough, date filling, and icing sugar that you must try.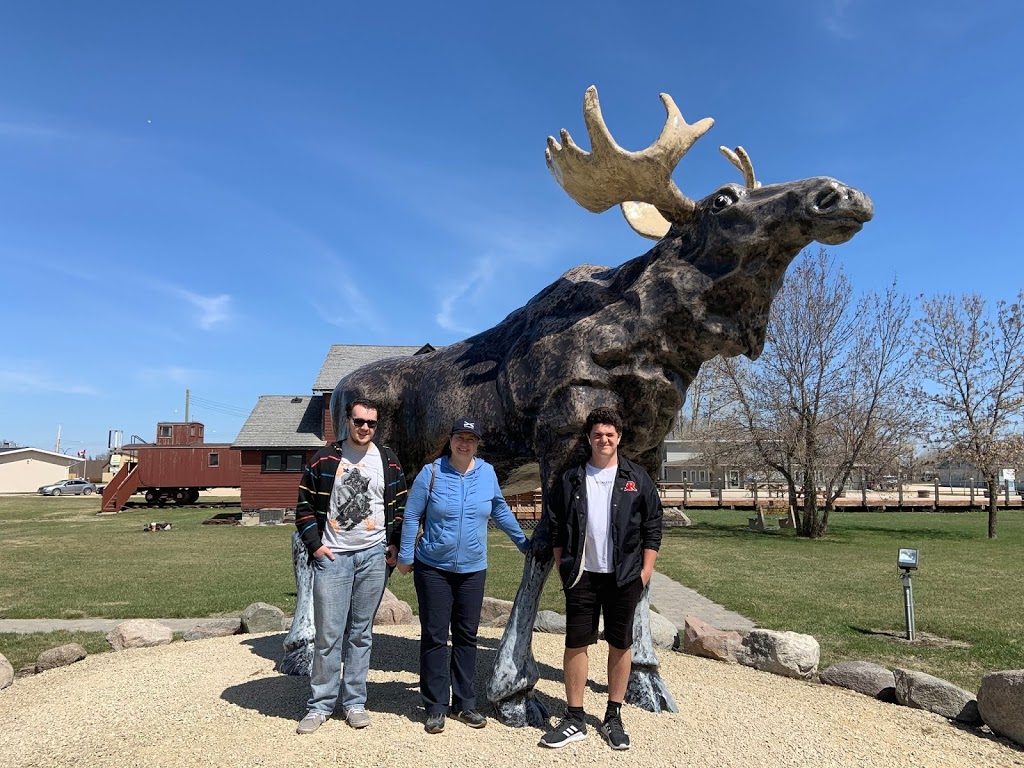 Lundy the moose statue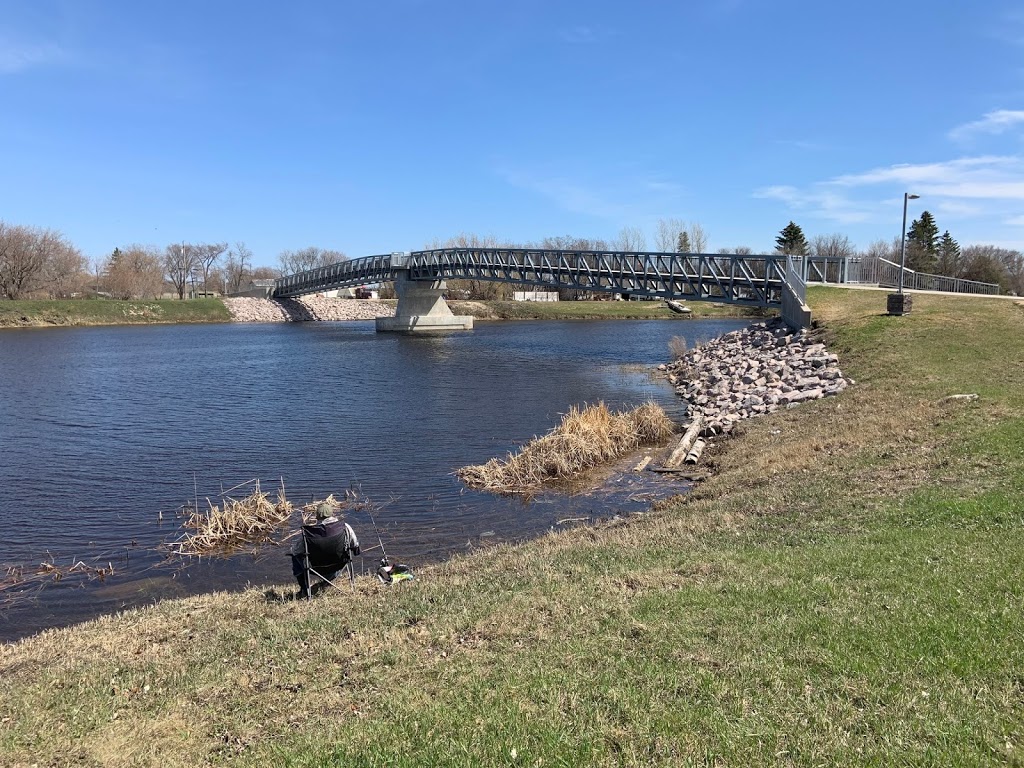 Icelandic River walking bridge
Riverton
From Arborg, head back to highway 8 and travel North 5 minutes to Riverton, which has stores, restaurants, a lounge, and a grocery store and pharmacy. If you stop here, you should take a short walk across the Icelandic River Walking Bridge for some pictures of a serene river and riverbank. Also, take a picture with the nearby giant statue of a moose named Lundi.
While there, stop at Kahleigh's Brew Barn for some tasty and creative spins on pub comfort food.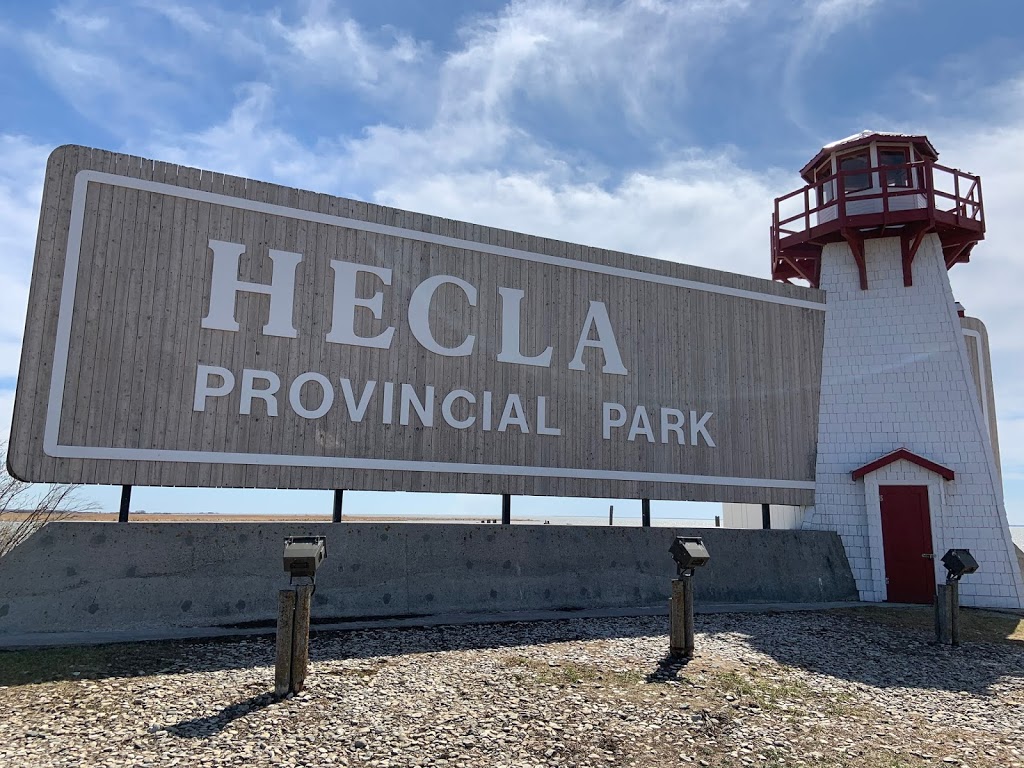 Hecla Island
Now you are getting close. Drive another 20 minutes North to reach Hecla Provincial Park on Hecla Island.  At the entrance of the park, there is a giant sign and a lighthouse on the lakeshore that present a great photo opportunity while you stretch your legs. Near here, you will see dozens of cars parked on the side of the road where people are fishing.
Near the tip of Hecla Island, there are several attractions.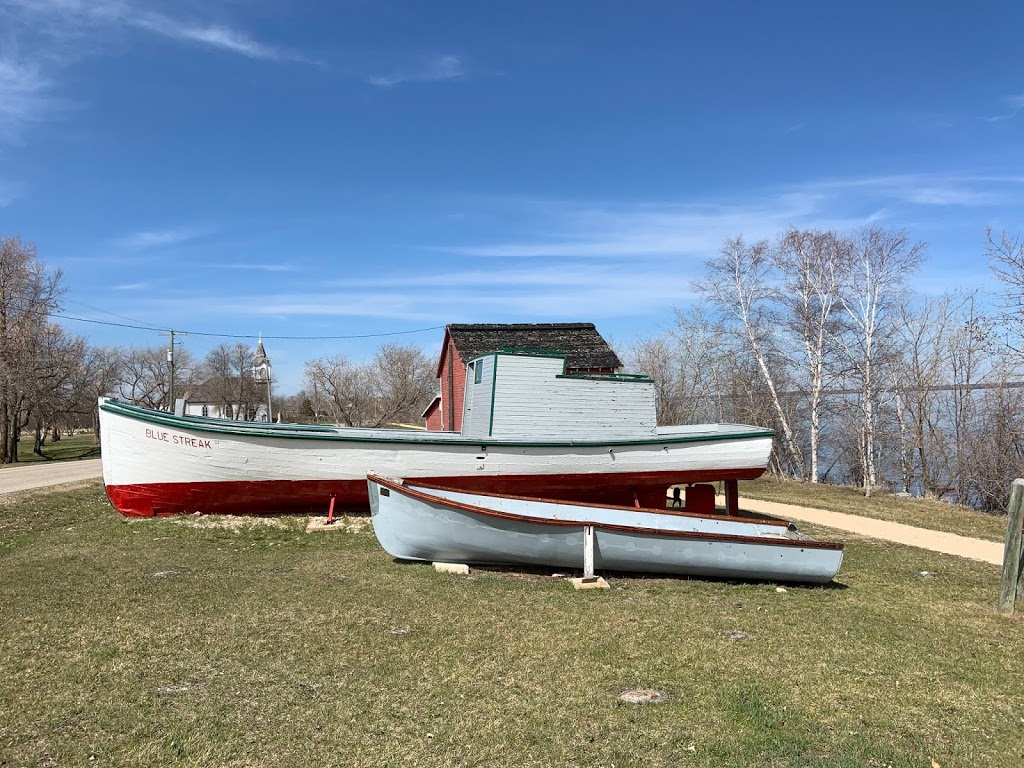 You can get off the main highway and take a road that winds through a historic Icelandic settlement. We recommend stopping and taking the self-guided tour on around 1 kilometer of paths to take pictures and read about the buildings and equipment they used to fish and live a few hundred years ago. You can also go fishing on a pier in this historic settlement.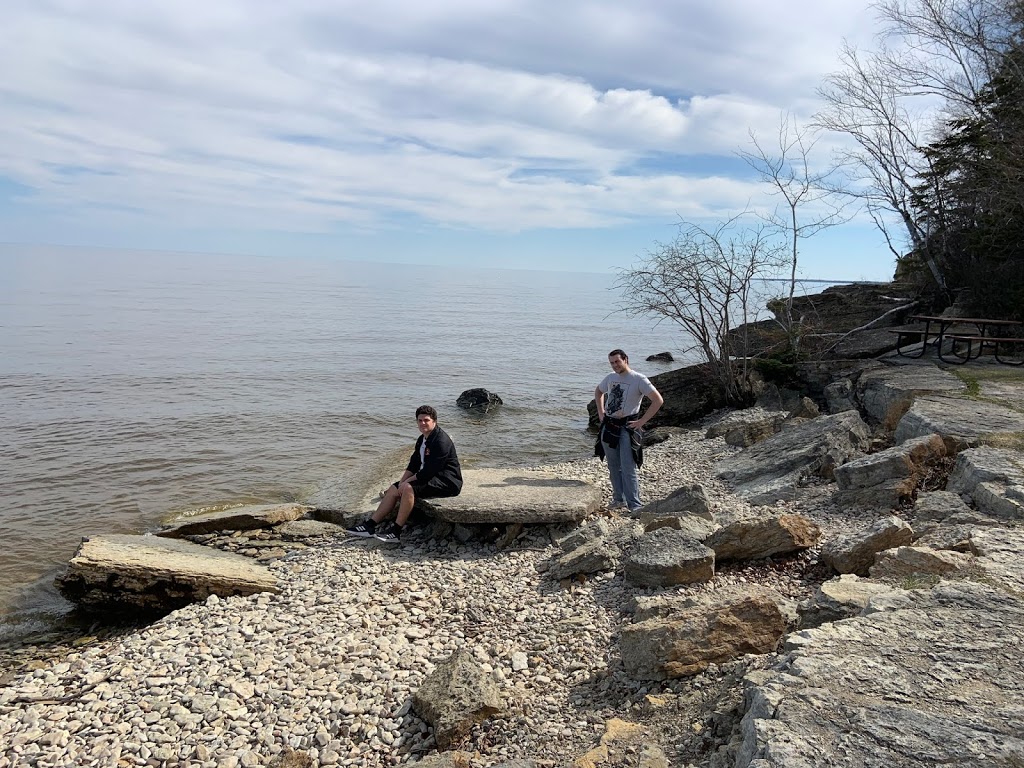 If you haven't had lunch or dinner yet, there is a very scenic picnic and rest area just past the historic settlement.  You will find steep rock cliffs not found elsewhere because it used to be a rock quarry.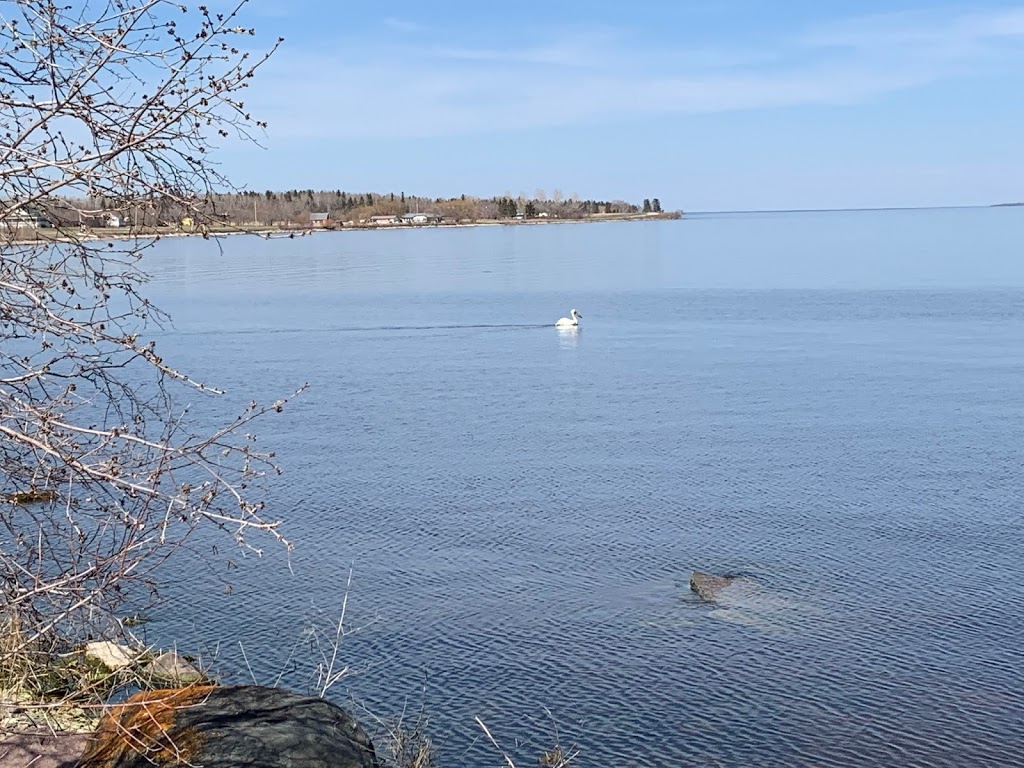 The road will eventually take you back to the main highway and you will end up in Gull Harbour, which is a small fishing town and marina that has a luxury resort called Lakeview Gull Harbour Resort. The resort also has a scenic, lake-front, world-class golf course called the Hecla Golf Course where you will likely see lots of wildlife as you golf. While driving to Gull Harbour, we saw swans, pelicans, ducks, and deer.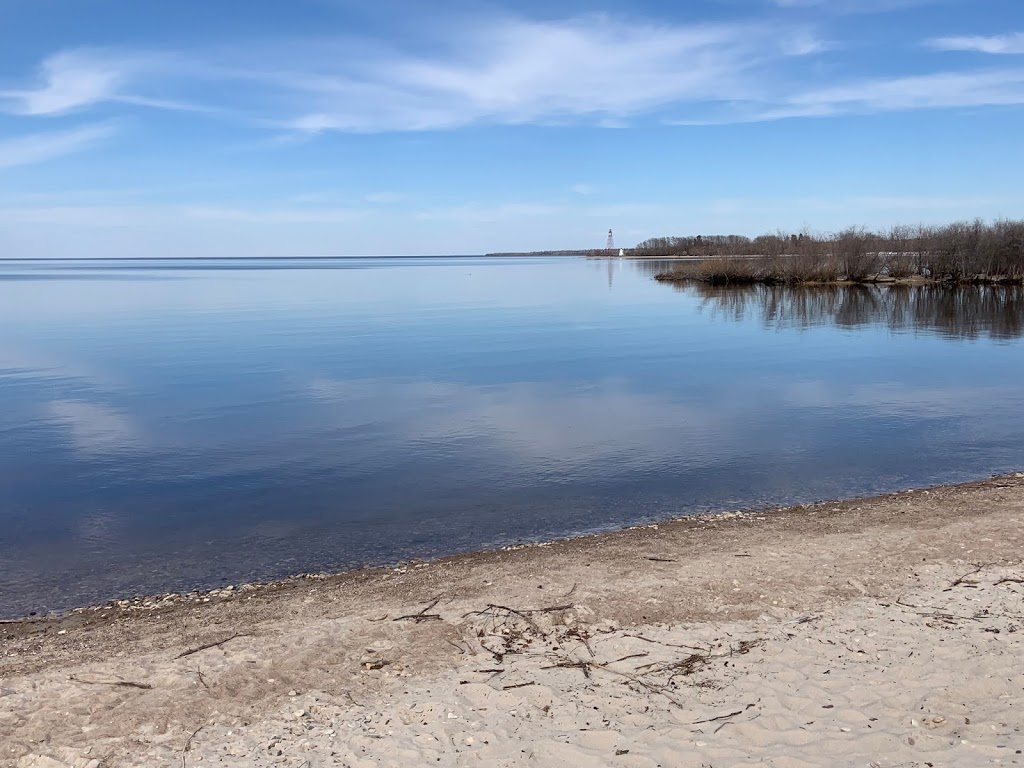 The resort has lots of amenities such as an indoor pool and waterslide as well as a nice restaurant that overlooks some man-made ponds and Gull Harbour Beach, which is the private beach connected to the resort through one of many walking paths. This beach is on a very beautiful harbour and is a nice place to relax or take pictures on the last stop of your long day trip. If you don't feel like driving back to Gimli, have dinner and book a hotel room at Gull Harbour Resort.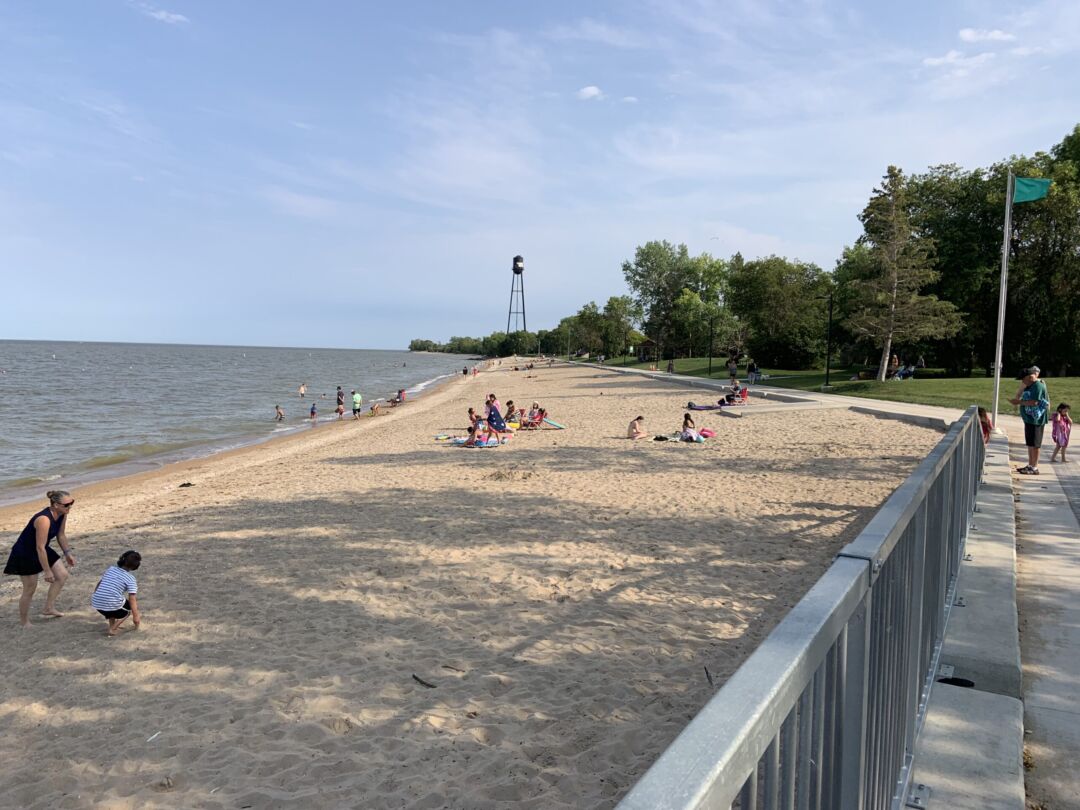 Just past the resort exit, you will reach the end of the road for most travellers when you reach Gull Harbour.
Gull Harbour is an actual harbor with many fishing boats on a pier, a general store, a lighthouse, and a charming restaurant with a patio overlooking the lake.
Day trips South of Gimli to Winnipeg Beach:
You can stop at Winnipeg Beach on your way to Gimli, visit as a day trip, or stop on your way back to Winnipeg. Winnipeg beach is only 10 minutes South of Gimli and used to be the big party destination and beach town in Manitoba.
One hundred years ago, people used to take a train from Winnipeg to Winnipeg Beach for a day of swimming and suntanning followed by dinner and dancing at a huge dance hall. They even had arcades and midway games on the boardwalk and a massive wooden roller-coaster near the boardwalk back then.
The only things left from that era are a few small arcades and a relatively small beach area compared to Gimli Beach. The arcades are super cool because it feels like you have gone back in time and they have some really old games.
There are some restaurants, ice cream shops and stores (check out Candies and Curiosities) close to the beach and park. There is also a bandstand where they have special events and free concerts on select dates.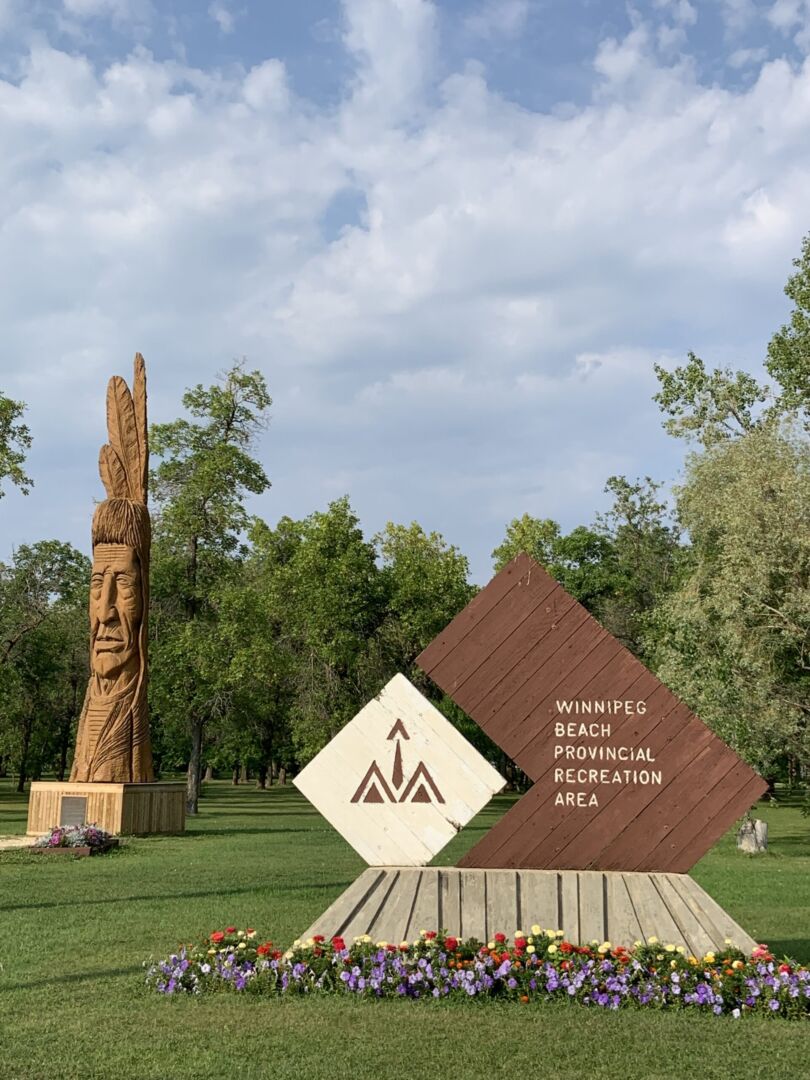 Winnipeg Beach has a big Whispering Giant statue that s a tribute to the Indigenous people of Manitoba and a symbol of brotherhood. It is part of a bigger trail project of Whispering Giants, which began in 1970 and reaches throughout most of North America.
You can rent a bike to explore the town and Winnipeg Beach Provincial Park or take your kids swimming. It is definitely worth a visit if you have time.
Day trips West of Gimli:
I am just scratching the surface of what you can experience in and around Gimli.
For example, it is just a ten-minute drive West to Fraserwood, which has events such as the Craft & Garden Sale in June, Fraserwood Family Pancake Breakfast, Parade & Picnic in June, Perogy & Kolbassa Dinner Feast in August, Western Hoe-Down in September, and Karaoke on the first Friday of each month at the Fraserwood Hotel.
Golfer's paradise:
Gimli is within a 30 minute drive to 7 golf courses, including Links at the Lake, Northmaire Golf Course, Sandy Hook Golf Club, Netley Creek Golf & Country Club (which just added some RV spots), Winnipeg Beach Golf Course, Inwood Golf and Country Club, and Teulon Golf & Country Club.
Or, in less than 1-hour you can be golfing at the spectacular Hecla Golf Course on Hecla Island.
Wrap-up:
Fishing, boating, hiking, nature-watching, sightseeing, swimming, suntanning and playing on a beach, relaxing by the water while listening to the waves, festivals, shopping, and dining are some of the reasons that I love the Interlake and I think you will love it too.
I even wrote a poem called Lake Life about this region, which you can find using this link.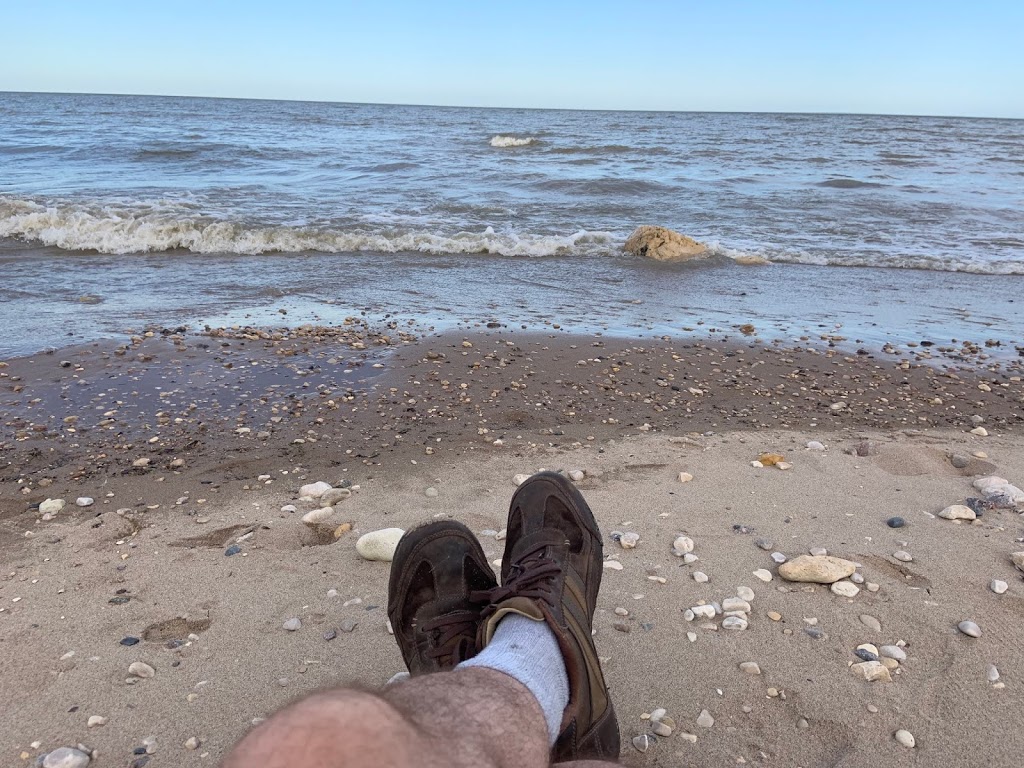 I have a travel blog to showcase some great places to travel for older travellers. I have also been researching and writing a book about the best places in the world to retire and how to retire abroad. If it wasn't for the long Winters in Manitoba, I wouldn't even consider leaving to find a perfect retirement home elsewhere.
You May Also Like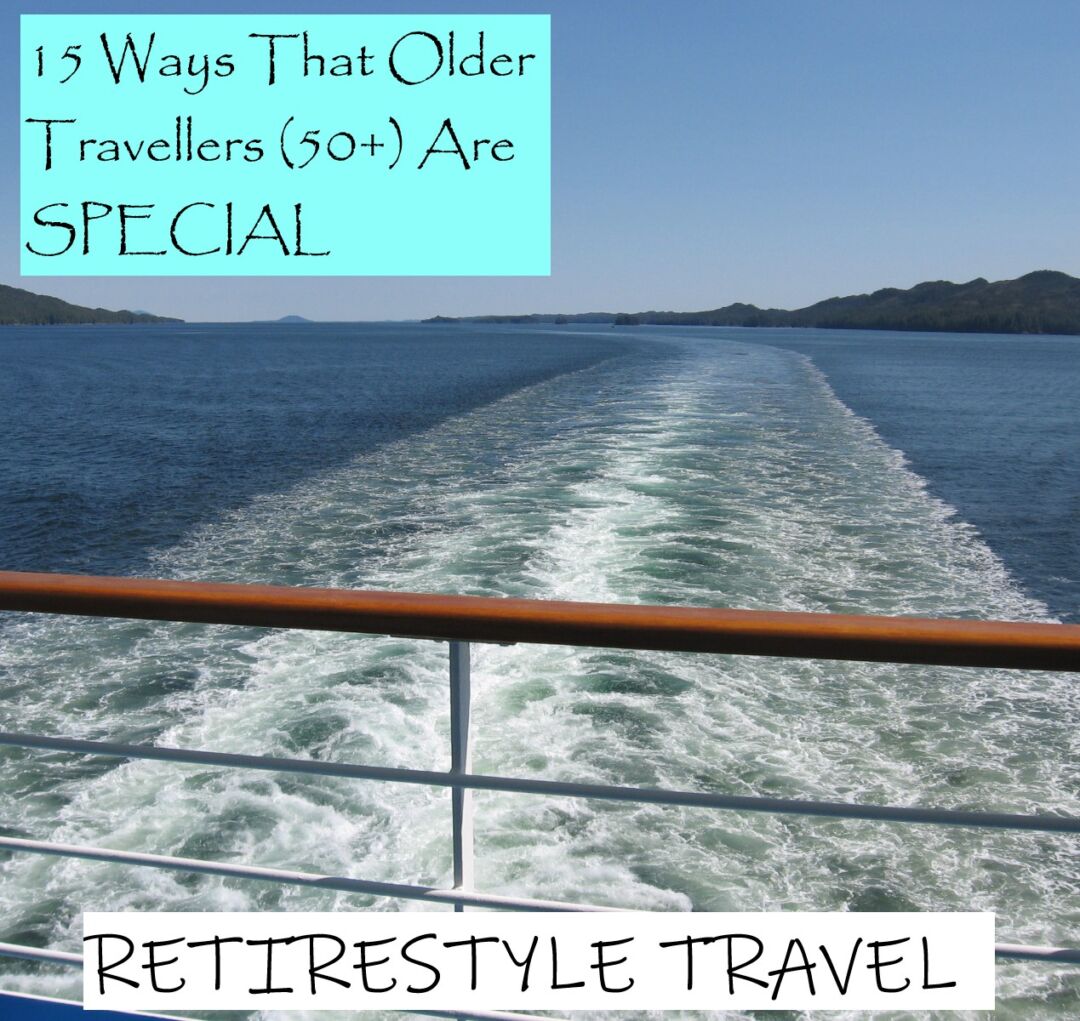 March 18, 2020