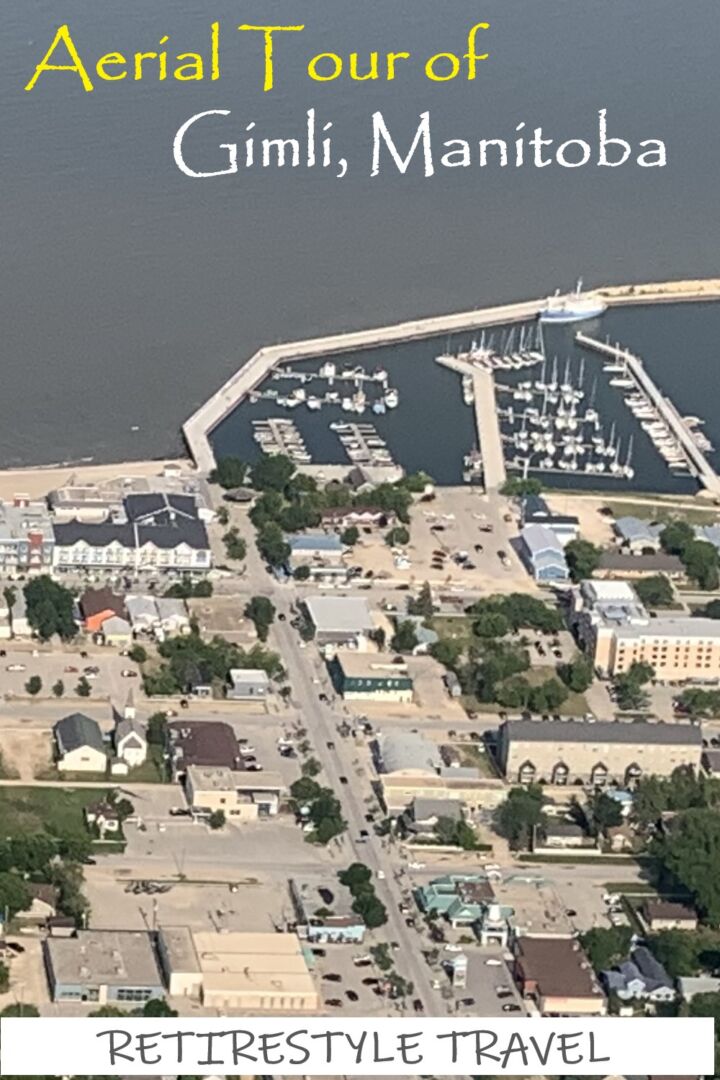 Aerial Tour of Gimli, Manitoba
August 21, 2021
Scenic Flight Tour of Gimli, Manitoba –
Flying Over The South-western Shore of Lake Winnipeg
Do you dream of getting your pilot license one day?
Do you want to see your favourite places from a different and much higher perspective?
Or do you just want to go on a plane ride?
If so, then you should try an aerial tour and, in particular, a private flight tour of Gimli, Manitoba and the surrounding area.
Most of us have flown in a large commercial aircraft to places in Canada, USA, and beyond. However, very few of us have flown in a small, single-engine airplane.
Along with our son, Dante, we got to experience exhilaration, wonder, and, yes, a bit of fear about a month ago when we booked a sightseeing aerial tour.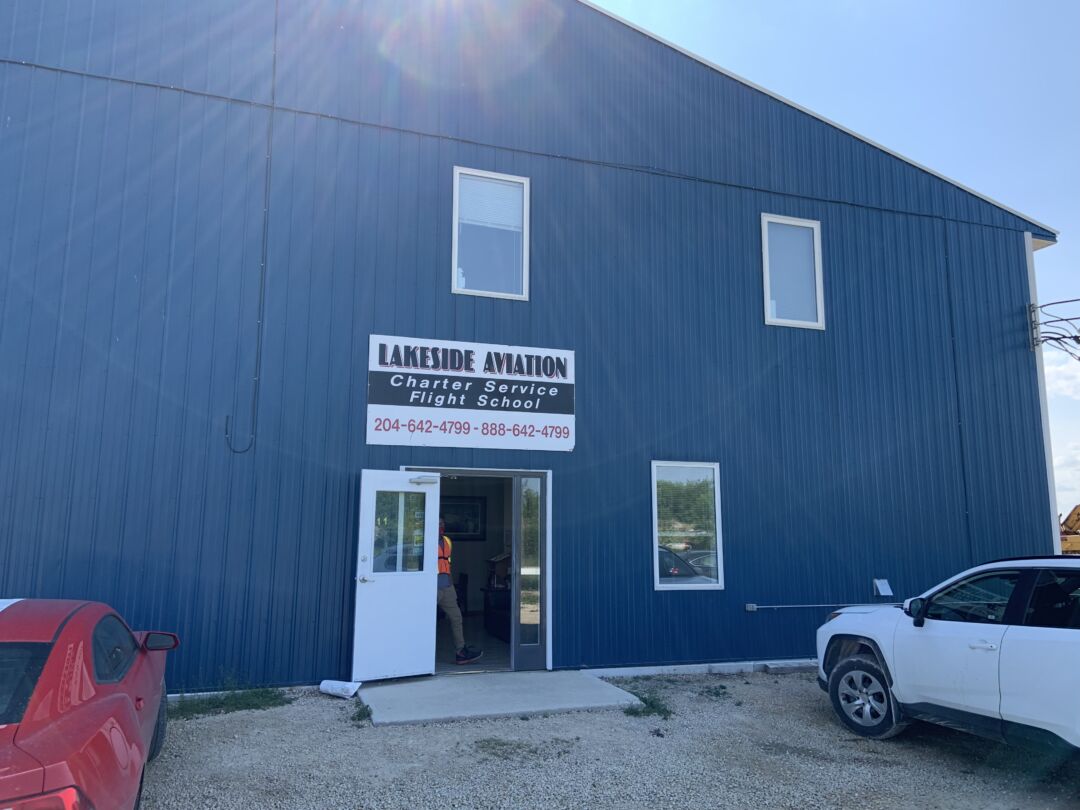 Lakeside Aviation's Flight Tour Promotion
Lakeside Aviation is a charter service and flight school that flies out of the Gimli Industrial Park Airport.
We saw an advertisement on social media about aerial tours of Gimli that seemed too good to be true. $79 for a 45-minute private flight for 3 passengers.
We know people who take helicopter tours of tourist meccas like Las Vegas and they pay over $200 per person.  Another popular type of aerial tour in Manitoba is by hot air balloon, which can cost up to $1,500.
Of course we first checked their website and saw that we could book this 45-minute, 3-person scenic flight tour for $150 online.
$79 seemed like a steal, so we called them to inquire about the social media promotion for $79 and thankfully they confirmed that they would honour the lower price for us and for anyone who booked this scenic flight tour all summer.
That means that you should still have a few more weeks to experience what you are reading about in this article.
We were able to book the flight with short notice and headed to Gimli a few hours later.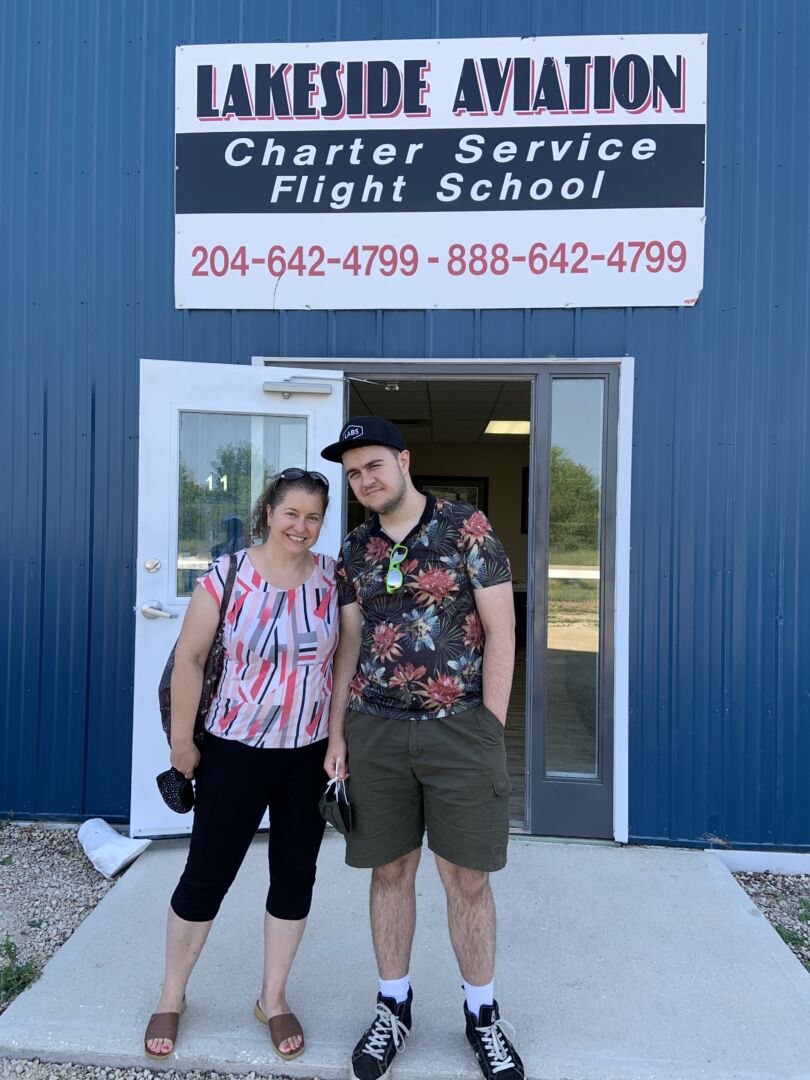 The Office
When we arrived, we were greeted by one of the friendly owners and our pilot.
I turned out that our young pilot, Twich, was also a flight instructor, so we felt a bit more at ease and safe.
The owner gave Dante information about getting a recreational and commercial pilot license, which was quite interesting and gave Dante another career to consider.
We paid the $79 in cash. We must have been one of their first customers because they seemed very happy to see us. They gave us all baseball caps with their logo on the front. They also gave us each a bottle of water to bring on the plane.
We overheard the owner telling someone to be sure that they cleaned our windows so we would get a good view.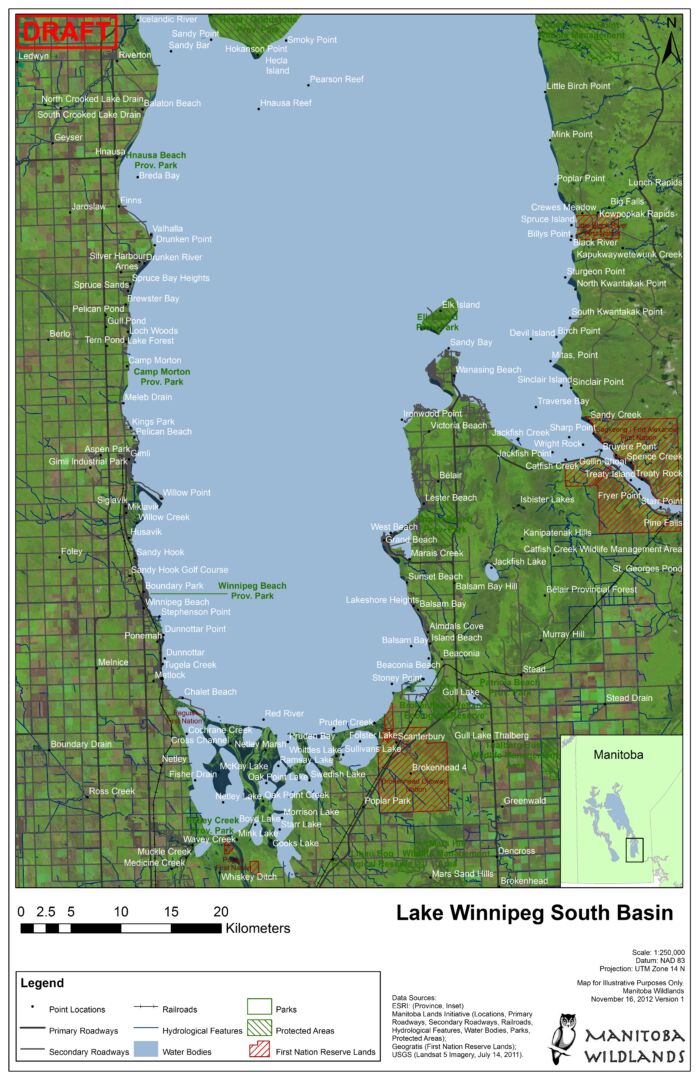 North or South Flight Plan?
We were given the option of a northern tour almost as far as Hecla Island (which would also have flown right over our cottage) or a southern tour that went as far south as Matlock, Manitoba.
We chose the southern route because we thought there would be more landmarks to see. We'll hopefully do the northern tour before the Summer is over.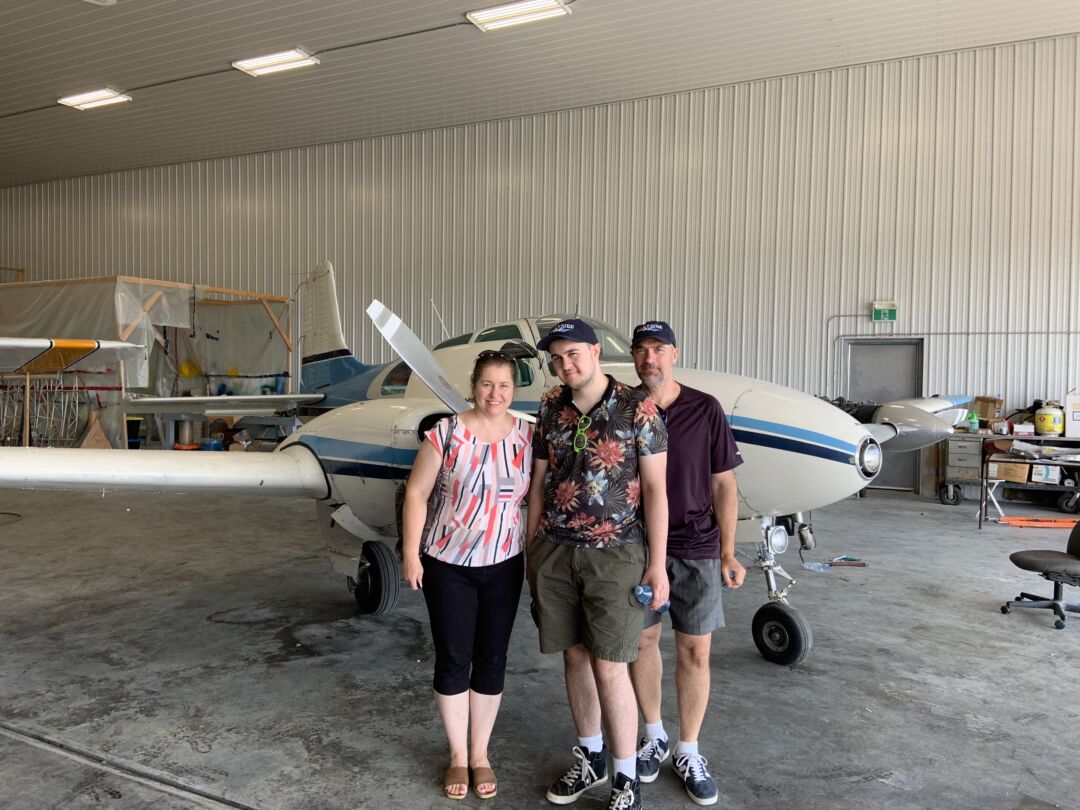 The Hangar
After 15 minutes, they escorted us through the hangar, which contained a few small planes.
As we walked, they explained what we would be doing and answered all of our questions.
Behind the hangar, we found our plane.
We also watched a helicopter land at the hanger next door, which was cool.
The Plane
Our plane was a single-engine, 4-seat Cessna 172 S.
After a few obligatory pictures, we had to decide where everyone would be sitting. Dante chose to sit up front with the pilot after the pilot explained that Dante would be able to take control of the plane at some point because the plane was designed for flight instruction whereby the pilot and student both have controls. However, the pilot's controls override the student's controls in case anything goes wrong.
After Dante was seated, we climbed in to the plane, which was like climbing into the back seat of a small 2 door car.
The airplane was quite small inside, so Tina and I got very close in the back seat.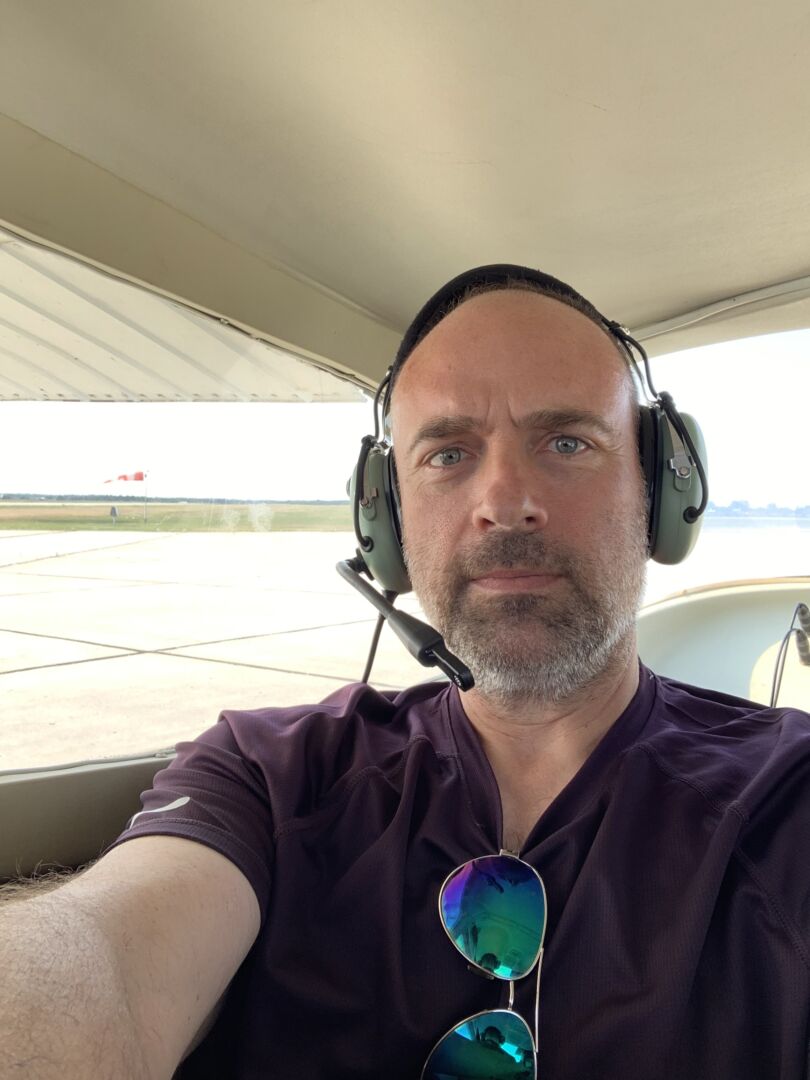 Pre-flight Instructions
Before takeoff, Twich told us to put on our headsets, which serve several purposes. Headsets are used for communication between people in the plane, which would be very difficult over the loud noise of the engine. The headphones blocked the loud engine noise quite well, but not completely. Headsets are also used for the pilot to communicate with air traffic control or other planes.
Before takeoff, the pilot asked us to keep our eyes open for any other small planes and to tell him if we saw any. At one point during the flight, our pilot talked to another pilot who we could see was flying near our flight path to ensure we would maintain a safe distance.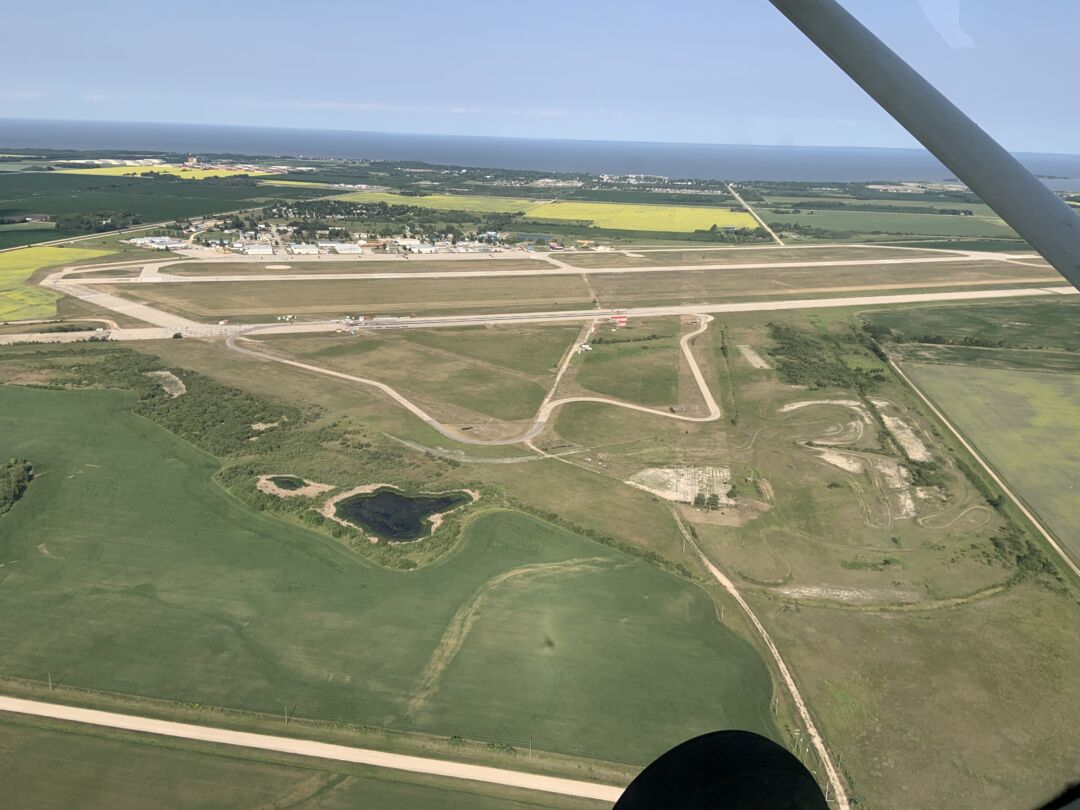 Takeoff
Takeoff was a bit bumpy and much scarier than any takeoff we have experienced in a large plane.
We felt every wind gust and minor adjustment to the wings as the plane rocked back and forth sideways to some extent.
Takeoff was also exciting and seemed more real to us in the moment.
As we ascended, we flew over the Gimli Motorsports Park and the pilot explained that part of the runway had been closed and then converted into a race track.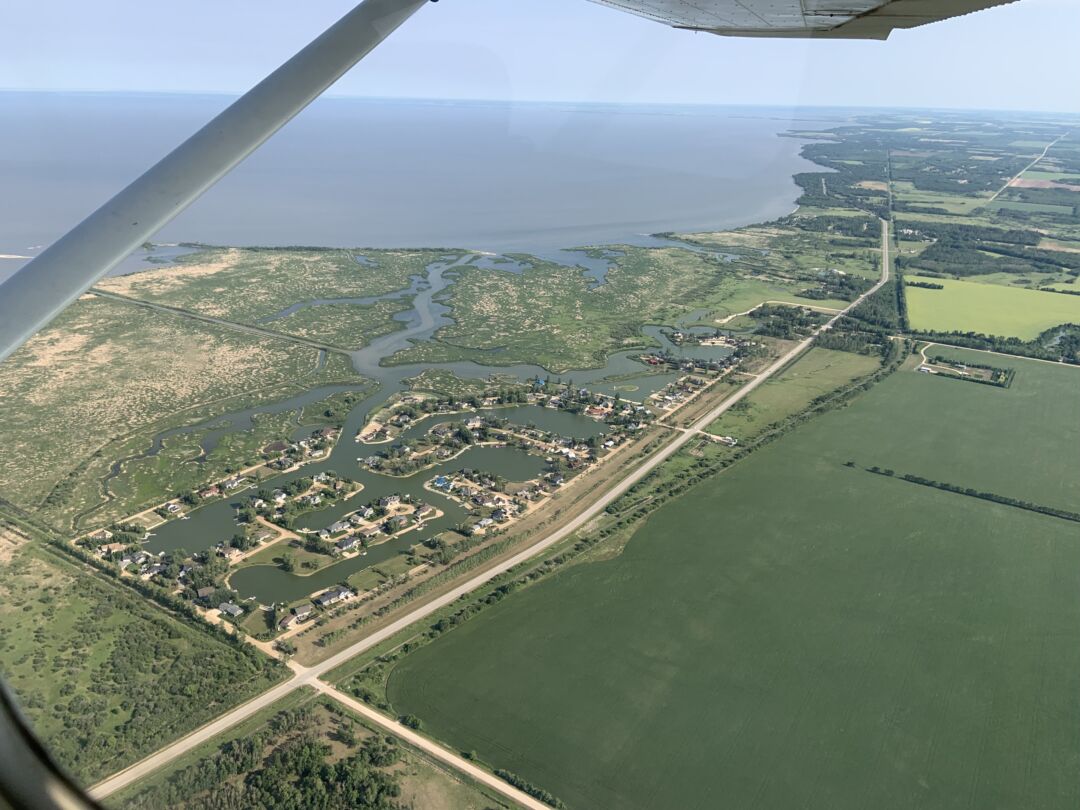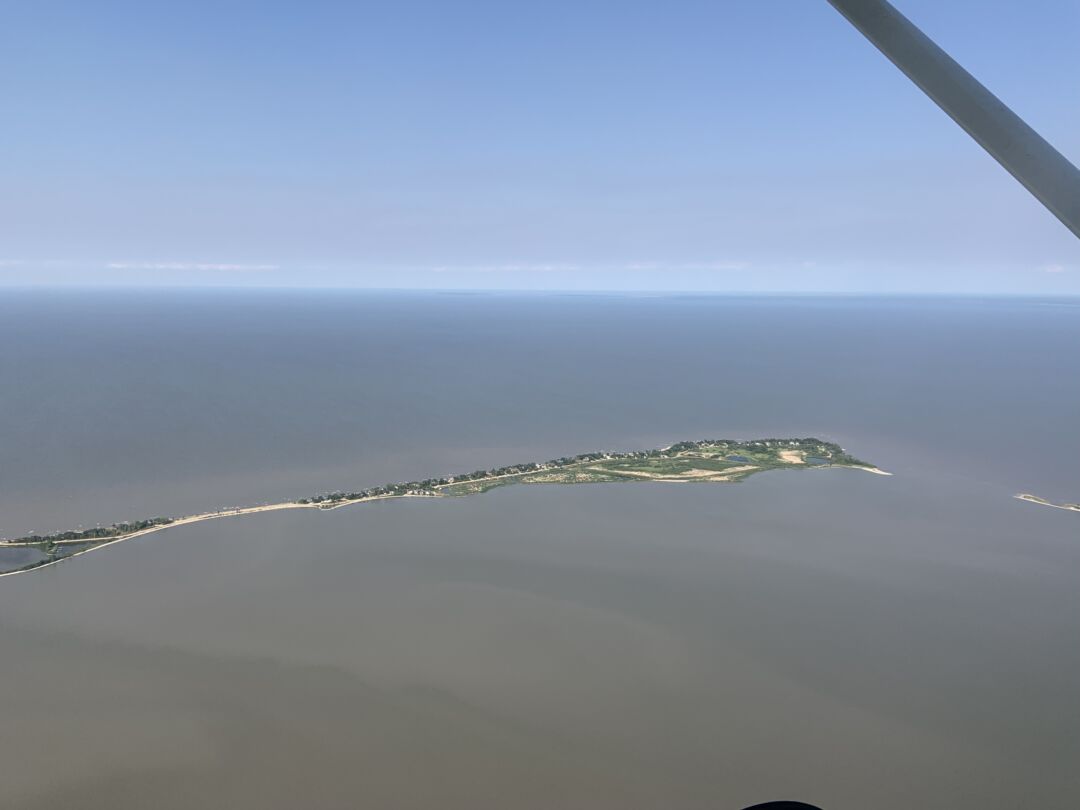 Husavik and Willow Island
Next, we flew towards the south part of Gimli and saw a unique cottage development called Husavik where each cottage has its own harbour and pier. They can drive to Gimli or travel by boat.
Once we got out over Lake Winnipeg, we turned South so that we were looking back towards the shore from the lake.
Kevin had recently told Tina about another fantastic cottage development called Willow Island. There is a land bridge, so cottagers can drive there. Because the island is very long and narrow, some residents are lucky enough to have water views in front of and behind their cottages. Maybe we'll buy a cottage there someday. Willow Island is one place on the Western shore of Lake Winnipeg where you can watch a sunset over the water and I have pictures to prove it.
Winnipeg Beach
The next stop on the tour was Winnipeg Beach.
The beach and famous water tower looked so small from our altitude.
The new boardwalk and beach looked great.
If you haven't been to Winnipeg Beach lately, you really should go.
The beach is much wider and longer than we have ever seen due to recent renovations and improvements.
We hope it sparks more development in this amazing place.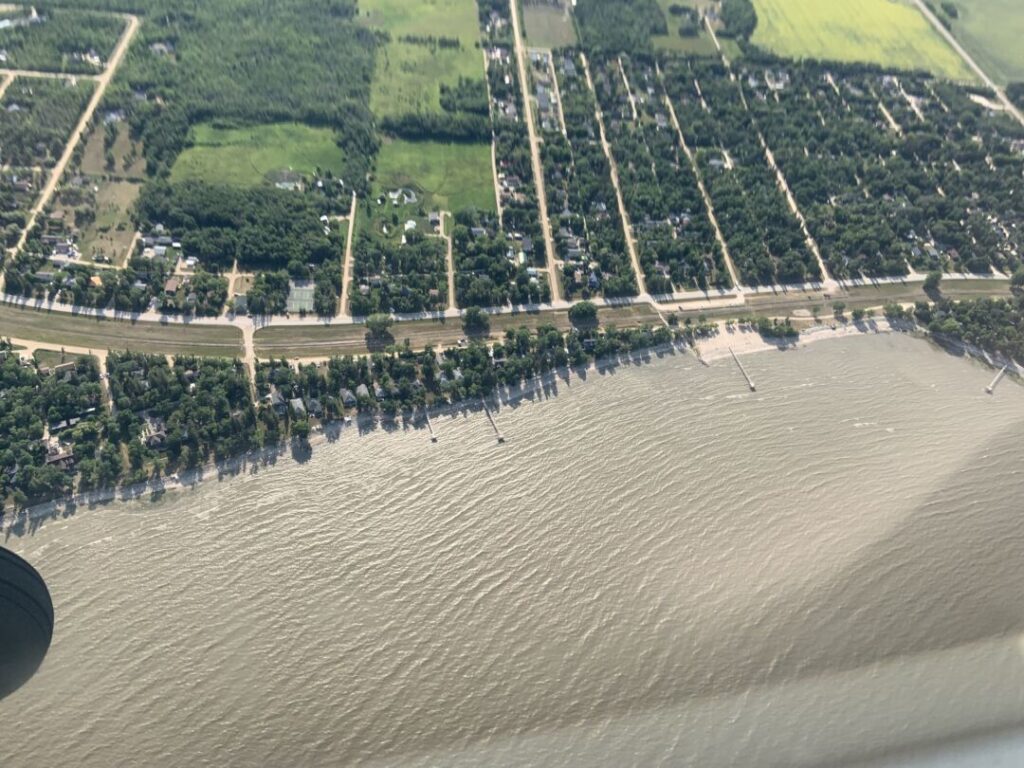 Matlock & It's Piers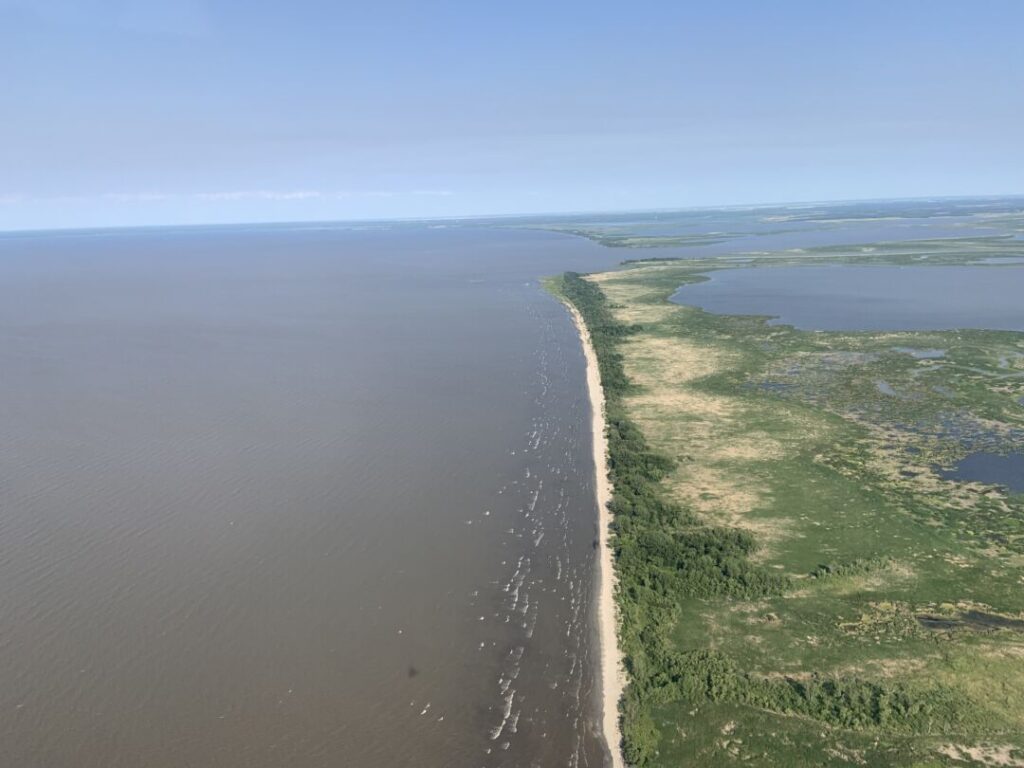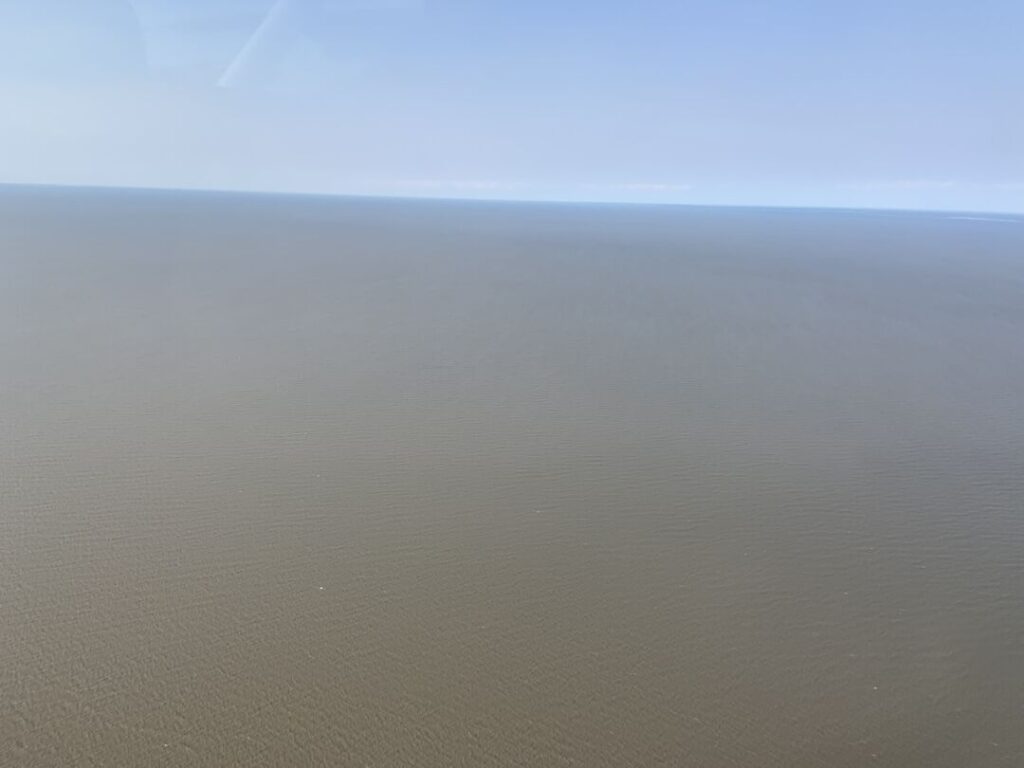 The vastness of Lake Winnipeg
Matlock (The Turn-around Point)
When the plane got to Matlock, we turned around out over the lake and we almost couldn't believe what we saw. There are dozens of small islands in the Southern part of Lake Winnipeg. It would be incredible to explore that area by boat one day.
Being at the South-Western edge of Lake Winnipeg, we were in awe of the spectacular view when we looked out the side of the plane facing the open water. We got a good impression of how massive Lake Winnipeg really is.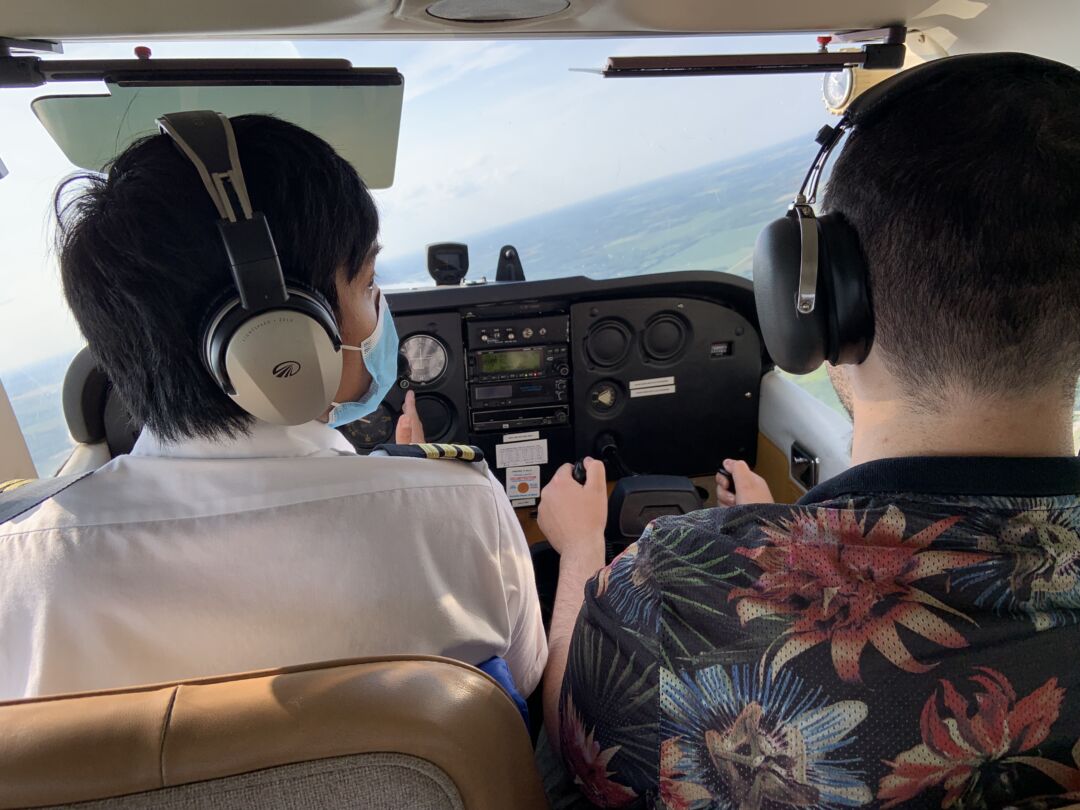 Our Lives Are In Dante's Hands
At this point, Dante took control of the plane and did an admirable job of smoothly steering and changing altitude.
Dante told us afterwards that he was gripping the control stick really tightly because he was so nervous.
Dante also said that the instructor was using his controls at the same time, so Dante was not sure if he had complete control. However, it was still a great experience for Dante.
The Return Trip
On the way back, we flew over land.
Twich explained that small aircraft try not to fly over water or too far from shore because they like to be able to land quickly in farmer's fields or on gravel roads if there is an emergency like running out of fuel or having engine problems.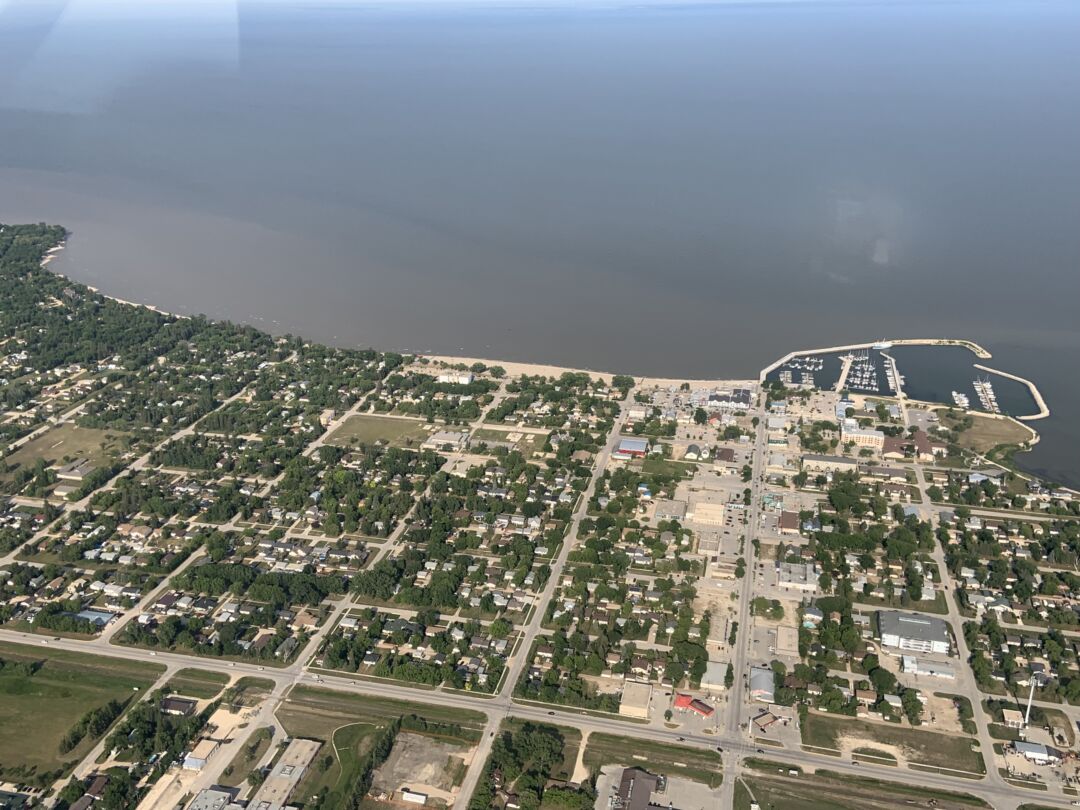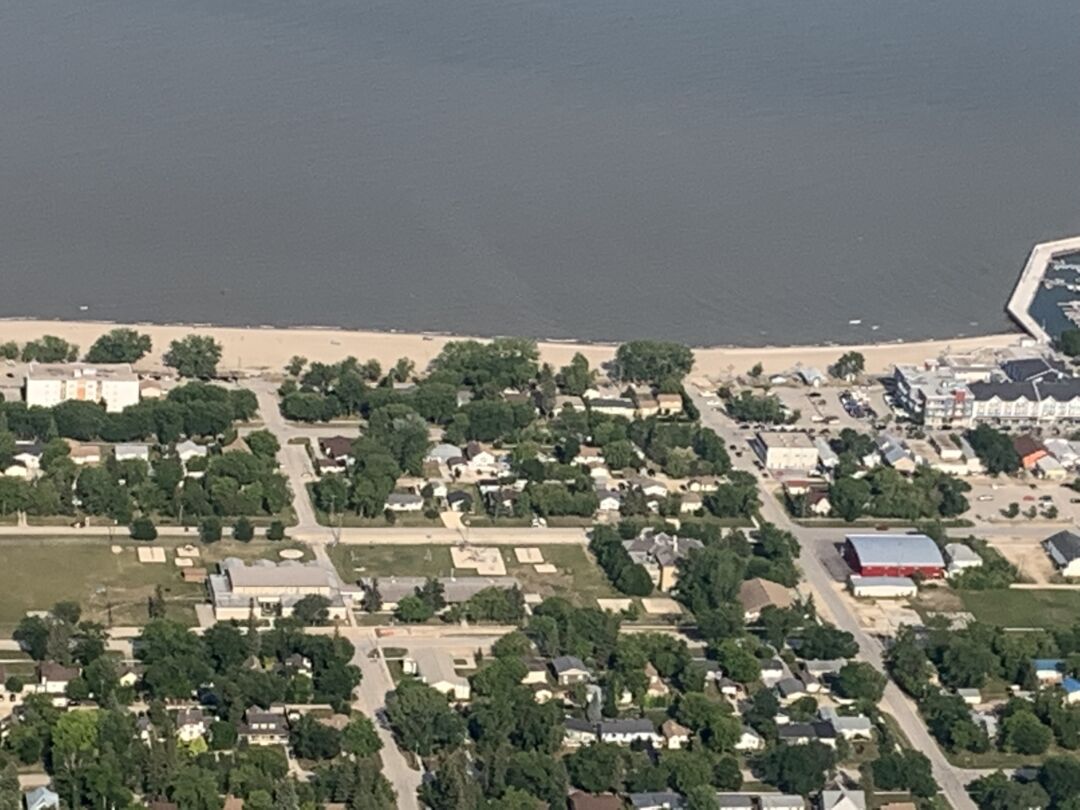 The Promised Aerial Tour of Gimli
The last stop on our aerial tour was Gimli, Manitoba.
Unfortunately, we did not even get close to the shore or the lake as we flew past Gimli.
This was our only disappointment and minor complaint from the experience.
The flight tour was advertised as an aerial tour of Gimli, but the part where we flew over Gimli was brief, far away, and not what we expected. We could barely even see the beach.
The pilot didn't point out any landmarks in Gimli like the Pier, Harbour, Viking Park, Beach, and First Avenue.
As we turned around again to land, we flew over the Diageo distillery where all of the Crown Royal Whiskey is made. They sure have a lot of huge warehouses. Kevin was told at a Crown Royal whiskey tasting event once that there are more barrels of whiskey aging in those warehouses than there are people in Manitoba. If only they would start doing tours and tastings there…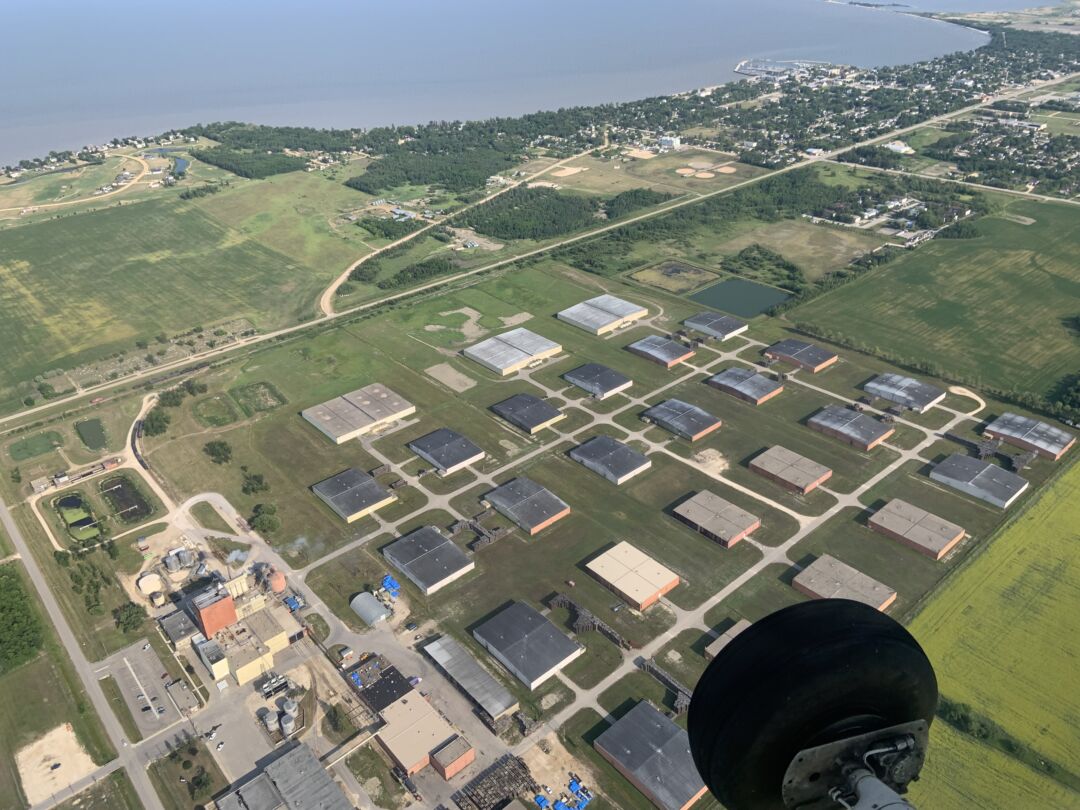 Safely On The Ground
After getting safely into the office of Lakeside Aviation, we suggested that future tours should fly over the lake near the beach so that the passengers can view the Gimli beach and pier from that perspective and from a shorter distance.
We are confident that they will make some changes based on our feedback.
Now, It's Your Turn
We highly recommend that you book this flight as soon as you can before the bookings fill up or the price goes up to $150 again.
The aerial tour of Gimli with Lakeside Aviation was an wonderful experience and a great value.
If you are looking for information about other things to do in and around Gimli, Manitoba, please click here.
Please let us know if you have any questions or comments below. Also, we'd love to hear about any areal tours that you have tried.
Happy Travels,
Kevin & Tina
Please subscribe to our newsletter to receive notifications for new posts and other content. 
P.S. Here are links to our social media accounts, in case you want to connect that way:
Retirestyle Travel Instagram
Kevin's LinkedIn
Retirestyle Travel Facebook Page
Kevin's Pinterest
Retirestyle Travel TikTok
Retirestyle Travel Twitter
Retirestyle Travel YouTube (Please check out our YouTube Channel for travel videos)
You May Also Like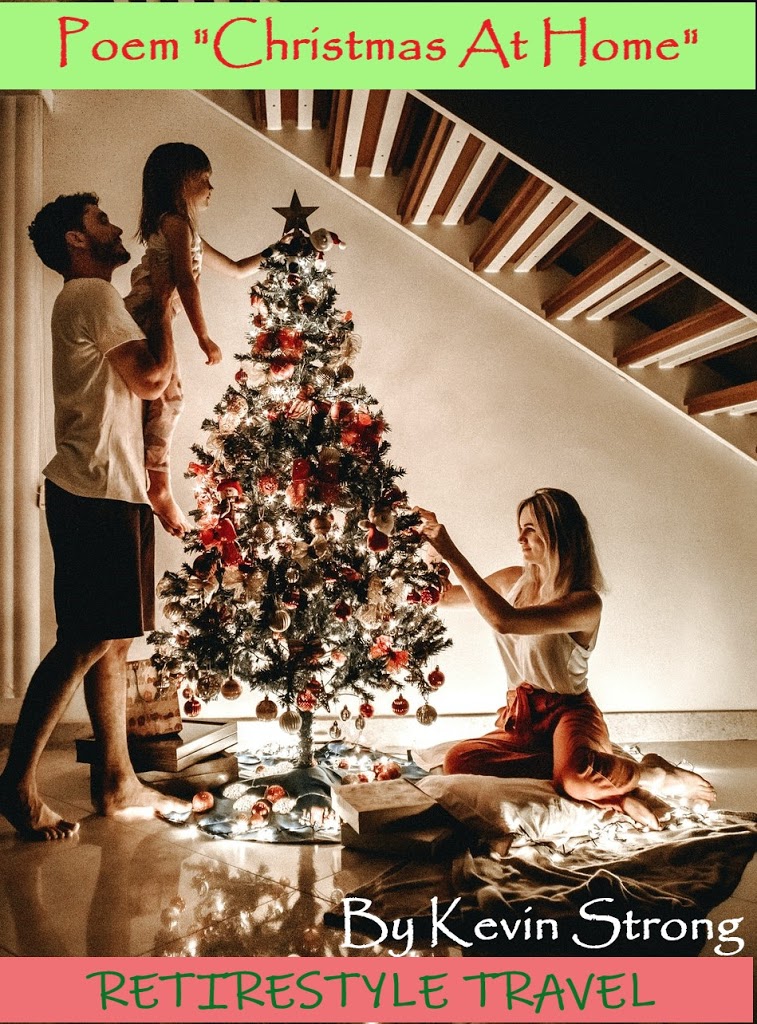 December 2, 2020