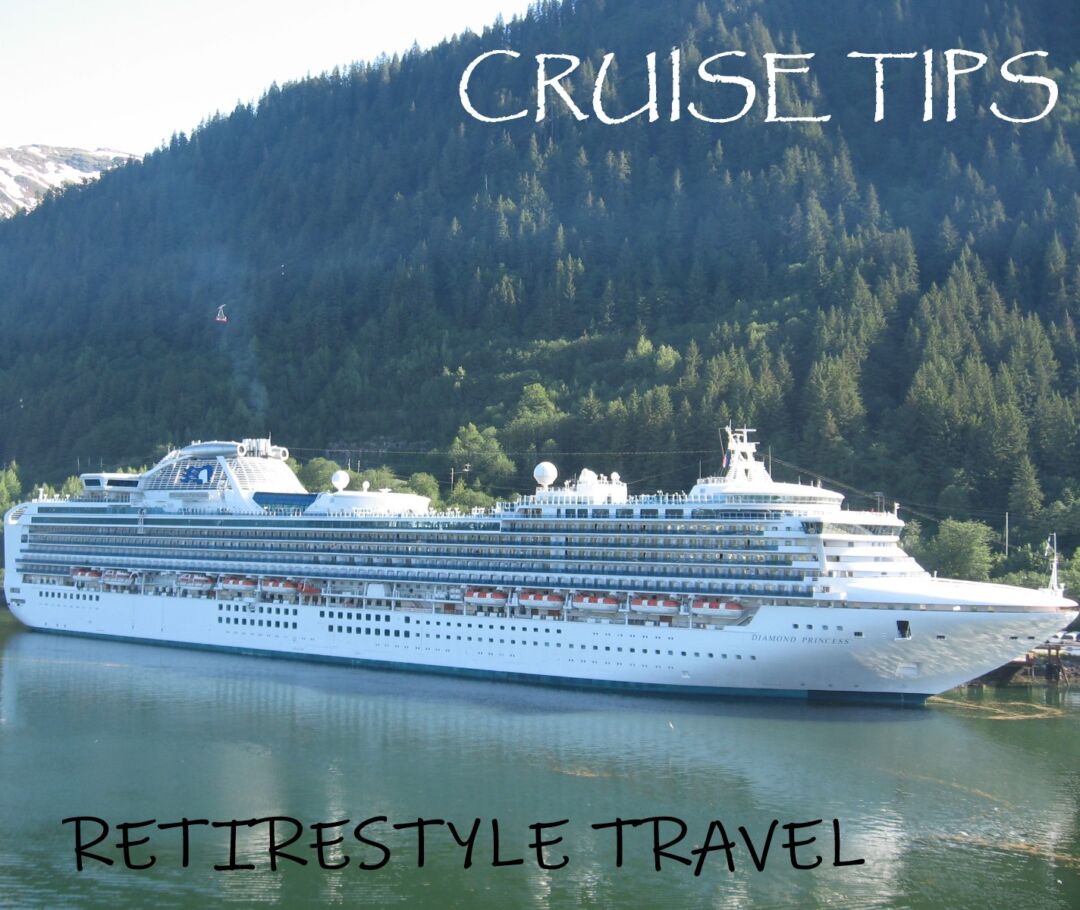 Retirestyle Cruise Tips (Cruise Hacks)
April 15, 2020
Retirestyle Cruise Tips (Cruise Hacks):
We love the cruising experience. Hopefully, these tips will help you get the most out of a cruise, avoid inconveniences, and save money.
Promotions. Once you have a few itineraries or even a preferred departure port identified, start watching the prices online. Subscribe to some cruising newsletters to be notified of new promotions and sales. Recently, we have noticed that the cruise lines offer similar promotions at the same time to be competitive. However, sometimes a promotion will be so good that you change your mind about the cruise ship or itinerary.
Last-minute deals. If you can, book a last-minute cruise (usually departing in less than 2 weeks), where you can save 50% or more from the regular price and get extra promotions like free upgrades and onboard credit.
Cruise lines. Every cruise line has its competitive advantages. We have cruised on Norwegian twice because our first cruise to Alaska was so fantastic, but otherwise we have cruised on different cruise lines every time and always had a great experience. For example, Carnival was more of a party ship with a younger crowd. We have also cruised on Royal Caribbean, Imperial, Costa, and Princess. Thus, our advice would be to mix it up and try new cruise lines when you can. You don't know what you are missing.
Cruise line loyalty programs. The only caveat to point 3 above is that the cruise lines reward you for being a repeat customer. They will give you early boarding and late disembarking (or "debarking" as they call it).  They often give you free room category upgrades and sometimes provide additional perks like one free meal at the a la carte restaurants that usually cost extra. They also might give you a free bottle of wine or some flowers or chocolates in your room when you arrive. For me, the experience of trying a new cruise line as well as the possible cost savings by choosing the cheapest cruise ship out of my desired departure port more than offsets these small perks offered by the loyalty programs.
Boarding. Try to board the ship as early as possible, which means arriving prior to the earliest boarding time available. It does not necessarily give you access to your luggage early, but you can start exploring the ship, enjoying the cruise departure festivities, and even have a meal at the restaurant or by the pool before the majority of the other people board the cruise. Because you don't have access to your suitcases until several hours after you board, be sure to bring a carry-on bag for the cruise embarkation. It can contain pretty much the same as the one from your flight. At a minimum, it should have your phones, chargers, camera, trip itinerary, hats, sunglasses, sunscreen, and lots of other things if you have small kids. Of course also be sure you have your cruise confirmation or ticket, credit card, ID, and passports in your purse or wallet.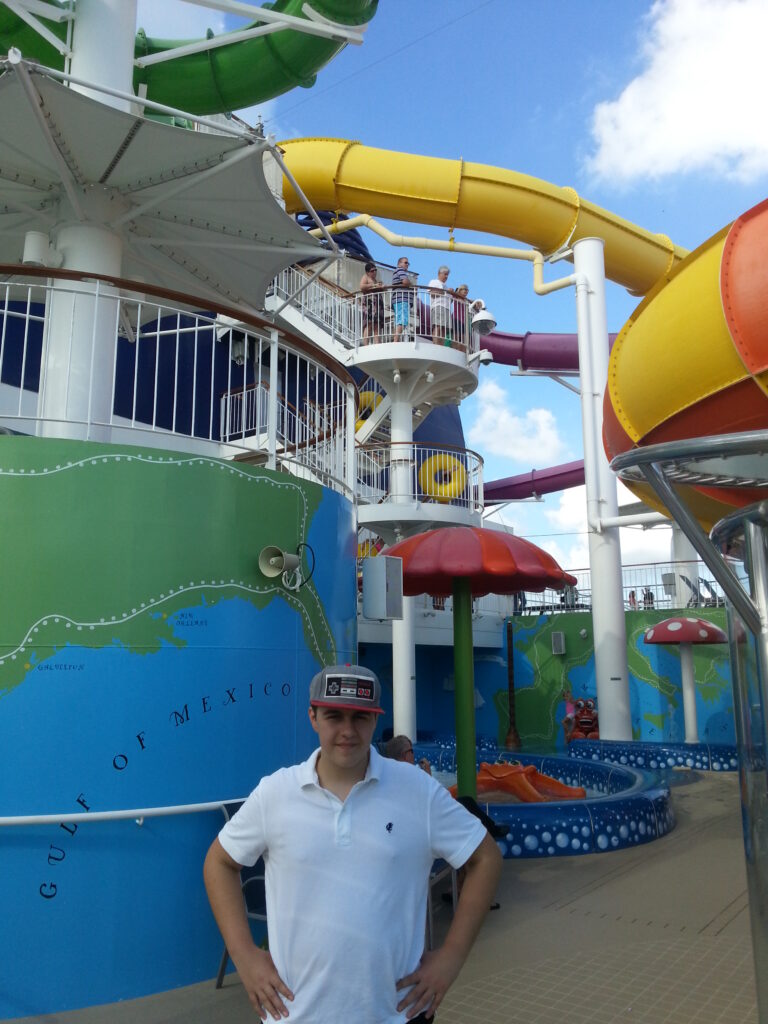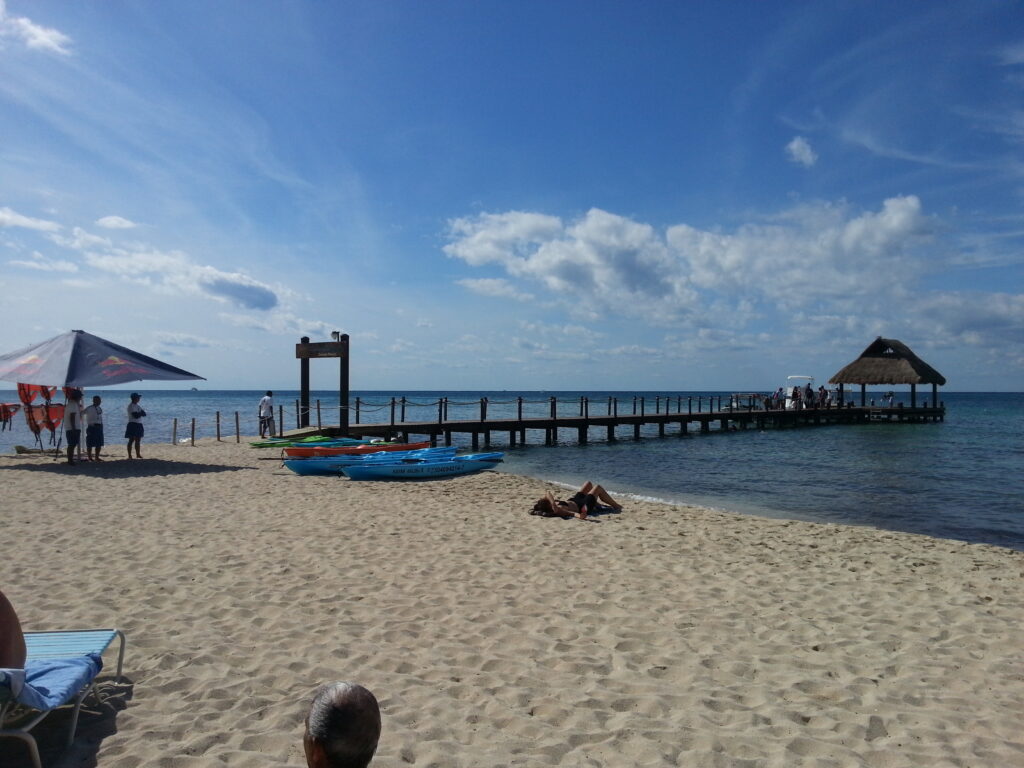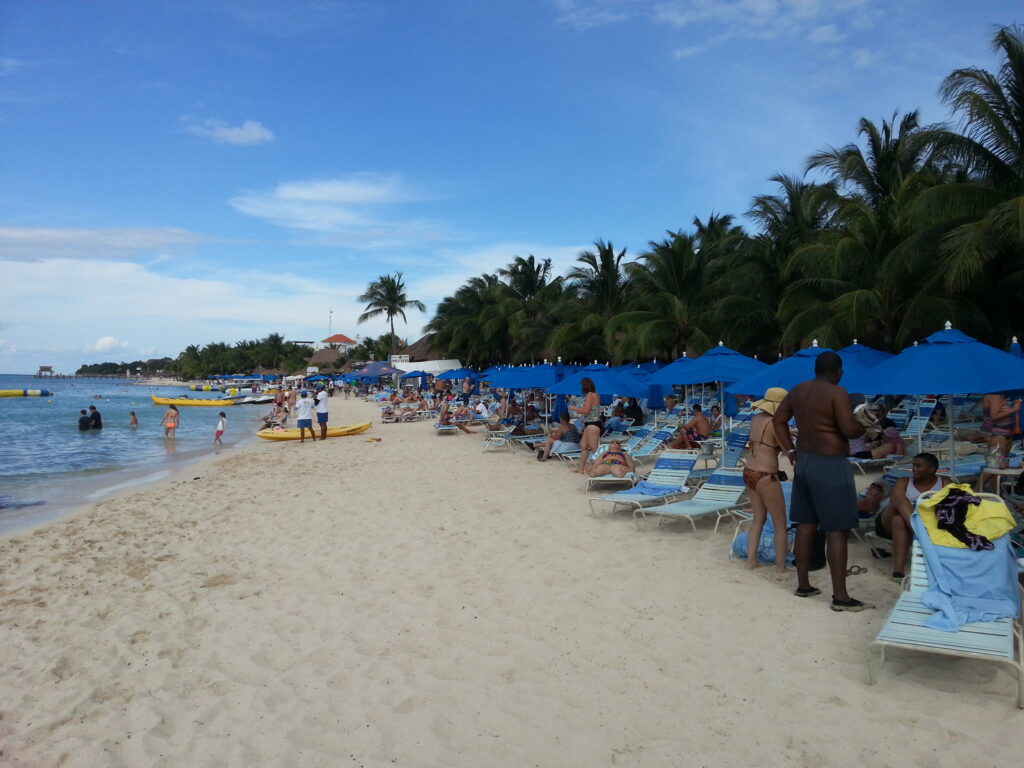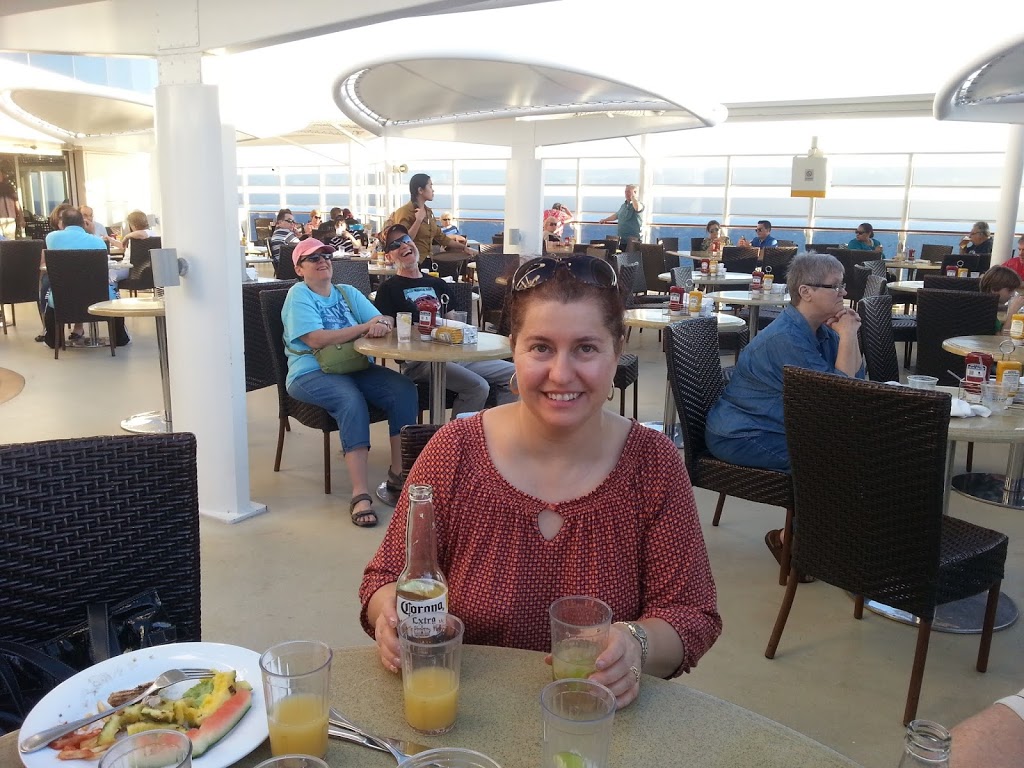 Tina at the departure party

Other tips (especially for first-time cruisers):
If you have kids, you should bring walkie-talkies because cellular signal for your cell phone is either not available or extremely expensive and it is the best way to reach your significant other or older teenage kids when you get separated.
Power bars are a necessity with all of the modern electronics and limited outlets. These may be prohibited on some cruise ships, so research in advance. A multi-port USB adapter may be a decent work-around.
Don't buy duty-free alcohol on the ship. Bring a few bottles with you when you board and then buy more in the ports of call.  These can be consumed on the ship and bring a duty-free bottle back each as a souvenir.
Don't try to do it all on your first cruise. Don't exhaust yourself. Don't book a long excursion in every port – instead pick one or two ports to wander around and go back to the ship for lunch or an early dinner.
Don't over-eat, over-drink, or party until the early hours every night as it will decrease your enjoyment and memories of the trip.
In general, we do not think that the unlimited beverage packages are worth the money unless you drink a lot. You can pay to get unlimited pop or unlimited beer, wine and cocktails. We might have one alcoholic drink per day and we get free water and juice with our meals on most cruise ships.
Most ships have ample free dining options, both buffet and a la carte. I don't think it is a good use of money to pay for the special dining options, but if you want to try it, you should make your reservations as far in advance as possible as they have limited seating.
At sail-away time, you should try to have a seat near the pool if possible. There is usually a big party while the ship pulls away from the port and you can usually take a few opportunities to go over to the window and sun-tanning deck to get a good view of the port while the ship sails away.
When you look at the cruise website or brochure, you will see lots of activities and amenities. Keep in mind that not all of them are free. For instance, the Costa Serena had a race car simulator and movie theatre, but both cost extra, which was a bit of a let down. We bit the bullet and let our kids try the car simulator, but didn't splurge on a movie. Spa services are also very expensive.
Take more excursions, even though they are expensive, because it is the best way to experience the most of the unique culture and attractions of these countries that you travelled so far to get to.  Doing it yourself might save money, but could waste time and might make you miss one thing you will wish you saw or did. However, you should research and choose your excursions carefully because over the length of the cruise, they can easily cost more than the cruise itself.
Add on several fun days near the port after you get off the ship but before you fly back home. This helps you transition back to normal "non-cruise" life and helps reduce the sad feeling that some people have at the end of a fantastic cruise.
If you haven't cruised before, please click here to read another post called "Introduction to Cruising".
P.S. If you are still reading, then perhaps you want to watch the video from our YouTube channel about our recent Caribbean Cruise on the Norwegian Epic from Miami that had ports of call in Ocho Rios, Jamaica, George Town, Cayman Islands, and Cozumel, Mexico…
You May Also Like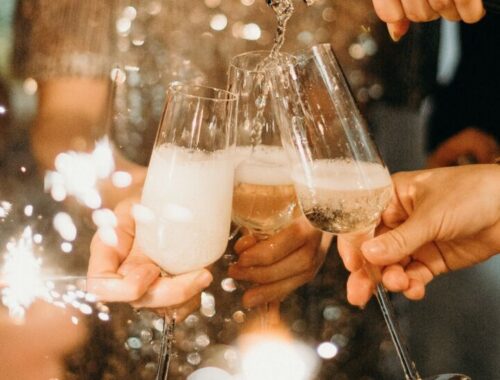 April 2, 2021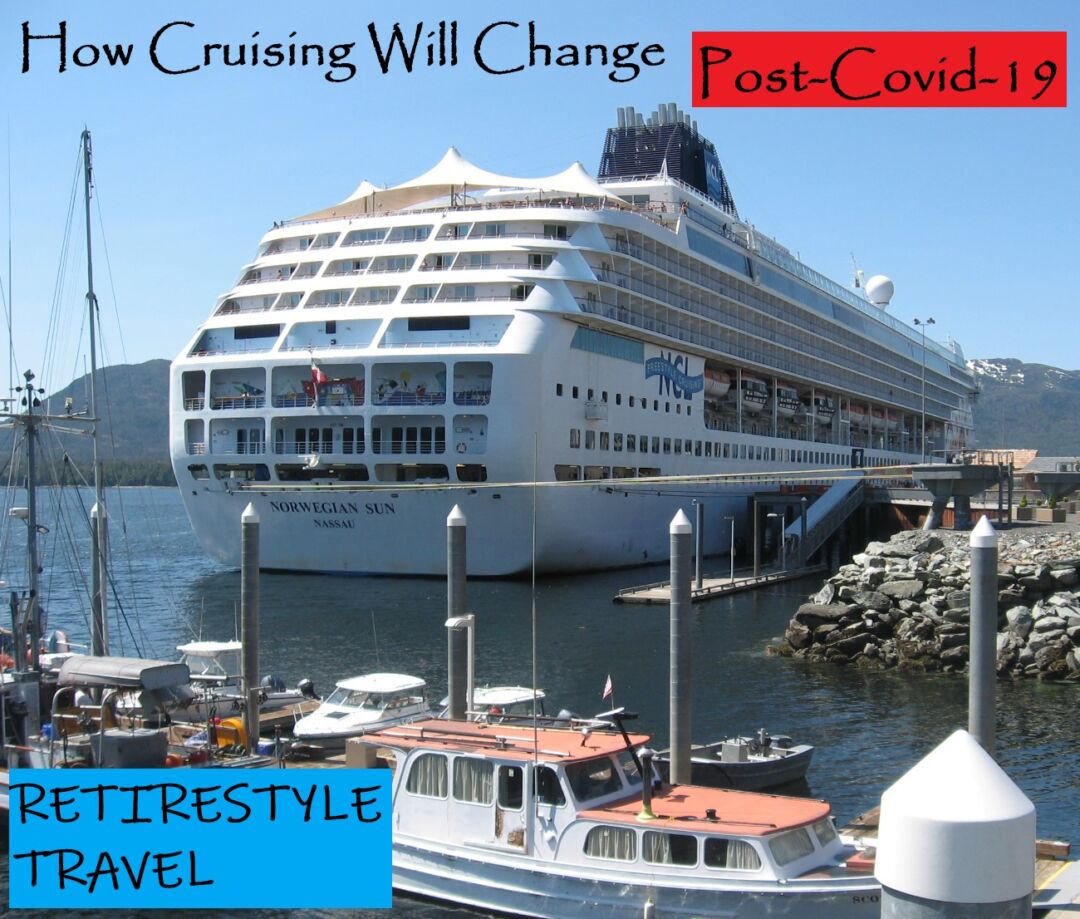 April 20, 2020