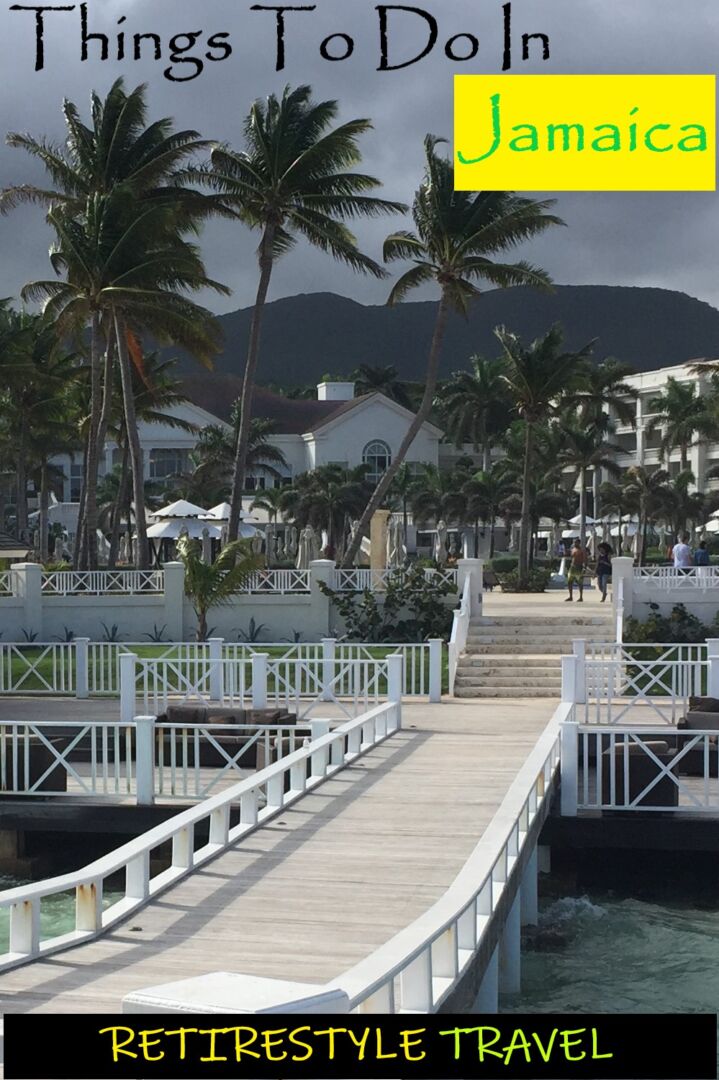 Things To Do in Jamaica
September 29, 2021
Things To Do in Jamaica
and Places To Visit in Jamaica
Sunshine. Soft sandy beaches. Crystal blue water. Palm trees. Relaxation.
As a child, I always associated the concept of a tropical paradise with the Bahamas and Jamaica and fantasized about going there someday.
One of my childhood friends that lived on my street was Jamaican. When I would go into his house, the food smelled very different from what I usually ate, but in a good way.
I have been lucky in my life and career to have been able to visit Jamaica 5 times. Most of those visits were business trips. Yet, I still got to learn about, experience, and enjoy the Jamaican culture and lifestyle. I got to visit all of the major cities and tourist destinations.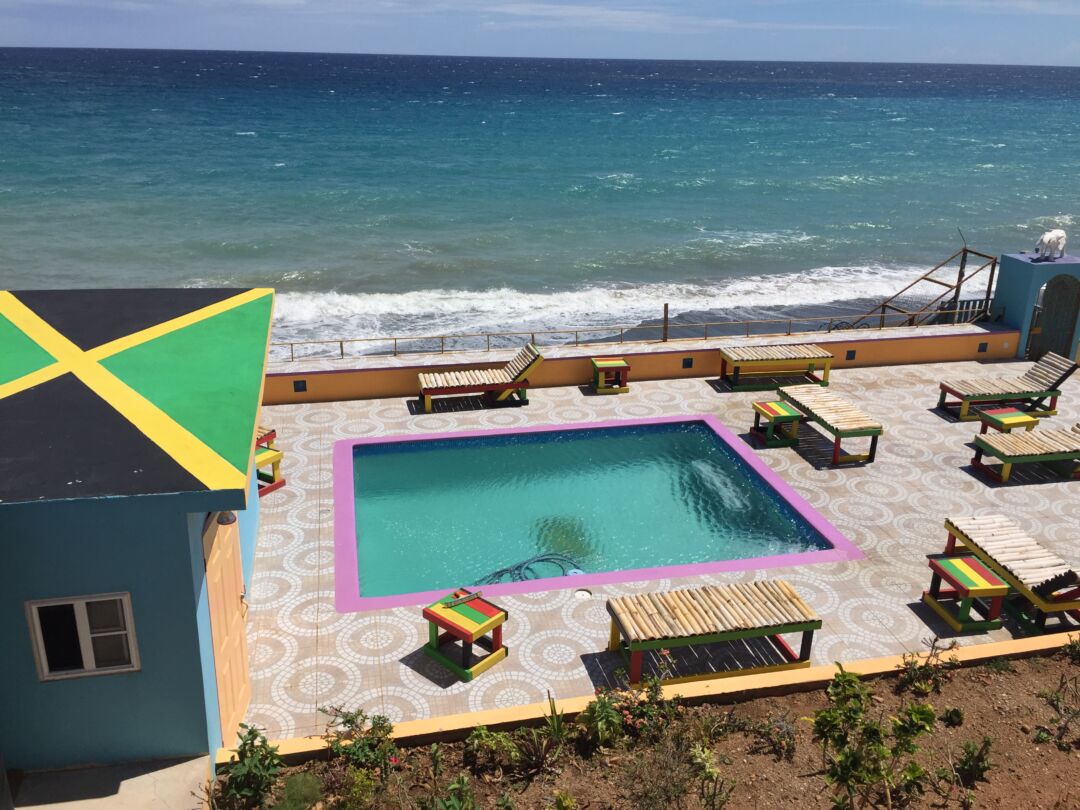 Things You Need To Know About Jamaica:
Jamaica is famous for great beaches, a laid back atmosphere, reggae music, ganja (cannabis), and delicious food such as jerk chicken.
Surprisingly, the capital city of Kingston, which is the centre of business in Jamaica does not have any beach-front resorts or lovely public beaches. You have to travel to one of the other tourist-friendly Jamaican towns to experience that. The beaches can be quite rocky in some places, so water shoes are recommended even in the places described below.
Cannabis
The last time I went to Jamaica in 2019, recreational use of cannabis was not legal. However, I smelled cannabis in many places I went and was approached regularly by people trying to sell it.
I was told that the police don't enforce any laws regarding the possession or smoking of marijuana in public. Jamaica has decriminalized the possession of up to 2 ounces (or 56 grams) of marijuana, which is only punishable by a maximum fine of about $5. Smoking cannabis in public is still illegal and is potentially subject to a similar fine.
Possession of up to two ounces of weed by visitors for medical or therapeutic purposes is legal as is consuming "herb" for those purposes.
There are even pot cafes inside medical marijuana dispensaries where you can consume cannabis-infused foods or beverages and smoke or vape the product right in the venue. I was told that you first need to follow some trivial procedure to get permission from a doctor (or even self-certify in some places) to consume the cannabis for medical or therapeutic reasons. I recall seeing a massage parlour that advertised that you could get high while you got your massage.
Cannabis-related tourism is becoming a big thing in Jamaica.
COVID-19
As of September 2021, Jamaica is considered a high COVID-19 risk because less than 20% of their population has been vaccinated. Jamaica allows international travellers to visit if the following requirements are met:
– Complete a Travel Authorization Form (downloaded from the Travel Jamaica website)
– Proof of a negative Covid-19 test within 3 days of planned travel to Jamaica.
– People who do not have proof that they are fully vaccinated are subject to 14 day quarantine in Jamaica and again when they return to Canada.
– Travelers returning to Canada from Jamaica must present a negative RT-PCR (NAAT) test taken 72 hours before departure to Canada.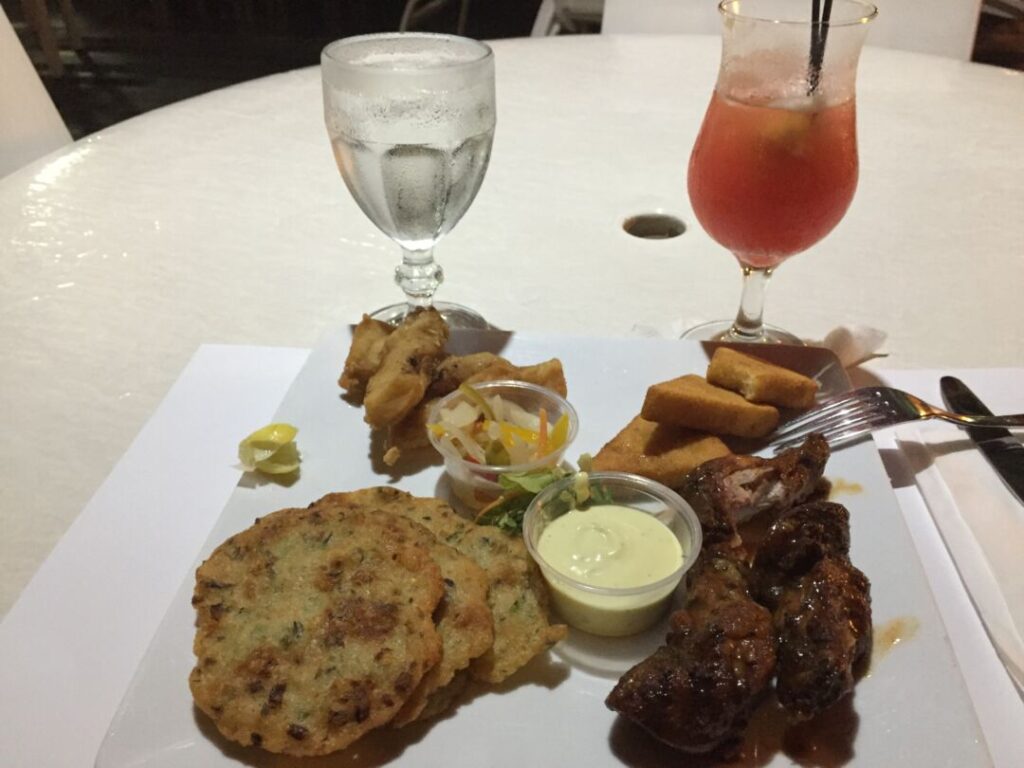 Jerk chicken wings and festivals with a rum punch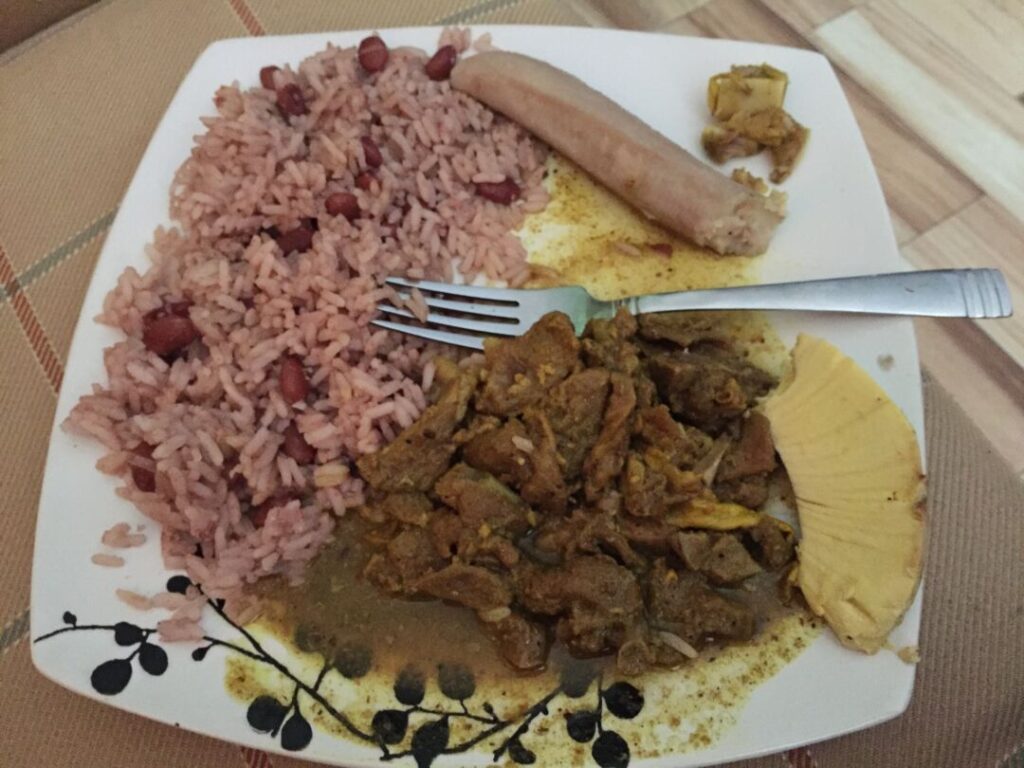 Oxtail stew, rice & beans and plantain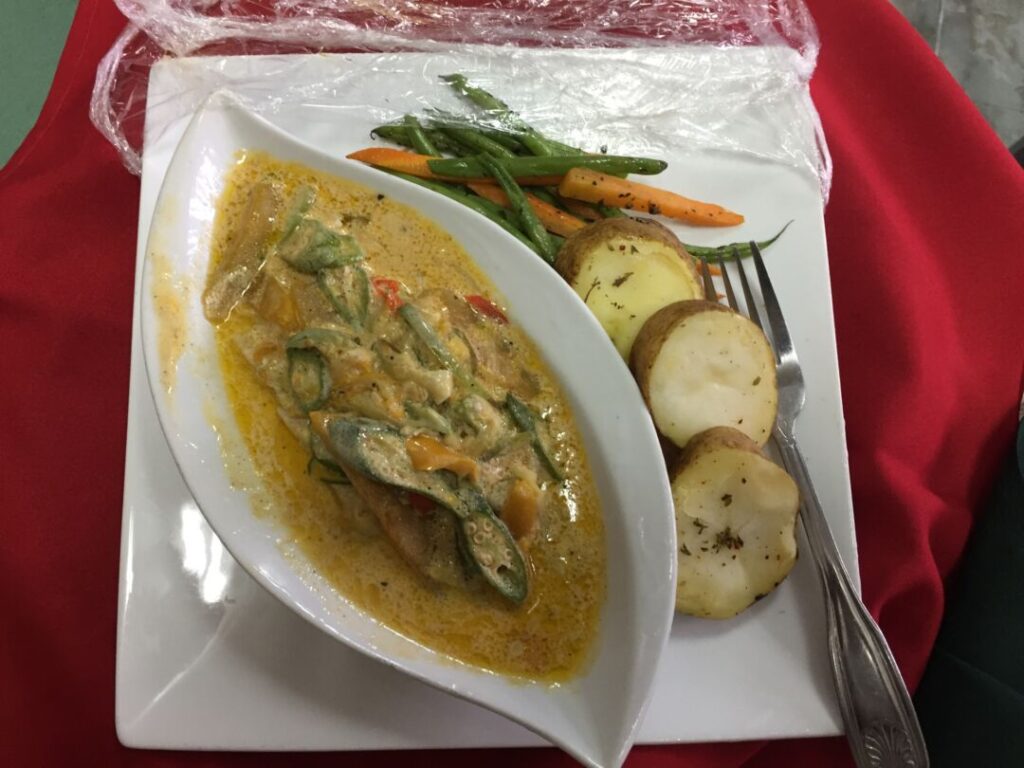 Salty fish & yams
Cuisine
I have to admit that there are better beaches on other Caribbean islands, like the Bahamas and Cuba.  However, there is no better food in the Caribbean. If you love savoury flavour and spice, you will love Jamaican food as I do.
Some famous Jamaican dishes include jerk chicken, pork, and fish. Jerk food is cooked over big open fires using pimento wood, with a dry rub for flavour.
You also must sample some Jamaican patties filled with beef, chicken, vegetables or cheese. These tasty and sometimes spicy savoury stuffed tarts are similar to panzerotti. Juici Patties and Tastee Patties are great local chains that have many locations and kind of feel like a Burger King inside. People in Montego Bay highly recommend a Jamaican patty restaurant called Stanley's.
Because you will likely be staying on the coast, you will also be able to order fresh and delicious seafood dishes, even for breakfast. Many restaurants and buffets had a breakfast dish called salty fish, which I understand is usually prepared in a salty sauce (similar to a curry) with okra with whatever catch of the day is available to them. I was surprised at how good it was and tried to have it whenever I could. One day, I was told that the fish I had just eaten was probably a shark. While in Jamaica, I tried a variety of fish as well as crab, shrimp, scallops, mussels, and more.
Another delicious local specialty is oxtail stew, which is usually fall-off-the bone tender, but quite fatty and soaked in a dark gravy.
Side dishes typically consist of items like yam, curried chickpeas, breadfruit, fried plantains (like bananas, but less sweet and more solid), rice and peas (sometimes confusingly called rice and beans), and festivals (Jamaican fried dumplings).
No Jamaican meal would be complete for me without a cold, refreshing Red Stripe beer to wash it down. Red Stripe had a few special flavoured beers that were unique and one that I liked best was infused with sorrel.
Appleton Estates makes some of the best rum in the world and has a huge distillery and tours, but it is a 2-hour drive from Montego Bay, so you probably want to just order some nice cocktails with Jamaican rum at a restaurant and bring some home as a souvenir.
Safety
"One love, one heart. Let's get together and feel all right."
The lyrics to the famous Bob Marley song "One Love" capture the spirit of Jamaica and Jamaicans.
The local phrases "Irie" (short for "It's All Right") and "No Problem" come to life in the people of Jamaica. Jamaicans are fun and friendly with a laid-back mentality towards the problems and stress of life. I loved that men there often referred to me as "brother".
That is not to say that it is entirely safe. Every destination in the world has its unsafe areas.
Resort staff in Jamaica will often tell you not to leave their gated compound after dark unless you are in a large group or on a tour.
One cab driver told me that I would be crazy to walk from my hotel to a building 4 or 5 blocks away even during the daytime in downtown Kingston because extreme poverty causes people to do things they don't want to do (like steal your wallet and cell phone) out of necessity.
On another one of my trips, the city of Montego Bay went into Marshal Law for a few days due to drive-by shootings in tourist areas near the airport. However, I always felt safe no matter where I went.
Also, I don't recommend renting a car in Jamaica. Group tours are the safest way to travel from town to town, but even taxi cabs (which are surprisingly cheap, especially if you pay in Jamaican currency) are better than trying to navigate unfamiliar roads and some of the craziest drivers I have every seen.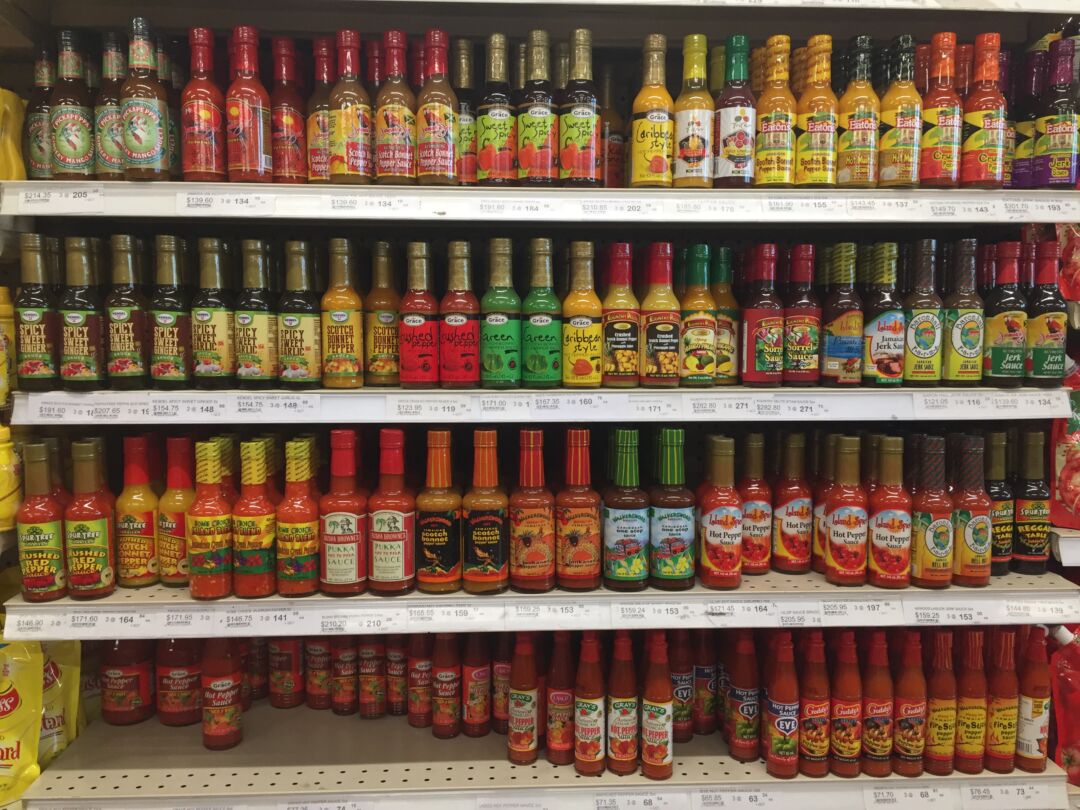 Shopping
One tip for buying souvenirs is to purchase delicious Tortuga Jamaican Rum Cake and even Jamaican Rum and other spirits at a grocery store rather than a gift shop in a tourist area. You could save 30 percent or more.
Other great items to pick up from the grocery store to bring back with you as a souvenir include their famous Blue Mountain Coffee and Jamaican spice rubs.
I brought back a big variety of hot sauces, which are very affordable (only a few dollars each) and make great mementos and gifts.
The 3 Best Places To Visit In Jamaica:
Here is our Top 3 Places To Visit in Jamaica countdown list along with some of the best activities, attractions, and things to do in each Jamaican town.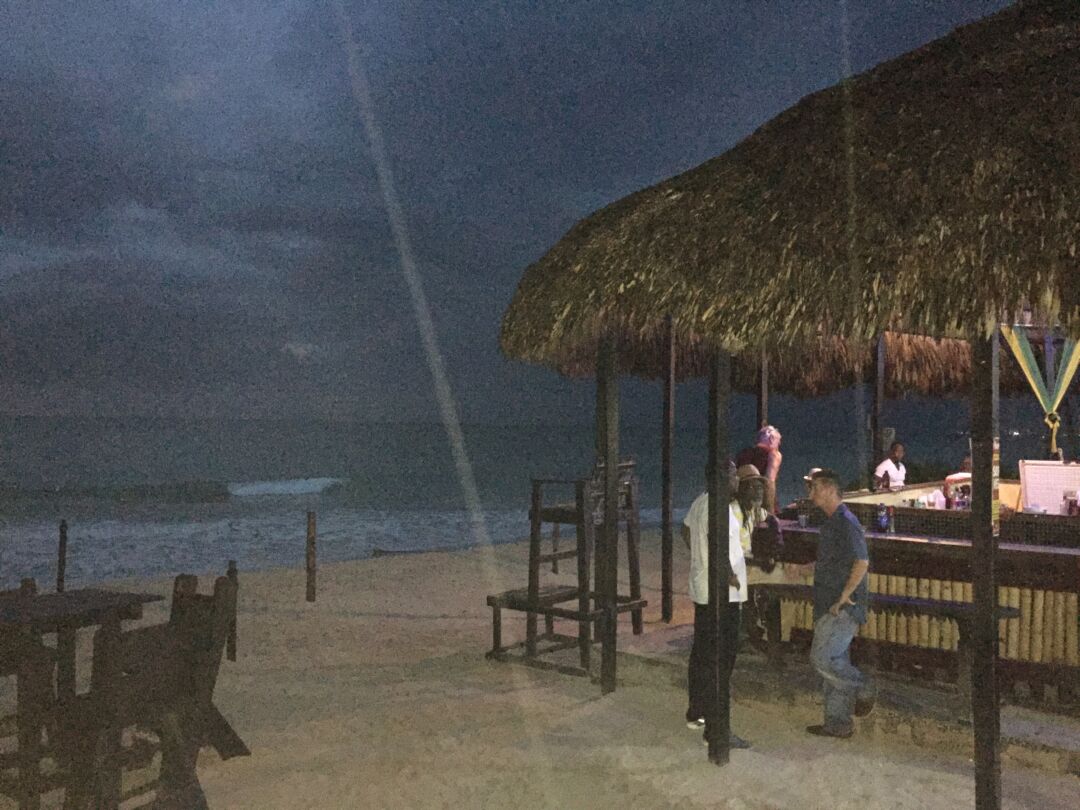 3. Negril
Negril is very popular for Chartered direct-flight, all-inclusive vacations from Canada. It is located on the west shore of the island, not far from Montego Bay.
Negril is the smallest and least developed of the 3 cities in this article, so for many people it might feel the most authentic.
The beach nightlife has a different vibe, like a small beach town.
On the main strip (Norman Manley Blvd. – also called Barrack's Street), you will find small food shacks, nicer sit-down restaurants, small hotels & motels, nightclubs, and even bars and a large stage for live entertainment right on a public beach. I enjoyed the best Jamaican patties I ever tasted at a small shack on this street.
The most popular beach in Negril is called Seven Mile Beach, which has clear aqua-coloured water, a coral reef for scuba diving, a lighthouse, and views of gorgeous cliffs. It is also dotted with reggae beach clubs. Go to Rick's Cafe for a great beach and swimming and its famous sunset view.
The Negril Point Lighthouse is lighthouse that was built in the late 19th century and converted to solar power in the 1980s. Climb to the top for a panoramic view of the island and coastline.
We suggest you visit or take a tour to the nearby Black River or Mayfield River to see jungle and swamp life and observe spectacular waterfalls.
Kool Runnings Adventure Park has many activities including waterslides, tubing, go-kart racing, and paintball.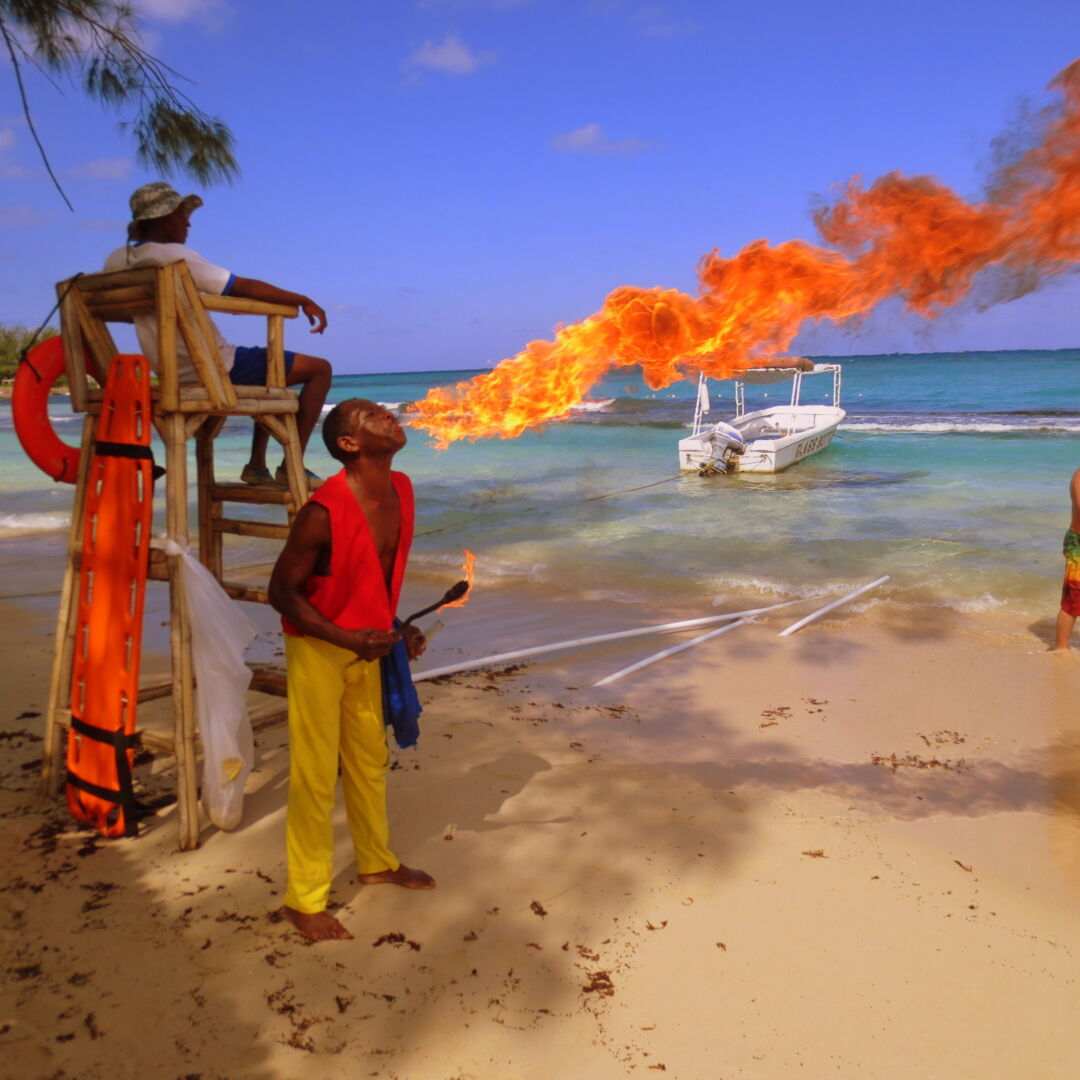 2. Ocho Rios
Ocho Rios is a major cruise ship port of call. I visited there on a Caribbean Cruise on the Norwegian Epic in 2014. Ocho Rios is located on the North shore of Jamaica, just a little bit East of the middle of the island.
Ocho Rios means "8 Rivers" in English and is called "Ochi" by locals.
Of the three towns included in this article, Ocho Rios is closest to Kingston, which is on the South shore of the Eastern part of the island. However, this is probably not a drive you want to take because the roads go through the Blue Mountains and Dry Harbour Mountains on some treacherous terrain.
The most famous attraction in Ocho Rios, and possibly in all of Jamaica, is Dunn's River Falls. Tourists climb up the waterfalls holding hands in a long line for safety. Dunn's River cascades over a giant limestone staircase to a white sand beach and the warm Caribbean Sea. Special water shoes are required, so bring them along on your trip if you have them. Be sure to bring a waterproof camera.
Located across the road from Dunn's River Falls, Dolphin Cove has previously been voted the best attraction in Jamaica. At Dolphin Cove, visitors can swim with sharks, dolphins & stingrays. You can also watch dolphin and pirate shows. This lovely natural cove is surrounded by 5 acres of lush tropical rain forest. Here, you can also ride a camel or and see iguanas, snakes, and tropical birds on the Jungle Trail walk.
Another favourite activity is to float on a raft or tube down three miles of the White River past a 17th-century Spanish bridge and historic colonial coconut plantations to the Blue Hole (also called "Blue Spot" or "Secret Falls"). At the Blue Hole, you will find a series of waterfall-fed jungle pools, a swimming hole with a rope swing, and underwater caves to explore. You can also take a guided 2 kilometer hike to the Blue Hole. The White River Valley also offers river tubing and zip lining.
Fern Gully is a unique two mile long canyon through a rain-forest with hundreds of different varieties of ferns and unique geological features. Many people visit Fern Gully on the way to White River and discover the lush vegetation of ferns and trees that form canopies over the road on your drive along a dry riverbed. Some people choose to go for a nice hike here too.
Rainforest Adventures Mystic Mountain is a great family adventure destination with shopping, an infinity pool with a waterslide, a ropes course, rock climbing, and zip lining. Take the SkyExplorer Chairlift up to 700 feet above sea level. Then, ride the Rainforest Bobsled Jamaica Alpine Coaster is a 1000 meter long gravity-drive through the rainforest on custom designed, high-tech sleds. Finally, soar through the air on a sky-coaster that dangles beneath the track called Ragamuffin.
Turtle River Falls and Gardens offers a relaxing and romantic escape to nature. It has 15 acres of mountainside gardens and flowers, 14 waterfalls, small pools, hammocks, a koi pond, and of course some turtles. An aviary full of exotic and colourful birds is a nice bonus. Nearby, you can gamble and have a bite at Kaliente Gaming Lounge, which has a great view overlooking Turtle River Park.
Shaw Park Botanical Gardens are beautiful, well-kept gardens just a short walk from the center of town. Enjoy a stroll through the groves of trees and plants past a pond, gazebos & waterfalls.
Ocho Rios has many nice beaches, including Ocho Rios Bay Beach, which is a great place for water sports such as banana boat rides, tubing, parasailing, and snorkeling. This area is lined with restaurants and is great for people watching. Conveniently for cruise ship passengers, this beach is only a two-minute walk from the cruise ship port.
Island Village & Turtle Beach are also very close to the cruise ship port . This area has shopping and souvenir shops as well as restaurants like a great ice cream shop, a juice bar, and Jimmy Buffet's Margaritaville. Island Village is also where you will find the Chukka Canopy Experience Zip Line.
You will find more good shopping and bargains at the Ocho Rios Craft Market and duty-free shops at the Taj Mahal Shopping Center.
If you are not staying at an all-inclusive resort or you are a cruise ship passenger, Ocho Rios has many great private beach clubs with sun umbrellas, beach chairs, restaurants, and bars such as Ocho Rios Beach Club and WataLand Eco Fun Park (that also has a fun water obstacle course).
My family had a great time at Bamboo Blu Beach Club, a private beach club in a secluded, tree-lined natural cove. They provided beach chairs, but we decided to pay a bit extra to rent a covered cabana. There was frequent entertainment such as DJs, dancers, reggae drummers, acrobats, and a fire-breathing man (see image above and click here for a short video about Ocho Rios and part his fire-breathing act). You can pay for items a la carte or pay one price for admission, unlimited food and drinks as well as a beach towel and chair.
Stingray City Jamaica is located 25 minutes east of Ocho Rios in the town of Oracabessa. They will teach you the correct way to handle a Stingray before you wade in the Caribbean Sea to feed and pet the graceful stingrays. I have also read that it has a pretty good beach.
A 30-minute drive away in Runaway Bay, the Green Grotto Caves are Jamaica's best-known limestone caves with incredible stalactites and stalagmites and an underground lake. The caves were used as a set for a James Bond movie and are home to bats and snakes.
Music lovers and Rastafarian fans can take a pilgrimage to the childhood home and final resting place of Bob Marley in the tiny rural village of Nine Mile, Jamaica. It is important to have a good tour guide, who can tell you great stories and information about this music legend. It's only for true fans because the drive is over 1 hour each way from Ocho Rios.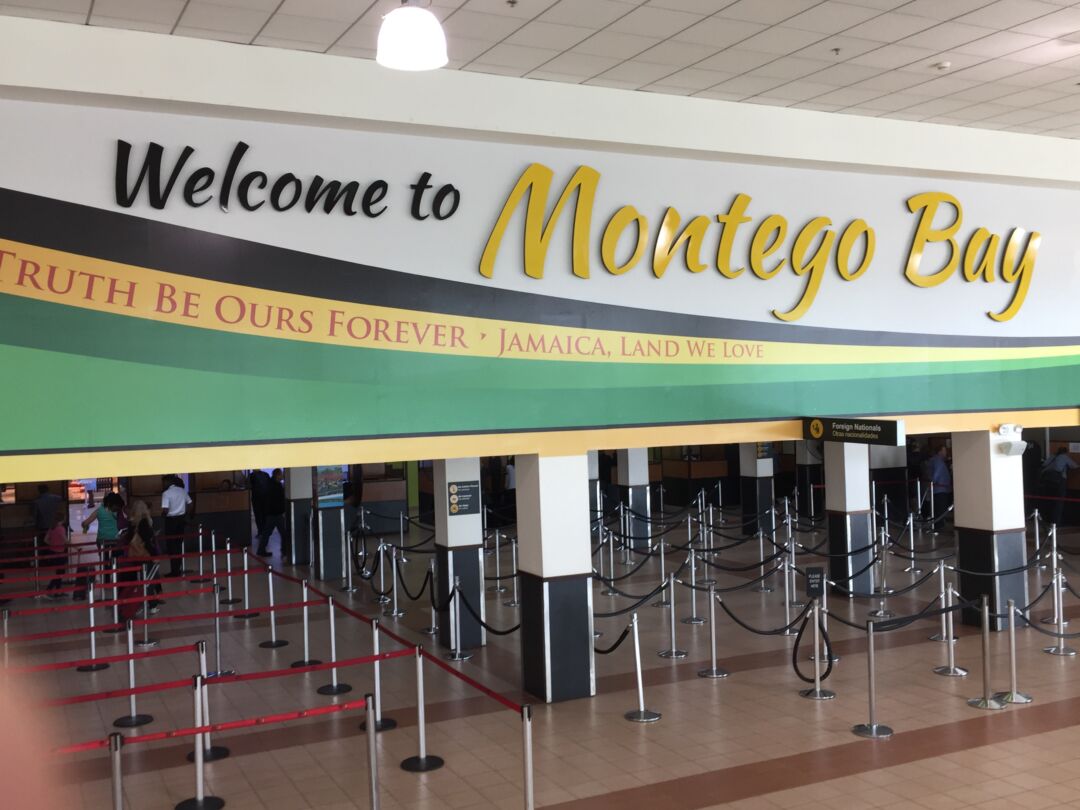 1. Montego Bay
Montego Bay or, as locals call it, "Mobay" is probably the most famous and popular place for tourists in Jamaica. It is the largest urban centre by population outside of the Kingston area. Accordingly, it is the most "touristy" and can cost more.
There was even a popular song called Montego Bay on the radio when I was a teenager.
In the Montego Bay area, you can explore Jamaica's jungles by bicycle, by zipline, or by tubing in the White River. Many people take the opportunity to swim with dolphins at Dolphin Lagoon, ride a horse along the beach, or take a boat trip for fishing, snorkeling, and a romantic sunset on the ocean.
Here, you can learn about the history of Jamaica, including difficult information about slavery and rural island life at the Rose Hall Great House or the Croydon Plantation.
The downtown nightlife zone called the Hip Strip includes a Margaritaville location with a water slide. It also has dance clubs, stores, souvenir shops, restaurants, and budget friendly hotels. If you go to the Hip Strip during the day, a good spot to swim, people watch and relax in the sun is Cornwall Beach.
Other popular Mobay attractions are very diverse and exciting.
If you like to shop for unique items in a lovely setting and then have dinner nearby, check out Whitter Village Shopping Mall or Main Street Jamaica (formerly The Shoppes at Rose Hall).
Mobay and Kingston each have a popular restaurant called Usain Bolt's Tracks & Records, where you can experience an authentic combination of the best that Jamaica has to offer through music, entertainment, sports (including videos and memorabilia from his Olympic medals and world records), and amazing Jamaican food.
The majestic Rose Hall Great House is a supposedly haunted 1770 plantation house's with a dark history, so the spooky nighttime tours are recommended. The former dungeon of the estate, where slaves were held for punishment by the plantation owner's wife, known as the White Witch of Rose Hall, is now a pub that makes for a great nighttime destination at the estate.
In nearby Falmouth, which is only 20 miles from Mobay, there are a few more great things to do.
You can visit the Good Hope Estate for a house tour, rum tasting, and a swim in the estate's pool as well as activities like zip-lining, ATV tours, river tubing and carriage rides.
The Falmouth area is where Jamaica's famous bio-luminescent bay is located, where microscopic sea creatures light up at night in response to movement.
It is also where you can go on a relaxing, expert-guided tour down the Martha Brae River on bamboo rafts steered by long poles. You will pass through thick jungles and quiet Jamaican towns and can even have a pit-stop to buy handicrafts from local artisans along the way.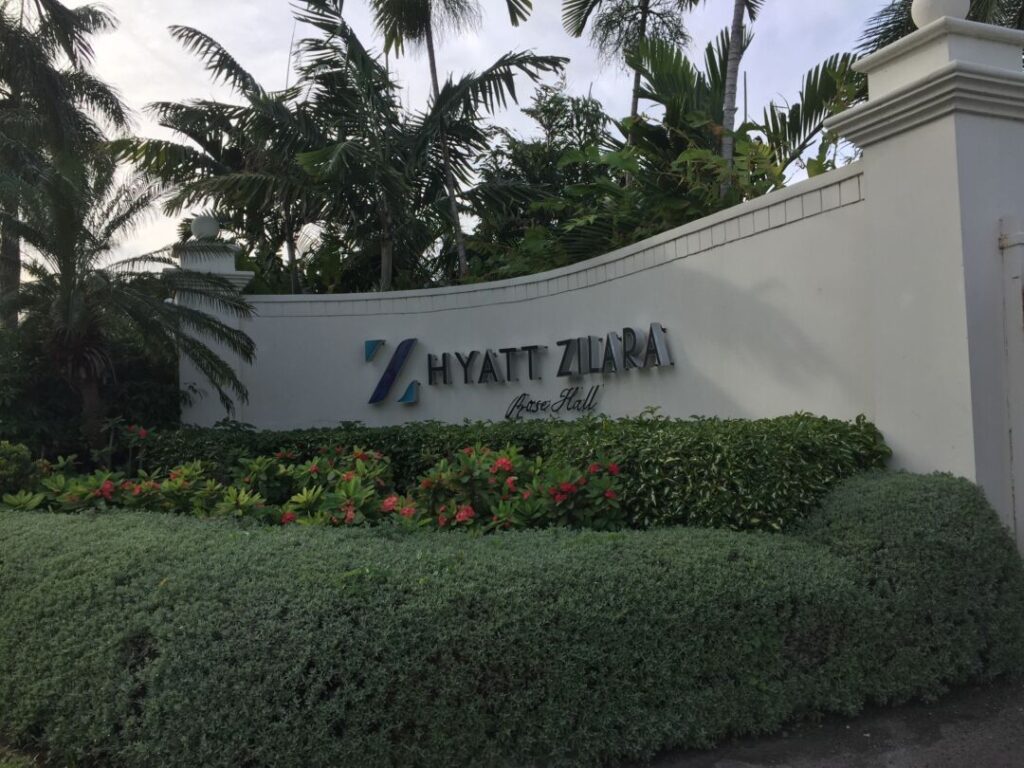 Hyatt Ziva sign at entrance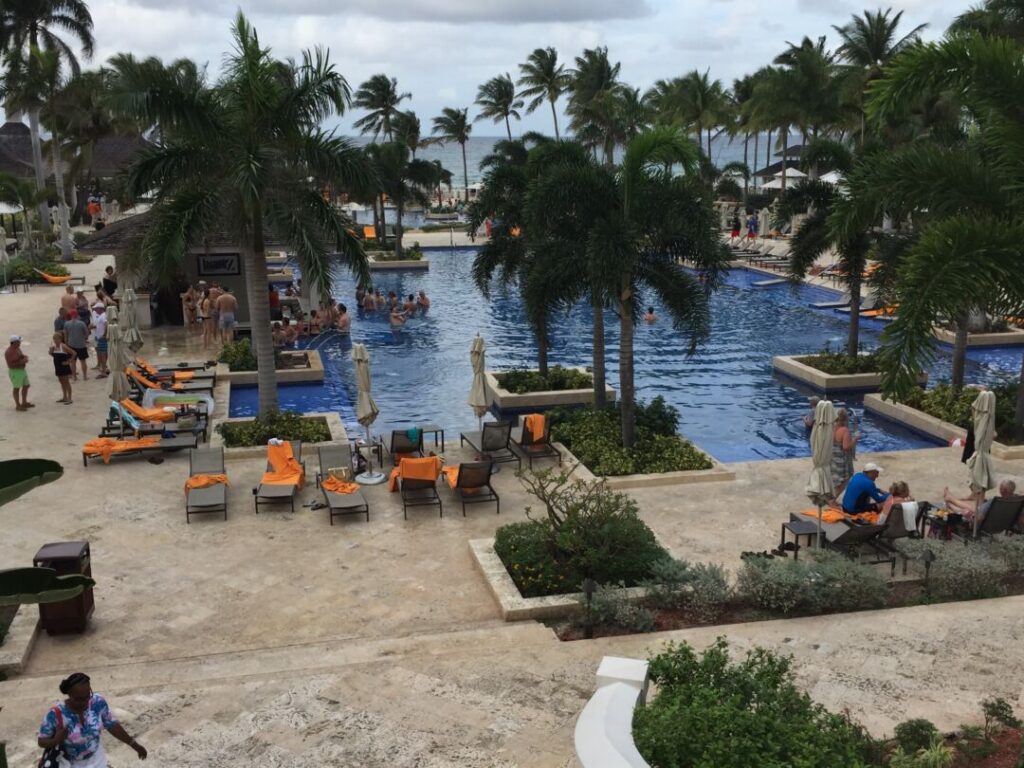 Hyatt Ziva relaxation pool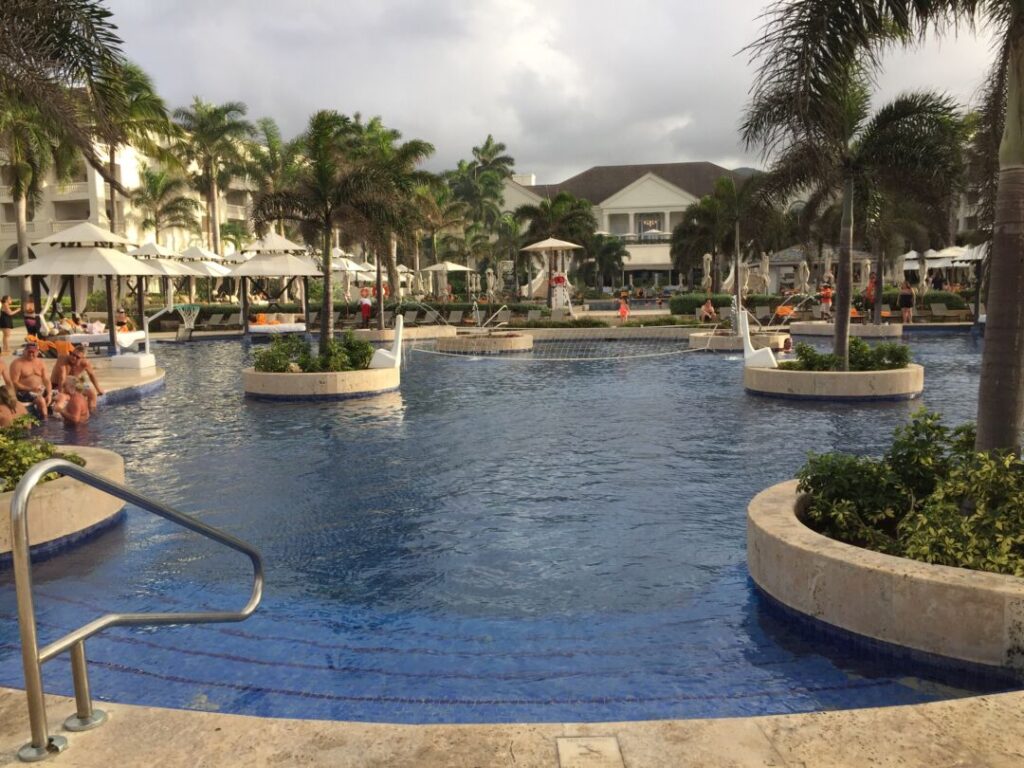 Hyatt Ziva activities pool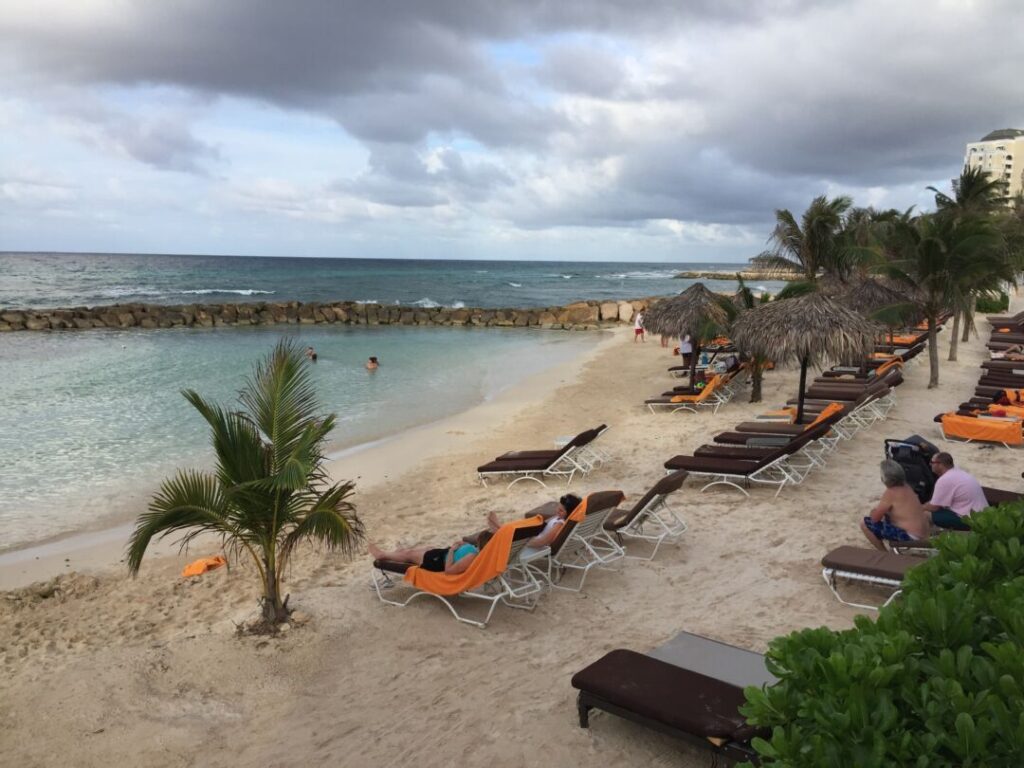 Hyatt Ziva beach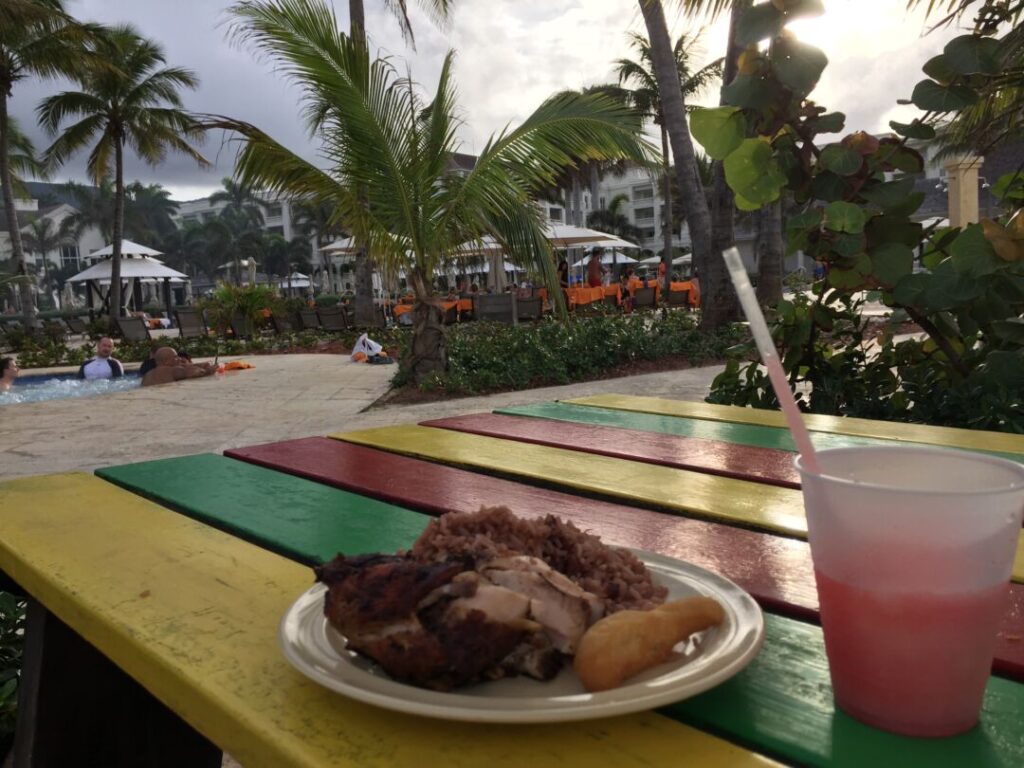 Jerk chicken lunch by the pool and beach at Hyatt Ziva
Hyatt Ziva Rose Hall (a great place to stay in Jamaica)
The last place I stayed at in Montego Bay was a 5-star all-inclusive resort called Hyatt Ziva Rose Hall. Click here to go to my YouTube channel and watch a short video that shows you some highlights of the resort, including the beach and pool areas.
Hyatt Ziva Rose Hall has over 670 ft. of scenic Caribbean beachfront with chaise lounges and shady umbrellas. I enjoyed both their relaxation pool and the activities pool, which has a swim-up pool bar and foam-filled pool parties. Two heated whirlpools are available near the beach, which is where I met interesting people from around the world. Beach and pool concierges delivered tropical cocktails while I soaked in the sun.
The things I like most about all-inclusive resorts are the activities and enjoyable entertainment that are included in the price. Be sure to go to the outdoor theater for the live entertainment such as theatre, dance, kettle drummers, and live music.
The other things I love about all-inclusive resorts are the food and beverages. I had to be careful not to over-indulge in the limitless delicious food and alcoholic beverages from 13 restaurants, lounges, and food kiosks throughout this resort.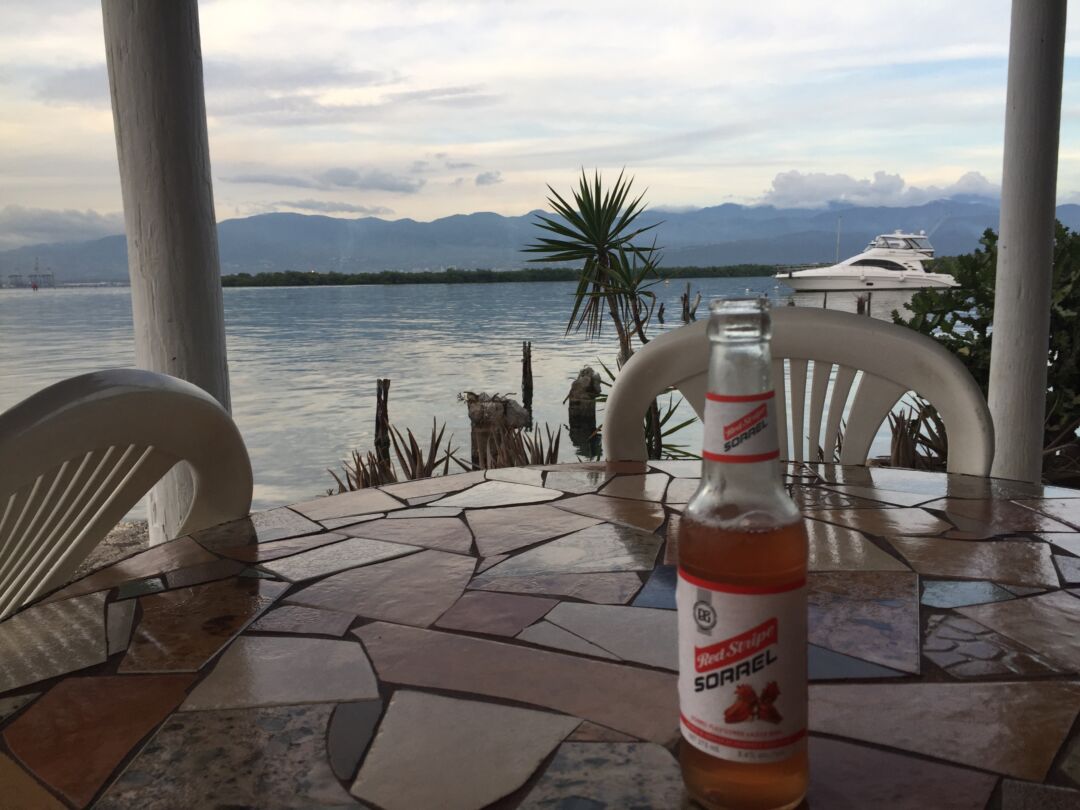 Jamaica is a place I could go back to again and again, especially during the harsh Winters in Winnipeg. We are even researching it for our book as a possible retirement destination for snowbirds and people who want to retire abroad. With the right location and security in a gated community, Jamaica would be a fantastic and affordable country in which to live or spend extended Winter vacations.
Even if you are not a sun worshipper, you should still experience this tropical paradise if you can. The people are very friendly and the food has a lot of flavour.
Please share your favourite places to go and things to do in Jamaica in the comments below. We would love to hear from you.
Happy Travels,
Kevin & Tina
Please subscribe to our newsletter to receive notifications for new posts and other content. 
P.S. Here are links to our social media accounts, in case you want to connect that way:
Retirestyle Travel Instagram
Kevin's LinkedIn
Retirestyle Travel Facebook Page
Kevin's Pinterest
Retirestyle Travel TikTok
Retirestyle Travel Twitter
Retirestyle Travel YouTube (Please check out our YouTube Channel for travel videos)
You May Also Like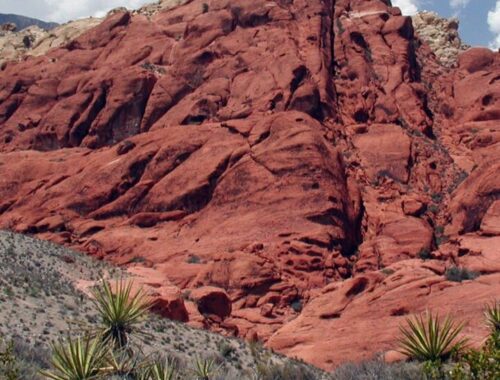 April 12, 2021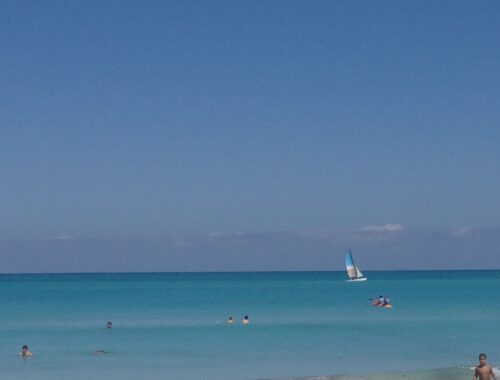 February 26, 2020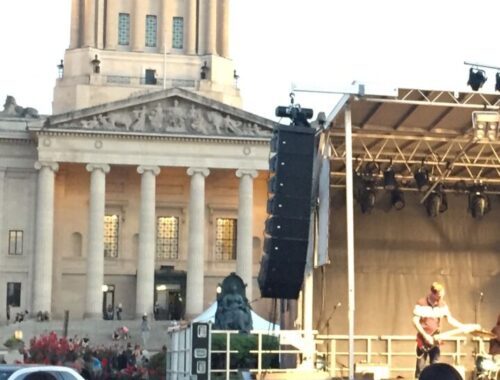 January 30, 2021