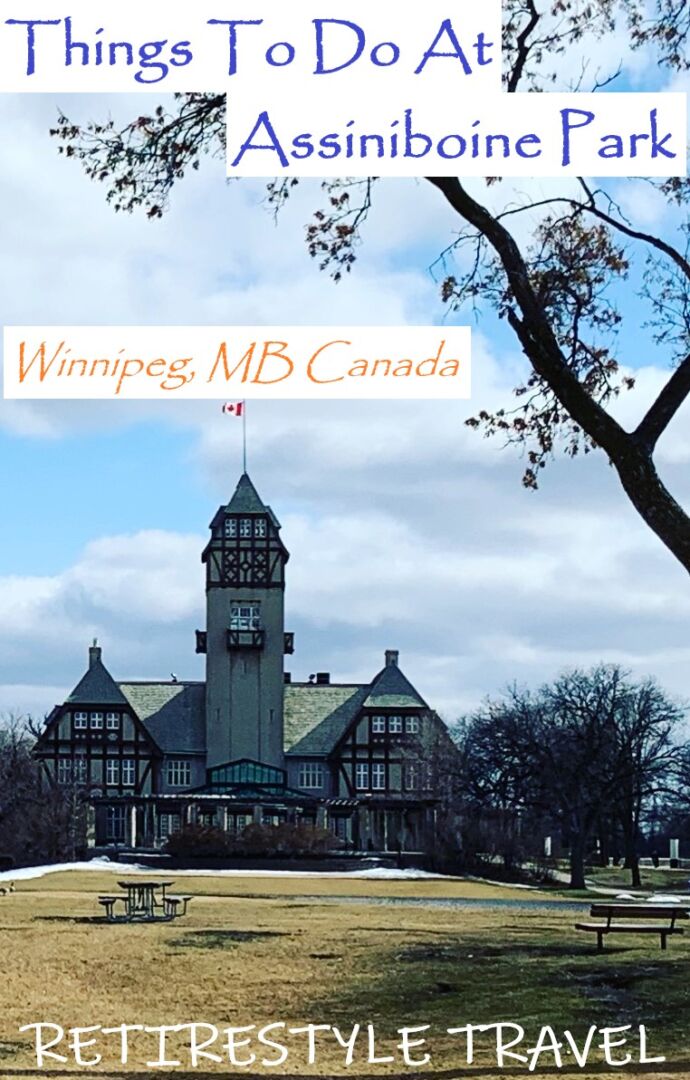 Things to do in Winnipeg, Manitoba at Assiniboine Park
December 7, 2020
Things to do at Assiniboine Park – Winnipeg's Urban Park
Assiniboine Park is the 11th largest urban park in Canada and 150th largest urban park in the world.
This outstanding park has endless tree-lined trails along the river for hiking or biking and large fields for playing football, soccer, ultimate Frisbee or even cricket.
The largest grass field is between the Pavilion and the Assiniboine River.  In the summer, you will see hundreds of people socializing, having picnics, suntanning, and playing sports in this field.
Lyric Stage
On some evenings, you can sit in this field and watch a movie in the park or watch a free concert on the Lyric Stage, which is beside the Pavilion.
The Royal Winnipeg Ballet even offers free ballet performances on the Lyric Stage for several nights a year usually in July.
Assiniboine Park Zoo Peacock

Assiniboine Park Zoo Muskox and Polar Bears

Assiniboine Park Zoo
Assiniboine Park has a large and impressive zoo called the Assiniboine Park Zoo (or the Winnipeg Zoo) that has over 200 species of animals over 80 acres.
The Zoo was recently renovated to add a butterfly garden as well as enclosures and viewing areas for Polar Bears and other animals native to Northern Manitoba in an exhibit called Journey to Churchill. You can even go below the water and watch the Polar Bears swim above you. They are very surprisingly comfortable under water.  If you can't travel to Churchill, Manitoba, then this is a good way to get a sample of what you would see.
English Garden entrance gate

English Garden 2

English Garden Entrance

English Garden
One of my favourite places to decompress is English Garden at Assiniboine Park, which has many walking paths winding through beautiful flower gardens and large trees.
The English Garden is located between the Leo Mol Sculpture Garden and the Duck Pond.
Leo Mol Sculpture Garden 2

Leo Mol Sculpture Garden
The Leo Mol Sculpture Garden offers a quiet retreat to walk through a lovely nature path and enjoy the magnificent life-sized bronze statues of master sculptor, Dr. Leo Mol.
The garden is also home to the Leo Mol Gallery, a building featuring more works by the gifted artist and a second building that explains how he makes his amazing sculptures.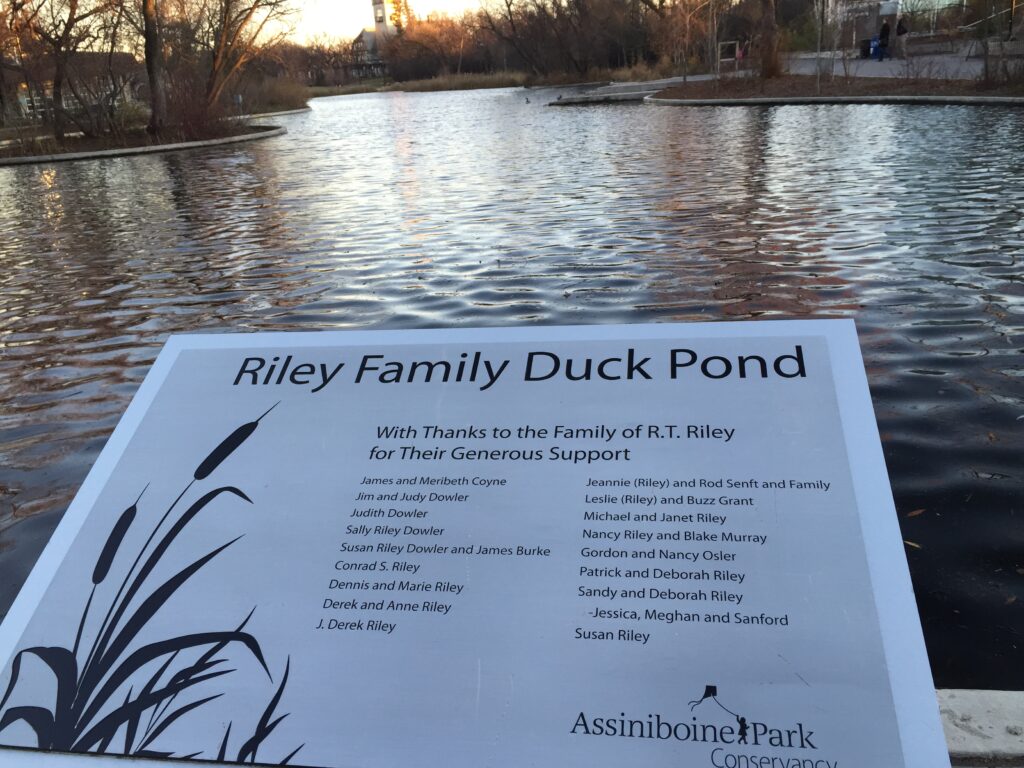 Riley Family Duck Pond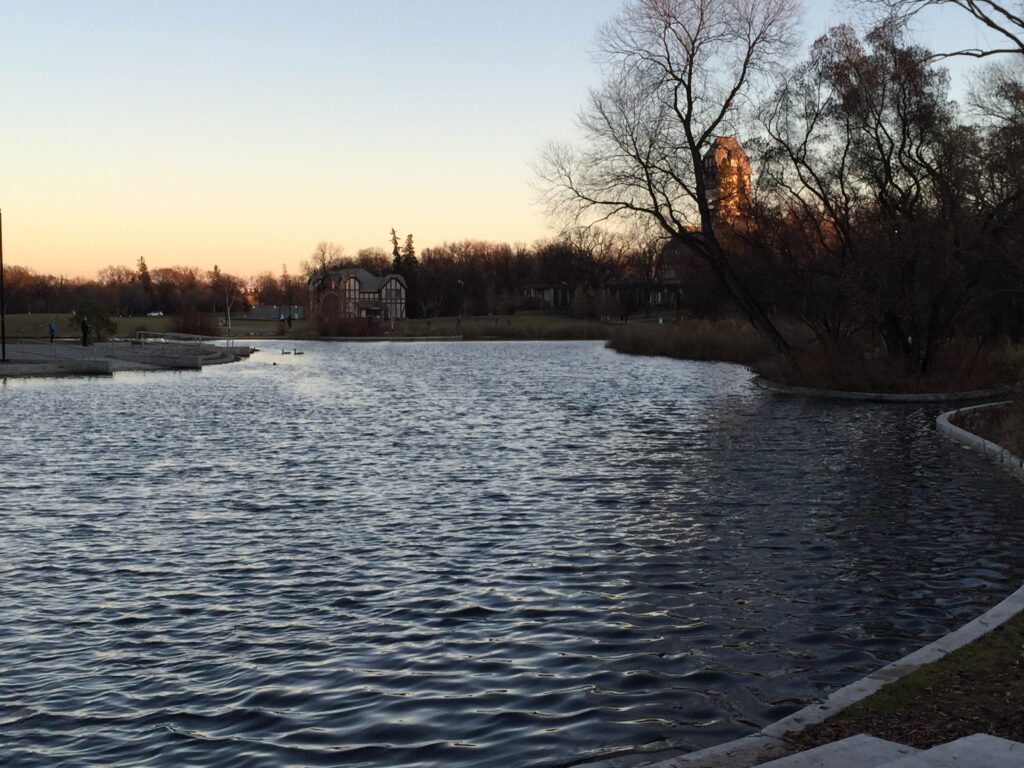 Duck Pond 3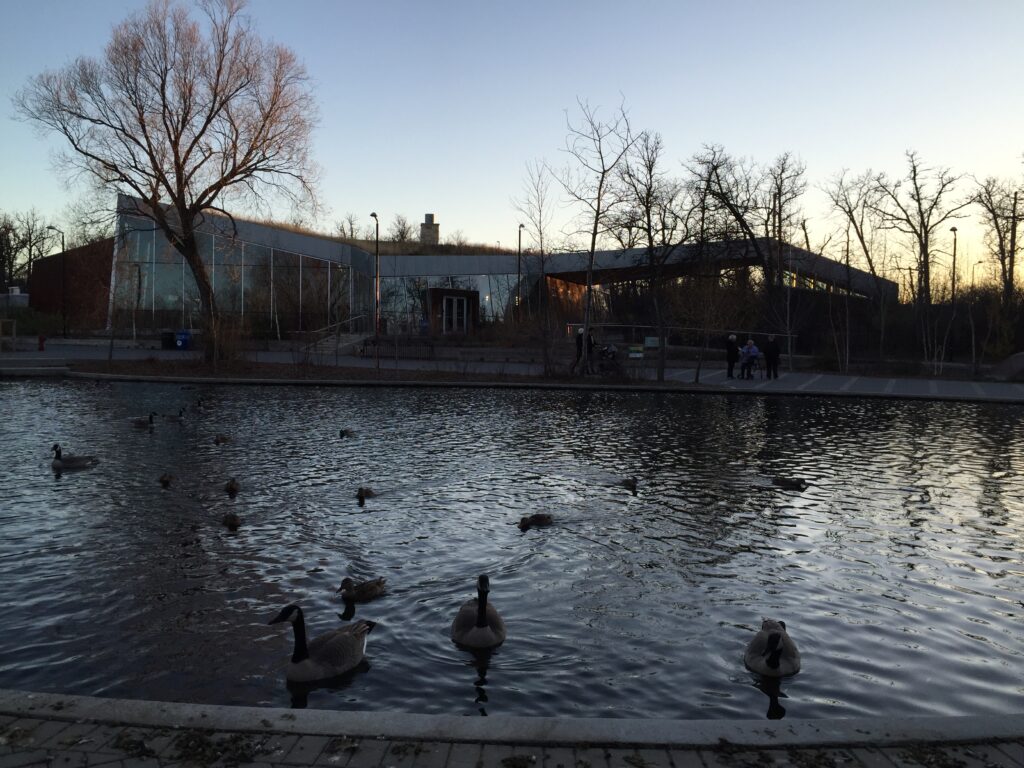 Duck Pond 2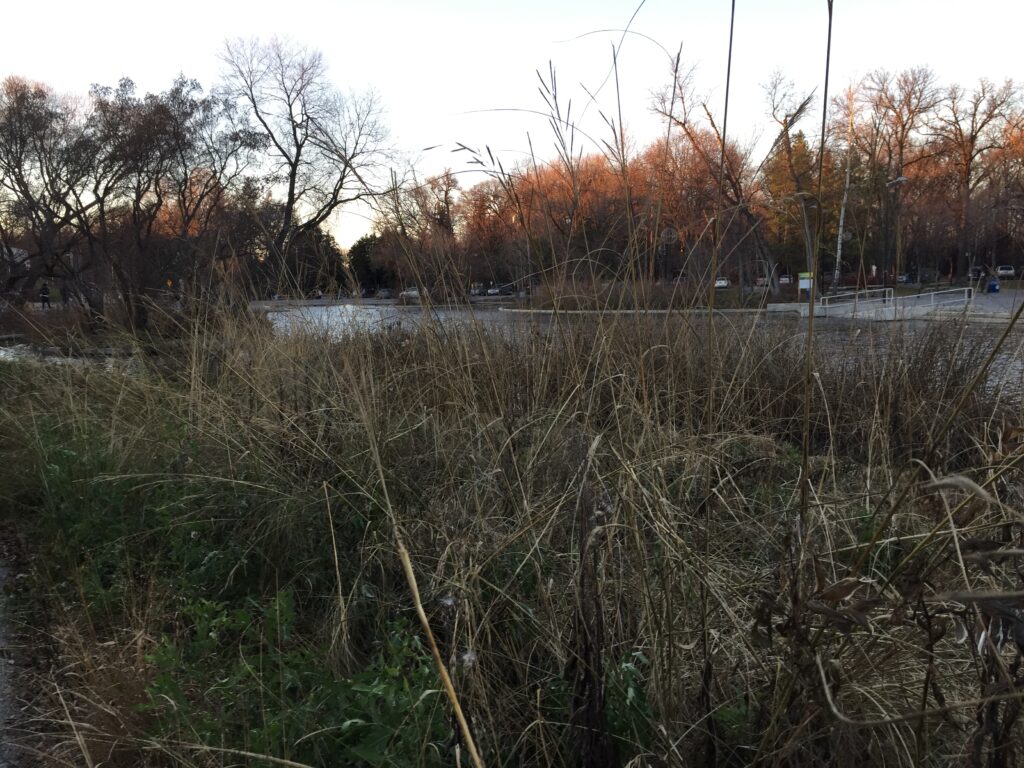 Duck Pond 4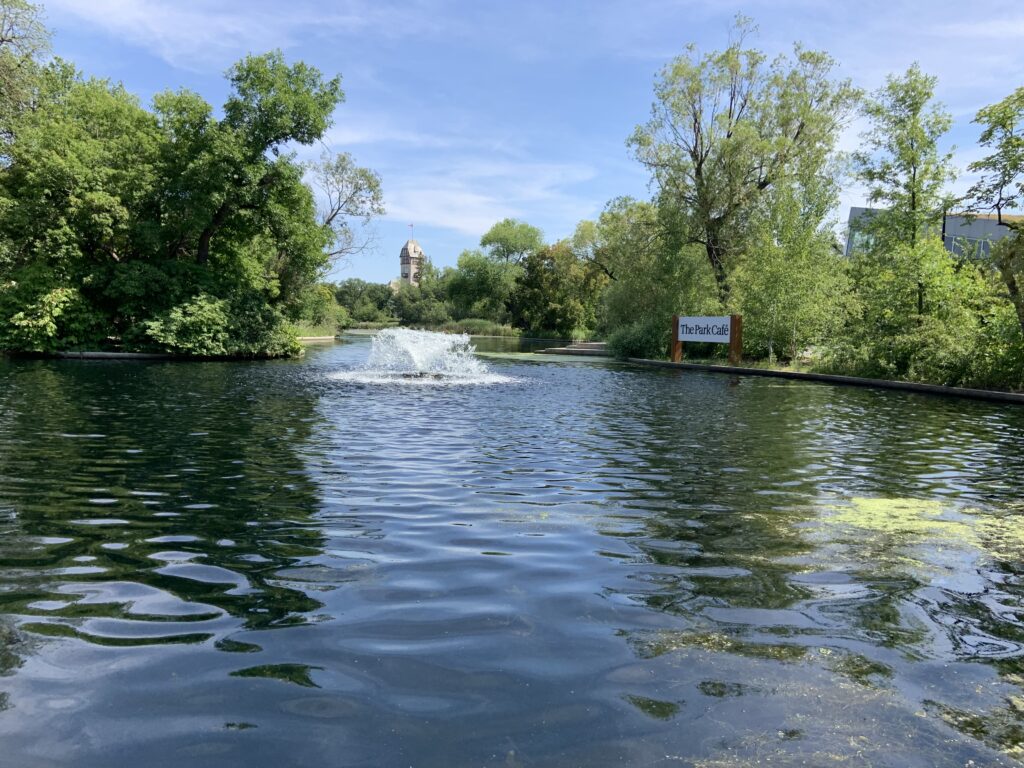 Duck Pond fountain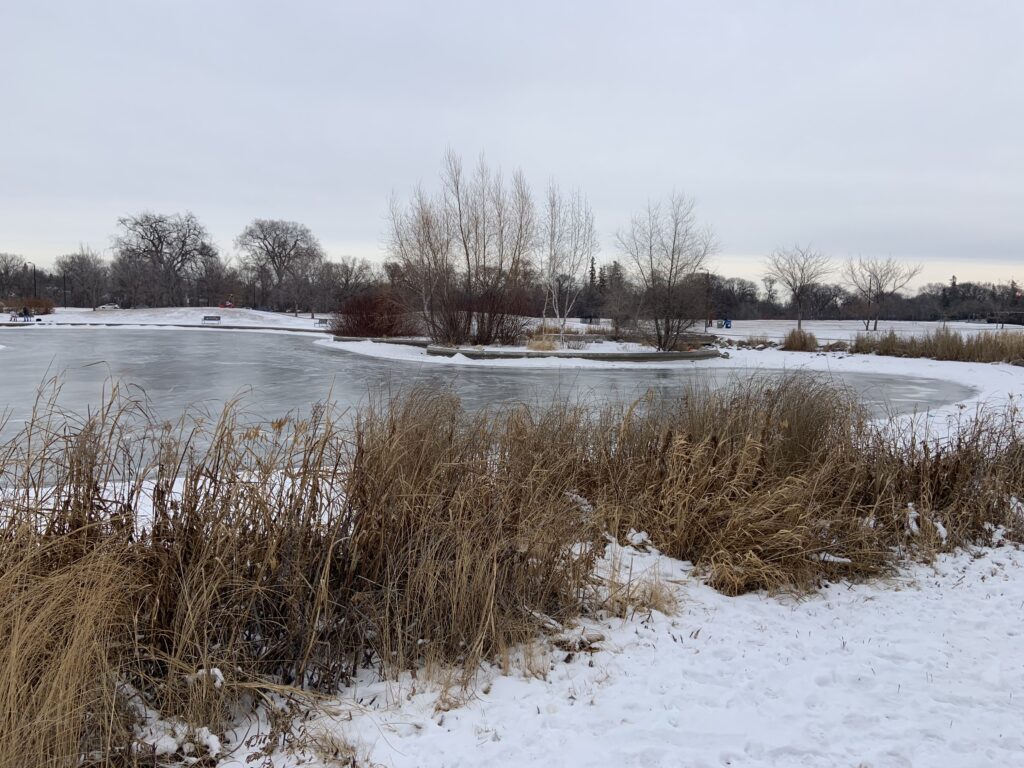 Duck Pond 6
The Duck Pond
The Riley Family Duck Pond is a nice place for a walk where you can see many birds such as ducks, geese, seagulls, and even swans, especially during the Spring and Fall migration.
In Winter months, the Duck Pond becomes a lovely ice skating rink with music and hanging lights in the trees.
Beside the Duck Pond, you will find a building with washrooms, a water fountain, and tables for having a picnic indoors when it is raining or too sunny. That building transforms into a skating change room in Winter (closed during code red pandemic lockdowns).
A unique and new concept for the park called Cargo Bar is located behind this building. It's basically a bar in a renovated shipping container that serves liquor to be consumed nearby in the park or on their rooftop patio during the summer months.
On the other side of the Duck Pond, there is a restaurant called the Park Cafe at Assiniboine Park. You can order things like coffee, hot chocolate, soft drinks, burgers, wraps, salads, and ice cream at their take out window.  Inside, you can sit in comfort and enjoy items off their unique menu.
Assiniboine Park Pavilion Summer

Assiniboine Park Pavilion in Winter

The Pavilion
One of Winnipeg's most recognizable and beloved landmarks is The Assiniboine Park Pavilion, which was built in 1930 and looks a bit like a Bavarian chalet.
The Pavilion is home to the largest collections of works by renowned Manitoba artists Ivan Eyre, Walter J. Phillips, and Clarence Tillenius.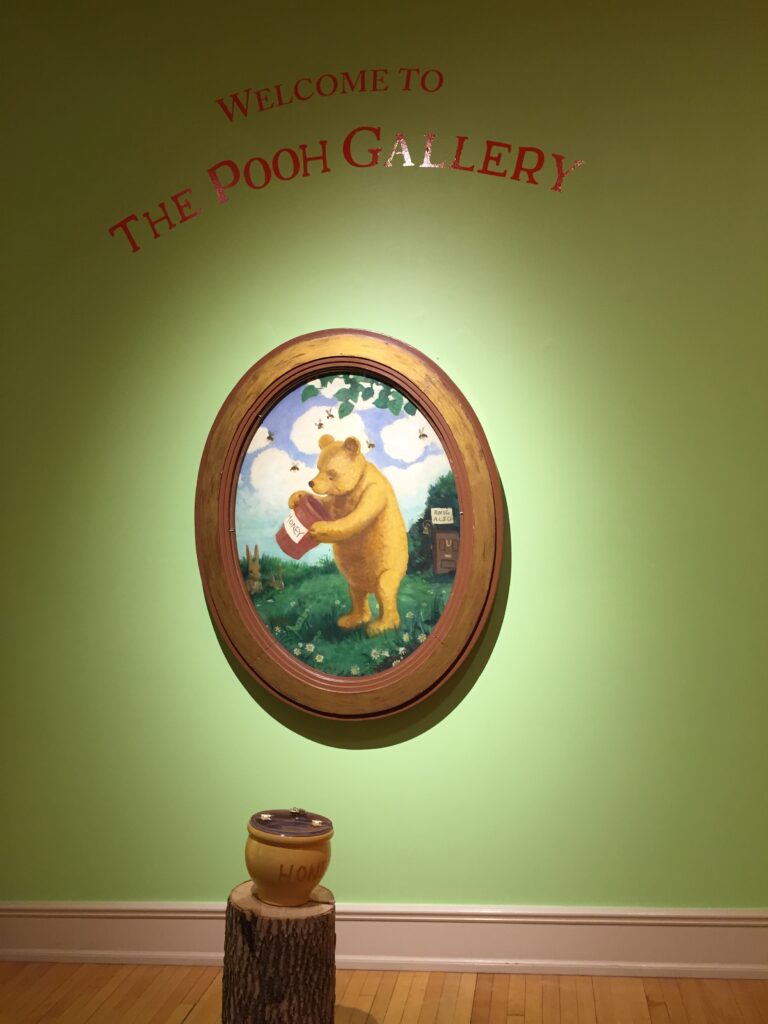 Winnie The Pooh Exhibit 1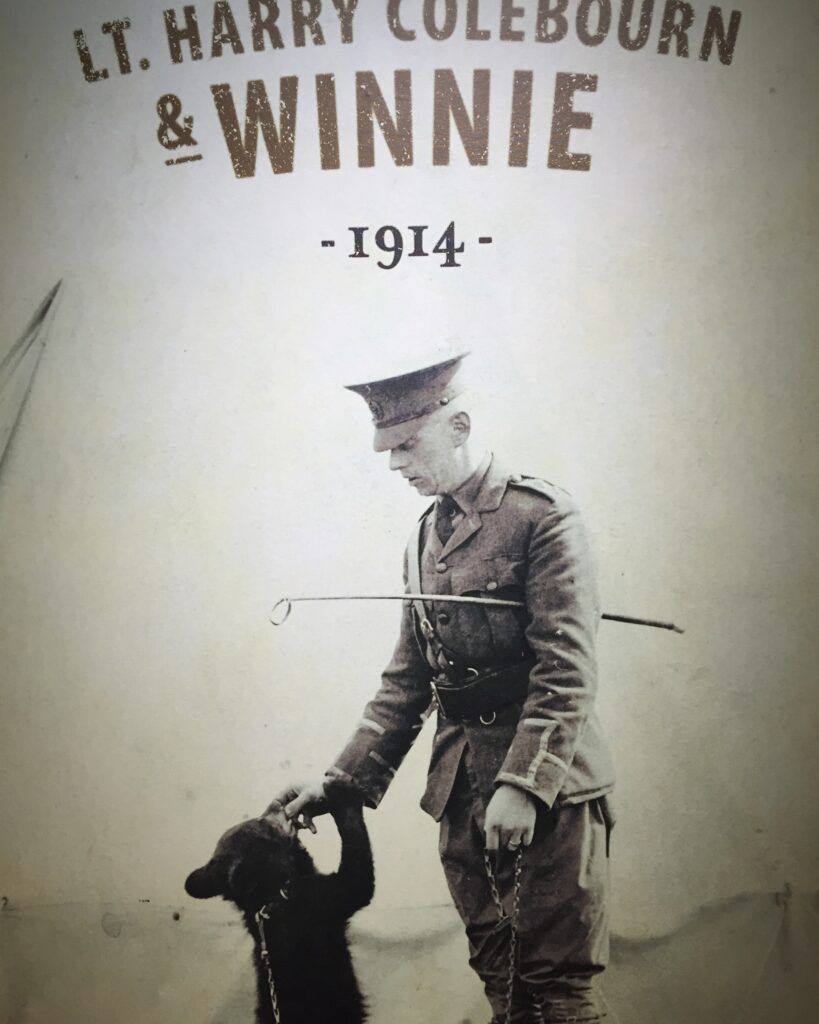 Winnie The Pooh Exhibit 2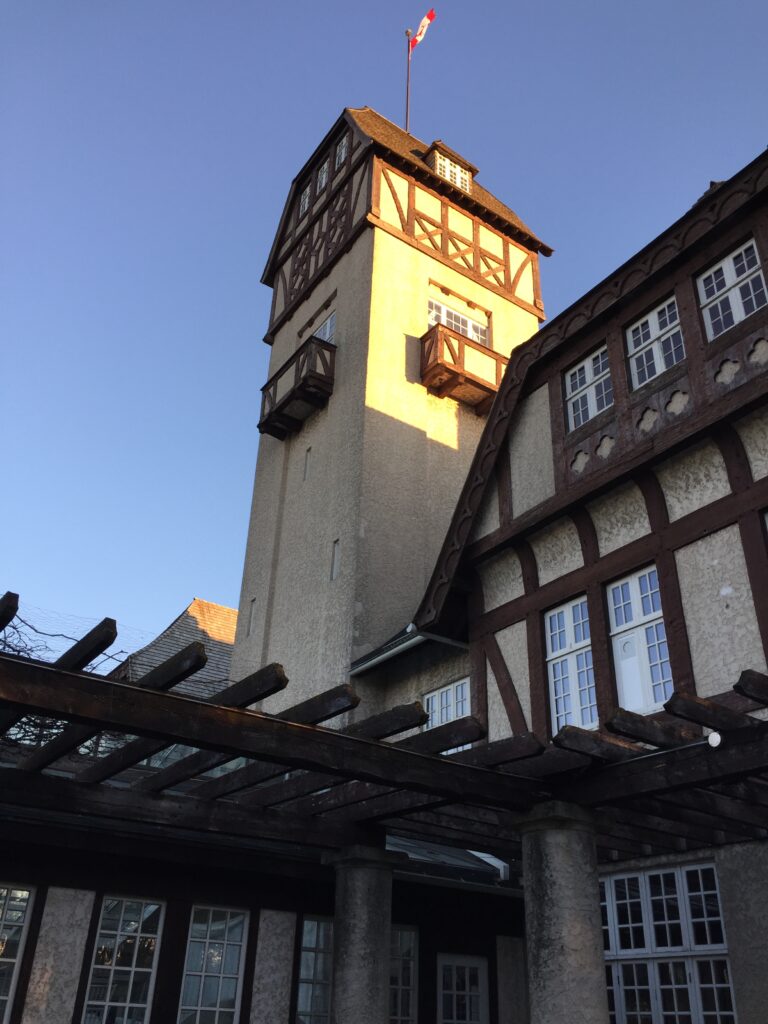 Assiniboine Park Pavilion from rear
For tourists and kids, the best thing about The Pavilion is the gallery called "The Best Bear in All the World": The Many Sides of Winnie-the-Pooh, which showcases objects, archives, and works of art to help understand the creation of the beloved Disney Character Winnie-the-Pooh from a small bear that was brought to England by a Winnipeg veterinarian during the First World War.
Assiniboine Park Conservatory
During the long, cold Winters, Winnipeg residents used to escape to a warm tropical paradise with exotic trees and flowers at the Assiniboine Park Conservatory.
Due to its age, the old Conservatory was torn down and a new larger indoor greenhouse facility called The Leaf is currently under construction that will be the first and only garden attraction in North America to tell Canadians' cultural stories through the world of plants. The Leaf will be surrounded by the spectacular outdoor Canada's Diversity Gardens.
For Families With Kids
Next to the Pavilion, your kids will be happy to find Nature Playground and its sand and water play area, slithering slides, a sky-high crow's nest, willow tree tunnels, basket swings, giant robin's nest, colourful rubber mountains with slides, and net bridges.
In the Winter, this area has a large hill for toboggan/sled slides.
Children will also enjoy riding the nearby miniature steam train that winds through the forest. They might even spot some wild deer.
Getting Around
To get around this big park, you can walk or use their free shuttle bus.
If you want to get more creative and adventurous, rent a bicycle built for 1, 2, 4 or more from Bee2gether Bikes near the Duck Pond.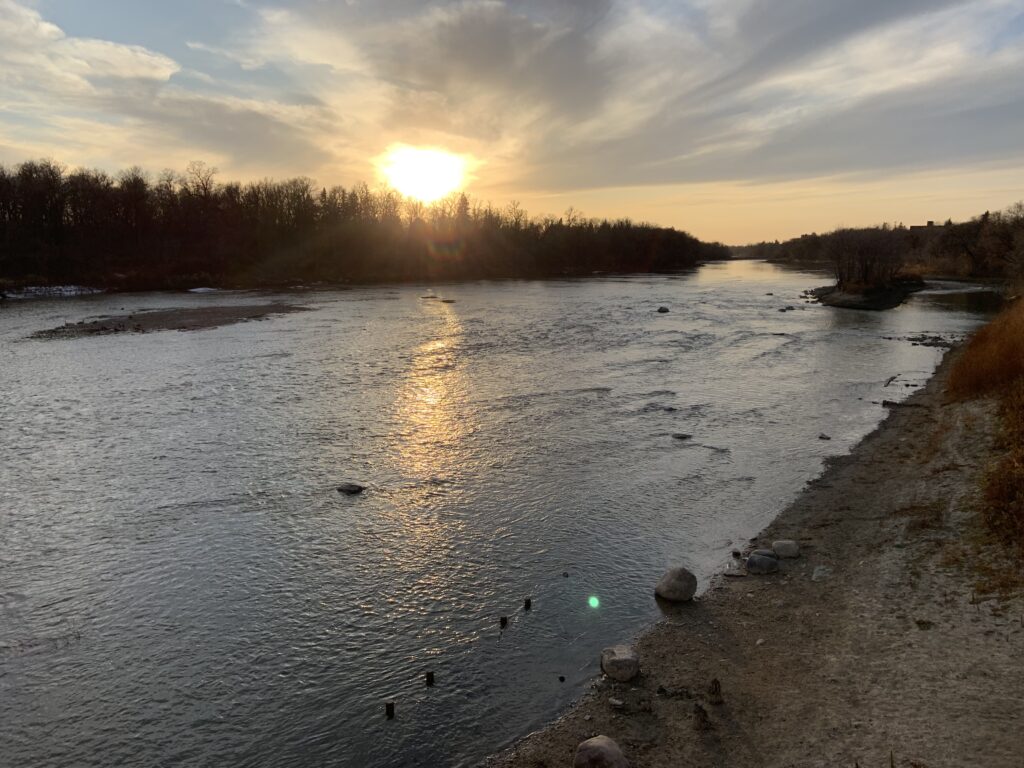 Assiniboine River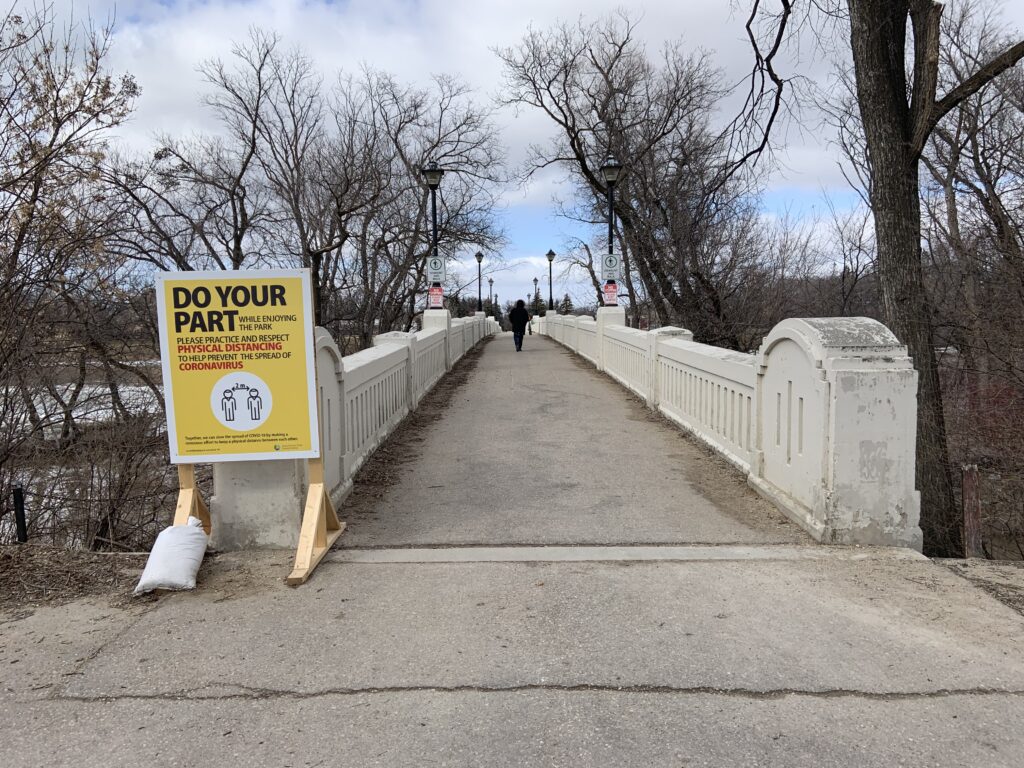 Assiniboine Park footbridge
The Perfect Ending
Usually, at the end of a visit to Assiniboine Park, we cross the footbridge over the scenic Assiniboine River to buy some ice cream at Sargent Sundae and then consume it while we walk back to the car.
If you have any stories or suggestions about Assiniboine Park, please comment below for all of us to enjoy.
Happy Travels,
Kevin & Tina
Please subscribe to our newsletter to receive notifications for new posts and other content. 
P.S. Here are links to our social media accounts, in case you want to connect that way:
Retirestyle Travel Instagram
Kevin's LinkedIn
Retirestyle Travel Facebook Page
Kevin's Pinterest
Retirestyle Travel TikTok
Retirestyle Travel Twitter
Retirestyle Travel YouTube (Please check out our YouTube Channel for travel videos)
You May Also Like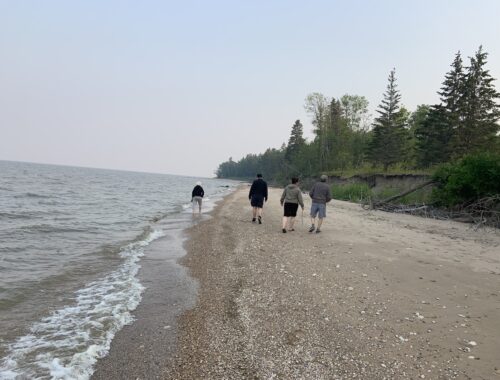 April 10, 2020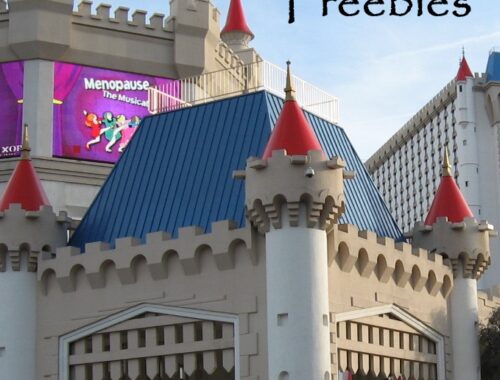 March 26, 2021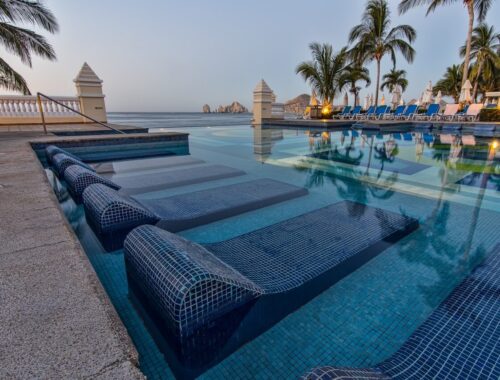 February 25, 2020