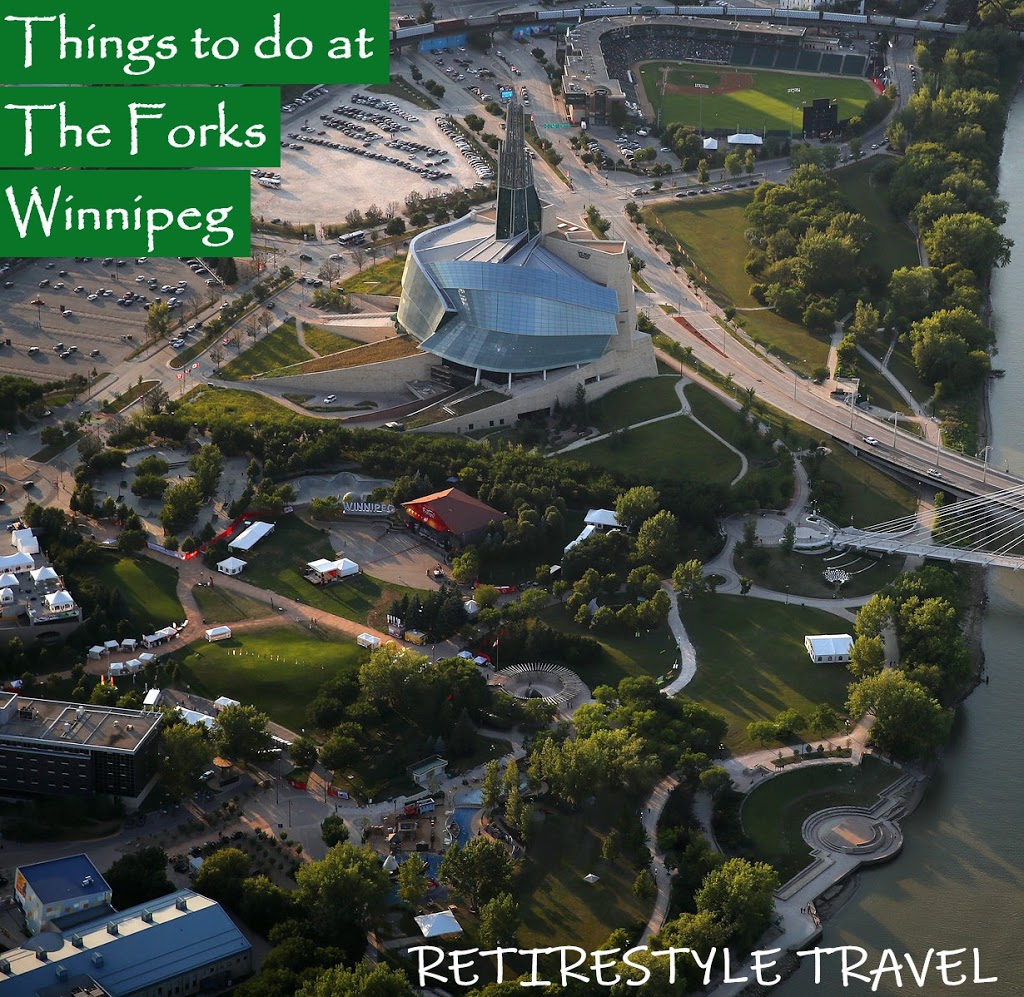 Things to do in Winnipeg, Manitoba at The Forks
December 6, 2020
Things to do in Winnipeg, Manitoba at The Forks
There are many things to do at The Forks in Winnipeg, Manitoba, Canada.
The Forks is Winnipeg's most popular attraction with over 4 million visitors a year.  The Forks is located where the Red and Assiniboine Rivers meet and where indigenous people, settlers, and business people have traded for years.
The Forks is also right next to the CN Rail Station, so passengers on a cross-country train ride can easily explore The Forks when stopping in Winnipeg.
The Forks sort of reminds me of Granville Island in Vancouver and St. Lawrence Market in Toronto.
Two old shipping warehouses have been converted to bustling markets. All of the stores and restaurants are local except for Fro-gurts, Old Spaghetti Factory and Original Pancake House.
The Forks Market
The Forks Market building has many shops and restaurants.
On the second floor, there is a massive local gift shop with many Manitoba-made products called Forks Trading Company, a successful local candle store called Coal and Canary, and a semi-precious stone and crystal store called Gilbert's Stones.
The main floor has an old school arcade called Phantom Amusement Arcade, a large candy store called Sweet City Candy, and a wine and spirits store called Ellement.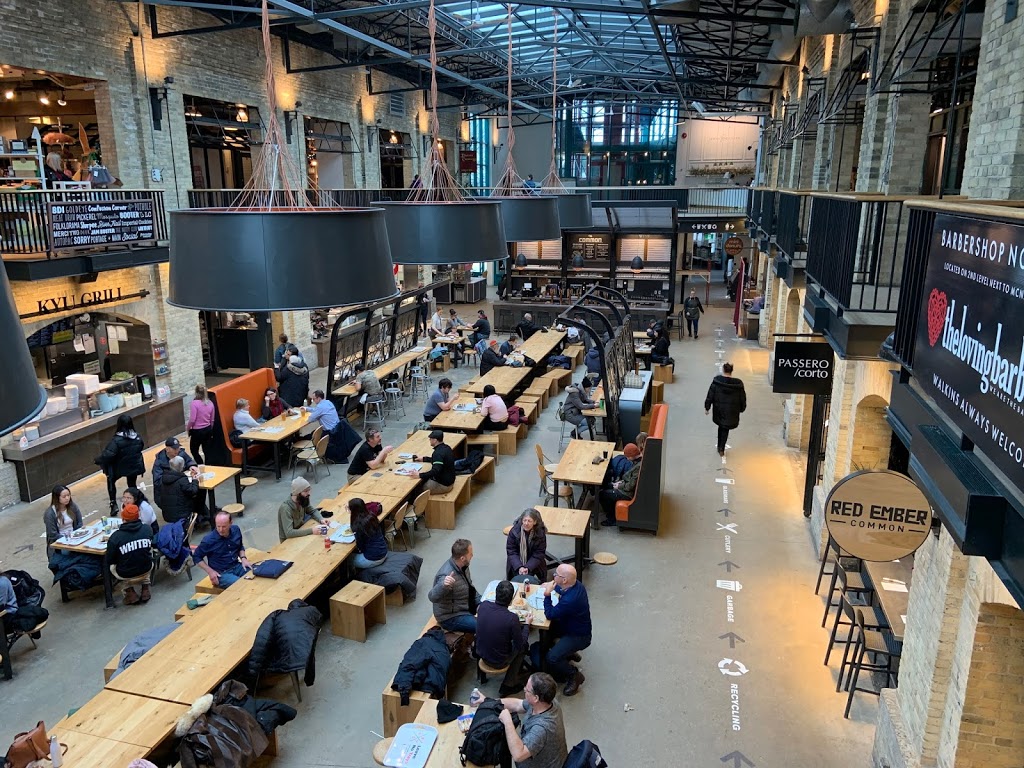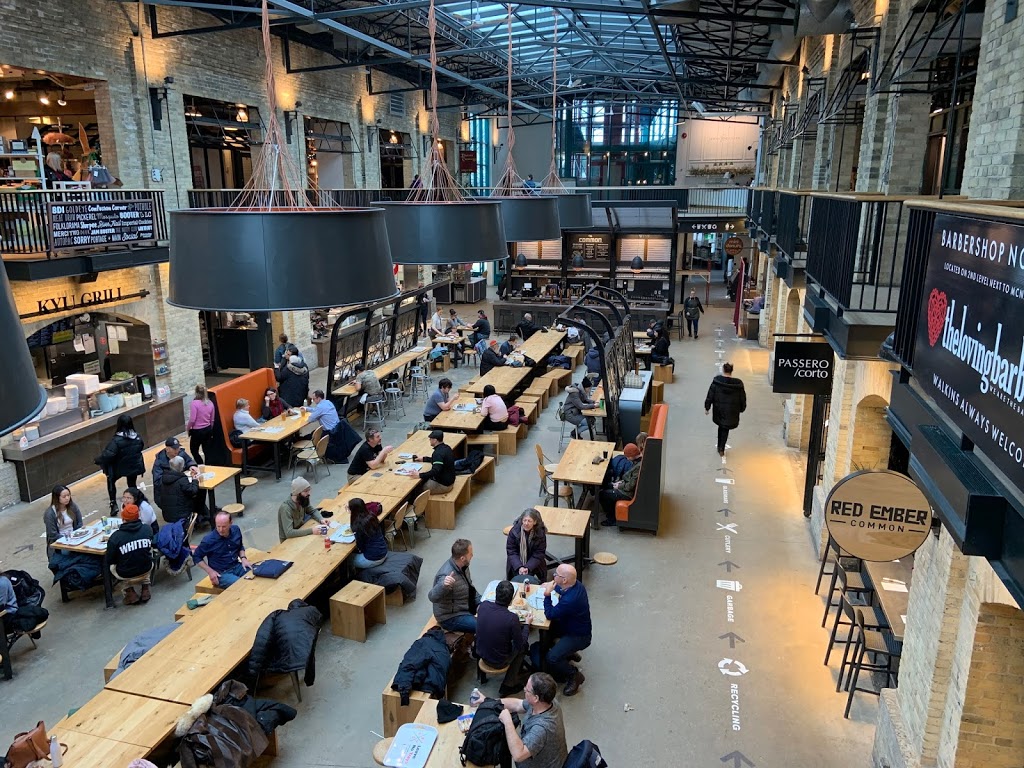 The Forks Market Food Hall offers restaurant kiosks with a modern food truck flair such as Bindy's Carribean Delights, Passero/Corto (Italian, sandwiches and coffee), Danny's All-Day Breakfast, Fergie's Fish and Chips, Fools & Horses Coffee, Fusian Experience (Japanese food & sushi), Nuburger, Red Ember (pizza), Simon's Steaks (South American food), Wienerpeg (gourmet hotdogs), and Zorba's Greek & Italian.
If you have a sweet tooth, try Neon Cone for ice cream and Mini Donuts Factory. Tall Grass Prairie Bread Company has organic baked goods and famous cinnamon buns and Jenna Rae Cakes has yummy and attractive cupcakes and cake pops.
The Forks Market also a craft beer and wine counter called The Common. It can be very crowded and hard to find a seat. Luckily, their liquor license allows you to carry and consume your alcohol anywhere in the building.
Taste of Sri Lanka
that has spicy and flavourful dishes like curry eggplant and deviled chicken.
The Forks Market Tower is six stories high and offers nice views of the rivers, downtown, and the Canadian Museum for Human Rights.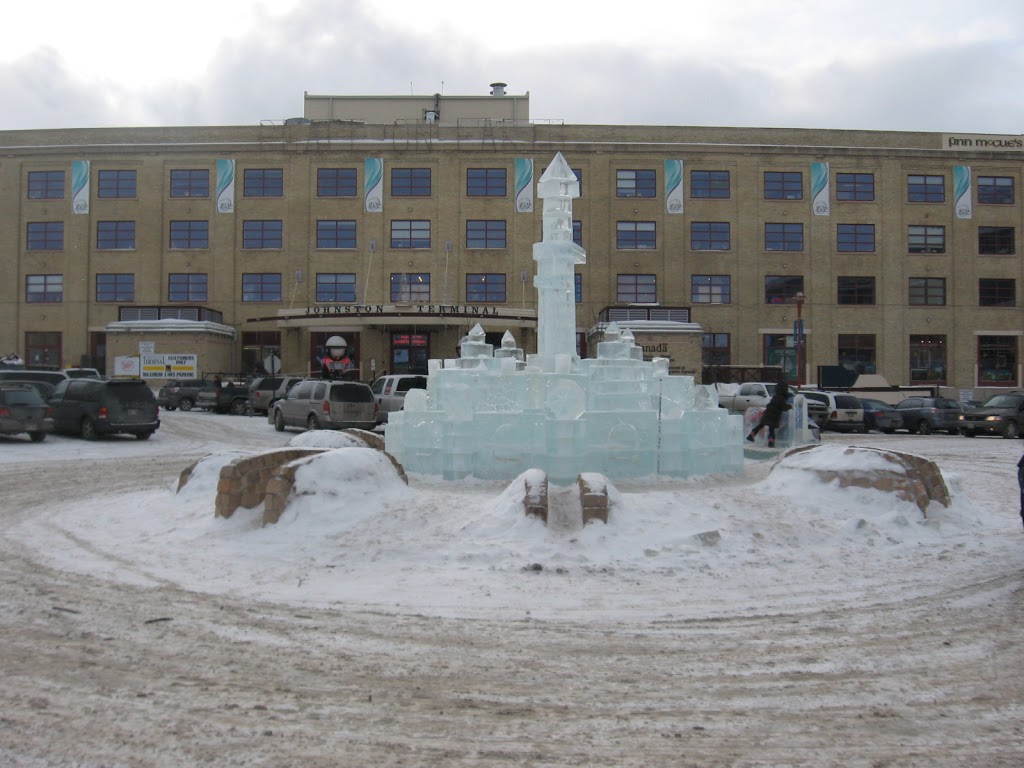 Johnston Terminal
Johnston Terminal has a huge antique mall in the basement that has the feeling of a flea market with many different vendors and types of merchandise.
Harrison's Coffee Roasters
Espresso Junction with a view of the central Plaza.
Old Spaghetti Factory
is not a local business, but it still has an awesome old-fashioned décor. Next to Old Spaghetti Factory is a small art gallery called
Pulse Gallery
with paintings, pictures, jewelry, and scarves by Manitoba artists.
Take the glass elevator up to the second floor of Johnston Terminal to get to a large local toy store called Kite and Kaboodle with many educational and brand name toys and book.  There you will also find a bohemian store Global Connections with products like clothes, music, books, art, and statues, many made by foreign artisans.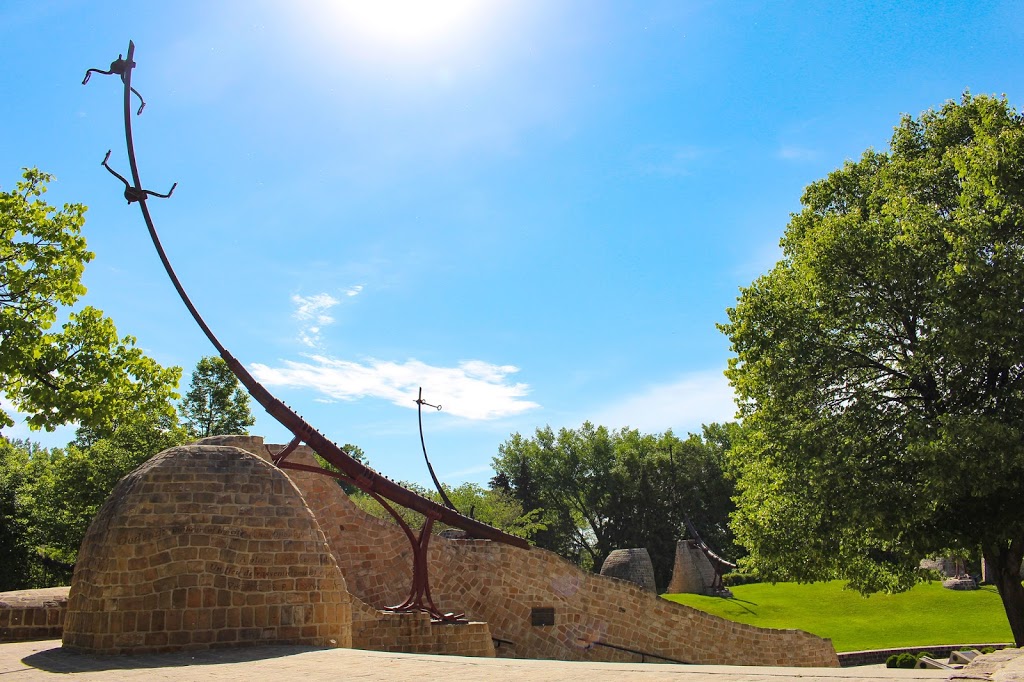 Indigenous Culture
Indigenous culture and art is evident at an interesting aboriginal art & craft store called Teekca's Aboriginal Boutique in The Forks Market, the Winnipeg Art Gallery store in Johnston Terminal.
Outside, you will find the Balance of Spirit Within Rock and the Niimaamaa sculpture.
We like to spend time at Oodena Celebration Circle, which is a natural shallow amphitheatre that honours the 6,000 years of Aboriginal peoples in the area. It features fantastic sculptures, a sundial, a naked-eye sky observatory, and a ceremonial fire pit.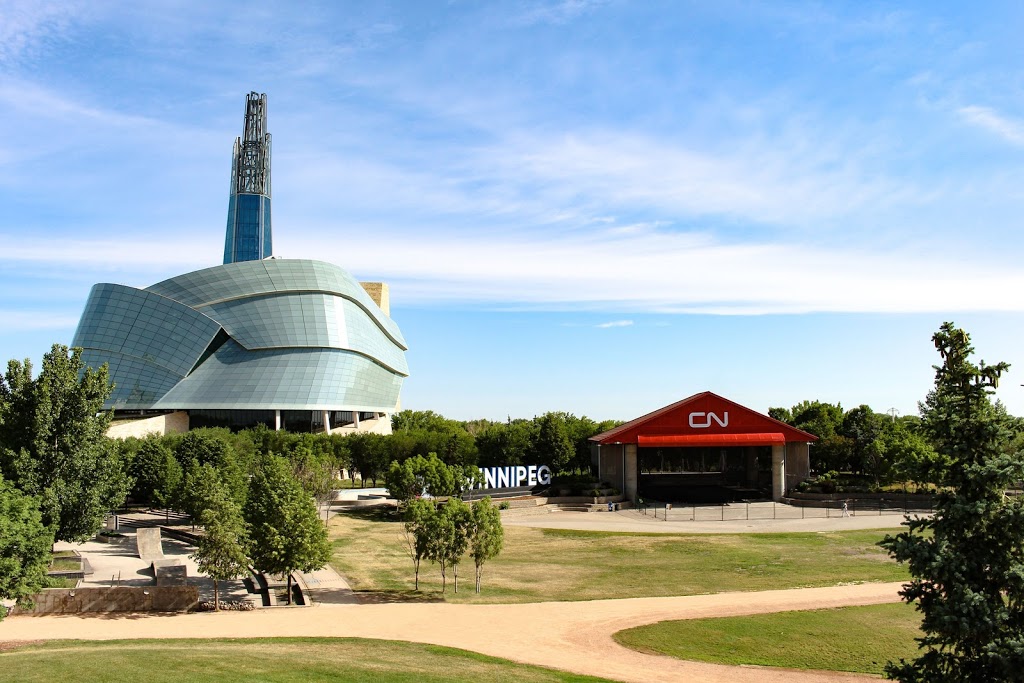 Canadian Museum For Human Rights
The Canadian Museum for Human Rights is located adjacent to The Forks. The stated mandate of the museum is to "explore the subject of human rights with a special but not exclusive reference to Canada, to enhance the public's understanding of human rights, to promote respect for others and to encourage reflection and dialogue."
The Museum cost $350 million and is the only national museum outside of the Ottawa area. It was designed by Antoine Predock and is an innovative structure of curving lines and bold geometry. Many of the surfaces are irregular, with more than three‐quarters of the walls sloped at unusual angles.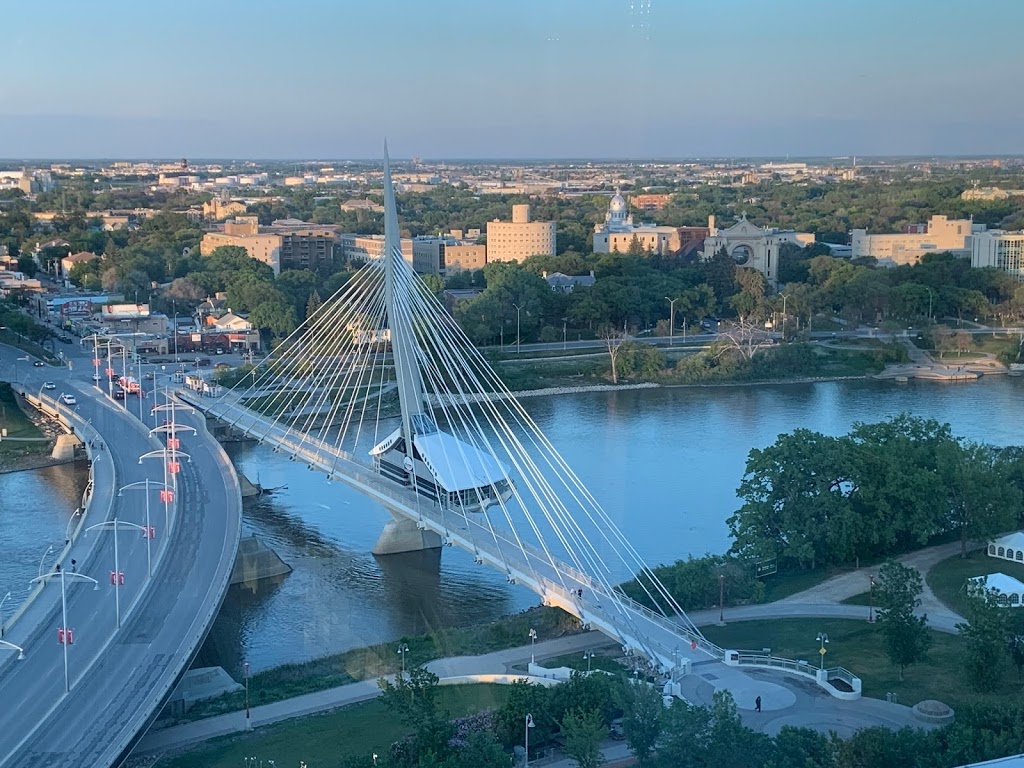 One reason it was conceived was so that Canadians could learn about the Holocaust without going to the Holocaust Museum in Washington or Houston and while learning about other human rights abuses around the world at the same time.
If you go to the CMHR, be sure to bring comfortable shoes and be prepared to cry.
Other Attractions At The Forks
There is a great boutique hotel called Inn At The Forks on site with an amazing spa called Riverstone Spa.
In the Summer, people flock to The Forks for concerts at the outdoor CN Stage, festivals, special events, buskers, and people-watching in the Plaza.
It is wonderful to take a relaxing stroll along the lovely, tree-lined riverwalk, where you will see why Winnipeg got it's name (Cree for "muddy water"). You can also look across the river and see the St. Boniface Cathedral.
Parks Canada has a 9-acre park at the Forks National Historic Site along the Red River with local history exhibits, art, and an amphitheatre. Kids love to play in the fun and unique playground there.
Keep going down the riverwalk past the Esplanade Riel and you will pass Shaw Park, the baseball diamond where the Winnipeg Goldeyes play.
Walk a little further and you are in the Historic Exchange District. Click here to read our post about the Exchange District.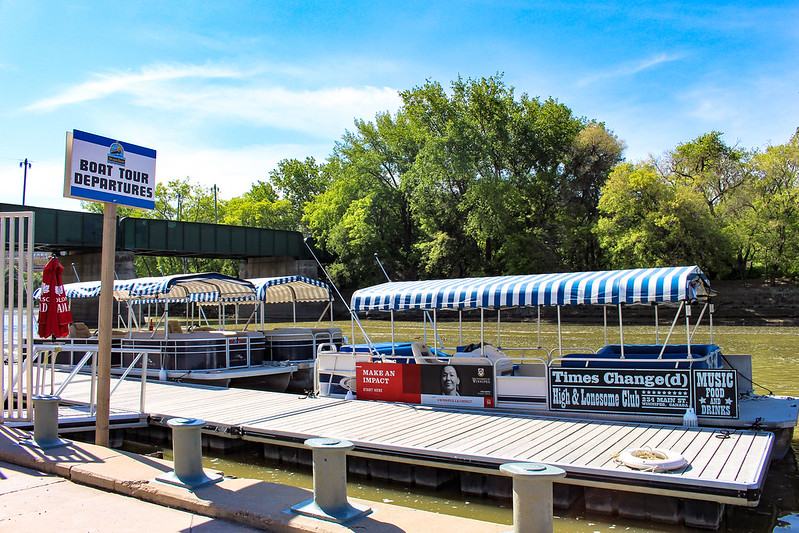 Water Taxi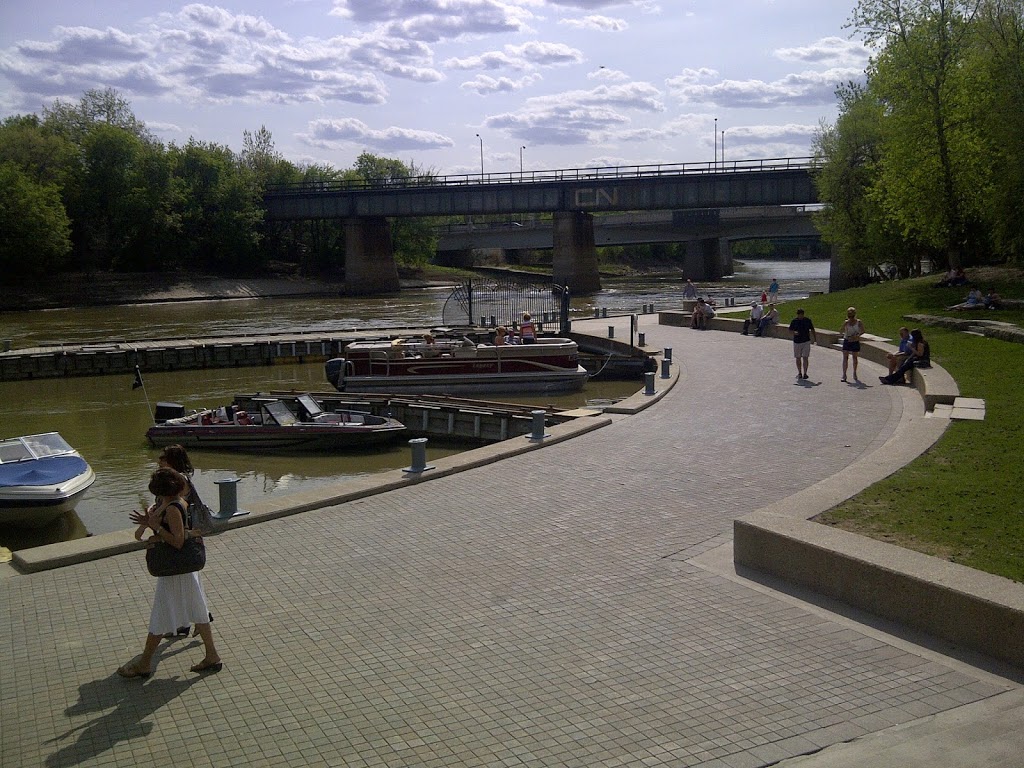 Historic Port
Families with kids can take a water taxi to several downtown locations from the historic port.
Families can also take their kids to go skateboarding at Canada's largest urban skate plaza, play for hours in the Parks Canada Playground, see a play at the Manitoba Theatre for Young People, or engage in interactive exhibits at the Manitoba Children's Museum.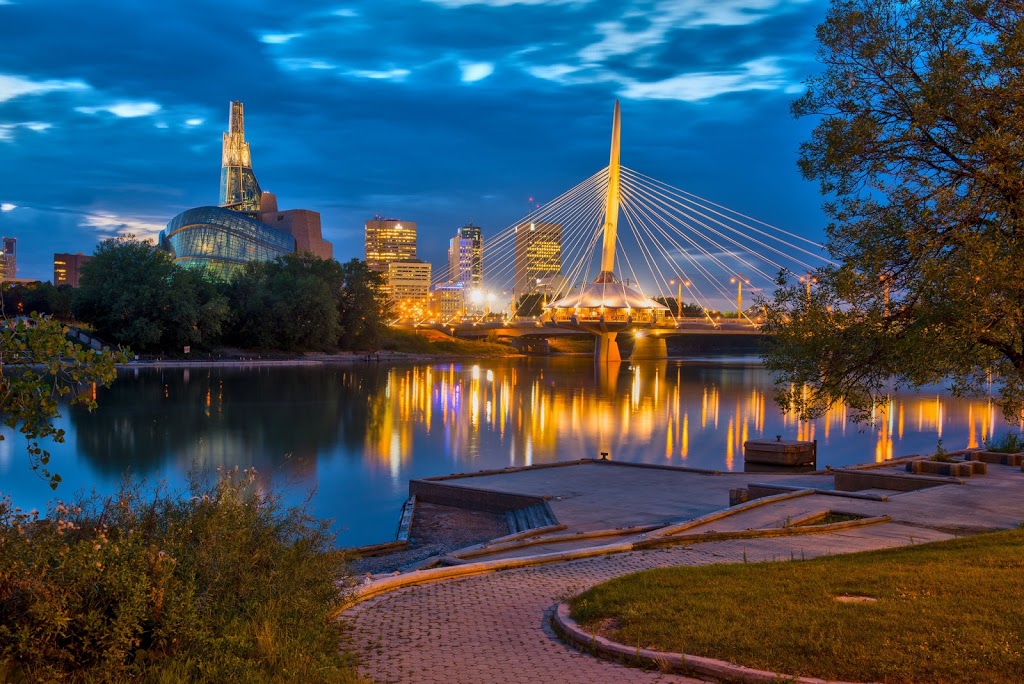 In Summer, you can also eat at Mon Ami Louis, a French restaurant in the middle of the Esplanade Riel bridge overlooking the Red River. Mon Ami Louis is the only restaurant located on a bridge in North America and has a so-called "million-dollar" toilet because of the high cost to get plumbing to the restaurant.  As you enjoy menu items like Crepes, Tartes Flambees, and Escargots, you will be treated to a lovely romantic view.
Crossing the Esplanade Riel will bring you to the French Quarter. Please click here to read our post about the French Quarter.
You can also walk or bike across the The Forks Historic Rail Bridge for a great spot to overlook the junction of the Assiniboine River and the mighty Red River.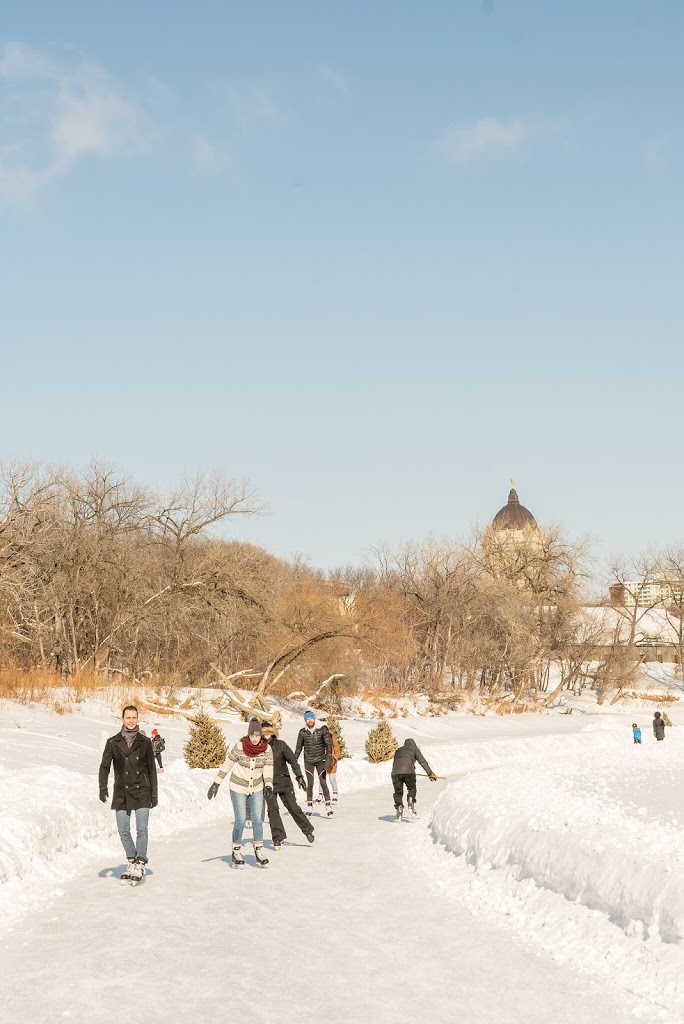 Manitoba 150 River Trail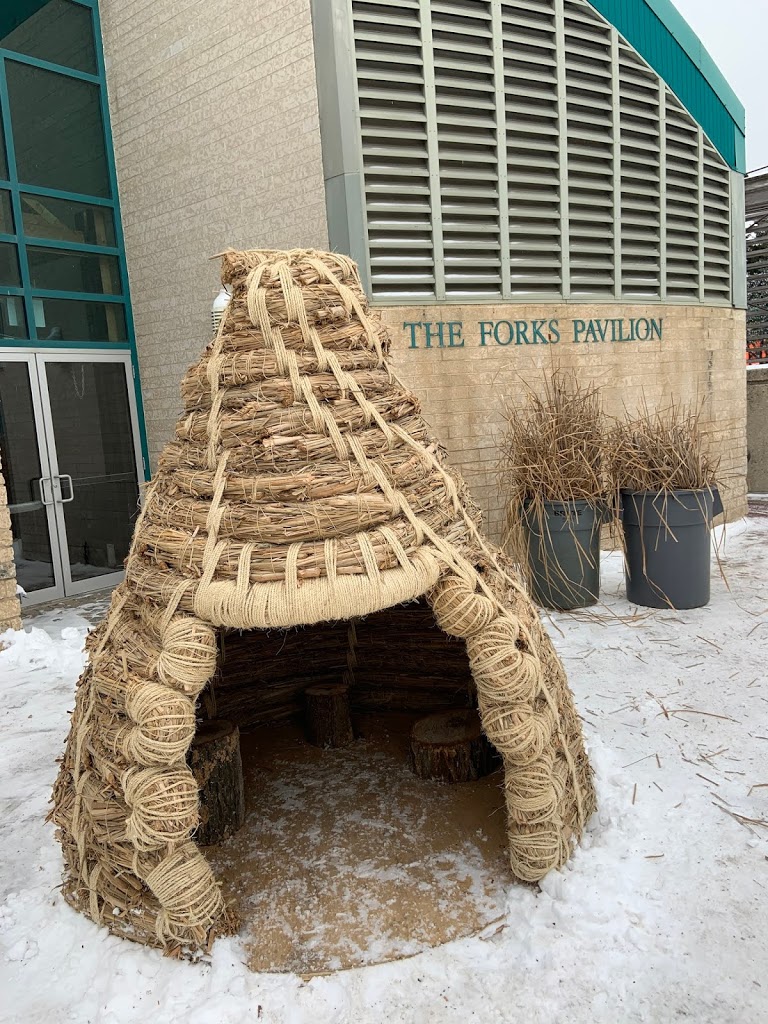 Warming Hut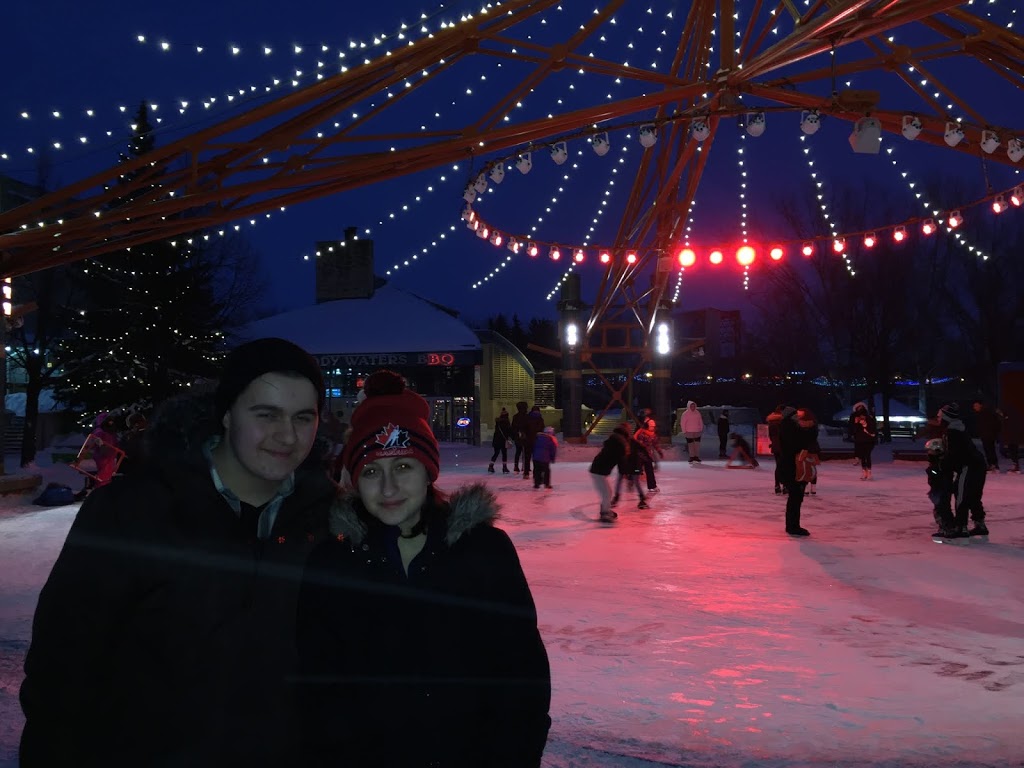 Skating in the Plaza under the Canopy
In the Winter, The Forks has the world's longest skating surface along the rivers dotted with warming huts designed by artists from around the world.
You can rent some skates and skate over the Rail Bridge or hold hands while skating on a lovely ice skating rink under a canopy with music in the Plaza. If you can snag a hockey stick, there are several large sheets of ice for playing pick-up ice hockey.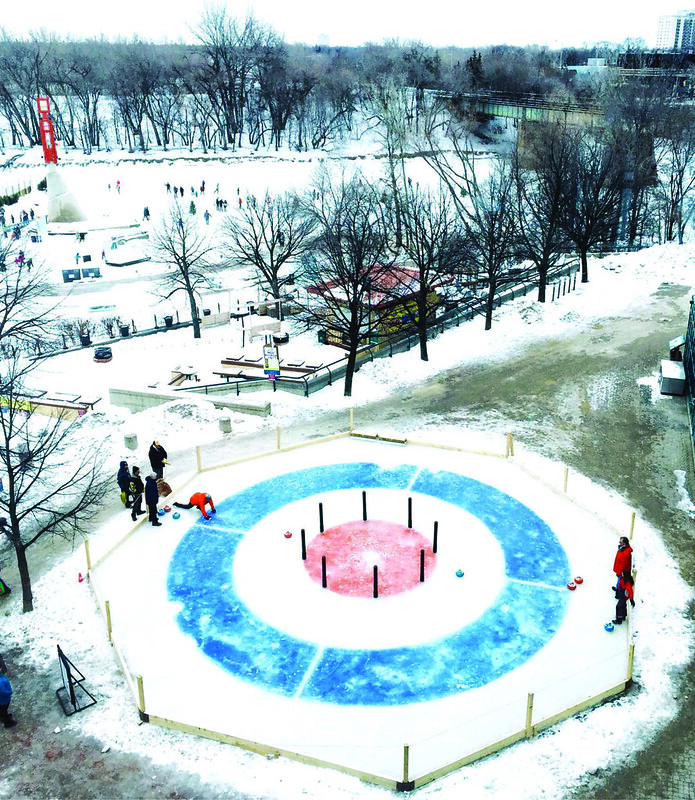 In Winter, you can also play Crokicurl, a fun and surprisingly challenging game created in Winnipeg recently that combines curling and the board game Crokinole.
Happy Travels,
Kevin & Tina
Please subscribe to our newsletter to receive notifications for new posts and other content. 
P.S. Here are links to our social media accounts, in case you want to connect that way:
Retirestyle Travel Instagram
Kevin's LinkedIn
Retirestyle Travel Facebook Page
Kevin's Pinterest
Retirestyle Travel TikTok
Retirestyle Travel Twitter
Retirestyle Travel YouTube (Please check out our YouTube Channel for travel videos)
You May Also Like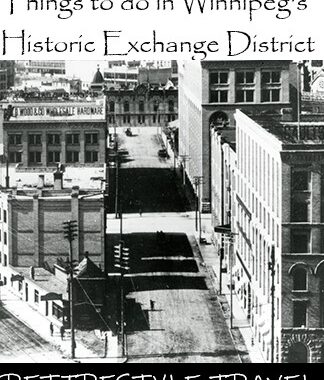 January 1, 2021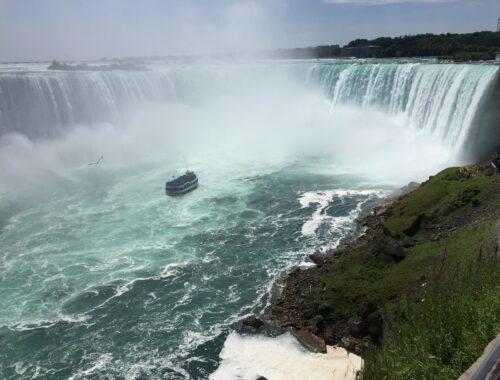 February 25, 2020