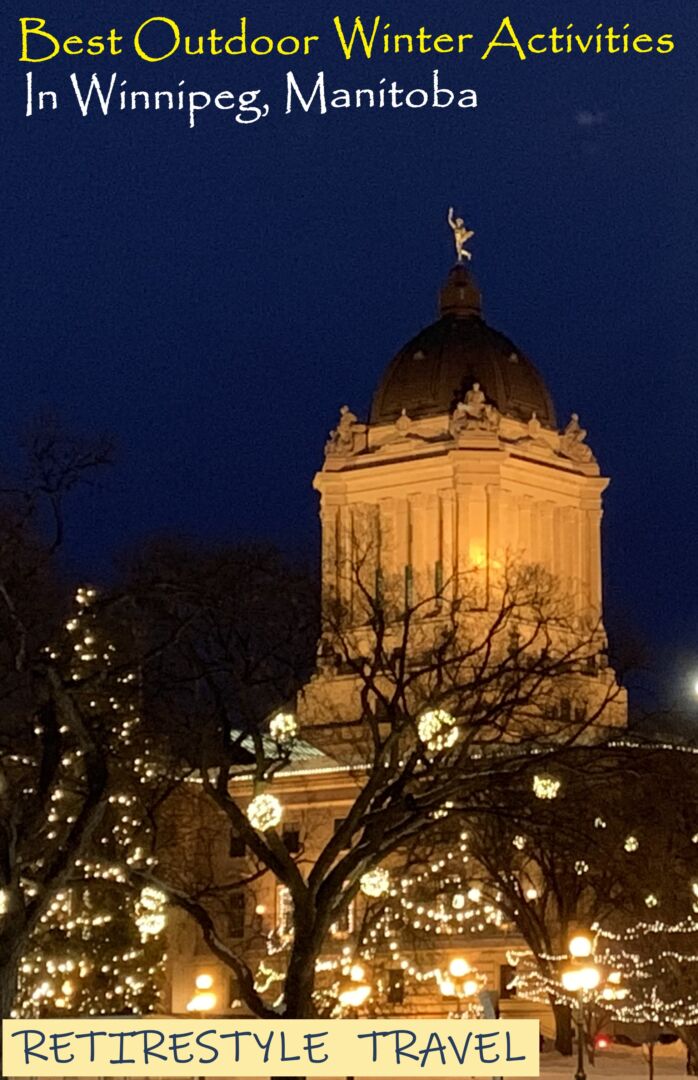 Best things to do in Winnipeg, Manitoba in Winter
February 12, 2021
Best Winter Things To Do In Winnipeg, Manitoba
Winnipeg residents sometimes get teased about it when people from other provinces call us "Winterpeg" or ask us why we still live in Winnipeg when it has such cold Winters.
How cold is it in Winnipeg?
We can confirm it is cold in Winnipeg.
There is snow on the ground for almost 6 months of the year.
Winnipeg is the coldest city in the world with a population of over 500,000 people.
The average daily high temperature in Winnipeg in January is -10 degrees Celsius, which is colder than any other major city in Canada.
Winnipeg's coldest days are colder than the surface of Mars.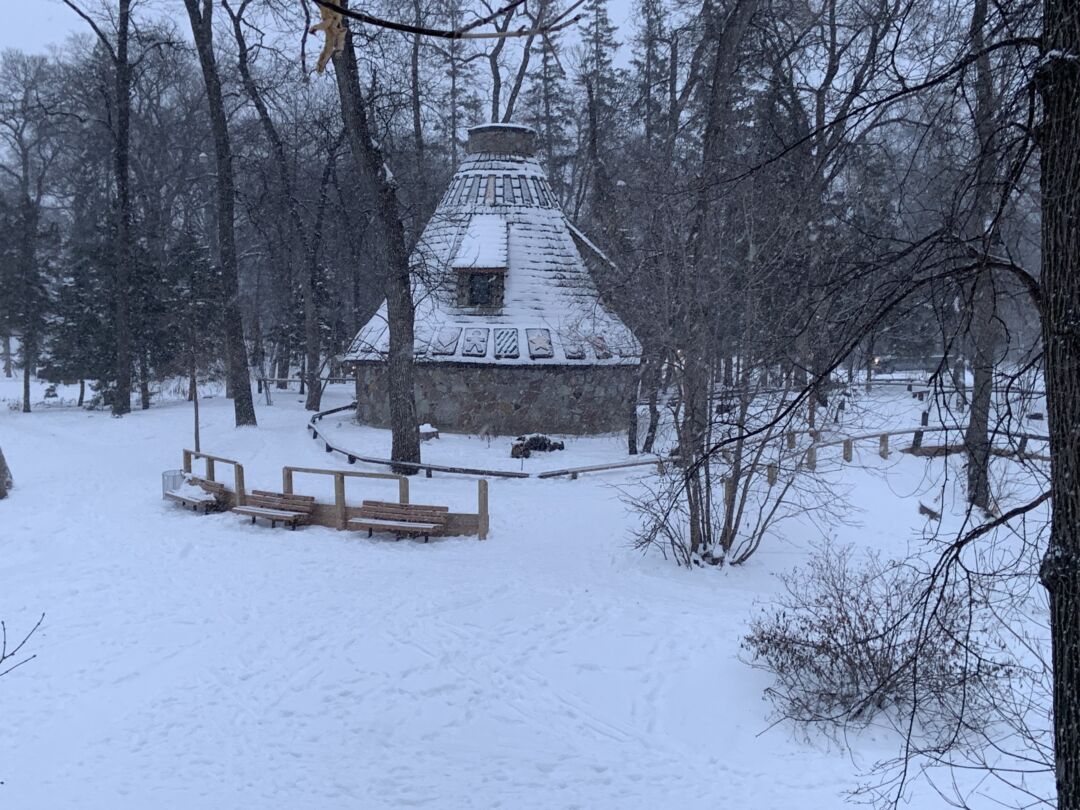 How do we survive the cold Winters in Winnipeg?
Let's start by saying that Winnipeg Summers are gorgeous and sunny, which makes up for the long Winter. Perhaps we appreciate Summers more because of the Winters.
The way we think about it, being mostly indoors where the heat is on and it is toasty warm during Winter in Winnipeg is not much different than being mostly indoors where the air conditioning is on and it is cool during Summer in other cities that are closer to the equator. It a normal part of living here and living there.
The uninformed people that tease us about Winnipeg's Winters don't realize that Winnipeg gets less snow annually than Toronto and half as much as Montreal.  They have more shoveling to do and icier, more dangerous roads.
Some Winnipeg residents have become fed up with long, cold Winters in Winnipeg. They have become snowbirds who travel to places like Arizona, Mexico, or Hawaii for 2 to 6 months each year during the coldest Winter months, which leaves the rest of the year to enjoy the beauty and wonders of Winnipeg and Manitoba. We are actually writing a book based on our research about finding and evaluating the best places for Canadian snowbirds to travel. You will find many other posts targeted at snowbirds and people who want to retire abroad on this blog.
Most importantly, Winnipeggers have embraced our Winters and found ways to enjoy Winter rather than hibernate.  If you are living in Winnipeg in the Winter, you might as well make the most of it. Buy a good Winter jacket and boots, and discover some fun outdoor Winter activities.
Winnipeg was named an official "winter city" in 2017 by the World Winter Cities Association, which means we are a great place to visit in the Winter.
Why wouldn't someone who lives closer to the equator want to experience the wonder of ice sculptures, giant snowflakes falling, ice skating, or tobogganing?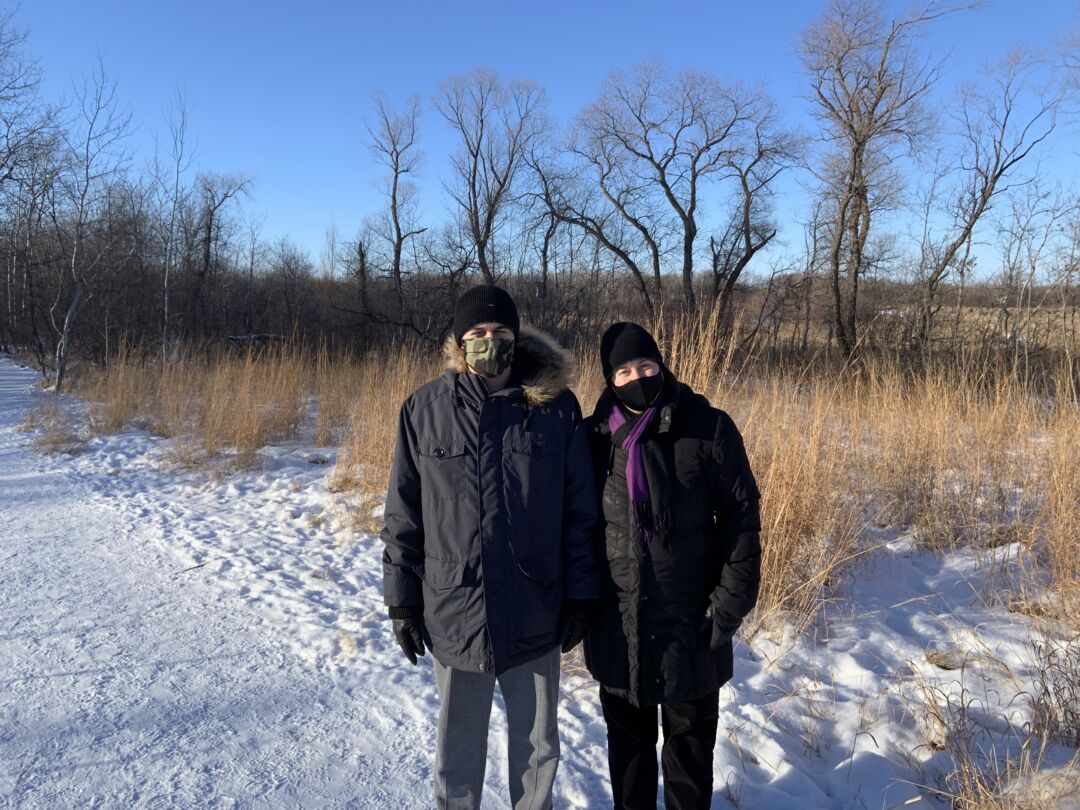 What are the best outdoor Winter activities in Winnipeg?
There are many interesting and unique things to do in Winnipeg in Winter.
Visitors from warm climates might be impressed and awed by simple things such as walking in the snow while big fluffy snowflakes drift down.
Here are a few of the best things you should try to experience if you are in Winnipeg in the Wintertime.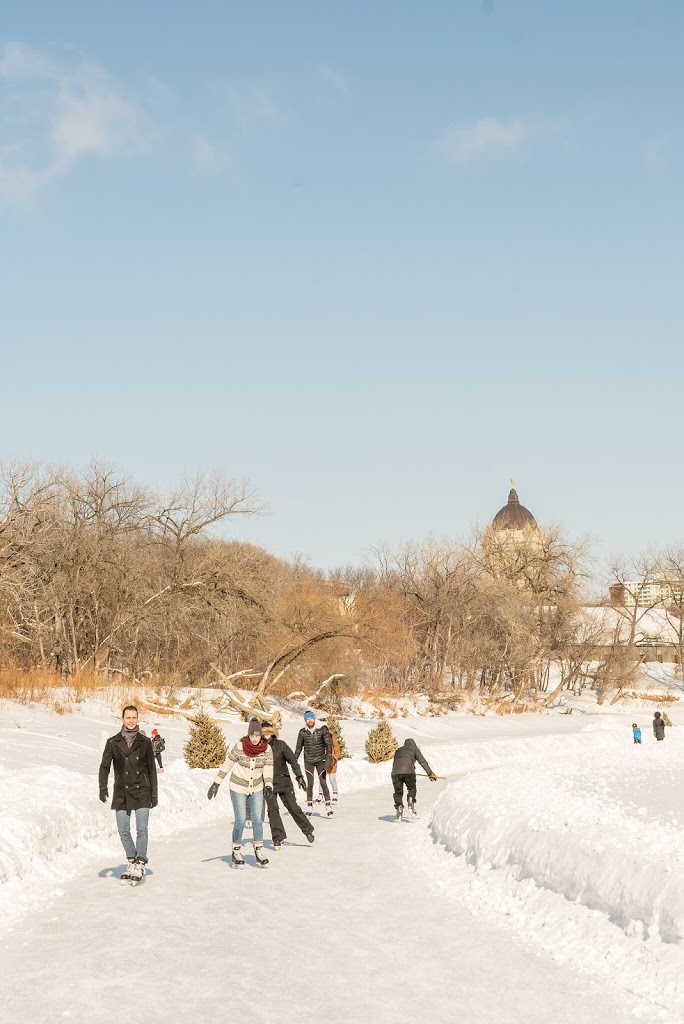 Ice Skating
The Forks Red River Mutual Trail is around nine kilometres and in recent years was the longest skating trail in Canada. If you need a rest or shelter from the cold wind, you can take a break in one of the unique warming huts along the way that are made by artists from around the world (almost like an art exhibition). Don't worry if you forgot your skates, because you can rent them inside The Forks Market.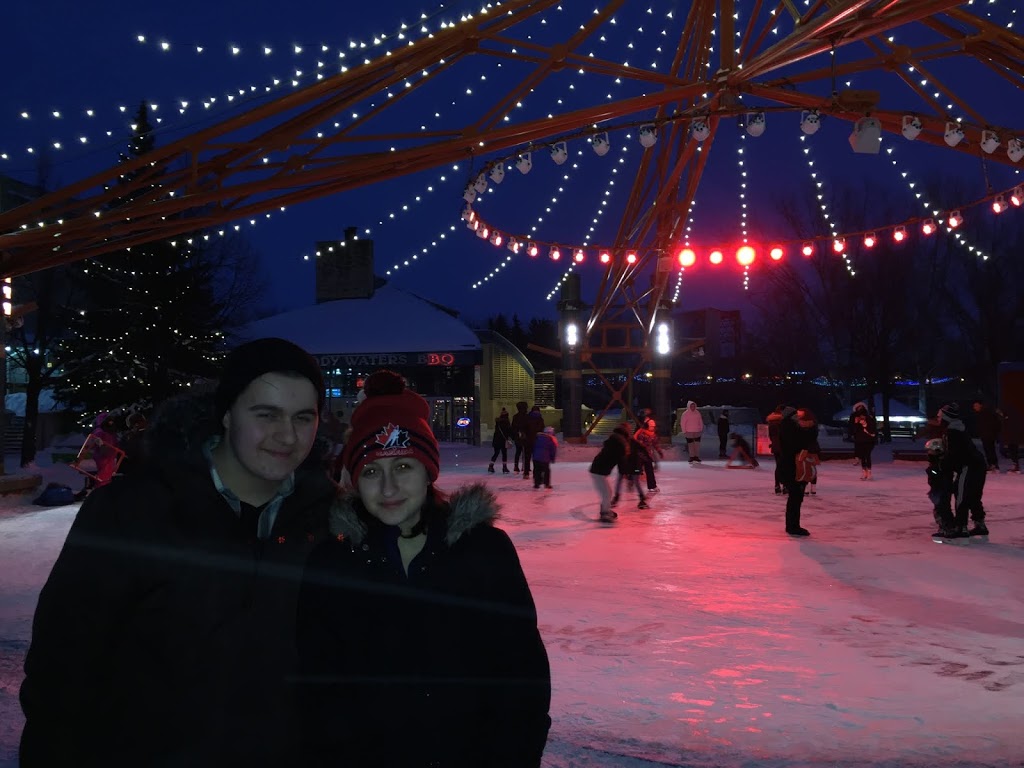 The Forks is also home to Arctic Glacier Winter Park. During the day, you can sled down the hill or even snowboard down a hill with a snowboarding rail. If you are lucky (and it is not shut down due to the pandemic), you can also play a fun outdoor game on ice that combines Crokinole and Curling called "Crokicurl" at the Forks. As you skate at night along trails leading you to the rink near the CN stage, you will be amazed by a canopy of thousands of lights above and around the trail. They also have beautiful lights overhead as you skate across the Forks Historic Rail Bridge. Our favourite place to skate at the Forks is in the plaza, where you can hold hands as you you skate under the lighted canopy while listening to music on loudspeakers.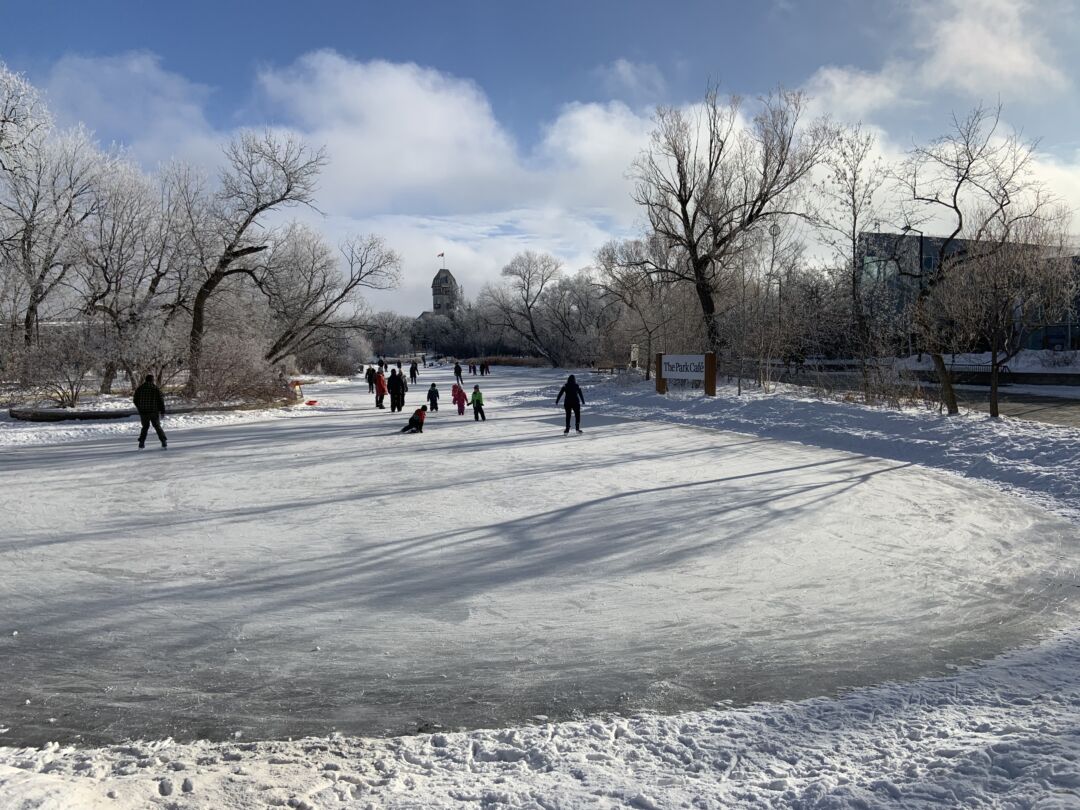 The skating rink on the Riley Family Duck Pond in Assiniboine Park is in a scenic location surrounded by trees. There is a heated building with public washrooms for lacing up your skates and even a restaurant with a takeout window called the Park Cafe where you can grab a coffee or hot chocolate. This year, there were lovely Christmas lights in the trees around this skating rink for a magical ambiance at night.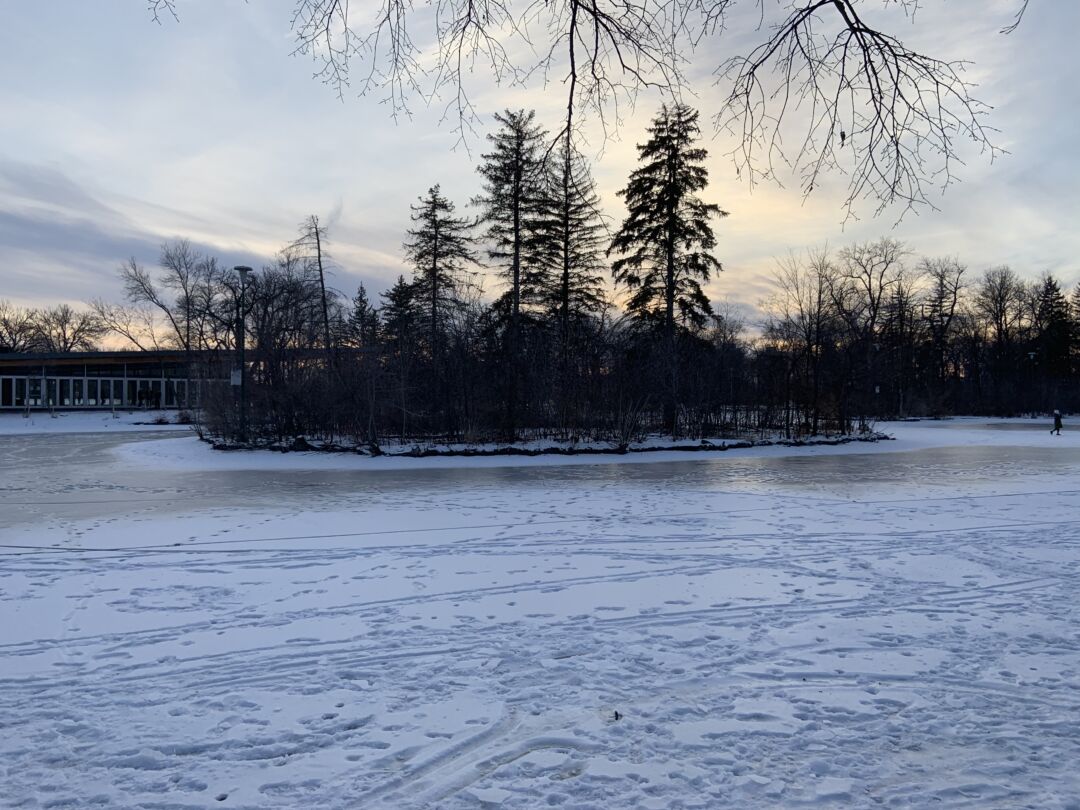 There is also a skating rink on the St. Vital Park Duck Pond. This ice rink is quite large and you skate around a few "islands" with trees and aboriginal art. There also is a heated room to change into your skating gear with public washrooms and sometimes there is a fire going in a giant outdoor fire pit next to the building.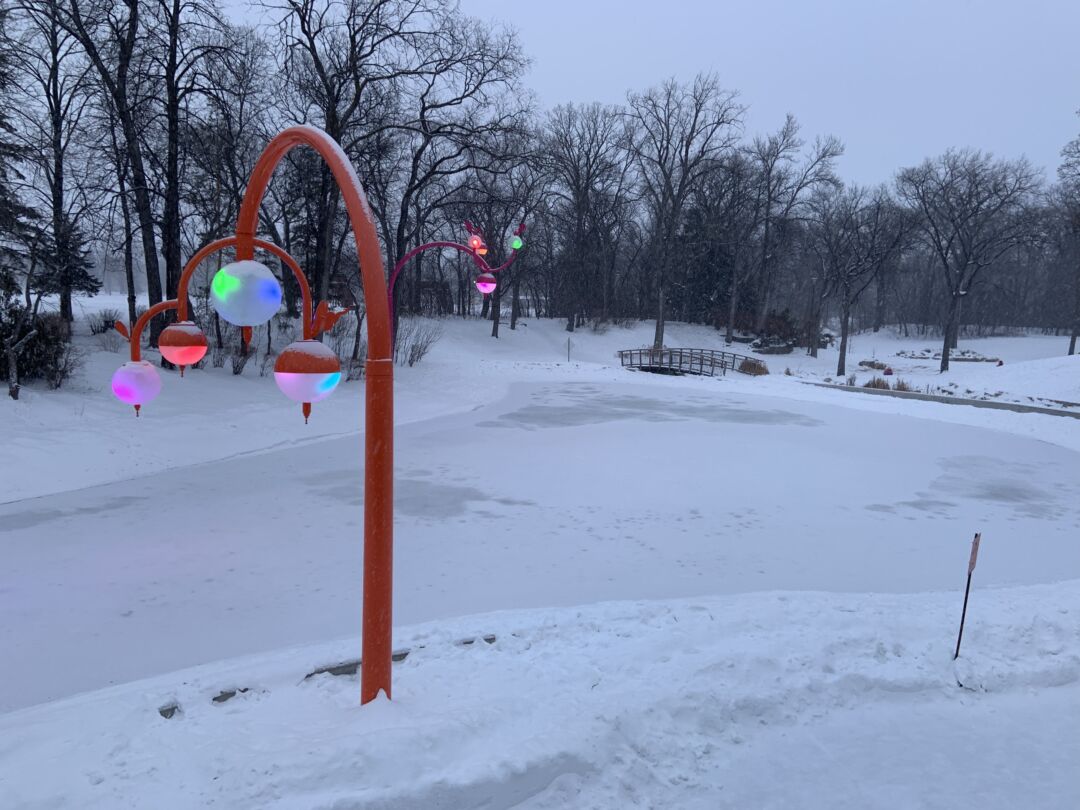 The Kildonan Park Duck Pond is another great place for skating in Winter. At night, they have cool colourful light poles. The building with the heated changing room and public washrooms also houses a restaurant called Prairie's Edge where you can order takeout coffee, hot chocolate or snacks while you skate. There is a small hill next to the duck pond that usually crowded with smaller kids on their sleds.
Most of these skating surfaces prohibit hockey sticks and pucks, but if you want to play some pickup ice hockey, you can go to the large rinks on the Assiniboine River and by the CN stage at the Forks or just go to your local community centre.
Cross-country skiing
Manitobans are fortunate to be able to hike through nature in many scenic locations throughout the Province. Some people still hike during the Winter months, but many of the hiking trails become cross-country skiing trails in the Winter.
Cross-country skiing became particularly popular during the COVID-19 lockdown.
You can ski along the Assiniboine River and Red River in many locations around Winnipeg. You can also go to any of the parks listed above or even some City of Winnipeg owned golf courses to find some lovely ski trails.
Probably the best place in Winnipeg for cross-country skiing is Windsor Park Nordic Centre. You will pass lovely scenery as you ski through 15 kilometers of trails that are even lit at night.
Snowshoeing
Luckily, we live close to FortWhyte Alive, which offers winter activities such as horse-drawn sleigh rides, igloo building, skating, cross-country skiing and ice fishing.
This incredible nature reserve also has a fun toboggan slide that ends on the frozen lake.
If you are lucky, you might see Canada's only urban herd of Bison.
The first time we went snowshoeing was at FortWhyte Alive. We rented snowshoes and walked through some snowy trails. I believe we also roasted fresh bannock bread over a fire pit.
We have read online that you can also take guided snowshoeing tours that last 45 minutes and, at the end, you warm up with a cup of hot chocolate around a bonfire while you make s'mores.
Another popular place for snowshoeing in Winnipeg is the Living Prairie Museum, which even offers free snowshoe rentals at certain times of year.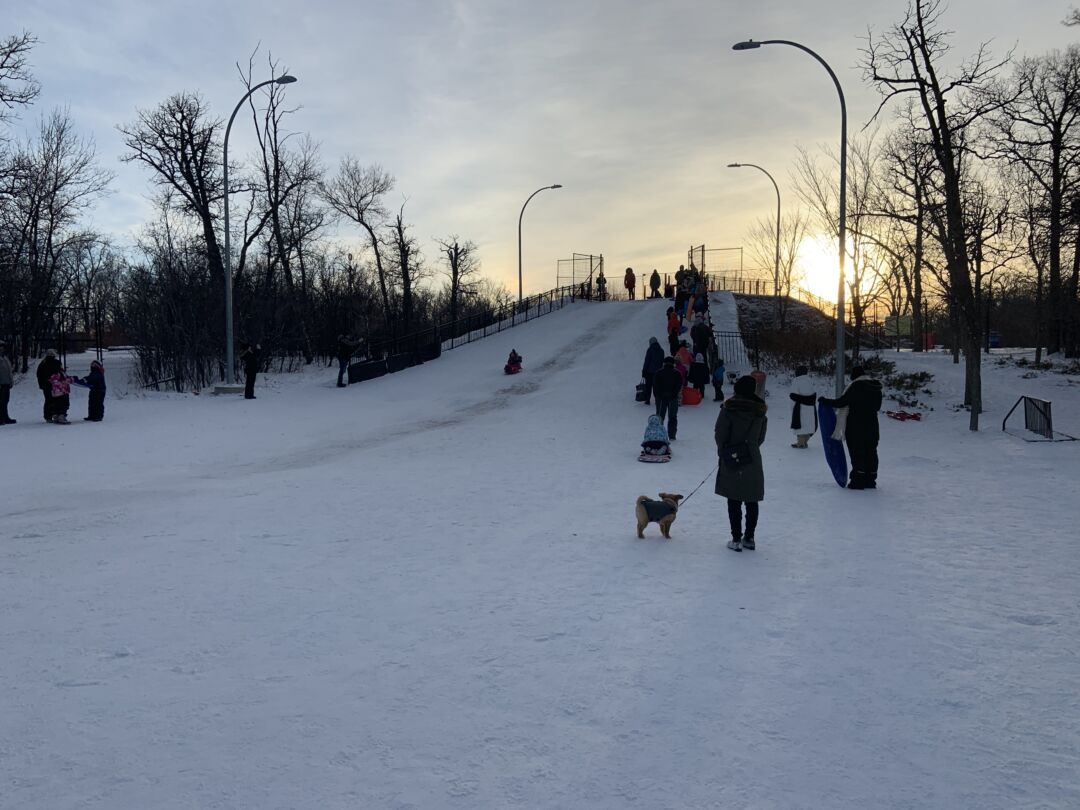 Tobogganing
Kildonan Park and St. Vital Park have toboggan slides.
Assiniboine Park has a small toboggan hill between the Pavilion and the duck pond skating rink.
Bunn's Creek Park in River East has a large toboggan hill with lighting and an attendant on some days.
One tobogganing hill that is dear to many Winnipeggers is in Westview Park, which is lovingly called Garbage Hill because it was a former garbage dump. Just be careful that you don't go too fast because there is not a lot of runway at the bottom of the hill.
Some schools and community parks, like the green space behind Linden Meadows school in Linden Woods, have fairly large hills formed by landfill from creating the large man-made drainage lakes. We find those are not as crowded and are more exciting than the toboggan slides at the parks.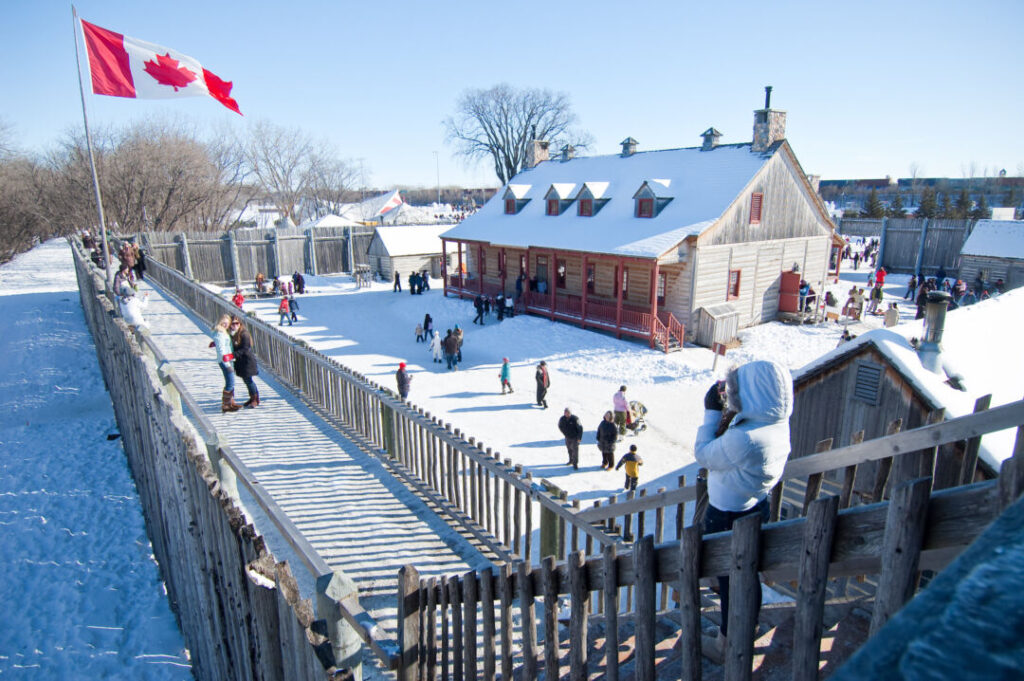 Fort Gibraltar in Winter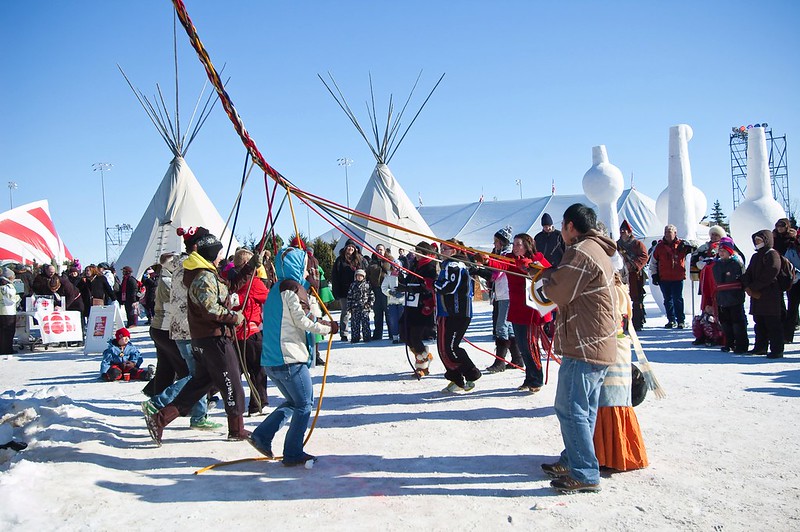 Festival du Voyageur Activity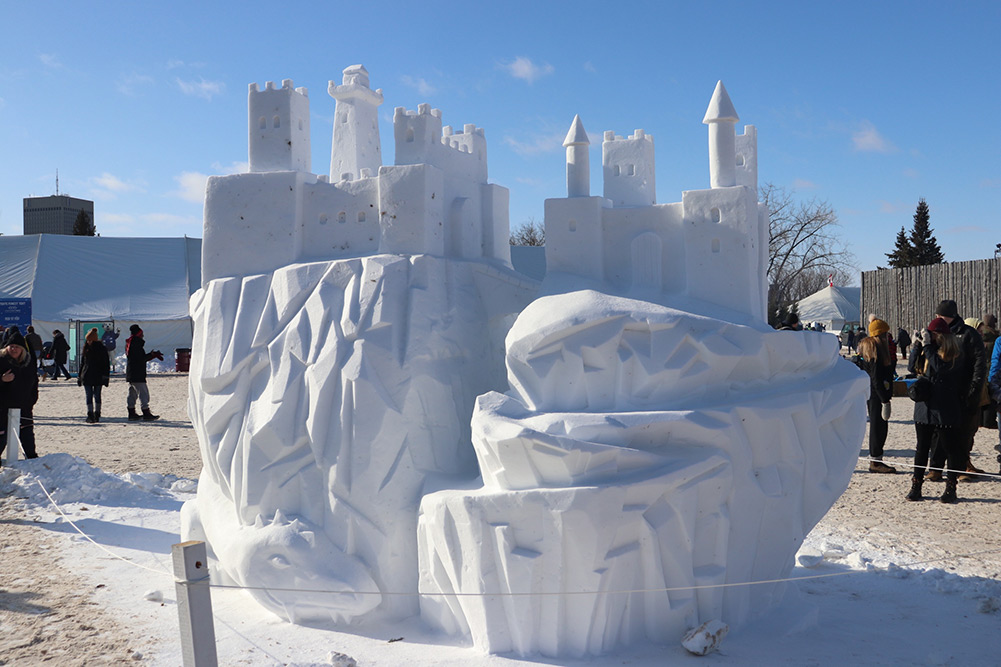 Festival du Voyageur Ice Sculpture
Festival du Voyageur
Western Canada's largest Winter festival is held in St. Boniface and called Festival du Voyageur.
Dressed comfortably, you can enjoy outdoor performances including things like fiddling, jigging and French-language folk music.
The festival grounds are inside Fort Gibraltar, which has buildings and actors that immerse you into life in a trading post in 1815.
Inside, you should try snowshoeing, an icy slide for tubing, and a horse-drawn sleigh ride.
If you have children or have a sweet tooth, you will love to pour hot maple syrup on the snow and then roll it around a Popsicle stick for a sweet treat.
St. Boniface and downtown Winnipeg showcase large, wonderful snow sculptures by global artists.
The St. Boniface Section of the Alpine Club of Canada creates a 20-metre ice tower for ice climbing from December to mid-March each year. The cost of the activity includes a safety harness, ice picks, and boots.  It is conveniently located right next to Fort Gibraltar.
Please click here for a full article about all of the things to do in Winnipeg's French Quarter, including Festival du Voyageur.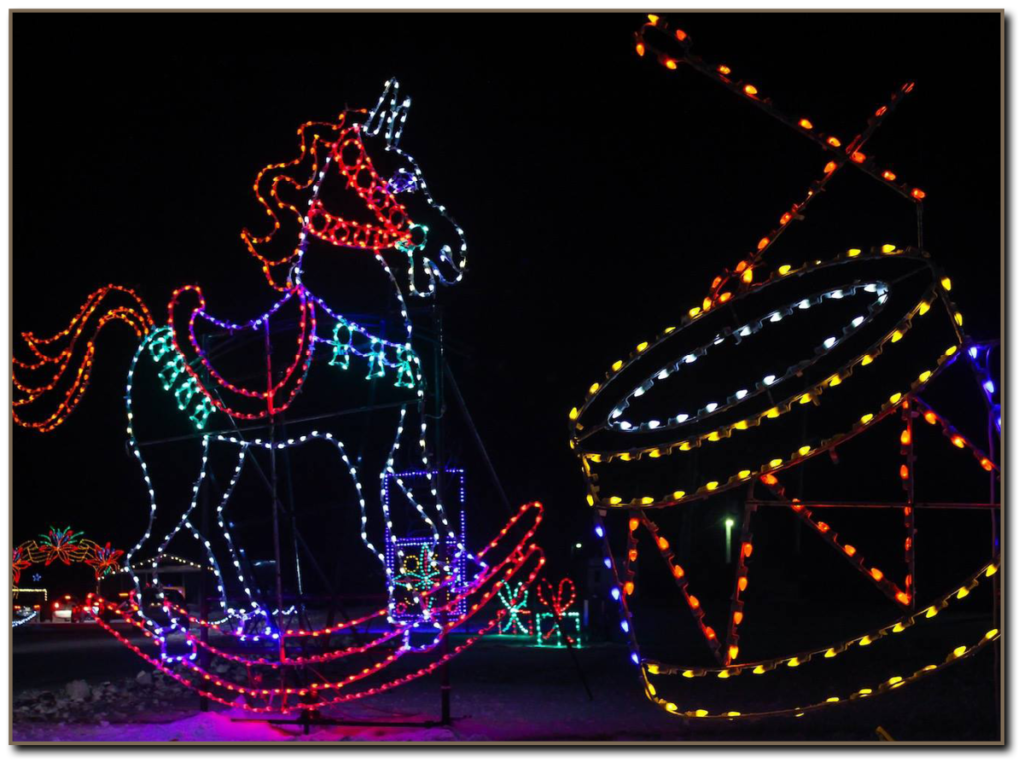 CanadInns Winter Wonderland
Every year from late November to early January, Red River Exhibition Park sets up a drive-through Christmas and holiday lights display called CanadInns Winter Wonderland. In a normal year, they also have horse drawn sleigh rides, displays for holiday photos, a skating rink, and a food truck to get some mini donuts or hot chocolate.
For another pretty light display, check out the grounds of the Manitoba Legislative Building, which is featured as the main picture of this post.
Snow Maze
We have one bonus suggestion, which is not in Winnipeg. The Snow Maze at A Maze In Corn in St. Adolphe, Manitoba has the Guinness Book of Records World Record for the World's Biggest Snow Maze. It takes about an hour to navigate through this maze made of 6 foot high walls and containing fire pits and snow sculptures.
* Author's Note: Please keep in mind that this Winter has been unlike any other in our lifetimes. So, some of the usual luxuries like heated changing rooms, public washrooms, and even warming huts have been unavailable up to this point. The information above reflects a normal Winter without any pandemic restrictions. Please make sure you follow all COVID-19 guidelines. Also, please phone ahead or check your website to ensure that you can access these great attractions. 
Happy Travels,
Kevin & Tina
Please subscribe to our newsletter to receive notifications for new posts and other content. 
P.S. Here are links to our social media accounts, in case you want to connect that way:
Retirestyle Travel Instagram
Kevin's LinkedIn
Retirestyle Travel Facebook Page
Kevin's Pinterest
Retirestyle Travel TikTok
Retirestyle Travel Twitter
Retirestyle Travel YouTube (Please check out our YouTube Channel for travel videos)
You May Also Like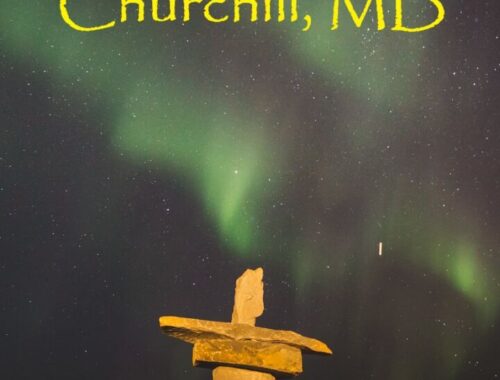 March 19, 2021