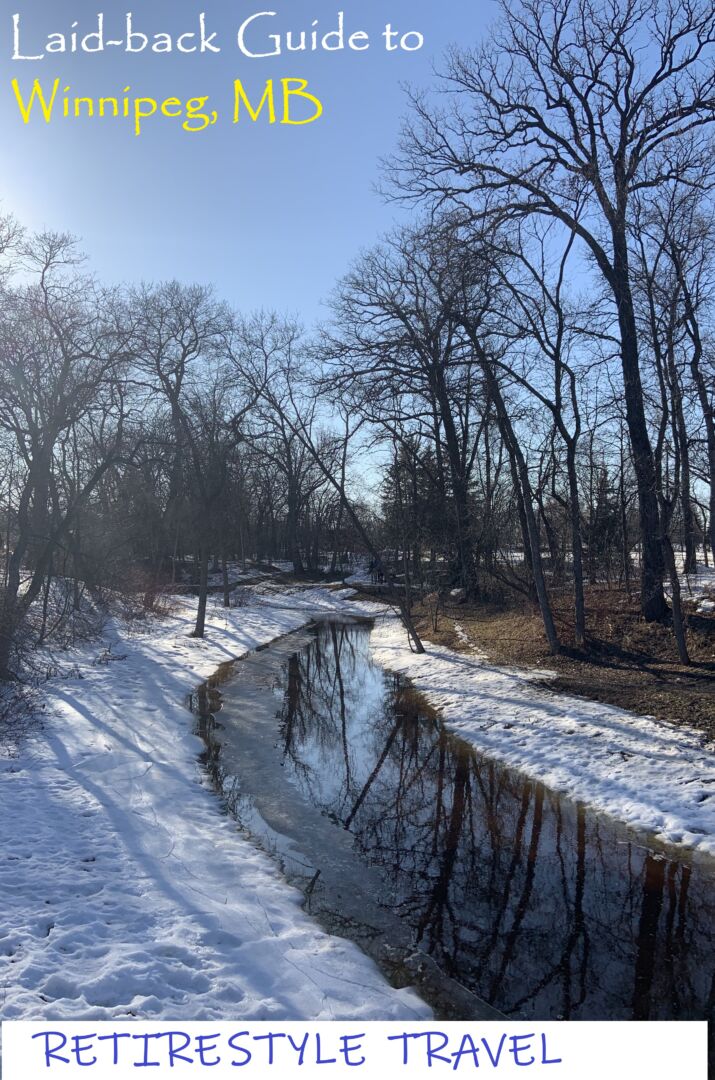 A Laid-back Guide To Winnipeg – Things to do in Winnipeg, Manitoba for older travellers
February 19, 2021
Laid-back guide to Winnipeg –
Things to do in Winnipeg, Manitoba for older travellers
We are not quite senior citizens or retired, but we know that our travel style, tastes and preferences have changed as we aged.
For those of you that are over 40, you might want a bit of a slower pace and more cultural experiences.
For an article about how older travellers are generally different than younger travellers, please click here.
We thought that we could give older travellers ideas for some alternative activities in some of the places we know and love, so expect to see more posts like this for other places.
Here are some suggested activities and attractions in Winnipeg that might appeal to laid-back travellers like you (and us).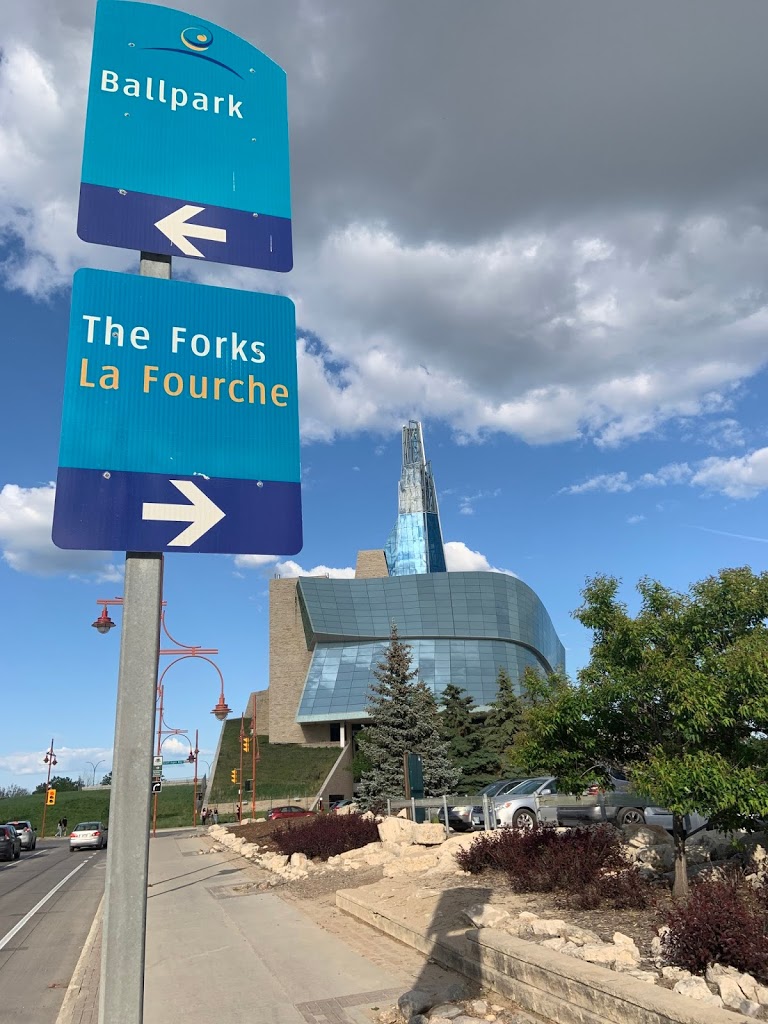 The Canadian Museum For Human Rights
The Canadian Museum for Human Rights is the only Canadian national museum outside of the Ottawa area. The impressive and unique structure was designed by Antoine Predock and stands out against the skyline.
Rather than walking up the 1 kilometer-long ramps to the exhibits on many levels and up to the Israel Asper Tower of Hope, people with disabilities or sore joints can take elevators up and down.
After learning about human rights abuses around the world and people who fight to protect the human rights of others, sit and reflect in the tranquil Garden of Contemplation.
Before leaving the CMHR, have a refreshment or snack at ERA Bistro on the main floor near the gift shop.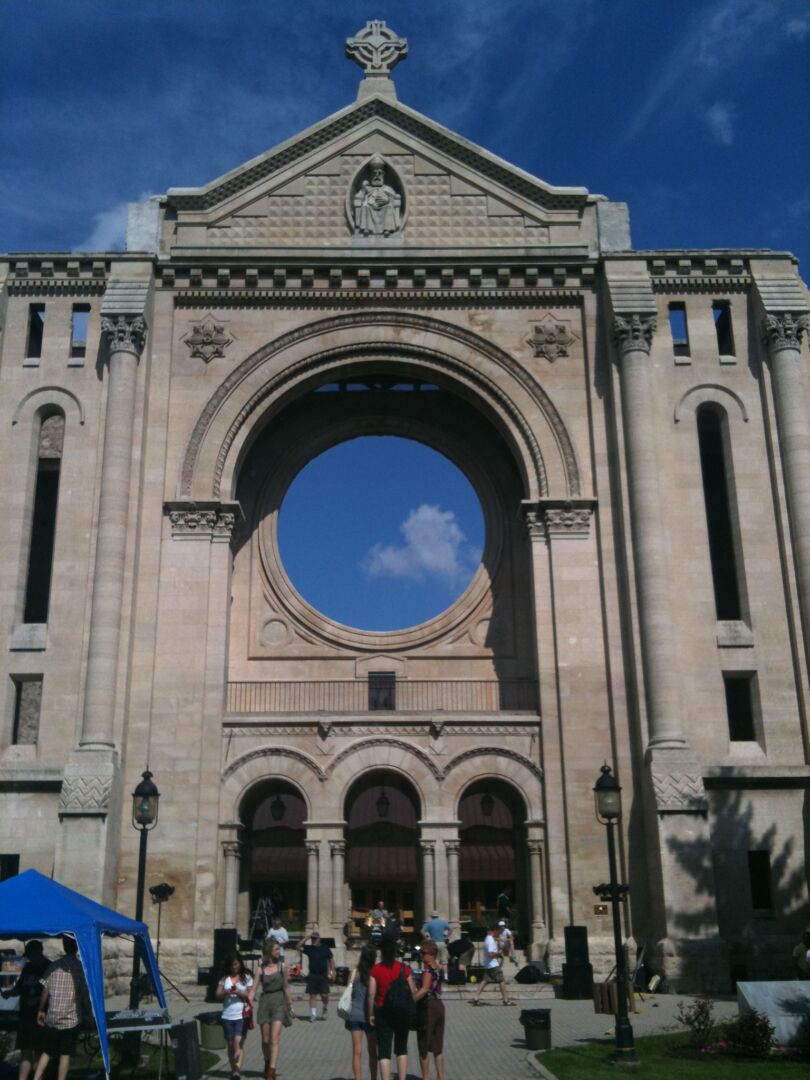 St. Boniface
If you love public art, history and culture, you should visit Winnipeg's French Quarter in St. Boniface.
St. Boniface has many fascinating historical sites with amazing artifacts and architecture, including St. Boniface Cathedral, Fort Gibraltar, and the grave of Metis leader, Louis Riel.
The Saint-Boniface Museum is located in the oldest building in Winnipeg and will teach you about Franco-Manitoban history and culture.
Foodies will love the French cuisine at St. Boniface restaurants like Inferno's Bistro, Promenade Cafe, and Resto Gare. You can savour dishes like Crepes, Crevettes, Moules-frites, Tortiere, Beef Bourguignon, and Chateaubriand.
Please click here to see an article with some other ideas of things to do in St. Boniface.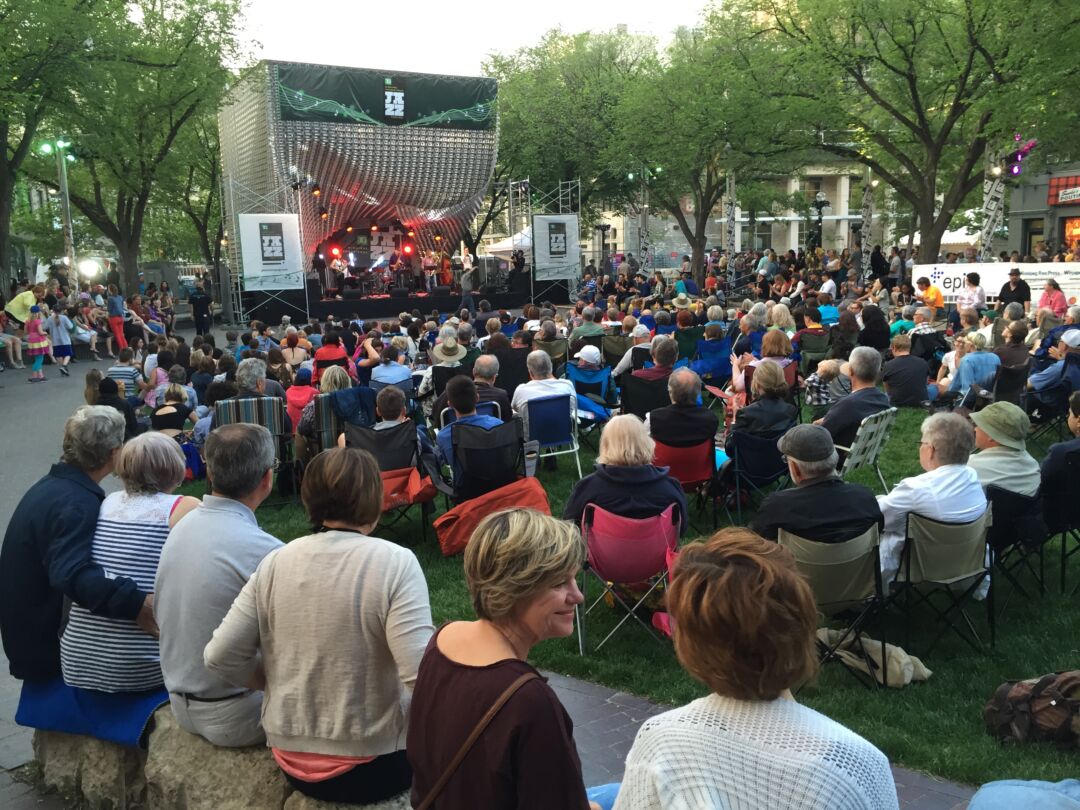 See A Show
Winnipeg Symphony Orchestra
The world-class Winnipeg Symphony Orchestra performs most of its 80 concerts per year at the Winnipeg Centennial Concert Hall. The WSO also provides orchestral accompaniment to the Royal Winnipeg Ballet and the Manitoba Opera. One of Winnipeg's most celebrated and avant-garde musical events is the Winnipeg New Music Festival that is usually held in January each year.
Royal Winnipeg Ballet
The Royal Winnipeg Ballet is the longest continuously-operated ballet company in North America. The RWB has a school that trains some of the best ballet dancers in the world. They put on 5 or 6 shows per year at Winnipeg Centennial Concert Hall, including the popular annual holiday extravaganza called the Nutcracker Suite.
RWB also puts on a few free outdoor performances called "Ballet in the Park" at the Lyric Stage in Assiniboine Park every year.
Manitoba Theatre Centre
See a play at the Royal Manitoba Theatre Centre in the Exchange District. They usually produce fantastic plays by more than one local playwright each year, but also put on trendy, experimental international plays.
The MTC venue is close to great restaurants and nightlife for before and after the show.
MTC also operates Rainbow Stage, which produces musical theatre in the most unique theatre venue I have seen in Canada. It is in Kildonan Park in a partially-enclosed dome stadium. Rainbow Stage produces two Broadway-quality musical theatre shows each Summer. After the show, buy an ice cream and go for a walk along the Red River or check out the famous Witch's Hut.
We like to get dressed up and go on a date night a few times a year to see the WSO, RWB or MTC. We are sure we will go more often as we get older and have more free time.
Celebrations Dinner Theatre
We also love to laugh and sing along to musical dinner theatre at Celebrations Dinner Theatre at CanadInns Fort Garry a few times a year (usually as a birthday outing). The price includes dinner and a show. The dinner menu options change for each show, but they almost always offer a delicious prime rib.
Many shows have songs from the 1950s to 1980s that will get your toes tapping. If it is your birthday or anniversary, the cast will get you onstage to dance with them.
Old Market Square
Probably the most laid-back and cheapest ways to watch a show in Winnipeg is to bring a lawnchair and enjoy free music and entertainment at the Cube Stage in Old Market Square during Folklorama, The Winnipeg Jazz Festival, The Winnipeg Fringe Theatre Festival, or many other festivals.
Sample items from the food trucks parked nearby or have a meal at one of the great restaurants in the Exchange District.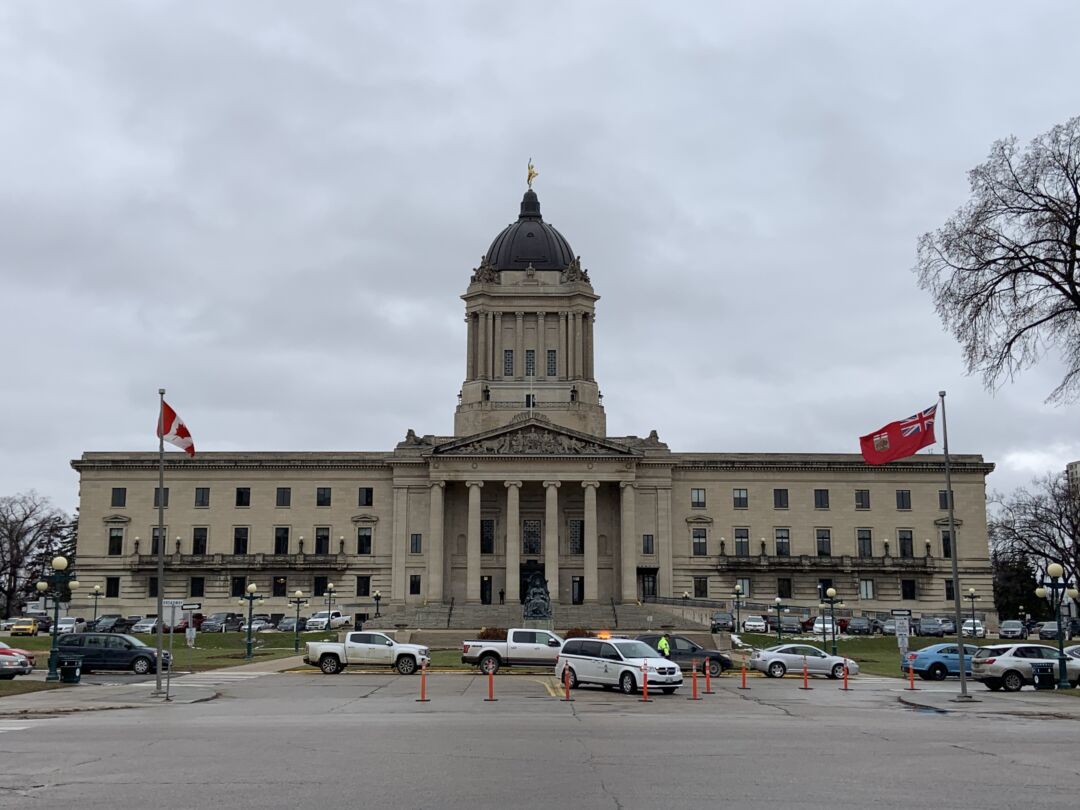 Appreciate Art And History
Winnipeg Art Gallery
Many people think that the Winnipeg Art Gallery is one of the most unique buildings in Winnipeg due to its triangle footprint. The WAG has a permanent collection with over 27,000 works of art from Canadians, Indigenous Canadians, and international artists. You can also enjoy work-class travelling art exhibitions.
The soon-to-open Qaumajuq building next door will house the world's largest public collection of Inuit art.
Before you leave, pick up a unique souvenir or work of indigenous art at the Gallery Shop.
Millennium Library
Winnipeg Millennium Library, located downtown, is the main branch of the Winnipeg Public Library. The building is fairly new (re-built in 2005) and is beautiful inside and out with lots of windows and high ceilings. The building won multiple Canadian architecture awards.
Items for loan include an extensive collection of Adult and Children's fiction and non-fiction, graphic novels, Indigenous resources, magazines, music, audiobooks, video games, movies, and music scores. You can book and use computers with internet access or attend a seminar or workshop for free.
The Local History Room on the fourth floor is a reference-only collection showcasing the rich history of Winnipeg and Manitoba plus genealogy resources.
Throughout the library, you will find pieces of art to admire and chairs where you can sit and read. In front of the main entrance and in the courtyard behind the library, you will find more interesting public art.
If you are interested in touring around Winnipeg (mostly downtown), you can obtain a list of public art installations from Manitoba Arts Council.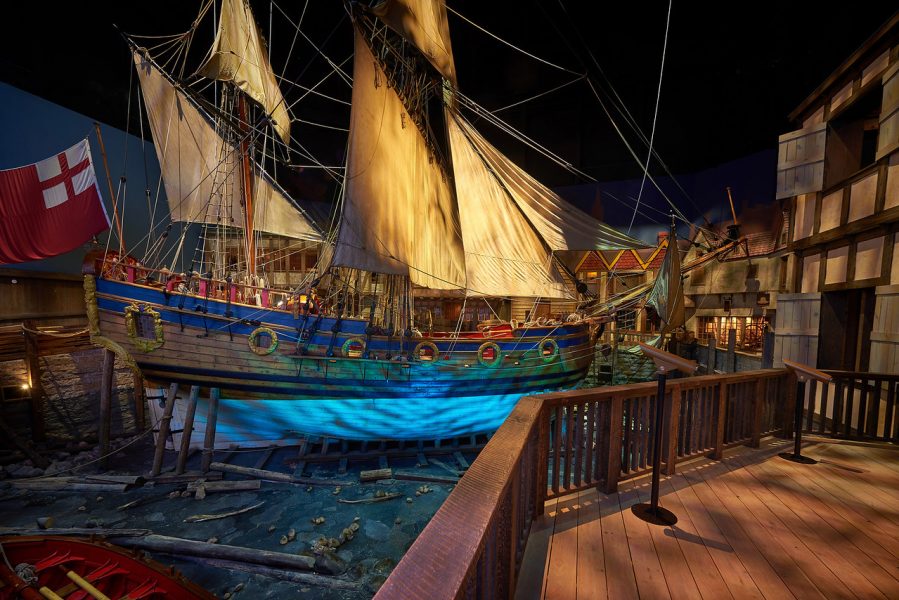 Manitoba Museum
Winnipeg's largest museum, The Manitoba Museum, has exhibits like the Science Gallery, the Arctic region, Boreal Forests, Parklands, Grasslands, and Winnipeg's 1920's urban history.
We enjoy relaxing while looking up at the stars and learning about astronomy in the Planetarium.
The most famous and popular gallery is the Nonsuch, where you can explore a working replica of a ship that helped launch the Hudson's Bay Company.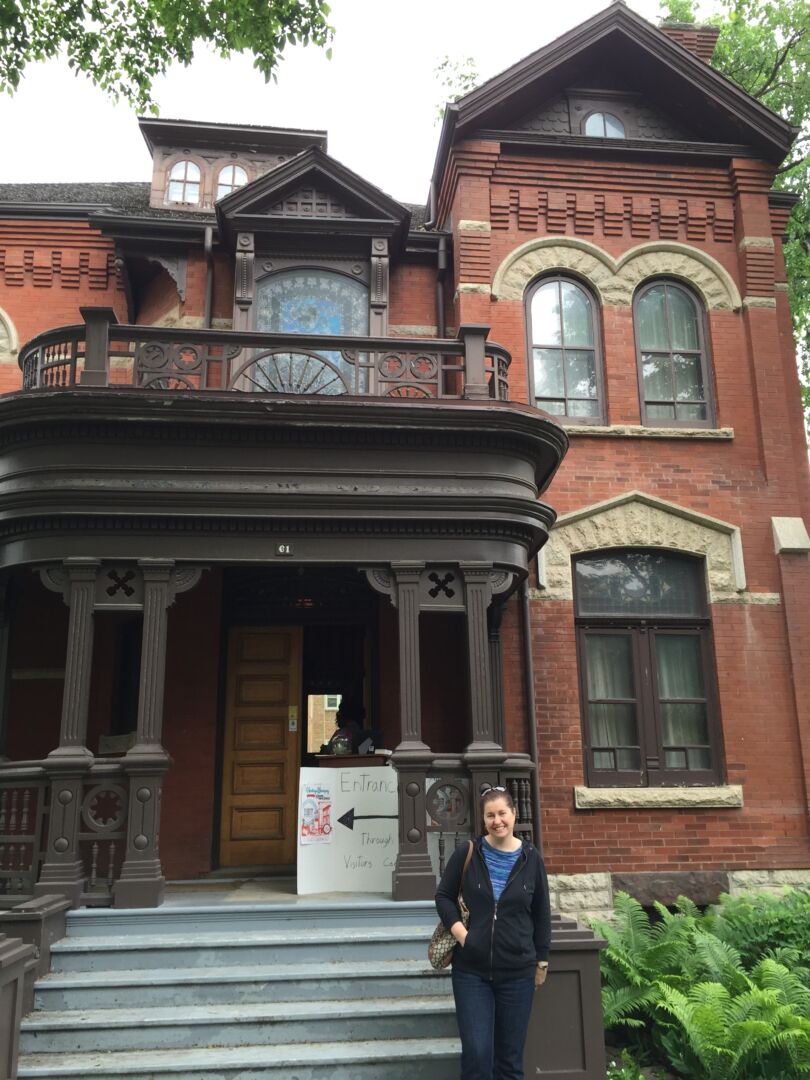 Dalnavert Museum
Dalnavert Museum is a Canadian National Historic Site located near the Manitoba Legislative Building in a former ritzy, affluent Winnipeg neighborhood. Dalnavert Museum is a small Victorian mansion built for Sir Hugh John Macdonald in 1895 that transports you back in time to the grandeur of the 19th century. The guided tours provide fascinating information for history buffs.
Manitoba Legislative Building
The Manitoba Legislative Building is a marvel or architecture and art that was designed and built in 1920 by a member of the Freemasons.
You will find ornate design features, sculptures, and art, both inside and out that will amaze you with their beauty and intrigue you with their potential Masonic symbolism. Look closely and you will see Medusa, Athena, Ra, and the Sphinx.
This building will provide many glamourous photo opportunities, especially the grand marble staircase surrounded by 2 giant buffalo.
You can even take a free guided tour during the day on weekdays.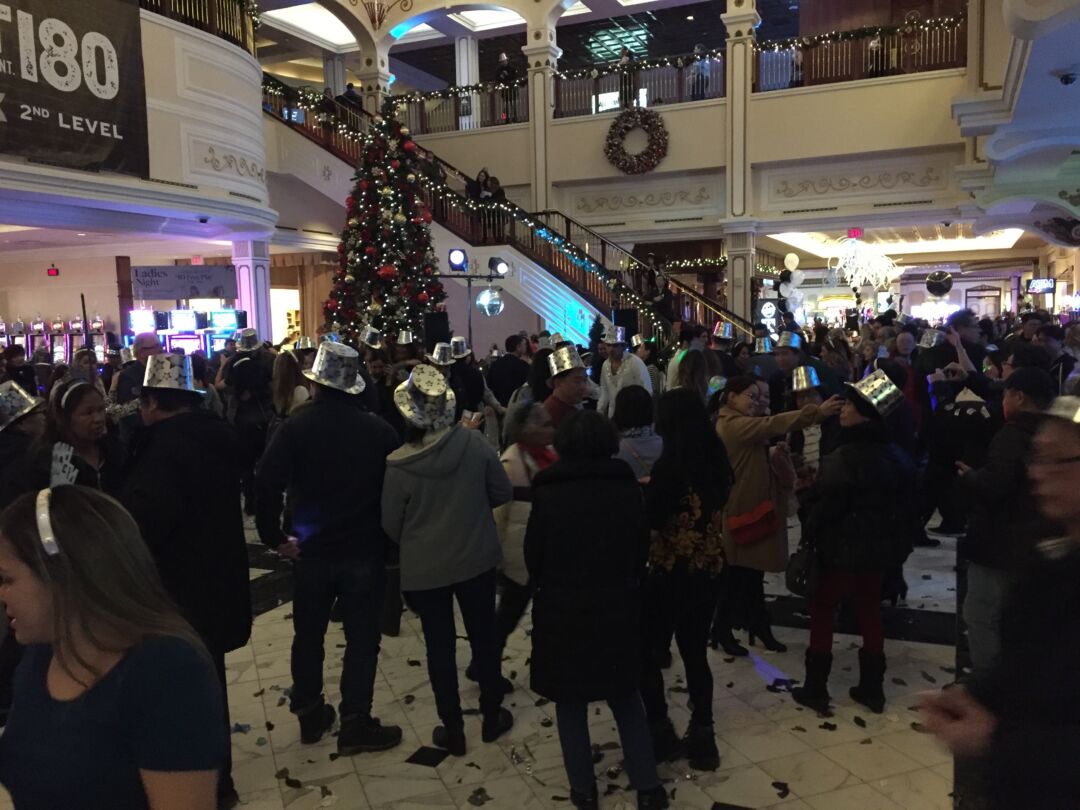 Gamble
It seems that the older we get, the more we like to gamble. The younger generations don't seem to gamble as much, so casinos really cater to an older crowd. The design, atmosphere, and decorations in the casinos make for an exciting night out.
Casinos of Winnipeg
McPhillips Street Station Casino has the theme of an old train station with facades on the walls to make you feel like you are walking through an old-fashioned small town.  They have a restaurant called Dixie's Lounge, a sports bar, and a McDonald's for your sustenance breaks as well as a snack bar where you can purchase ice cream or mini donuts. The second floor has a lounge called Loft 180 with live entertainment and more spaced-out slot machines for a cool vibe.
Cub Regent Casino has a tropical island theme, complete with a tunnel that goes through an aquarium with tropical fish and a corner wall that has a waterfall. Dining options include Toukie's Lounge and the Ice Cream Shoppe. If you want to relax with a cocktail or beer, visit their Centre Bar.  Club Regent Event Centre is an entertainment venue that has hosted some pretty cool concerts and comedians. This casino is conveniently attached to a hotel called CanadInns.
Both of these casinos have slot machines and electronic gambling machines, which Winnipeggers call Video Lottery Terminals or VLTs), table games, poker games and tournaments, and bingo. While you gamble, they do not bring you free alcohol or soft drinks, but you can pour yourself free coffee, tea, and hot chocolate.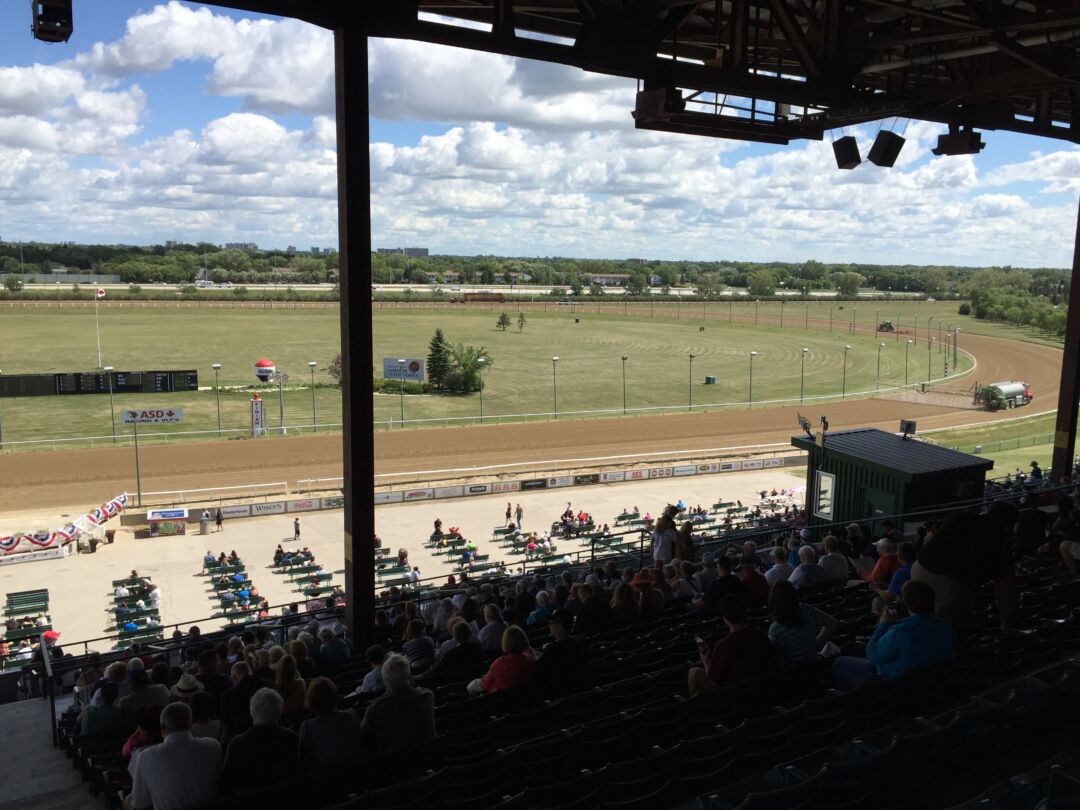 Assiniboia Downs
Assiniboia Downs offers live thoroughbred racing in the Summer months. For the rest of the year, it is still worth a visit to watch and bet on live televised horse racing or to gamble on one of 60 VLTs in their gaming lounge.
At any time of year, you will love their restaurant, which has seats that overlook the racetrack and offers unique and delicious menu items like their famous prime rib dinner.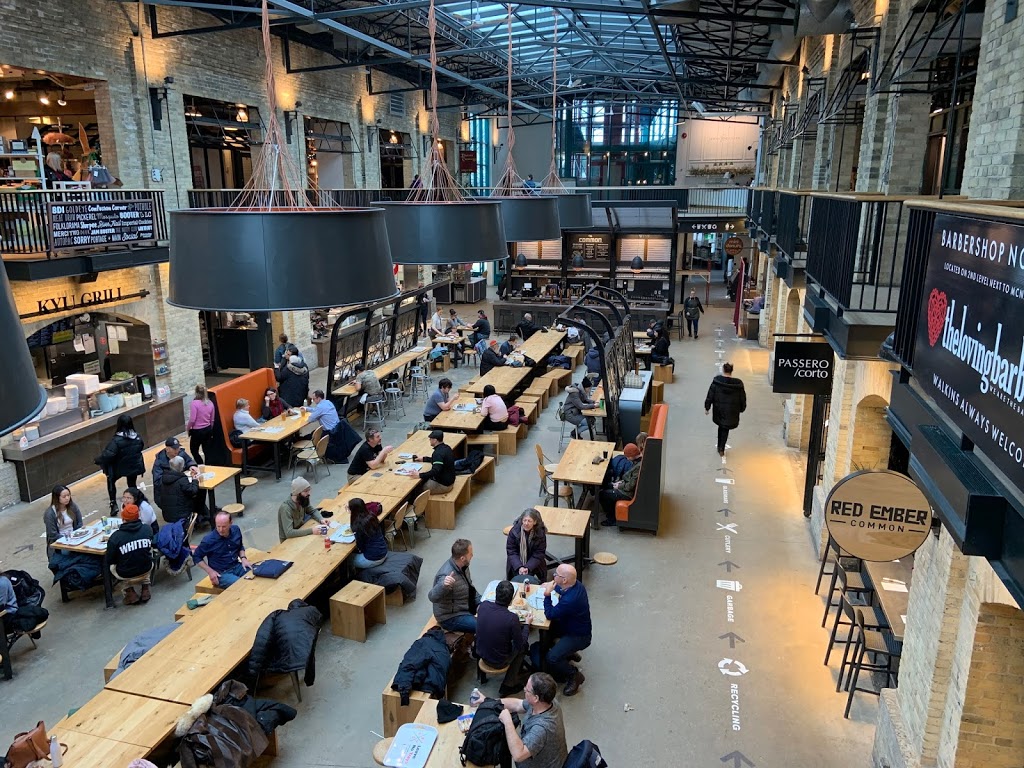 Shop
If you like high-end, luxury brands, you should definitely visit Outlet Collection Winnipeg, which has over 100 retailers and  is Winnipeg's only outlet mall.  Winnipeg has many other large malls with your favourite stores, but we want to focus on the more interesting and unique shopping options.
The Forks
The Forks is Winnipeg's most popular attraction and is a must-see for travellers of all ages. It has a lovely outdoor riverwalk and other greenspace. The Forks also has impressive Indigenous art, a central plaza, and an observation deck. It also provides the most unique shopping experience in Winnipeg.
The Forks Market building has many small and local retailers, including a gift shop with many Manitoba-made products, a bakery, a candy store, and a liquor store. The Food Hall has several unique restaurants and a beer and wine vendor.
The Johnson Terminal building has a huge antique market in the basement, gift shops, a small art gallery, and a large local toy store.
St. Norbert Market
St. Norbert Market is an indoor/outdoor farmers market where you will find fresh produce, meat, baked goods, and prepared foods like jams and jellies. It is also a craft market where you will find hand-made artisan gifts and household items. In order to be sold at this market, the items must be locally made.
The hours have changed due to the pandemic and I am not sure when they will get back to normal, but it used to be open from the May to October on Saturdays and select Wednesdays. Only the indoor section is open on Saturdays from 10 AM to 2 PM for the rest of the year.
Flea Markets
Some people like to find treasures, collectibles, and antiques at thrift stores and flea markets. Winnipeg has several thrift stores in all parts of town that are easy to find, but really only has two flea markets. You can easily spend half a day just browsing around these flea markets.
Both Thirsty's Flea Market and Mulvey Flea Market are open Saturdays, Sundays and most holiday Mondays from 10 AM to 5 PM and each have around 50 vendors.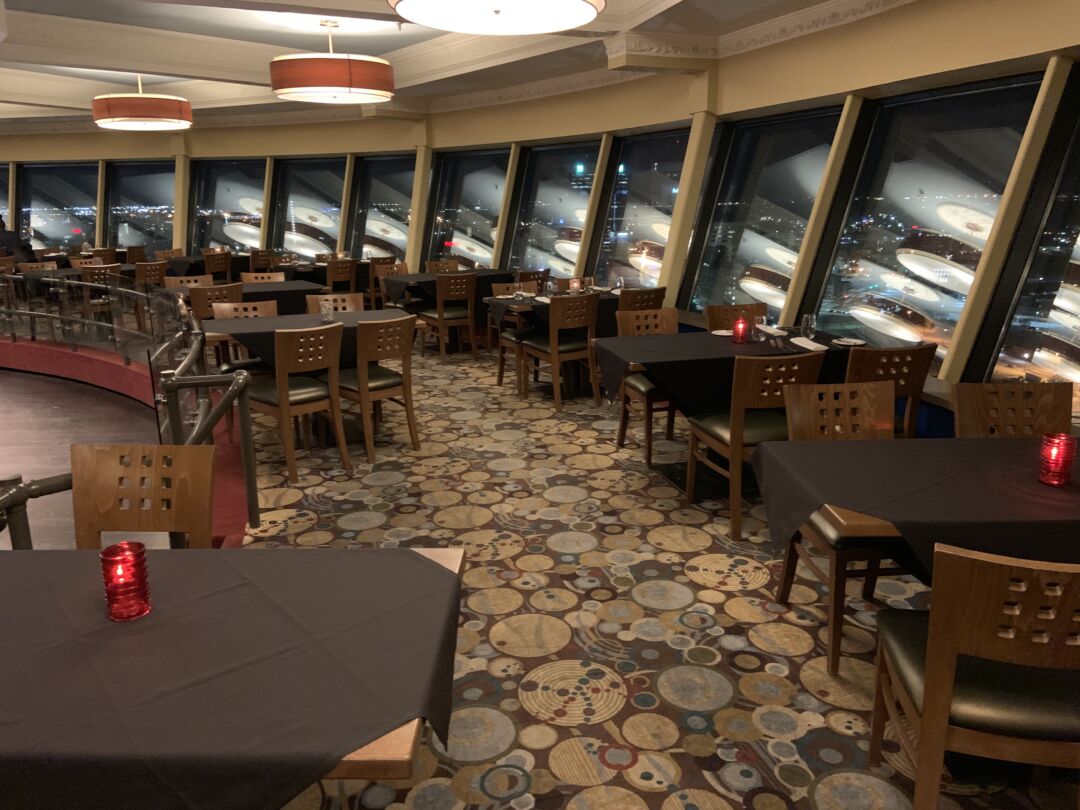 Go For Dinner And Drinks
The revolving restaurant at the top of Fort Garry Place called Prairie 360 offers a great foodie menu and fantastic views of downtown and the forks.
Try one of our local steakhouses. 529 Wellington is as good as any upscale steakhouse we have tried. Rae & Jerry's will satisfy your hunger with large portions and make you feel like you have travelled to Las Vegas in the 1950s.
We also suggest you try these gourmet restaurants: Amsterdam Tea Room, Fusion Grill, and Peasant Cookery. To find out why we recommend these restaurants and others, click here.
Please click here for an article about microbrewery and distillery tours & tastings in Winnipeg, including these two that we think older people will particularly enjoy due to their ambiance.
La Brasserie Nonsuch Brewing's tasting room is more like a lounge with a cool modern vibe and lots of seating to enjoy flights of their unique products.
Patent 5 Distillery has free tours, free samples and sells Charcuterie boards and cocktails made from their Gin and Vodka in their elegant, old-fashioned tasting room in the Exchange District.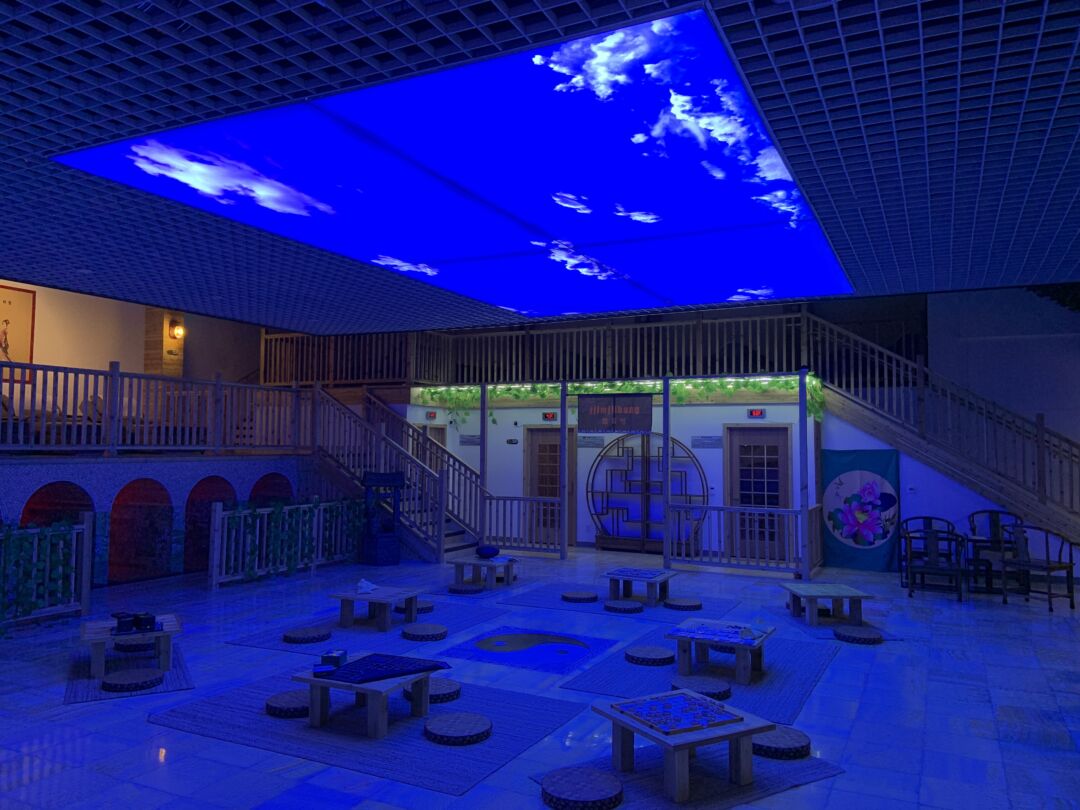 Relax And Pamper Yourself
Winnipeg has many amazing spas where you can pamper yourself with facials, massages, and manicures. Some are located in hotels and others in malls and strip malls. We are only going to mention 2 spas that are quite different from the rest.
Hot Snow Spa
Tina was treated to a day at Hot Snow Spa for her birthday in 2020 and she loved it.
For one price of admission, you have access to Korean Jjimjilbang and saunas, including the 'Afghan Jade Stone Room', 'Himalayan Salt Room', 'Infrared Room', and 'Japanese Ganban-yoku Room'. Hot Snow Spa also offers a shower room, exercise facilities, massage chairs, board games and a tea bar. This was a very tranquil and relaxing experience.
Thermea
Thermea by Nordik Spa-Nature is an indoor/outdoor relaxation and thermotherapy spa. Thermea offers 4 outdoor baths, 4 saunas, an exfoliation room, and a restaurant and lounge. You can also get treatments like massages, foot care, Himalayan salt treatment, vivifying treatment, and Lumea facial treatment.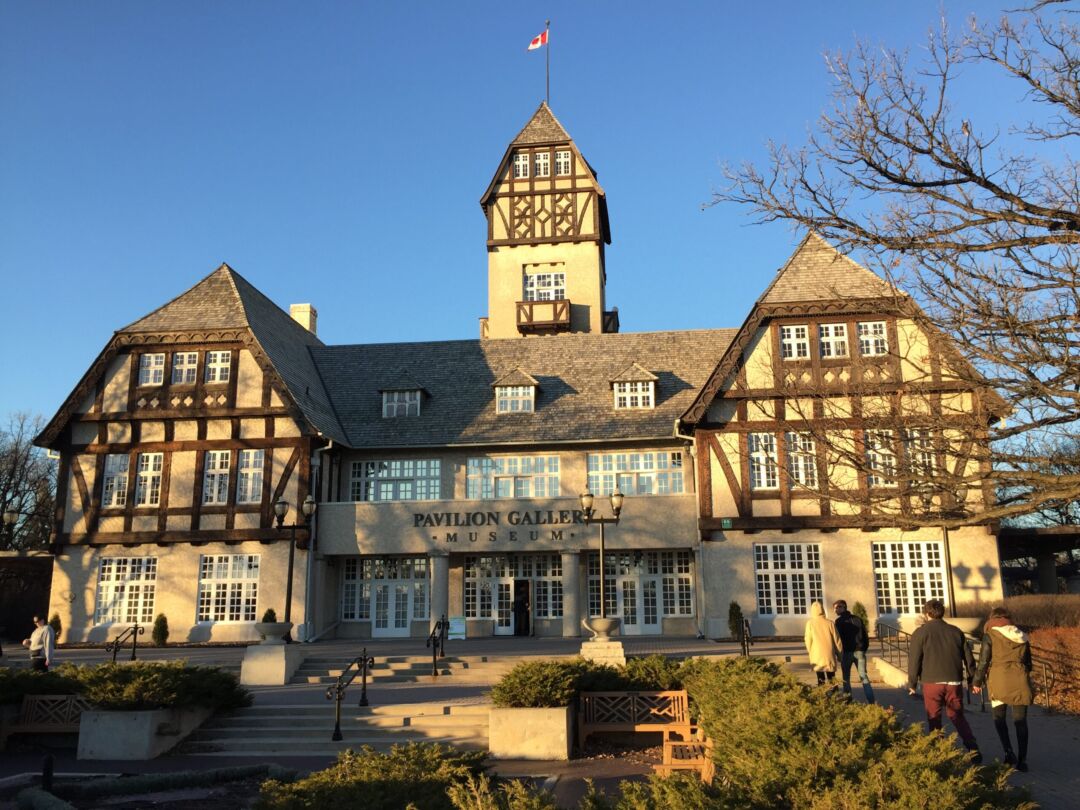 Get Some Fresh Air
Assiniboine Park
Our favourite place for a walk is Assiniboine Park. We suggest a path that starts at the Assiniboine Park Pavilion, goes past the Riley Family Duck Pond, then through the English Garden and ends at the Leo Mol Sculpture Garden.
The Pavilion looks like a Bavarian chalet and is home to the largest collections of works by renowned Manitoba artists like Ivan Eyre and Walter J. Phillips. The Pavilion also has an exhibit that will teach you the connection between Winnie the Pooh and Winnipeg.
English Garden has many walking paths winding through beautiful flower gardens, large trees, and historic artifacts.
The Leo Mol Sculpture Garden offers a quiet retreat to walk through a lovely nature path and enjoy the magnificent life-sized bronze statues of master sculptor, Dr. Leo Mol.
Assiniboine Park also has a world-class zoo with a unique, new exhibit called Journey to Churchill where you can see Polar Bears native to and rescued from northern Manitoba.
Harbourview Park
Harbourview Park is a bit out of the way in Northeast Winnipeg, but well worth a visit for a combination of relaxation, beauty, and fun outdoor activities that you won't find at other parks.
It has 14 Hectares of park area, gardens, a 9-hole par 3 golf course, miniature golf, horseshoe pits, tennis courts, handball/racquetball courts, and picnic areas.
Our favourite activity there is using the peddle-boats on a small pond.
Other nice places for a walk
You will be fascinated and intrigued by the wooden figures and tree carvings at Bois-des-Esprits Hiking Trail, which is in a 117-acre suburban forest and wetland habitat that is part of the 27-kilometre Seine River Greenway.
Another unique and lovely place for a walk is along Sturgeon Creek near Grant's Old Mill, which is a museum in an old water-powered gristmill. Some art installations were added to the path recently.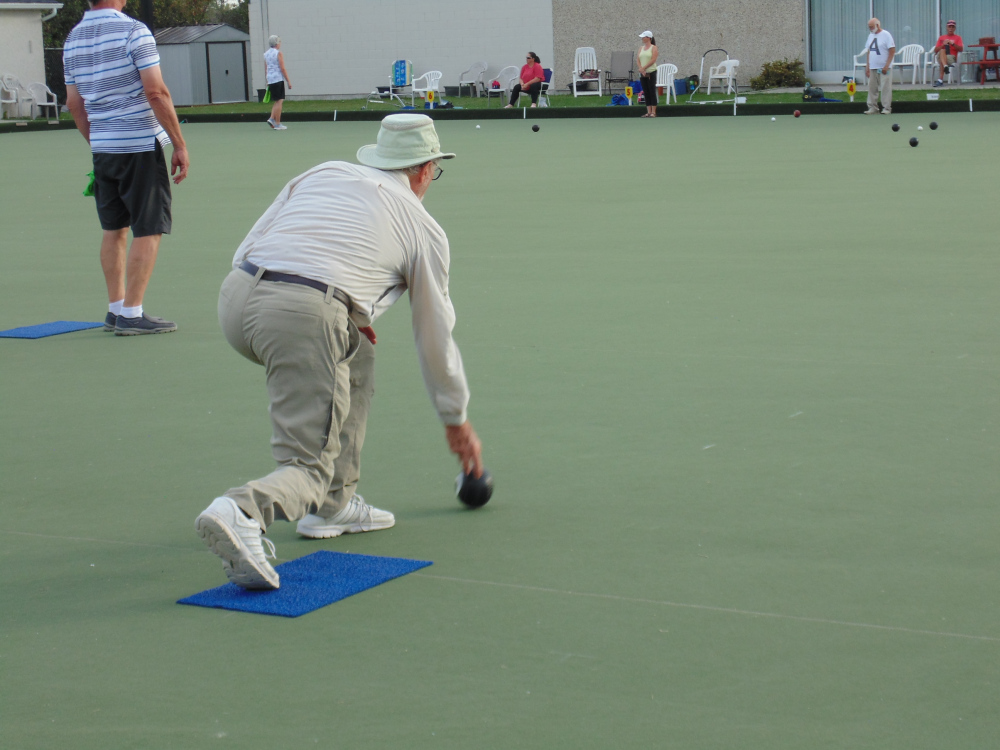 Get Active
A great, social activity is lawn bowling, which can be played at many lawn bowling clubs in Winnipeg such as St. James Lawn Bowling Club, Dakota Lawn Bowling Centre, Tuxedo Lawn Bowling Club, and Sargent Park Lawn Bowling Club. Its Italian counterpart, Bocce, can be played while you enjoy an espresso indoors at Centro Caboto, the Italian Canadian Centre.
Tina's parents have always loved to get exercise by swimming at one of the indoor pools. Most of these pools also have great amenities like weight rooms, walking tracks, and saunas. Our favourite pools are the Cindy Klassen Recreation Complex and the Pan Am Pool.
Many community centres with gymnasiums in Winnipeg have weekly pickleball sessions. For instance, Linden Woods community centre has pickle ball for various skill levels every weekday from 12:45 PM to 3:30 PM.
The Reh-fit Centre (short for rehabilitation and fitness) is a not-for-profit organization with a mission to improve the well-being of its users by providing innovative health and fitness services through assessment, education, and exercise in a safe and supportive environment. This is a great facility for older people to use (you will feel right at home).
* Author's note: As with all the articles from the past year, please keep in mind that some of these places and activities may not be available or may have limited hours of operation. Please follow all public health guidelines.
Happy Travels,
Kevin & Tina
Please subscribe to our newsletter to receive notifications for new posts and other content. 
P.S. Here are links to our social media accounts, in case you want to connect that way:
Retirestyle Travel Instagram
Kevin's LinkedIn
Retirestyle Travel Facebook Page
Kevin's Pinterest
Retirestyle Travel TikTok
Retirestyle Travel Twitter
Retirestyle Travel YouTube (Please check out our YouTube Channel for travel videos)
You May Also Like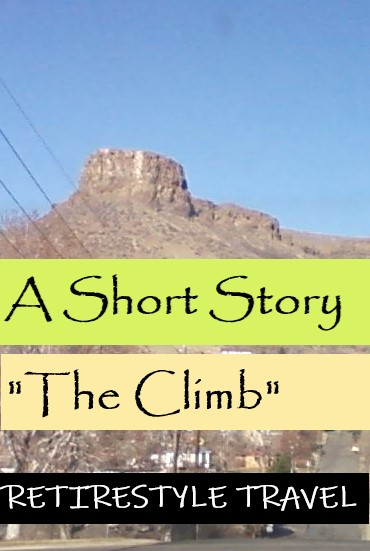 October 17, 2020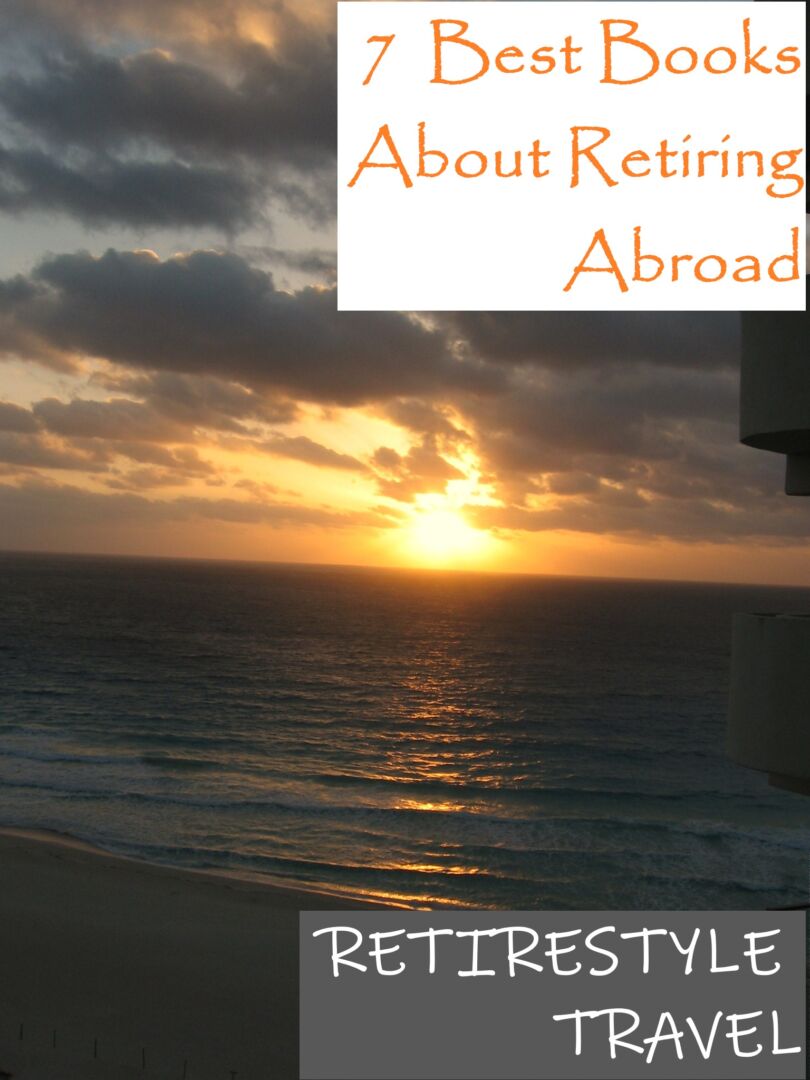 March 19, 2020